Aveeno is one of the most popular and trusted skincare brands in America. But it can be confusing to know which of their products are appropriate for facial use.
This blog post will give you some insight into the question can I use Aveeno lotion on my face? As well as any other precautions you should take when using their products on the delicate skin around your face. Read on to find out more.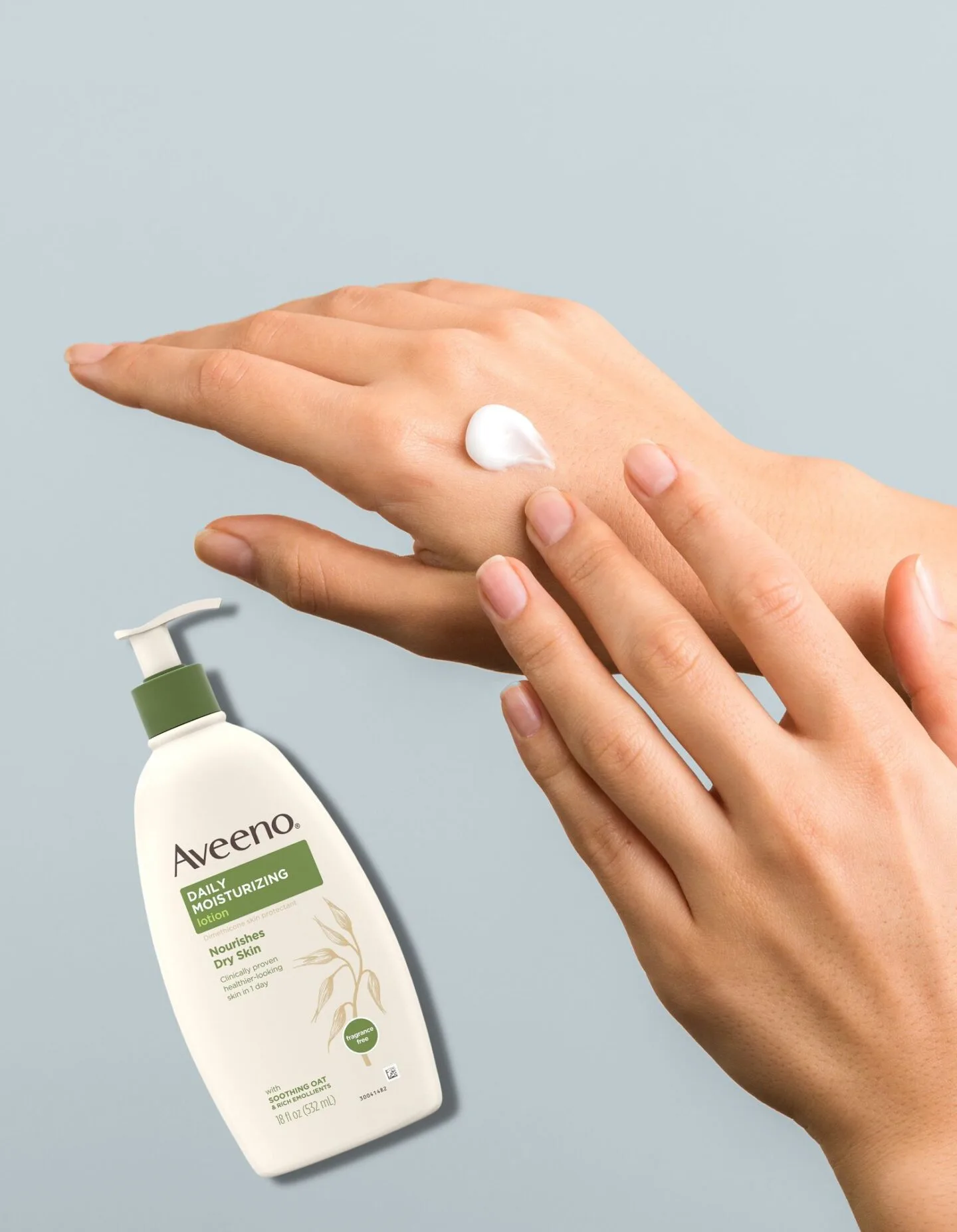 Why Is Aveeno Such A Popular Skincare Brand?
Aveeno is one of the most popular skincare brands in the world due to its natural products that appeal to a wide range of consumer needs.
The brand's commitment to using natural ingredients and developing innovative formulas has made it a go-to choice for many consumers.
The company utilizes high quality, naturally sourced materials and active ingredients like oatmeal, which is known for its soothing and moisturizing benefits.
All their products are hypoallergenic, non-comedogenic and free from harsh chemicals, artificial fragrances and parabens. With so many available options, customers can find an Aveeno product tailored specifically to their skin type or concerns.
In recent years, the brand has embraced new technologies to create advanced solutions such as SPF formulas with active photoblockers and gentle exfoliators containing hydroxy acids, to help the skin's moisture barrier.
These technological advancements make Aveeno stand out in an already crowded market by offering superior protection against UVA/UVB rays while keeping skin looking healthy and hydrated throughout the day.
On top of all this, Aveeno prices their products affordably, which makes them accessible for everyday use by people on any budget.
All these factors together have cemented Aveeno as one of the leading brands in skincare today, with its reputation continuing to grow worldwide among both young and old consumers alike.
Which Ingredients Are Typically Found In Aveeno Products?
Aveeno products often contain the brand's signature Active Naturals® ingredients—colloidal oatmeal, soy and feverfew extract.
Colloidal oatmeal is incredibly nourishing for skin, as it helps to soothe and protect dry, itchy and irritated skin from external influences.
Soy, meanwhile, helps to nourish skin from within and offers antioxidant benefits, while feverfew extract is said to reduce inflammation in the skin.
If you're looking for additional nourishing benefits, the Aveeno Positively Radiant collection harnesses the power of natural ingredients such as soy and kiwi complex, along with other botanicals, to brighten and even out skin tone.
Whereas, the Aveeno Ultra-Calming Collection contains a special antioxidant feverfew and calming feverfew complex that help to reduce redness and irritation.
Some of Aveeno's newer releases such as its Baby Skincare line feature natural and calming ingredients like colloidal oatmeal, shea butter and dimethicone to help keep your little one's delicate skin moisturized.
What Are The Best Aveeno Skincare Products?
Aveeno is a great choice for skincare products, with a wide range of products suitable for different skin types and needs.
The best Aveeno skincare products are those that provide long lasting hydration, protection and relief from everyday stressors. The three top products are the Daily Moisturizing Lotion, Skin Relief Moisturizing Lotion and Stress Relief Body Wash.
The Daily Moisturizing Lotion is perfect for daily use as it provides long lasting hydration to keep your skin feeling soft, smooth and healthy throughout the day.
It is enriched with natural colloidal oatmeal, which helps prevent dryness and restore the protective surface of your skin.
As well as providing intense moisturization, this lotion also has anti-oxidant properties, which help protect your skin from environmental aggressors such as UV rays.
The Skin Relief Moisturizing Lotion is another excellent product for keeping your skin hydrated and nourished all day long.
Enriched with Active Naturals Triple Oat Complex, it soothes itchy, dry or irritated skin while restoring its natural moisture balance.
This lotion also contains dimethicone, an emollient which acts like an invisible glove to protect against further irritating sensations by creating a barrier on the surface of the skin to lock in moisture while allowing air to circulate freely through it.
Finally, the Stress Relief Body Wash helps you unwind after a long day with its lavender fragrance while hydrating your body at the same time due to being formulated with Aveeno's signature oat.
The creamy lather helps soothe away any tension or stress built up over the course of your day, leaving you feeling refreshed and relaxed without drying out your skin like other harsher ingredients can do.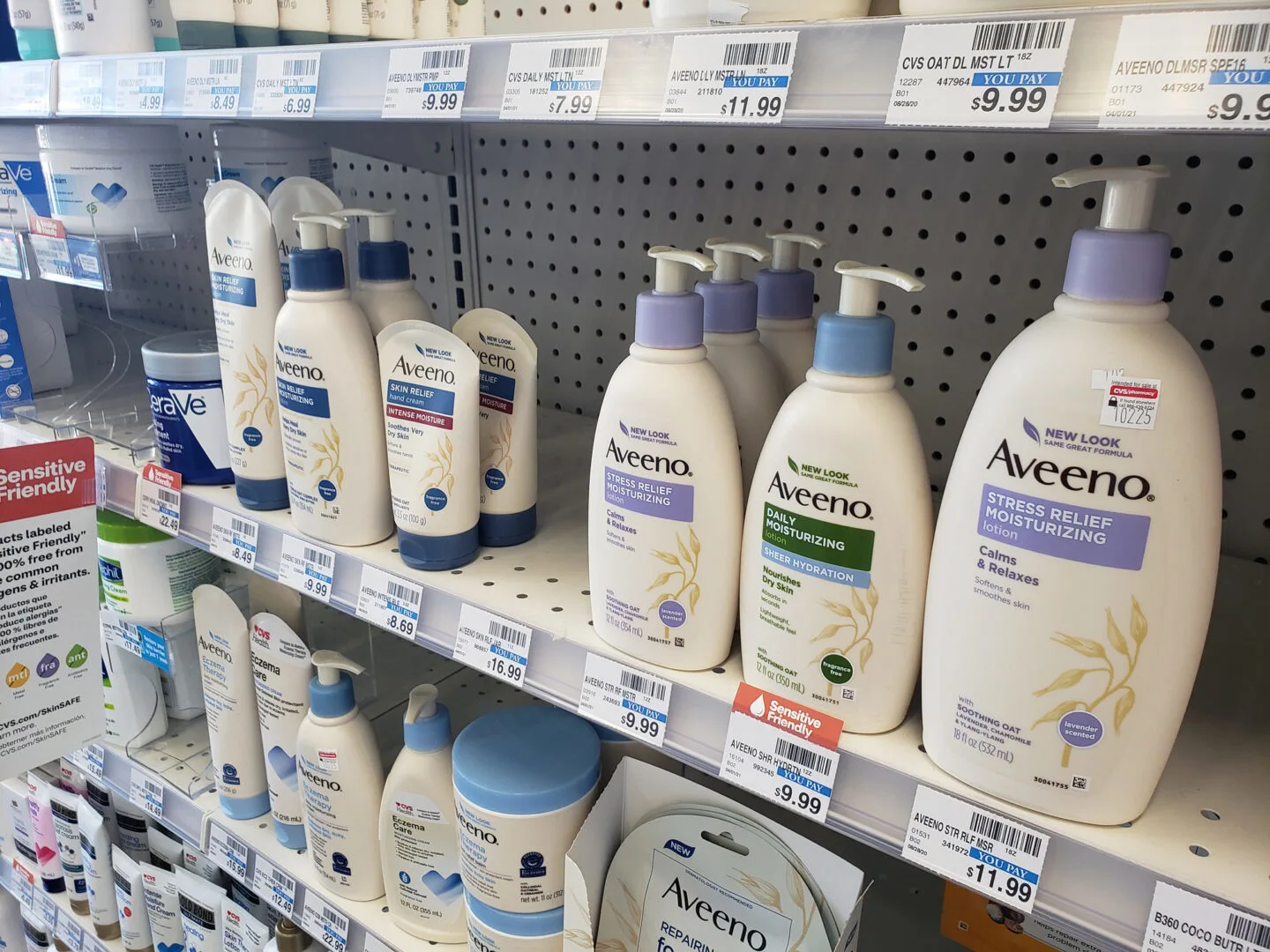 What Is The Aveeno Daily Moisturizing Lotion?
Aveeno Daily Moisturizing Lotion is an ultra-lightweight, non-greasy lotion from the Aveeno brand. It's formulated to provide 24-hour hydration for a softer and smoother skin texture.
The lotion is enriched with natural colloidal oatmeal which helps to soothe dry and itchy skin while replenishing the protective layer of your skin.
Other key ingredients like emollients, glycerin and dimethicone help to retain moisture in the surface layers of your skin. This fast absorbing formula absorbs quickly into the skin without leaving behind any residue or greasiness on the surface.
The Aveeno Daily Moisturizing Lotion comes in several different forms such as lotion bars, creams, sprays and a moisturizing hand cream.
All formats are suitable for all skin types including sensitive skins too requiring daily hydration throughout the day. This light textured lotion acts as a water reservoir that helps keep your skin soft and supple while locking in essential moisture needed for healthy looking skin.
Plus, this lotion provides broad spectrum sun protection with SPF 15 against both UVA/UVB rays, which further aids in keeping your delicate facial complexion shielded against environmental damage caused due to sun exposure during summer months or even winter time activities when you need extra protection outdoors.
This biodegradable formula not just hydrates but also nourishes dull looking skins with its Natural Active Naturals complex consisting of antioxidants vitamins C and E along with soy extract that work together to help improve overall complexion health by neutralizing damaging free radicals on contact.
Thereby helping fight early stage signs of aging such as wrinkles, sagging or age spots, giving you healthier younger looking cells below the surface only noticed over time.
What Are The Aveeno Moisturizing Lotion Ingredients And How Can They Benefit Dry Skin?
Dimethicone (1.2 %). Purpose: Skin Protectant. Inactive Ingredients: Water, Glycerin, Distearyldimonium Chloride, Petrolatum, Isopropyl Palmitate, Cetyl Alcohol, Avena Sativa (Oat) Kernel Flour / Kernel Extract, Benzyl Alcohol, Sodium Chloride.
The Aveeno Moisturizing Lotion ingredients are designed to help benefit dry skin. The main active ingredient in the moisturizer is colloidal oatmeal which has been proven to be an excellent natural skin protectant that helps soothe, soften, and restore moisture levels in the skin.
Plus, it contains mineral oil and petrolatum which act as a protective barrier for the skin to hold in moisture for longer periods of time.
There are also several other natural botanical extracts such as chamomile, calendula and feverfew which are known to provide soothing qualities as well as antioxidants that protect against environmental stressors, as recommended by dermatologists.
Other ingredients include glycerin which acts as a humectant to attract water molecules and keep them within the layer of your epidermis.
Finally there are vitamins A, C and E included in this formula which help promote healthy tissue growth and elasticity while reducing inflammation of the underlying layers of your skin.
By using all these beneficial ingredients together, Aveeno Moisturizing Lotion can help moisturize your dry skin while providing essential nutrients that will make it softer, smoother and more supple with continuous use over time.
Not only does the Aveeno body cream offer relief from uncomfortable effects associated with overly dryness but it also helps prevent future damage caused by external aggressors such wind or air-conditioning systems that can lead to other flare ups like eczema or psoriasis if left untreated for too long.
Is The Aveeno Moisturizing Lotion Fragrance-Free?
The answer is both yes and no. The original formula does contain fragrances, specifically chamomile extract and lavender essential oil.
However, Aveeno offers a fragrance-free version of their moisturizing lotion as well – this variant does not contain any artificial fragrances or scent enhancers.
Allergies to specific scents can cause skin irritation, dryness or even acne breakouts in some individuals; therefore making sure the product you are buying doesn't contain any frangrance is important if you have sensitive skin.
Overall, those with very sensitive skin should opt for the Aveeno Fragrance Free Moisturizing Lotion – it will be gentler on your skin than other versions with added fragrances that can potentially irritate your skin further.
It's always best to check the label carefully before purchasing if you are looking for a specific kind of variant such as fragrance free.
Can I Use Aveeno Lotion On My Face?
Yes, you can use Aveeno moisturizer on your face. Aveeno offers a wide range of formulas that are specifically designed for the face and body, so it is important to make sure you are using one that is safe and suitable for facial skin.
Generally speaking, most of Aveeno's body lotions are gentle enough for use on the face or body. They contain ingredients such as oatmeal and natural oils that help to nourish and protect delicate facial skin without causing irritation or blockages in pores.
If you choose to use a body lotion on your face, look for one with fewer potentially irritating ingredients such as fragrances, dyes, preservatives, or alcohol-based products.
Be sure to choose a lighter formulation because body lotions tend to be thicker than those formulated especially for the face.
You may also want to use a small amount first and see how your skin responses before applying more liberally over larger areas of the face – this is especially important if using an anti-aging formula, which can sometimes cause sensitivity reactions if overused.
When applying these products, follow a sensible routine – cleanse twice daily followed by application of moisturizer both morning and night in order to keep your facial skin hydrated, nourished and healthy-looking always.
Can Aveeno Lotion Clog Your Pores?
Aveeno Daily Moisturizing Lotion has been a staple in skin care routines for years. It's lightweight, non-greasy formula sinks quickly into your skin, leaving it feeling hydrated and soft.
But don't let its easy application fool you; this lotion offers real results. Aveeno has a unique formula that is oil-free but still powerful enough to provide long-lasting hydration and protection.
But is it strong enough to clog your pores? No. This lotion contains ingredients like oat extract, which works to nourish and soothe skin without causing any clogging or blockage of your pores.
Does Aveeno Cause Breakouts?
Aveeno does not typically cause breakouts. However, since everyone's skin is different and can react differently to products, it is possible that some individuals may experience breakouts when using Aveeno, especially if you have acne-prone skin, or your skin doesn't react well to greasy skin care products.
Aveeno produces a variety of skincare products that are designed to be non-irritating and gentle on the skin. According to its official website, all of its skincare products are clinically proven to be as gentle as water on an infant's delicate skin.
Most customers have reported experiencing excellent results from using Aveeno, such as visibly smoother and softer-feeling skin with no signs of irritation or breakouts.
Aveeno products contain colloidal oatmeal which helps calm and soothe the skin while providing hydration without clogging pores which could lead to breakouts. Plus, many of their moisturizers also provide SPF protection for added sun safety.
Whether or not you experience any type of breakout after using Aveeno will depend largely on your own individual skin type and existing sensitivities/allergies that you may have towards specific ingredients used in their formulas. It might be a good idea to consult your dermatologist, to be sure the product and ingredients will work for your skin concerns.
What Happens If You Use Body Lotion On Your Face?
Using body lotion on your face can be both good and bad. On one hand, it is important to have healthy skin and using a product that may offer moisture can keep the face feeling soft and supple.
However, body lotions are often formulated with ingredients that are too harsh for the delicate facial skin. Using such products on the face can cause irritation, breakouts, inflammation and redness.
Therefore, it is best to only use facial skincare products specifically designed for facial use as they are typically safe for use on the sensitive areas of the face without risking side effects or an adverse reaction like a rash, or itch sensation.
Facial moisturizers tend to also be more gentle in comparison to body lotions, since they contain fewer harsh ingredients meant to protect delicate skin health.
They also provide added benefits such as sun protection, which is essential no matter what area of skin you are caring for.
Summary
Aveeno is one of the most popular and trusted skincare brands in America, thanks to its natural ingredients and technologically advanced solutions. The brand's signature Active Naturals® ingredients include colloidal oatmeal, soy, feverfew extract and other botanicals that can help to soothe, nourish and brighten skin.
The best Aveeno products are those that provide long lasting hydration, protection and relief from everyday stressors such as the Daily Moisturizing Lotion or Stress Relief Body Wash.
You can use Aveeno moisturizer on your face – just make sure you choose one specifically designed for facial skin and apply it sparingly at first until you know how your own skin will react to it when used all over the face.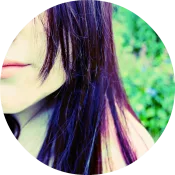 Hi, my name is Gemma, and I'm the owner of MakeupMuddle.com. I'm a true beauty obsessive, and love writing about anything to do with beauty – I have been a beauty writer since 2012.
As well as owning Makeup Muddle, I also own GemmaEtc.com, and love sharing my thoughts and feelings about the greatest (and not so great) beauty products!