Do you find that your makeup looks dry and cakey no matter how hard you try? Or you wonder why does my makeup look dry? Have you ever applied foundation only to be left with a look that is dull, uneven, or cracked? If so, you're not alone.
Many people struggle with trying to get their makeup to have a smooth, natural-looking finish, while avoiding the dreaded "cake face", especially if your skin is particularly dry.
I'm going to share the different reasons for why your makeup might look dry and what steps you can take to make sure your look lasts all day long.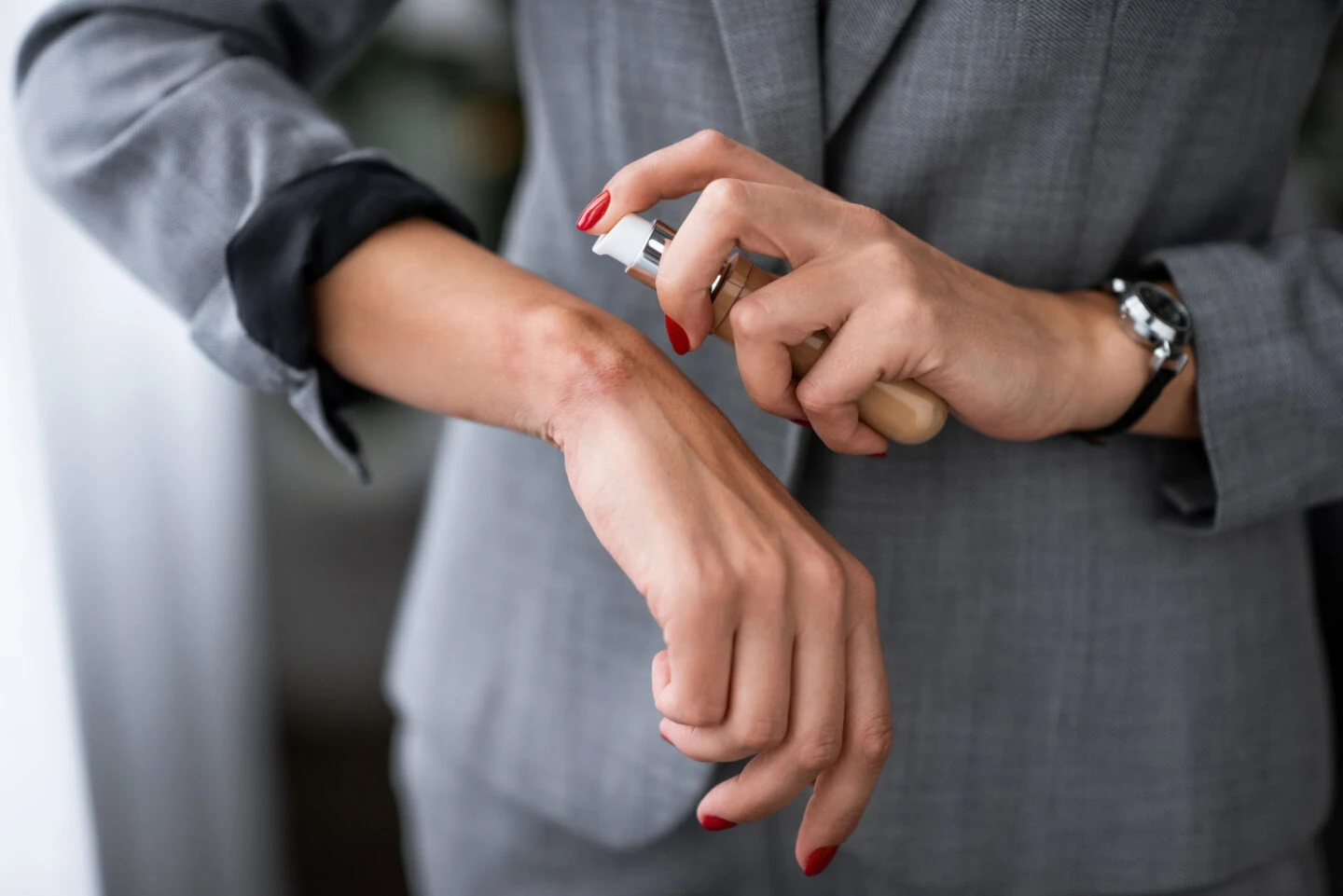 Why does my makeup look dry?
Makeup can look dry for a number of reasons, and understanding why it looks this way is important in order to ensure that it looks its best all day. Let's examine the most common causes of dry makeup, beginning with skin type.
If you have naturally dry or dehydrated skin, your makeup may appear dry due to lack of moisture.
Applying moisturizer prior to makeup application will help create a more hydrated base for your foundation or primer and help prevent an overly powdery finish.
Another common cause of dry-looking makeup is aging skin; as we get older our skin produces fewer natural oils which can make our faces look duller and drier than usual after applying foundation, blush, bronzer and other face products.
To counteract this issue, apply a facial oil before applying foundation and use gentle exfoliating scrubs once or twice per week to keep the skin looking refreshed and glowing throughout the day.
Using too many powder-based products such as setting powders to set your foundation, concealers or heavy foundations can give your face an overly powdery appearance.
While also emphasizing existing fine lines or wrinkles (even if they are not noticeable without product). Using less powder product can be beneficial — just remember to lightly set your face with oil-control powders only where necessary.
Importance of exfoliation in making your makeup look less dry
Exfoliation is one of the most important steps in any skincare routine, as it helps to keep skin looking healthy and vibrant. It removes dead skin cells, dirt, oil and other debris from the surface of the skin, resulting in a brighter, smoother complexion.
When it comes to applying your foundation, exfoliation is equally crucial, as it helps to remove any dry and patchy areas on the face that could cause foundation or concealer not to lay flat or look dull.
Exfoliating regularly can help reduce how cakey and dry your makeup looks by improving overall texture and tone, as well as allowing for better product absorption.
Regular exfoliation allows products like moisturizers and serums to penetrate deeper into the layers of the skin, so they can hydrate more effectively. This results in less dryness overall, which then helps makeup go on smoother with fewer creases or lines caused by dryness.
Using exfoliators within your skincare routine will also allow for a more even distribution of products when applied onto the face before makeup application.
Exfoliators are specially designed with small abrasive particles that slough away dead skin cells from all layers of the epidermis, leaving behind a fresh canvas perfect for primer and base coverage.
This will create an even distribution, meaning you won't have any concentration points where you may be struggling to spread out your product due to leftover buildup from previous days wearings.
Keep your skin moisturized to reduce dryness
Keeping your skin moisturized is one of the best ways to reduce dryness, which can often lead to a very unappealing look with makeup products.
Dry skin can make your face more prone to wrinkles and lines, as well as cause a cracked, dull looking appearance that takes away from any makeup applied on top.
To keep skin hydrated, it is important to use richly hydrating and nourishing creams both daily and night before you sleep.
Applying generous amounts of cream all over the face right after cleansing will help lock in moisture so that the skin can benefit from being hydrated throughout the day.
When wearing makeup during the day or night, make sure to also add a light layer of facial oil prior to applying cosmetic products. This will help create an even, less cakey coverage while adding extra luminosity and glow to the complexion.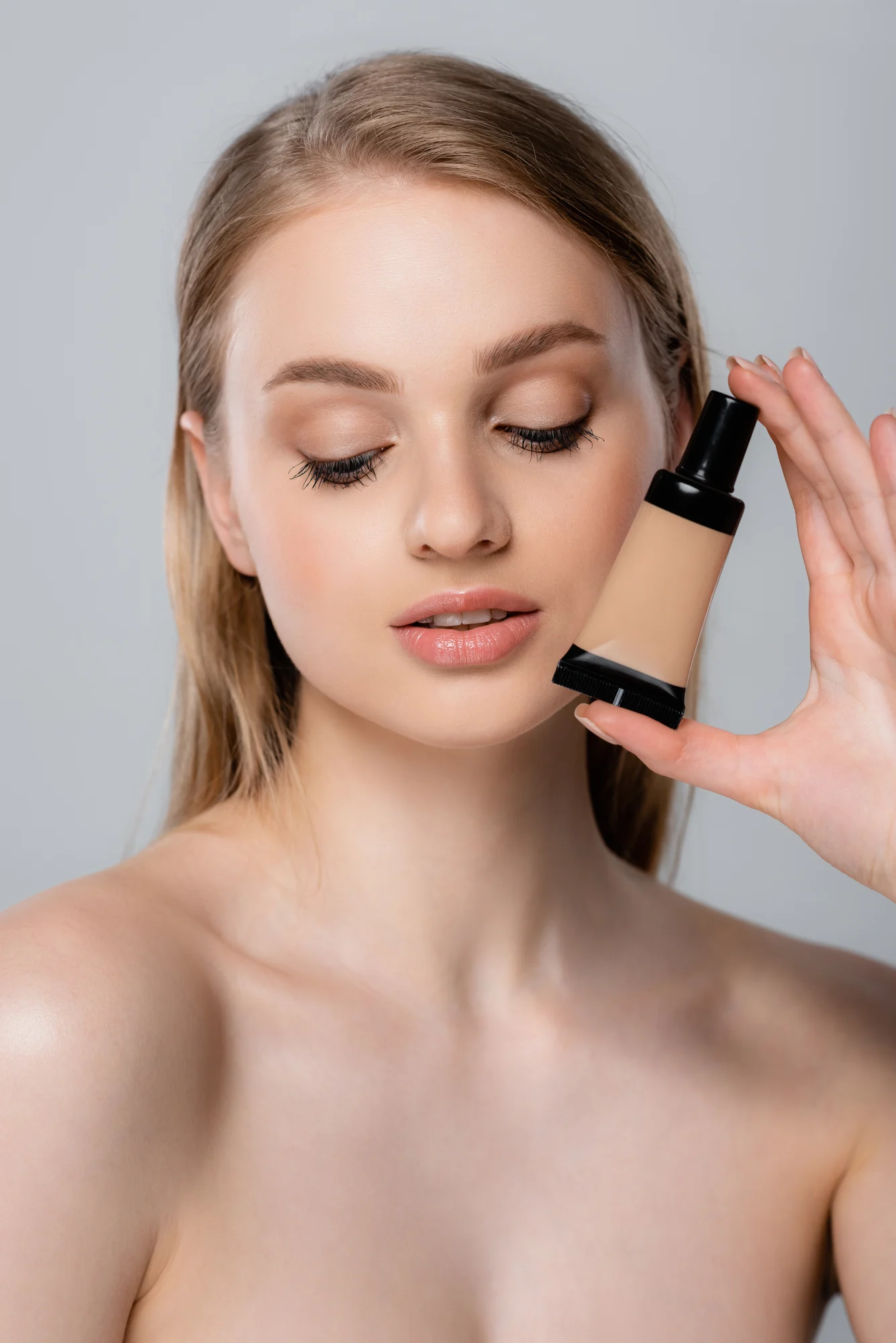 Use a hydrating makeup primer to boost hydration in the skin
Hydrating makeup primers are a great choice if you want to reduce the dryness of your foundation, as they help to trap hydration in the skin's surface.
When applied before makeup, working it into the skin helps to create a protective barrier that will lock in moisture and prevent it from being stripped away by harsh environmental factors such as wind and sun.
This is especially useful when dealing with dry skin types or those that suffer from flaking, cracking and other issues related to dehydration.
A hydrating primer also helps improve the texture of your skin, so that any foundation you apply afterward will go on more smoothly and evenly for an airbrushed finish.
It can also fill in any fine lines or wrinkles due to its natural plumping properties, which can make your makeup look more flawless and last longer as it won't sink into any creases or pores.
Many hydrating primers are formulated with nourishing ingredients like Vitamin E and Hyaluronic Acid that aid in keeping moisture locked in without feeling too heavy on the face.
Don't apply too much powder to reduce the dry and cakey look
When it comes to powder makeup, a little can go a long way. Applying too much of this beauty product can result in an overly dry and cakey look, which is far from desirable.
To avoid such an outcome, start off by using the right brush when packing on the powder.
A fluffy bristled brush or even a beauty sponge will work better than anything else as they help control how much of the product you add. Instead of going all in at once, begin with less and then gradually build up to your desired level of coverage.
In addition to applying less powder, you should also focus on properly prepping your skin before application as well.
Moisturize your face first so that the powder goes on smoothly and absorbs any oil-producing sebum for a matte finish that won't look dry or cakey.
Exfoliating regularly is advisable too since this helps remove dead skin cells and prevent them from cling to dry patches, onto your makeup products like blotting paper – ultimately resulting in increased longevity and improved texture overall.
Always finish with a setting spray to reduce the dry makeup effect
Be sure not to forget about setting sprays. As they help lock down your foundation while also providing vital hydration throughout the day without compromising your makeup's performance or appearance.
Reactivate these sprays whenever needed (especially during hot weather) so that everything stays put without getting too caky or flaky afterwards.
Why does my foundation look patchy even with primer?
One of the most common problems when applying makeup is patchy foundation – it happens even with a primer. Primers are designed to make your foundation look more even, but there are a few other factors that can affect how your foundation looks once applied.
If you don't use an oil-free moisturizer or primer for oily skin types before applying your makeup, this can cause the foundation to look patchy as the oils from these products will stop the product from adhering to your skin properly, and you won't have flawless foundation.
Using too much product in one area and not blending it out properly can also lead to patchiness. Try using less product next time and ensure that you blend it out thoroughly up until you have achieved an even coverage all over your face.
Another thing to consider is whether or not you are using a product that's right for your skin type – some foundations may settle into fine lines or dry patches when used on certain skin types.
Choosing a good quality product that's formulated with hydrating ingredients may help prevent patchy application.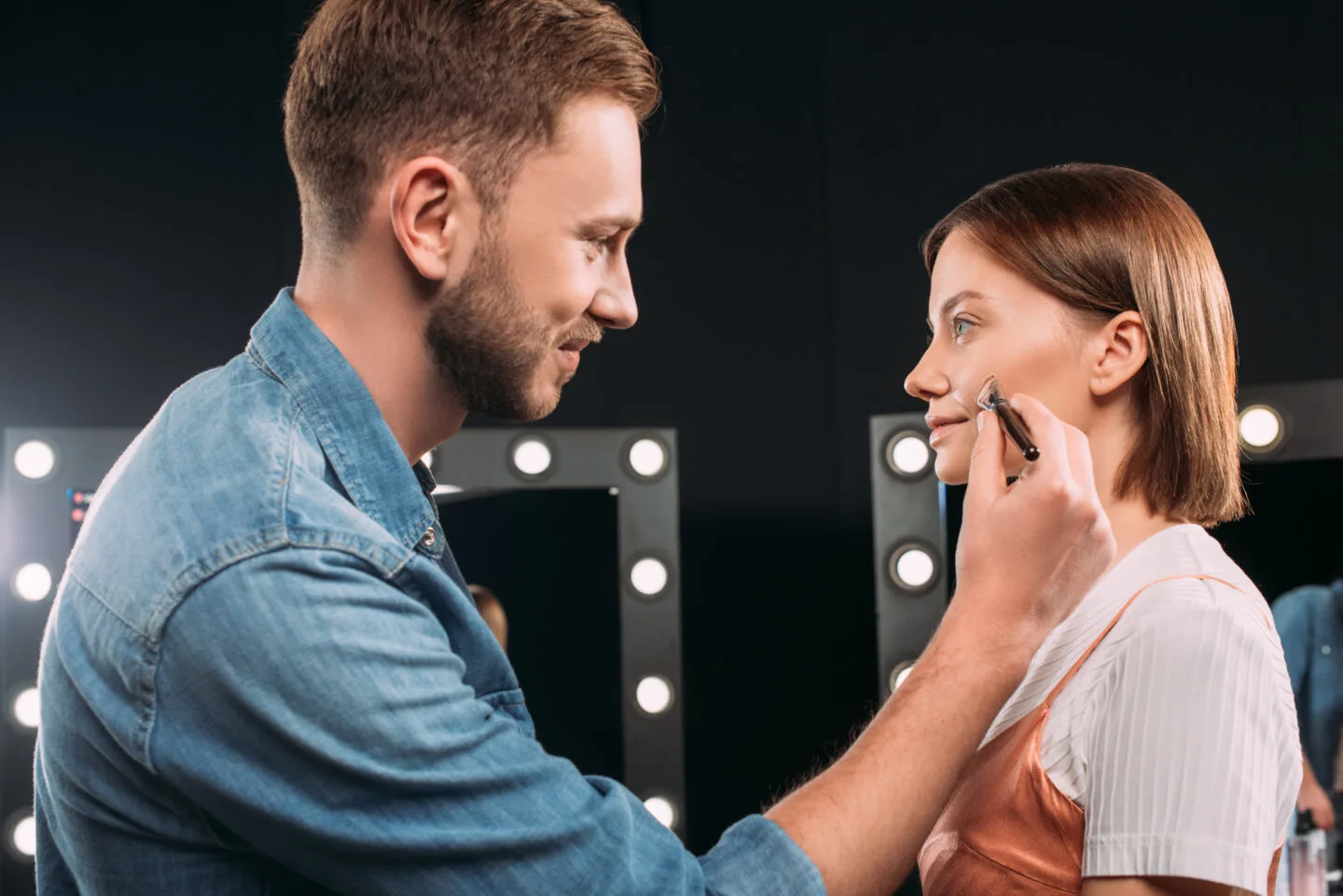 How to wear powder foundation with dry skin?
Powder foundation is a great face makeup option for those with dry skin, as it can help to absorb excess oil and give the skin a mattifying effect.
However, it is important to apply powder foundation correctly, stop foundation over-application, as too much can highlight dry patches and accentuate wrinkles.
The key is to start with a clean, well-moisturized face. Apply a small amount of powder foundation using a damp beauty sponge or brush, and then build up coverage as needed.
Be sure to blend well, especially around the edges of the face. Finally, set the foundation with a translucent loose powder to help it stay in place all day long.
People assume powder foundations don't work as well as a liquid formula, but they're both effective. Matte foundation will always make skin look dry, and look flaky, so choose more dewy foundation formulas that matches your skin tone.
Using the wrong foundation for your skin type, will give you a flaky foundation effect, and it'll be noticeable that your skin is dry underneath your makeup, when you want to look flawless.
I have oily skin, but my makeup looks dry, why?
Having oily skin can often be quite frustrating, especially when it comes to makeup.
Oily skin requires special attention, and you need to make sure that your foundation routine is tailored to suit the unique needs of your particular skin type.
Unfortunately, many people with oily skin find that their makeup looks dry and cakey even though they have done everything possible to combat shine.
The most likely explanation for this issue is that the wrong products are being used; often those designed specifically for either dry or combination skin.
It's important to select a foundation that is lightweight and oil-free, as well as one which will provide coverage without clogging up pores. Also look out for foundations which contain mattifying ingredients such as silica or kaolin clay to help reduce shine throughout the day.
It's also important not to overlook skincare prior to applying makeup; using a gentle cleanser and hydrating moisturizer will help create an ideal base before applying foundation.
Lastly, changing your powder brushes or using blotting papers can help keep things looking dewy rather than dry by absorbing any excess oil on the surface of the skin.
Why does my makeup look cakey?
One of the most common reasons why makeup can look cakey is because too much is being applied.
When foundation is applied too thickly, it can settle into fine lines and accentuate dry patches.
The best way to avoid a cakey makeup look is to start with a small amount of foundation and build up coverage as needed.
In addition, use a damp beauty sponge or brush to apply the foundation, which will help to create a smooth, even finish for every skin type.
Make sure you set the foundation with a translucent powder to help reduce shine and keep your makeup in place all day long.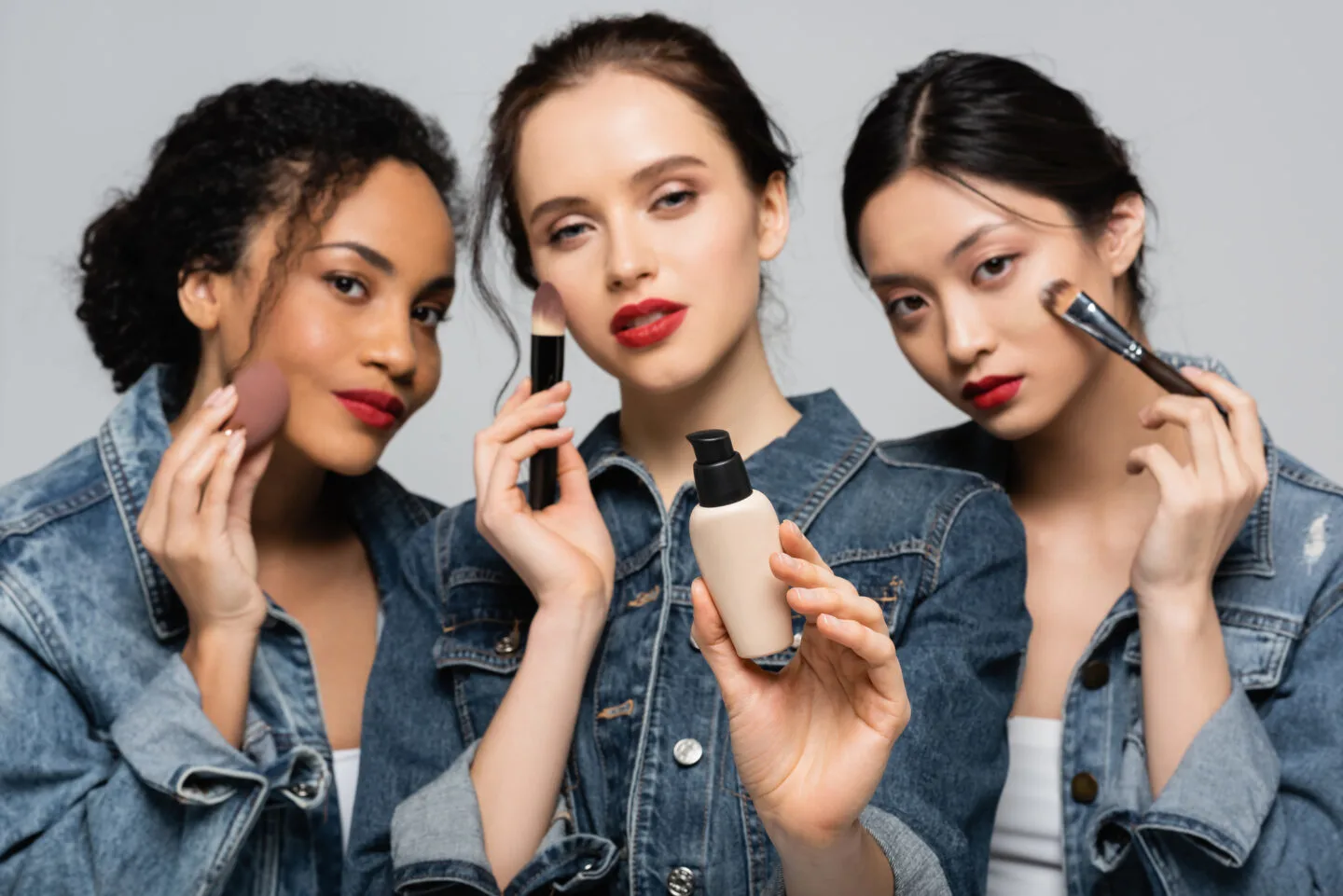 How to fix separated foundation on face?
This can be caused by a number of things, including incorrect cleansing, using harsh products, or simply genetics. Separated foundation often leads to uneven skin tone, redness, and flakiness.
If you're dealing with this problem, there are a few things you can do to fix it. First, try switching to a gentler cleanser and avoid using harsh scrubs or exfoliants.
You should also make sure to moisturize regularly, as dryness can worsen the problem.
Finally, consider using a primer before applying liquid foundation with your makeup brushes, as this will help create a smoother canvas, as well as helping to keep your makeup from cracking and separating on the skin.
Summary
Why does your foundation look dry and flaky, and make your skin look patchy? If you're having trouble with your makeup looking dry, there are a few things you can do to fix the problem, as recommended by any professional makeup artists.
First, make sure to prep your skin properly by cleansing and moisturizing before applying foundation. Second, use a setting powder to help set the makeup and reduce shine.
Always use a primer before applying foundation, as this will help create a smoother canvas and reduce the chances of your makeup separating on the face.
One way to avoid dry looking makeup is to opt for sheer coverage foundation over full-coverage foundation. If you use a damp makeup sponge, it'll help your foundation lay down nicely on the skin. Always avoid applying too much foundation, as that will stop your makeup from looking heavy and cakey.
*This post contains affiliate links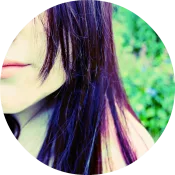 Hi, my name is Gemma, and I'm the owner of MakeupMuddle.com. I'm a true beauty obsessive, and love writing about anything to do with beauty – I have been a beauty writer since 2012.
As well as owning Makeup Muddle, I also own GemmaEtc.com, and love sharing my thoughts and feelings about the greatest (and not so great) beauty products!