The Christmas collabs are starting to appear, and the Wet n Wild x Peanuts Holiday Collection is the adorable offering from Wet n Wild this year.
We've seen lots of cute Wet n Wild collabs over the last couple of years, like their Sanrio My Melody collection, Lilo and Stitch collection and their Care Bears collection to name a few.
The Wet n Wild x Peanuts Holiday Collection however, is a little different to their aforementioned collabs, as this is a Christmas themed licensed collection themed around Peanuts and Snoopy. Keep on reading to see all of the products in the collaboration…
BUY HERE: Amazon / ULTA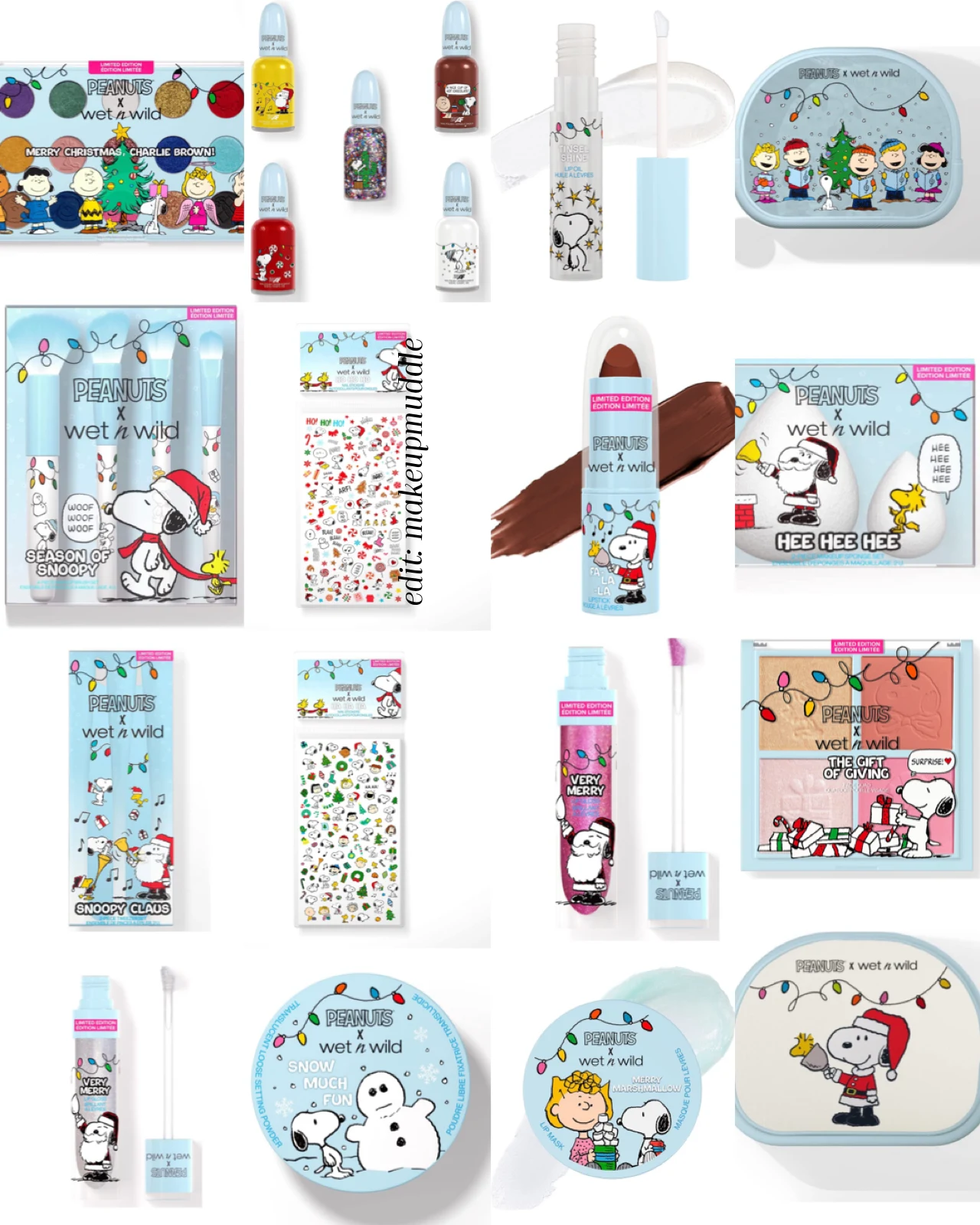 Wet n Wild x Peanuts Holiday Collection
The Wet n Wild x Peanuts Holiday Collection is a huge collection for the brand, and features products for the eyes, lips, face, skin, nails and of course, beauty tools. Would it even be a Wet n Wild collab without beauty sponges and makeup brushes.
Every product within this limited edition collection has adorable packaging, with festive Peanuts designs and for some products, that festive design is carried through to the actual products too.
"Things might not always go right for Charlie Brown, but this limited-edition version of our top-selling Breakup Proof Waterproof Liquid Eyeliner is sure to be "Good Grief" proof! Formulated with Vitamin E, our intensely-pigmented liner glides on seamlessly. An ultra-fine brush-tip delivers any look from natural to carefully-crafted wings with the utmost precision."
The first product within the Wet n Wild x Peanuts Holiday Collection is the Peanuts x Wet n Wild Good Grief Proof Waterproof Liquid Eyeliner. This is a felt tip liquid eyeliner pen, with a nice flexible long nib, to help you achieve the perfect winged eyeliner look.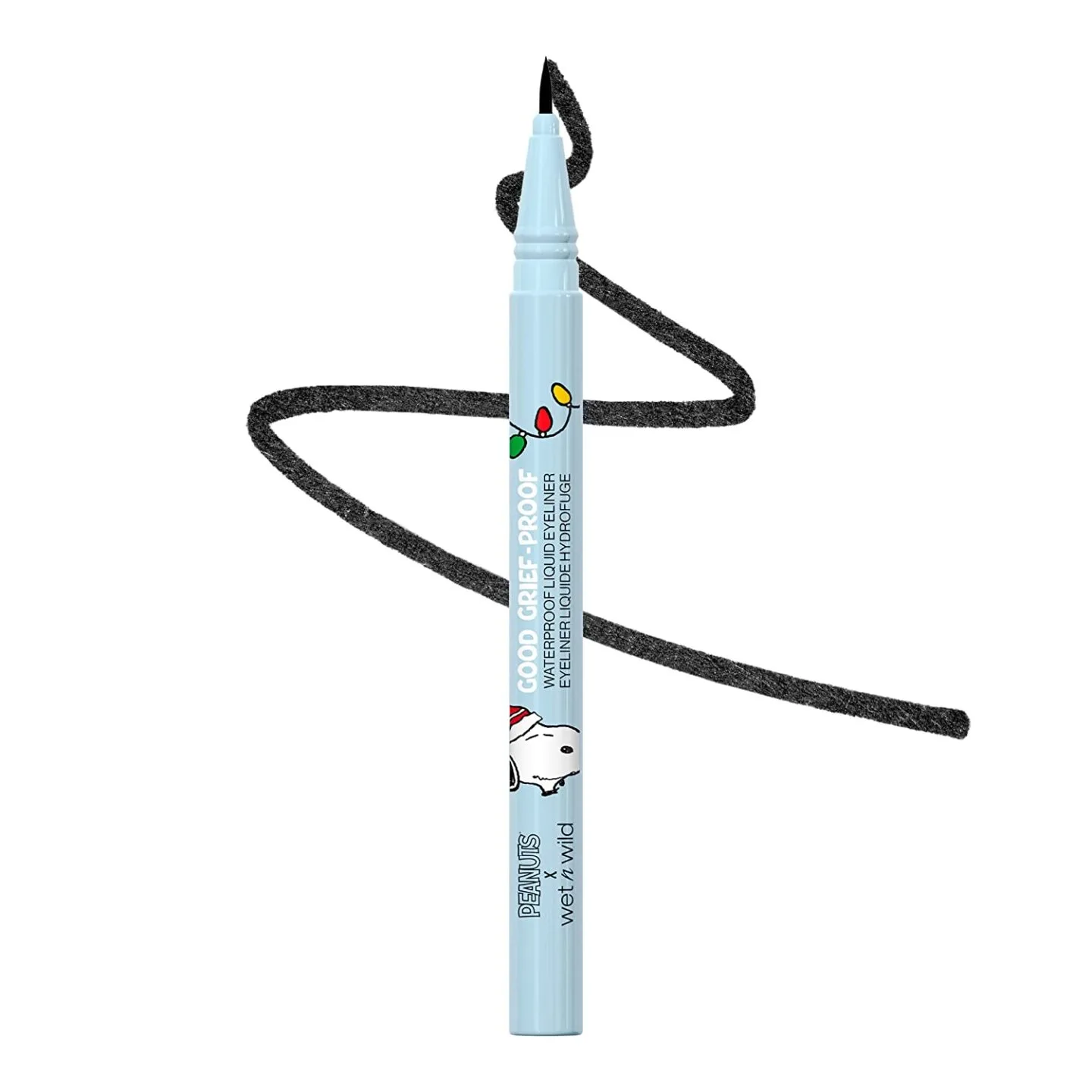 This is actually a special Charlie Brown version of their existing Wet n Wild Breakup Proof Waterproof Liquid Eyeliner. So, if you're a fan of that eyeliner, you'll love this special Peanuts version of the liner, with up-to 16 hours of wear time.
"Master your manicure with these fast-drying nail polishes featuring the color and style of your favorite characters from Peanuts. These limited edition colors not only dry extra fast, but are also blended with a top coat for extra shine and durability. Just one coat is all it takes for flawless nails without an ounce of effort."
The Wet n Wild x Peanuts Holiday Collection includes five nail polishes, yes, five. All five shades of the nail polish are the Wet n Wild Fast Dry AF formula, with blue pastel lids, and adorable Peanuts illustrations on the clear glass bottles.
The five colors to choose from are:
Best In Snow (white creme)
Clang Clang (yellow creme)
Ouch! Oo! Ow! Yipe! (Multicolored glitter top coat)
Red Hat (red creme)
S'mores Kit (chocolate brown creme)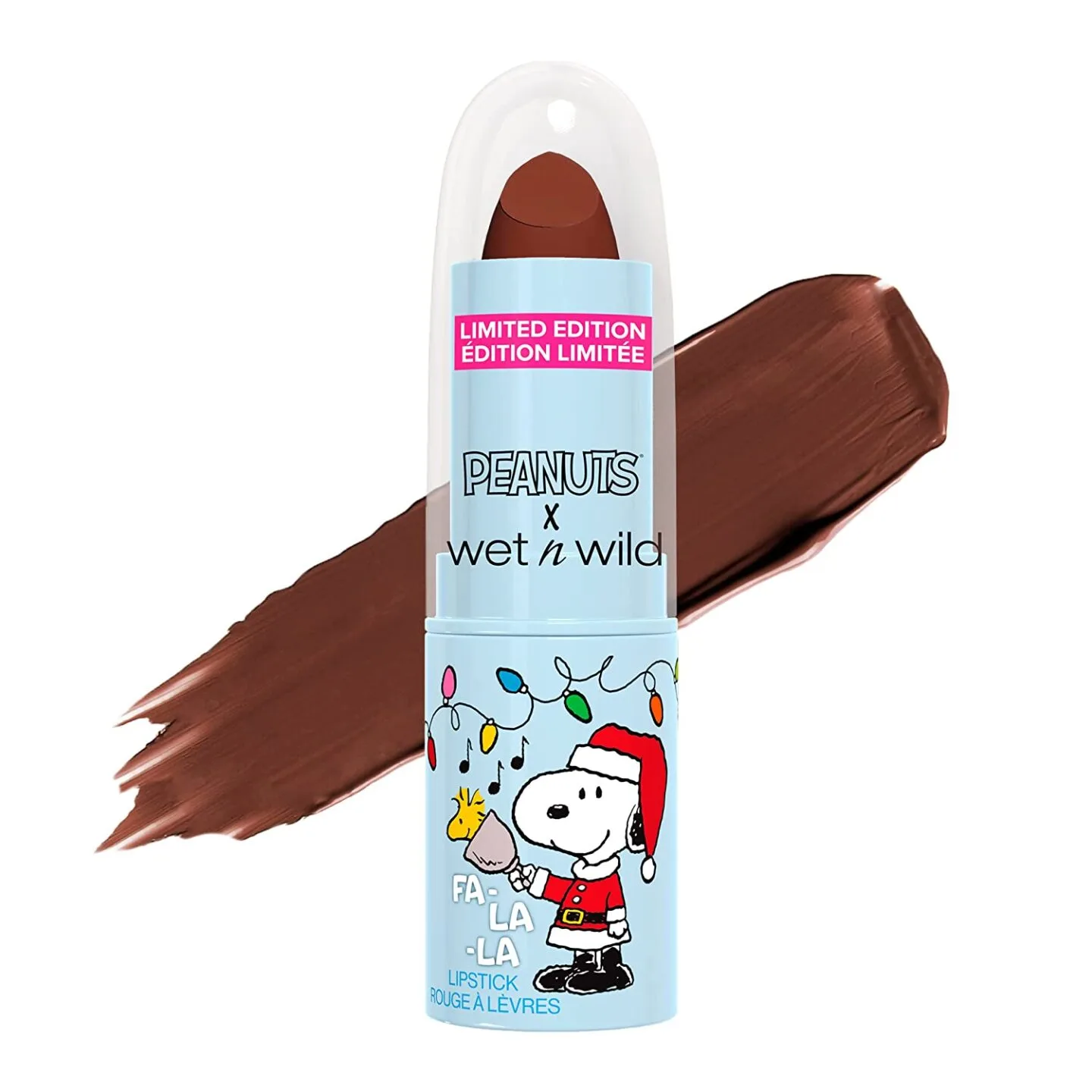 "Get ready to stand under the mistletoe with these vibrant lipsticks featuring your favorite characters from Peanuts! This ultra-creamy lipstick provides velvety color that glides on in a single vibrant swipe."
Next in the collection is a lipstick, and it's the Wet n Wild x Peanuts Fa La La Lipstick, in the shade Charlie Brown. This lipstick is a deep brown color to complement Charlie's name.
The casing is the cutest with fairy lights wrapped around the tube, with Snoopy dressed as Santa on the front.
"Get into the holiday spirit with the help of the cast of Peanuts! These limited-edition nail stickers feature unique Peanuts designs that add some cheer to any look. Just stick them on and layer under a clear coat of polish and you've got an instant manicure without the effort!"
The Peanuts x Wet n Wild Collection next features two different sets of Wet and Wild Peanuts Collection Inspired Nail Stickers. There's the Ha Ha Ha Nail Stickers, and the Ho Ho Ho Nail Stickers.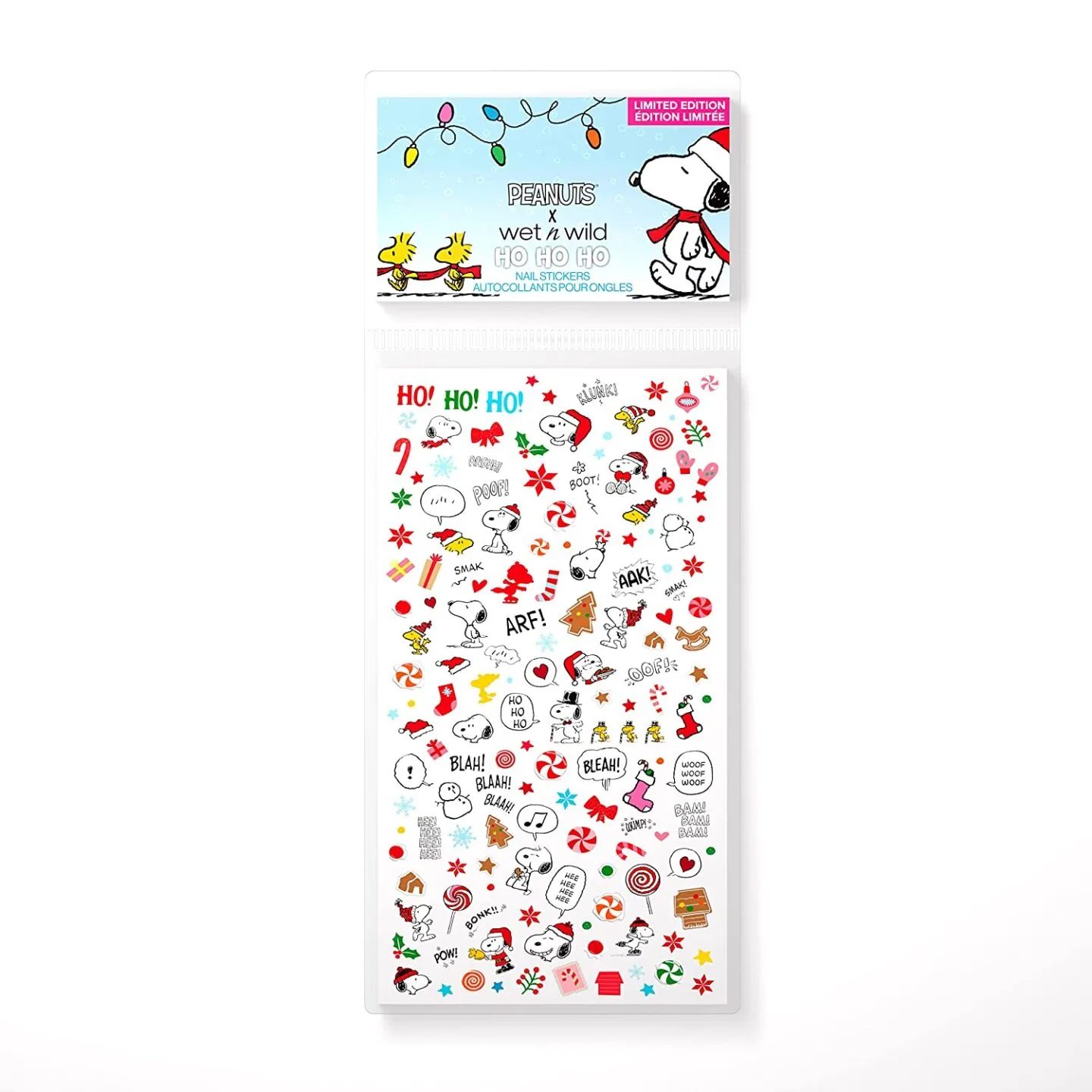 Both sets include a sheet of tonnes of nail stickers, all themed around Christmas and the Peanuts characters. You get so many stickers on the sheet too, making them fab value.
"Woodstock glees with HEE HEE HEE for the holidays! Together with Santa Snoopy, this makeup sponge set brings joy to any makeup routine. Made with hydrophilic technology for smooth, streak-free blending, the two sponges allow for precise and effortlessly flawless application all over the face."
One of the cutest pieces in the collection is the Wet n Wild x Peanuts Hee Hee Hee Makeup Sponge Set. It's a two piece beauty blending sponge gift set, with two teardrop shaped white beauty sponges.
One sponge is your conventional beauty sponge size, and the other is slightly smaller. Both sponges have a printed festive Peanuts design, and they're so sweet. Wet n Wild always do cute sponges for their collabs.
"Give yourself the best gift of all…the ultimate face palette that gives you everything you need to achieve your best style. This palette includes two highlighters and two blushes in festive colors inspired by the classic cartoon Peanuts. Sculpt, highlight, and add radiance to your look for a full-on instant strobe effect. Richly pigmented with effortless glide-on application, these highlighters and blushes give you a 3-dimensional shine that'll leave you positively merry."
The next item in the Wet n Wild x Peanuts Holiday Collection is the Gift Of Giving Face Quad Palette, and it's one of my favorite things in the collection for sure.
It's a four pan face palette, with two powder highlighters and two powder blushers. Both blushers appear to be matte, and the four powders all feature a Peanuts design embossed into the pans. The four shades inside the palette are;
It's Golden Retrievers (highlighter)
Icy Glow (highlighter)
Christmas Cookie (blush)
SMAK (blush)
The palette gives you a warm gold highlighter, icy champagne highlighter, peach blush and a pink blush in super cute patterned packaging.
"Do your cheeks want some cuddle time with Snoopy? This Snoopy face scrubber is made of flexible silicone to gently cleanse and exfoliate the skin while buffing away dirt and grime. The charcoal-infused facial soap provides perfect lathering for a luxuriously deep cleanse."
Then we have the Wet n Wild x Peanuts Making Faces Bright Face Soap & Scrubber Set, which is a two-piece cleansing kit.
In this kit, you're getting a jar of the Wet n Wild x Peanuts Charcoal Face Soap 80g / 2.82 oz, as well as a silicone face scrubbing tool, in the shape of Snoopy's head. When used together, the duo work to cleanse and exfoliate the skin in one easy step.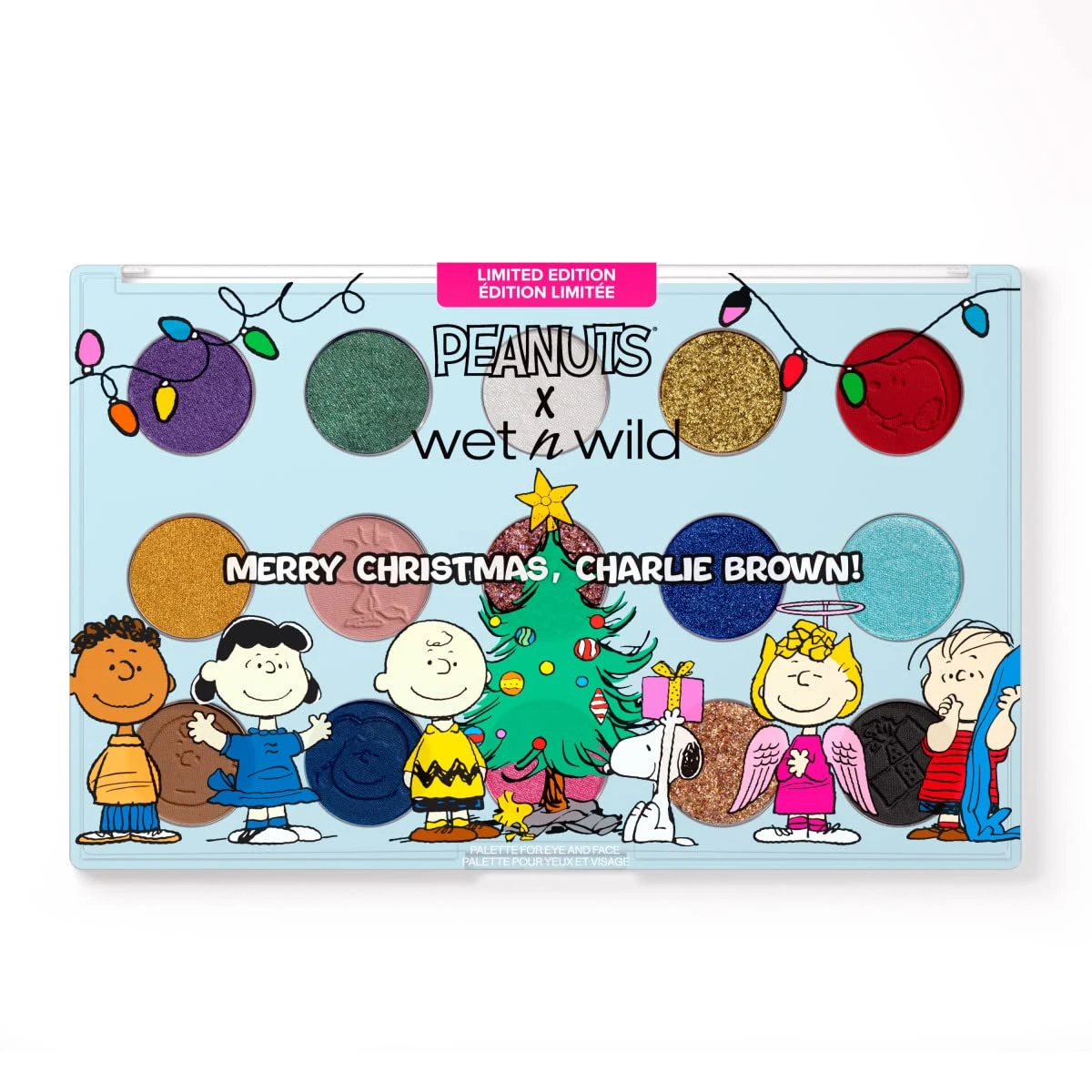 "Merry Christmas and happy holidays from all your pals from Peanuts! This 15-pan palette of hyper-pigmented colors help you get vibrant looks with butter-soft matte, sparkly shimmer, gleaming satin, and self-adhering multi-dimensional glitter finishes. Buildable and blendable, these rich makeup pigments glide on smoothly and effortlessly for maximum color payoff."
Would it be a Wet n Wild collab without an eyeshadow palette? Well, the Wet n Wild x Peanuts Holiday Collection features the Merry Christmas Charlie Brown Eyeshadow Palette, with 15 shades.
The front of the Snoopy Wet N Wild palette has six of the Peanuts characters, standing beside a Christmas tree, with a mix of matte, shimmer and pressed glitter finishes. The matte shades even have Peanuts themed pan designs too.
"Just like how presents appear on Christmas morning, your lips will feel softer and more beautiful with this overnight lip mask. Formulated with antioxidant-rich vitamin E, this mask helps lips look and feel softer overnight, while providing a bouncy marshmallow scent."
There's something delicious next, and it's for the lips. It's the Peanuts x Wet n Wild Merry Marshmallow Lip Mask.
It's in a little jar, and is blue in color, yet it translates as clear on the lips. Like the name suggests, this delicious lip mask has a marshmallow flavor / scent – which sounds amazing!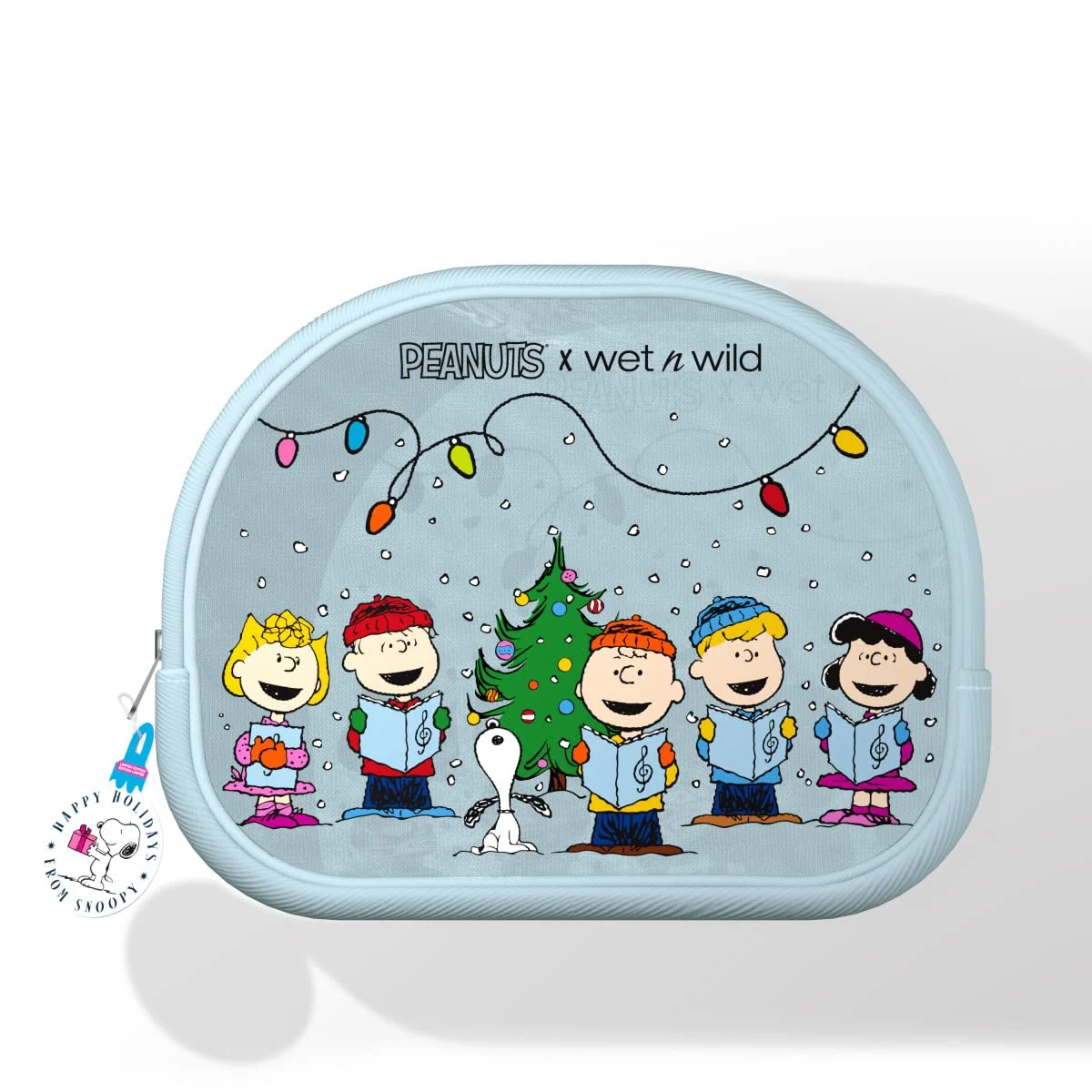 "Join Charlie Brown, Snoopy, and the rest of the Peanuts gang in a holiday celebration to remember! This medium-sized makeup bag is a great way to store all of your beauty essentials, both during the holidays and the rest of the year."
The next item is a Peanuts x Wet n Wild Makeup Bag, and it looks like there's two designs to choose from. Both designs have a round shape, with a clear PVC front, with a Peanuts design, and the back of the bag is white material, with another festive design.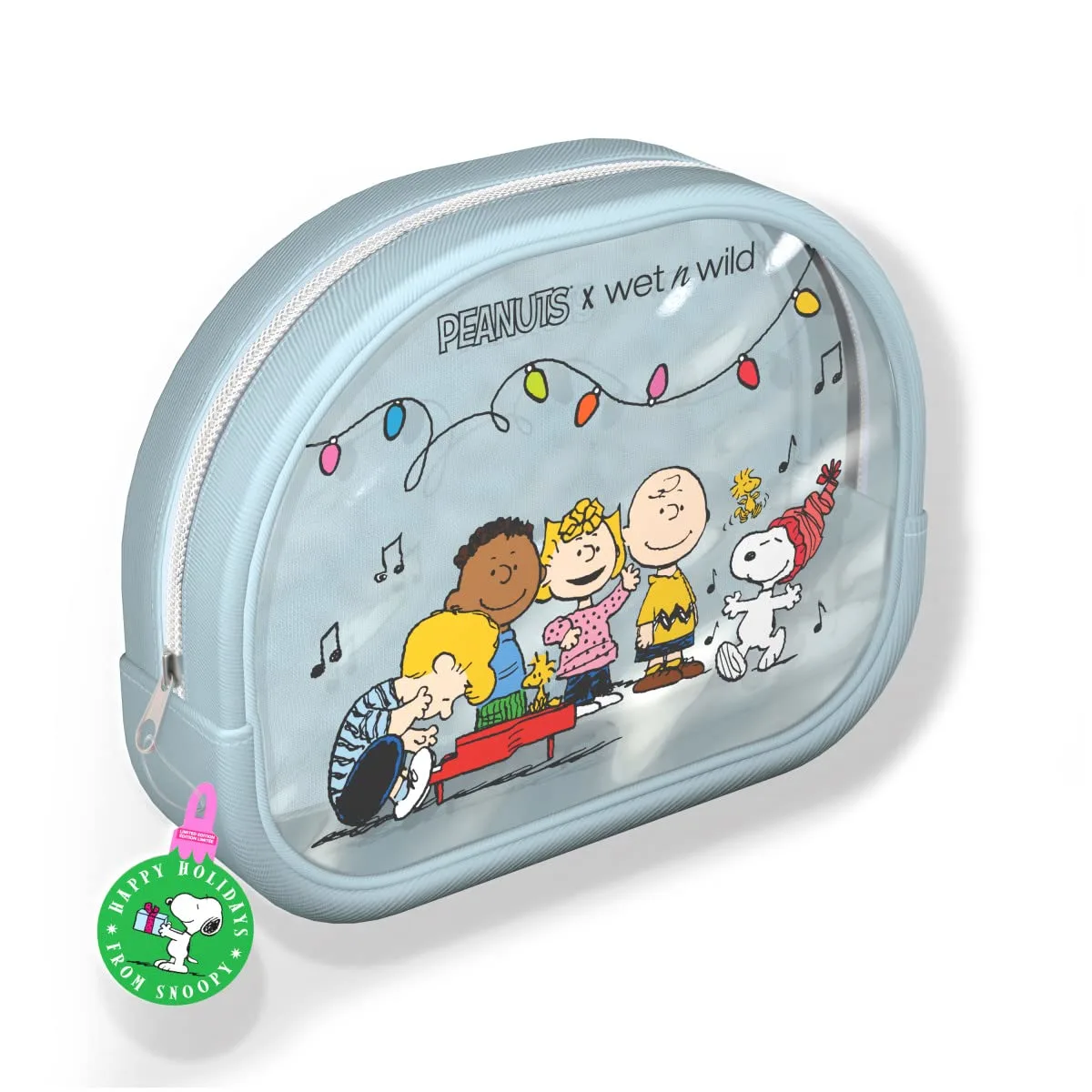 One of the bags has the Peanuts characters singing Christmas carols on the front around a Christmas tree, and Snoopy laying down on the back. Whereas the other design is the Peanuts characters singing carols around a piano on the front, and on the back there's an image of Snoopy dressed as Santa. Both designs are really cute!
"Treat your lips to Snoopy's favorite root beer with this scented lip scrub from wet n wild. Formulated with antioxidant-rich vitamin E, this lip scrub helps to exfoliate dead skin, revealing a glowing, beautiful pout."
Next up is the Root Beer All The Way Lip Scrub, to go with the lip mask in the collection. It's a root beer scented lip scrub , with an image of festive Snoopy drinking root beer on the front.
"Makeup spirits shine bright with Snoopy and Woodstock in this 4-Piece Makeup Brush Set, featuring feathery-soft vegan bristles that pick up and blend product to seamless perfection. This makeup brush kit includes a powder brush, contour/blush brush, eyeshadow brush, and crease blending brush so that you always have the right tool for the job."
The collection also features the Season of Snoopy 4 Piece Makeup Brush Set. This set contains four synthetic makeup brushes, with white handles, baby blue ferrules and white to baby blue bristles.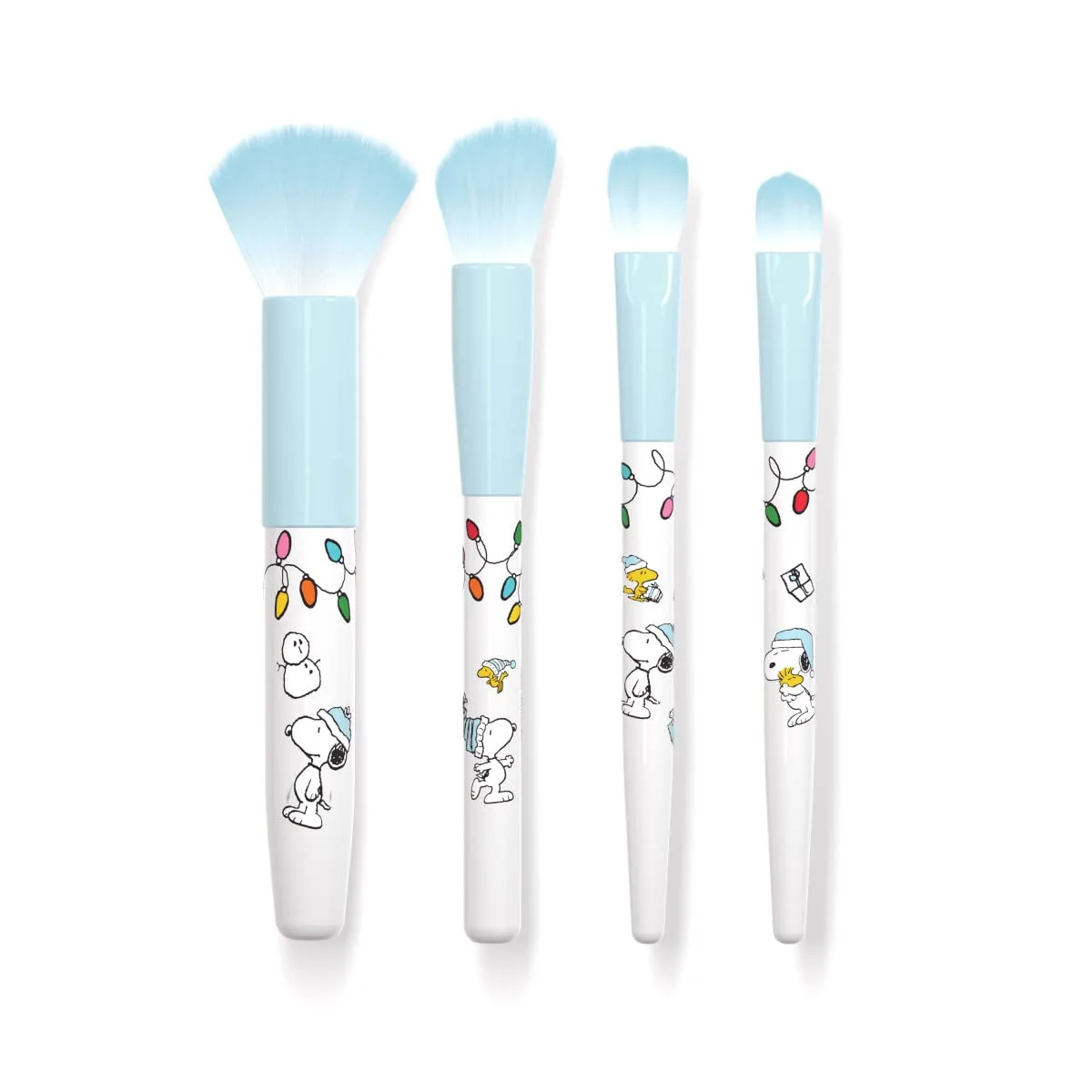 On each of the handles, there's a festive Peanuts design, with Snoopy and Woodstock doing cute things. This brush set includes the following brushes:
Powder brush
Blush brush
Eyeshadow brush
Crease blending brush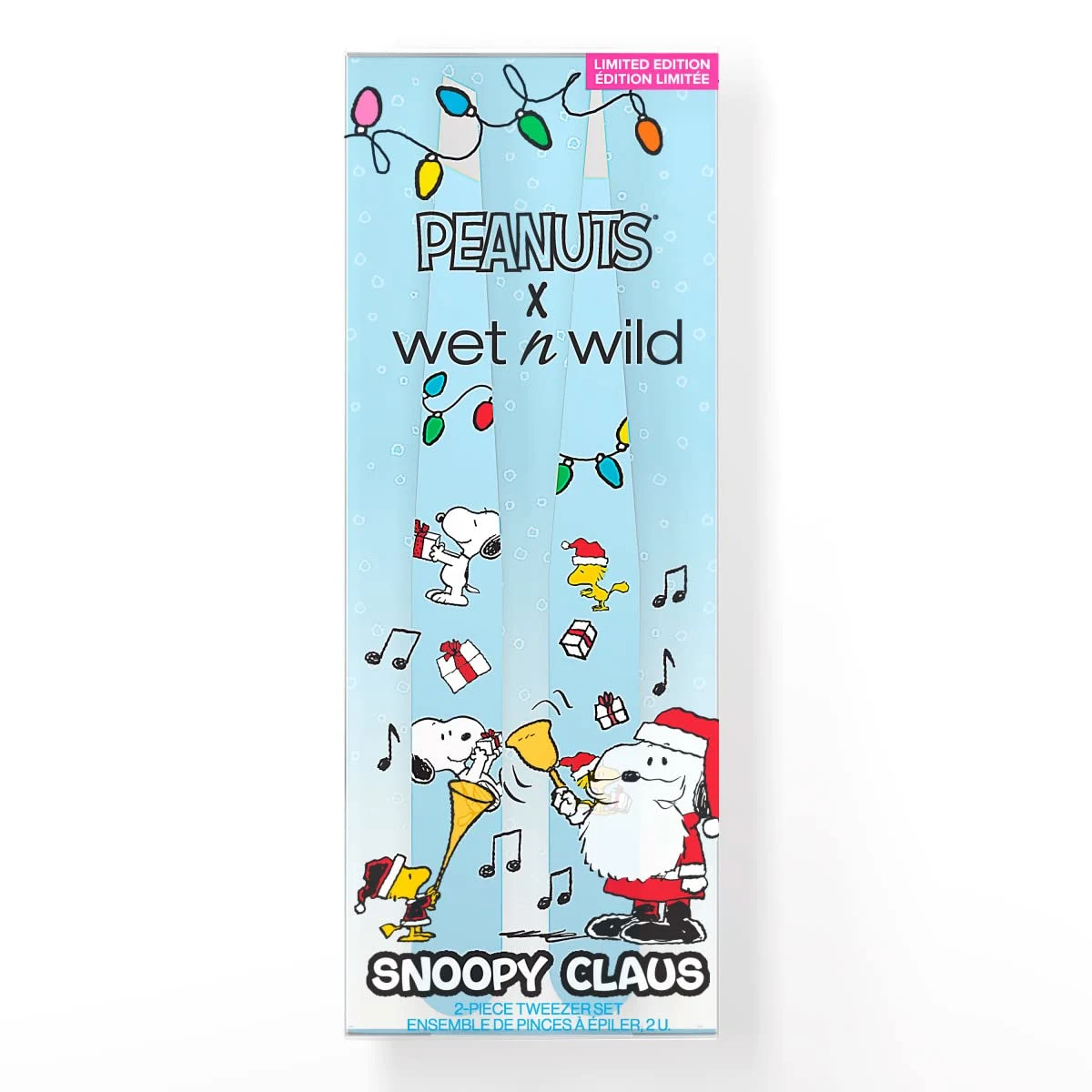 "Be as merry as Snoopy and bright as Woodstock with this 2-Piece Tweezer Set. Featuring both slant and point tip tweezers made with high quality stainless steel, this set delivers perfect brows and removes unwanted hairs with ease."
The Wet n Wild x Peanuts Holiday Collection also features the Snoopy Claus 2-Piece Tweezer Set. This set contains two pairs of tweezers in baby blue, with one pair having a Snoopy design, and the other has a Woodstock design. Giving you a set of angled tip tweezers, and also pointed tip tweezers.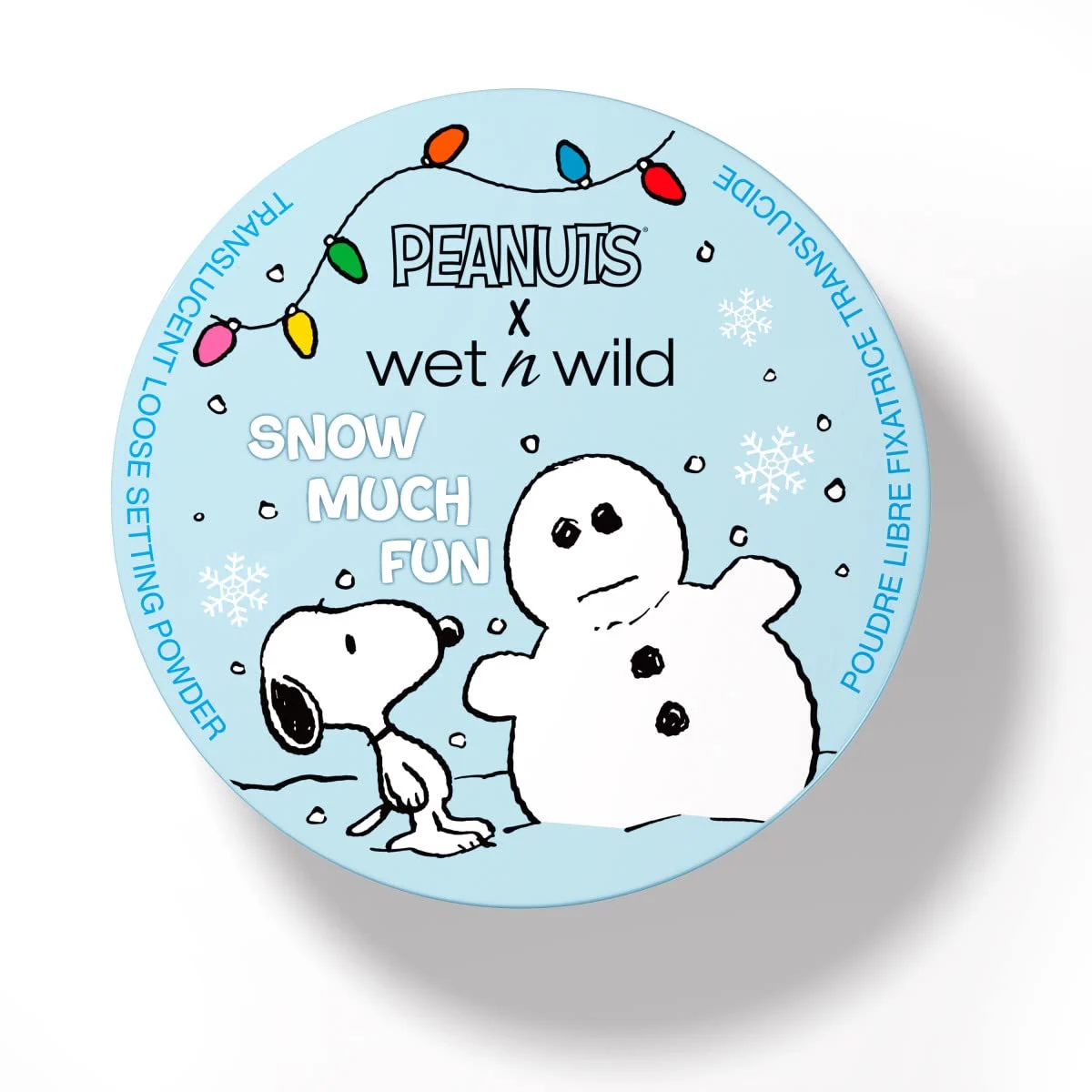 "Your makeup gets frozen in place with the help of this translucent loose setting powder. This silky, weightless formula helps lock in makeup while providing a subtle matte finish and soft-focus effect. As clear as the fallen snow, this sheer powder provides a light layer over your makeup, helping it stay in place."
The next item is a makeup product, and it's the Wet n Wild x Peanuts Snow Much Fun Translucent Setting Powder. It's a loose setting powder, to help you set your makeup in place, with a Snoopy design on the lid.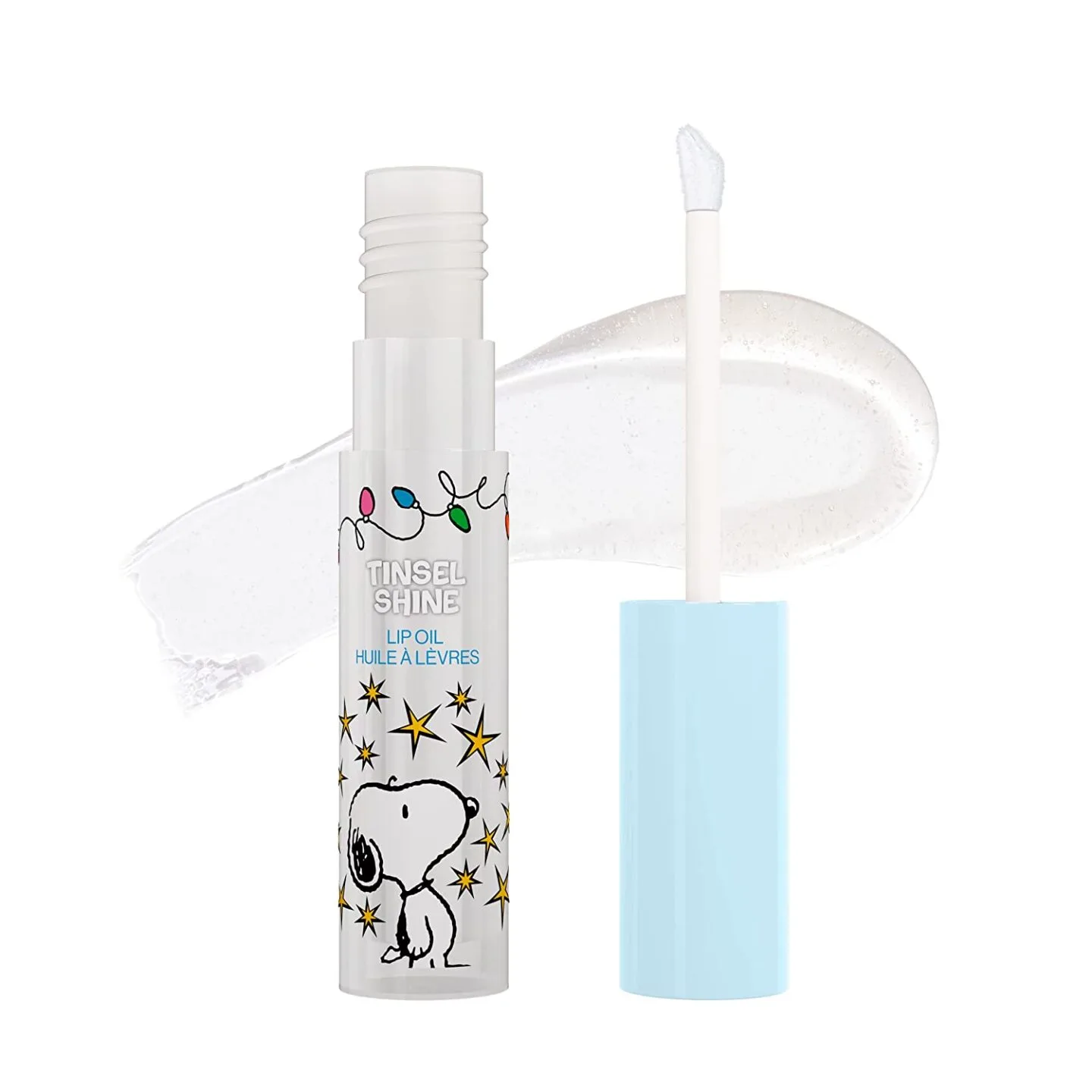 "Your lips shine like a Christmas tree with the help of this soothing lip oil, inspired by the Peanuts holiday special. This serum-like lip oil instantly soothes lips while providing a high-shine finish without feeling sticky or greasy. Formulated with antioxidant-rich vitamin E and soothing peppermint oil, this festive lip oil leaves you ready for the mistletoe"
The Wet n Wild Peanuts Collection next features a nourishing lip oil. It's the Tinsel Shine Lip Oil, with a clear finish, and a yummy peppermint scent.
"Get ready to stand under the mistletoe with these very merry lip glosses featuring your favorite characters from Peanuts! These sleek glosses provide vibrant color with a high-shine finish that glides on in a single swipe. Formulated with antioxidant-rich vitamin E and peppermint oil, this holiday lip gloss makes your lips look and feel better than ever before."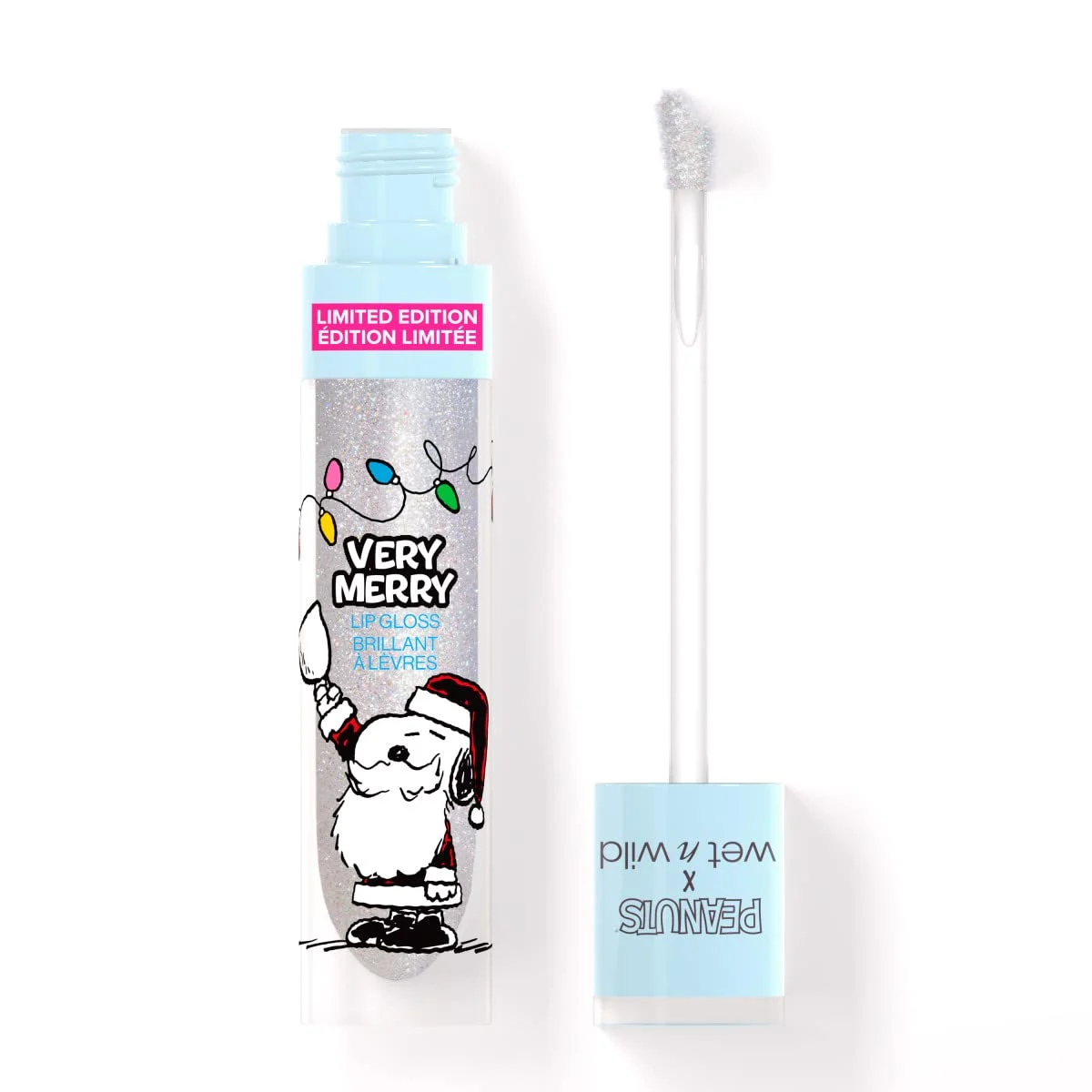 The last two products within the Wet N Wild Snoopy Collection are lip glosses, and they're the Very Merry Lip Glosses, with two shades to pick from, both of which are shimmery.
There's the Peanuts Wet N Wild Pageant gloss which is a shimmery white gloss, and also December Snowflakes gloss, which is a shimmery pink gloss. Both glosses, like the lip oil, have a peppermint scent, and they look very pretty.
So, that's the entire Wet n Wild x Peanuts Holiday Collection for you. Wet n Wild have certainly gone all out with this collection. With adorable packaging designs on absolutely everything, cute shade names and the shades are all perfect and relevant for the collab. If you'd like to check out the Wet N Wild Snoopy collection, it's available right now.
BUY HERE: Amazon / ULTA
All images belong to Wet n Wild.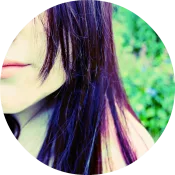 Hi, my name is Gemma, and I'm the owner of MakeupMuddle.com. I'm a true beauty obsessive, and love writing about anything to do with beauty – I have been a beauty writer since 2012.
As well as owning Makeup Muddle, I also own GemmaEtc.com, and love sharing my thoughts and feelings about the greatest (and not so great) beauty products!