It's time for another Disney beauty collab, and this time it's the Wet n Wild x Disney Stitch Collaboration. We've seen a number of collaborations from Wet n Wild over the last 18 months, from their SpongeBob SquarePants collab through to their Saved By The Bell collab.
Whenever a beauty brand collaborates with Disney, it's pretty much guaranteed to be a big hit, and we've not seen a beauty brand collaborate with the Disney Lilo & Stitch franchise, so it's fun to see something new for a change. Keep on reading to find out about the Wet n Wild Lilo and Stitch collection…
BUY HERE: Amazon / ULTA / Wet n Wild
What Is The Wet n Wild x Disney Stitch Collaboration?
The Wet n Wild x Disney Stitch Collaboration is a collection to celebrate the upcoming launch of the Lilo & Stitch Live-Action Movie, launching on Disney+. Featuring a mixture of makeup, skincare, and beauty tools and accessories.
All of the Wet n Wild collaborations feature a mixture of both makeup products, and beauty accessories, and the same applies for the Wet n Wild Stitch Collaboration.
We've seen other beauty brands collaborate on a Disney+ exclusive, such as the ULTA x Wandavision collection, and the ColourPop Mandalorian collection.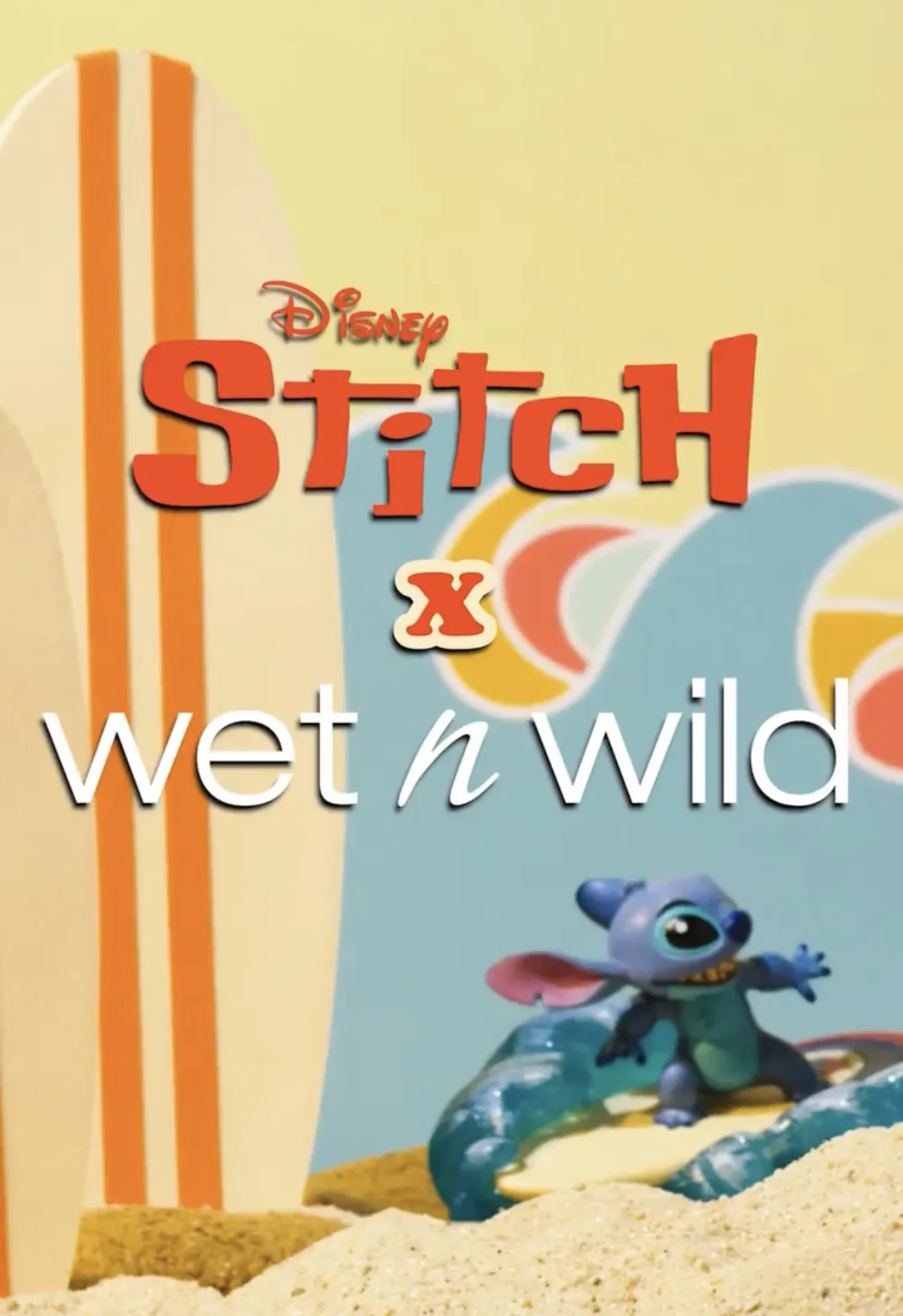 What is the Wet n Wild Lilo and Stitch Release Date?
The Wet n Wild Stitch Collection is available over on Amazon right now. Wet n Wild are yet to officially announce the collection, but I will update this post as soon as that happens.
If you'd like to see all of the products inside this latest Wet n Wild Stitch Collection, keep on reading for a full exclusive reveal...
The first product within the Wet n Wild x Disney Stitch Collaboration is for the eyes, and it's the Wet n Wild x Disney Stitch Flying High Waterproof Mascara $8.43.
This entire Wet And Wild Lilo And Stitch Collection is themed around summer, and the fact the collab includes a waterproof mascara, is amazing.
"Take your lashes to wild heights with the Flying High Mascara! The intensely black formula glides onto lashes and delivers exceptional volume and length in just a single swipe. Perfect for summer getaways, this vacation-ready mascara is waterproof, sweat-proof, and beach-proof, so no matter how hard you party, there's no need to go back for touchups. So keep flying high and feeling good!"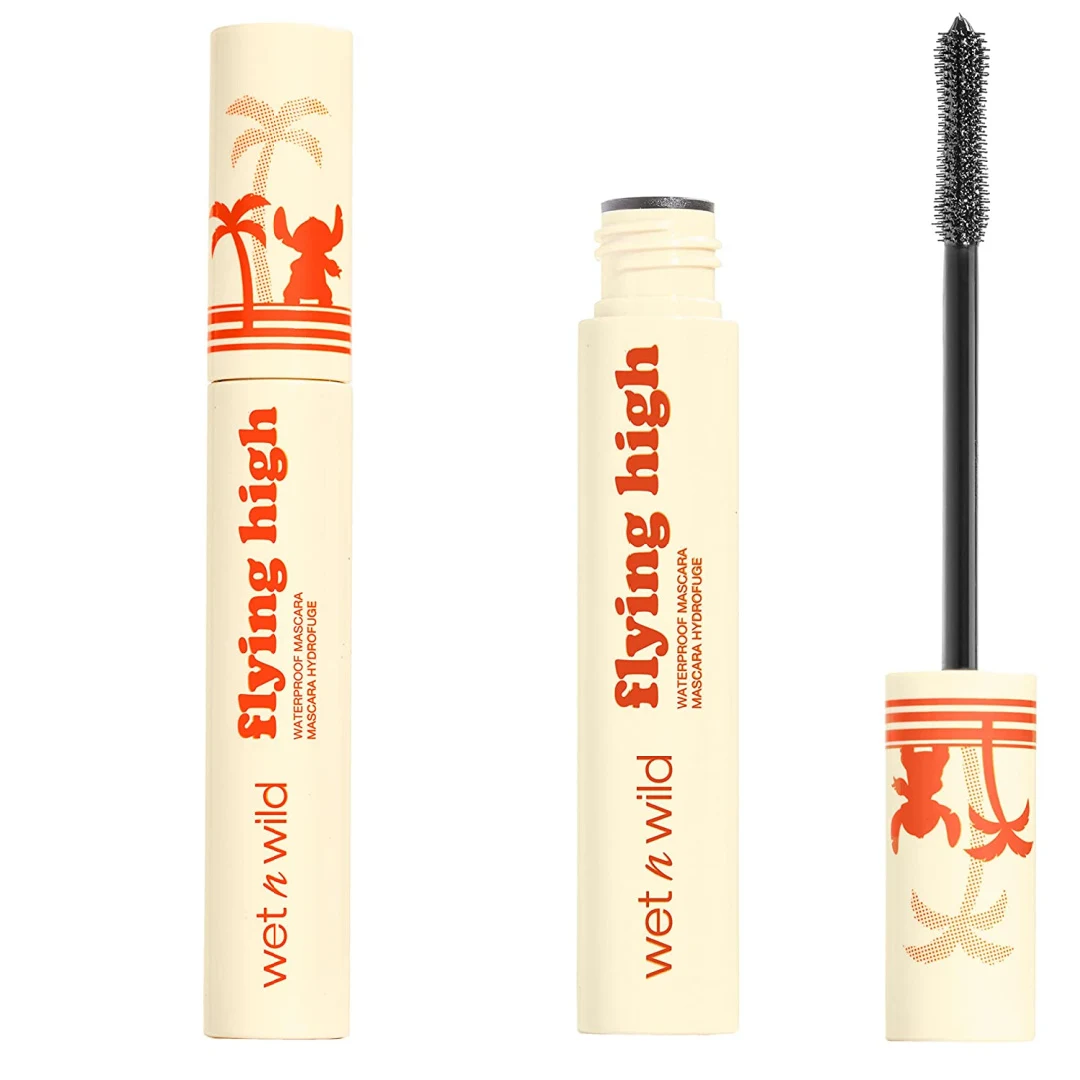 This waterproof mascara contains 8ml / 0.27 fl.oz of product, within a cream plastic tube, with an orange Stitch design. It's a plastic, synthetic brush, with a subtle hourglass shape, to help you catch and coat every single lash.
It's described as being a waterproof, sweatproof, and overall beach-proof mascara – which couldn't be more perfect for summer.
The Wet n Wild x Disney Stitch Collaboration includes three lip products, and they're all lip oil glosses, which is the perfect lip formula for the summer months. The Wet n Wild x Disney Stitch Chillin' Wet Lip Oil Glosses are $6.49 each.
On each of the three tubes, there's an adorable design of Stitch in different poses, and the lids are all cream, with an orange Stitch pattern. I love the look of these lip oil glosses, they're so cute, and the formula sounds lovely too.
"Start chillin' on island time with our Wet n Wild x Stitch Wet Oil Lip Gloss for a relaxed and happy pout. Like a drink of water for the lips, this oil-gloss hybrid is formulated with Hyaluronic Acid and Coconut Oil for ultimate hydration while providing a wash of juicy, glossy color. The non-sticky formula glides on smoothly and provides a cooling and plumping sensation."
The first of the Wet Lip Oil Glosses is the shade Let's Rock, and it looks like a bright red, shot through with golden shimmer.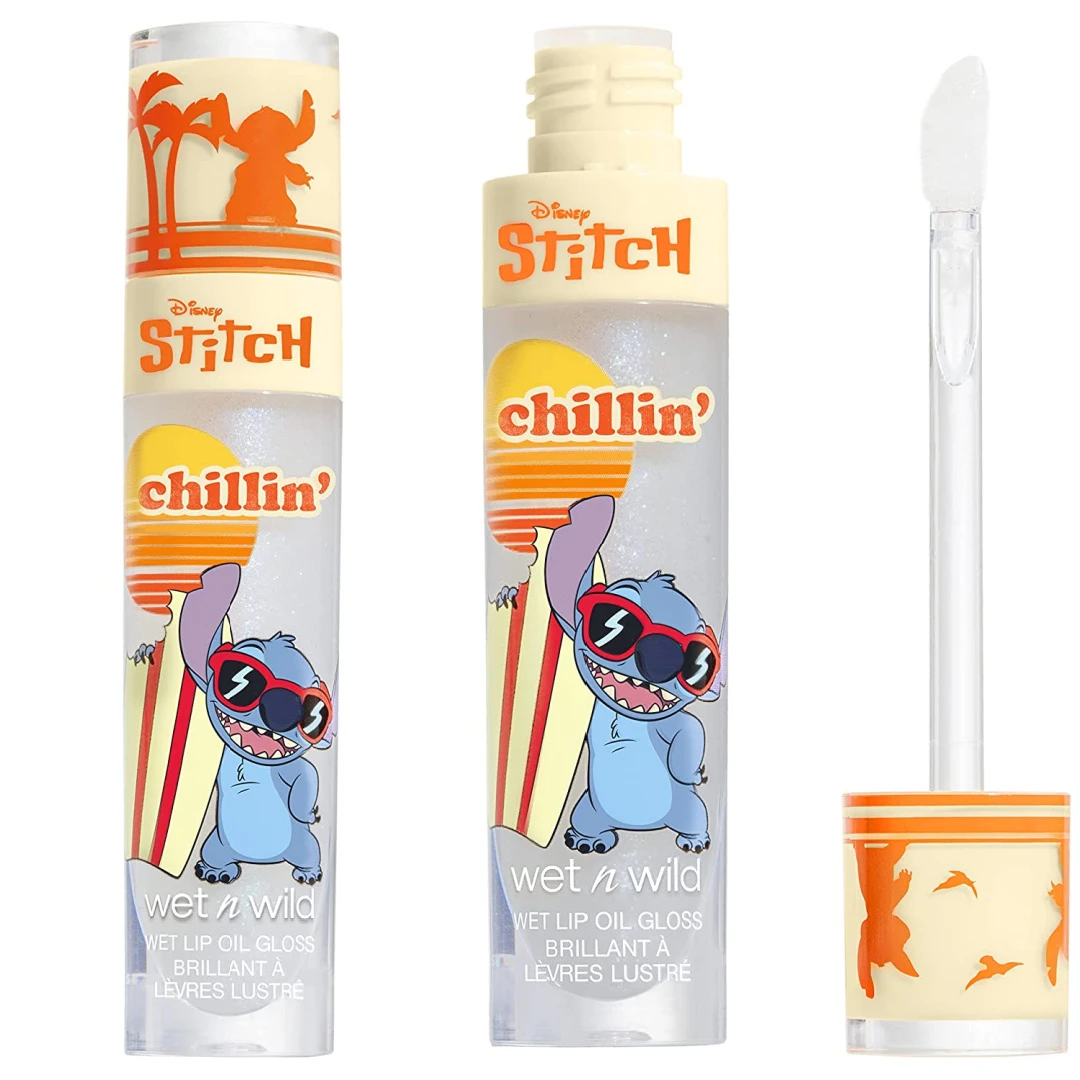 If you prefer a more subtle lip gloss shade, the second shade is Surf's Up, and it's a clear lip gloss, with white iridescent shimmer. Making it the perfect poolside, or beach day gloss, for a hint of hydration and shine.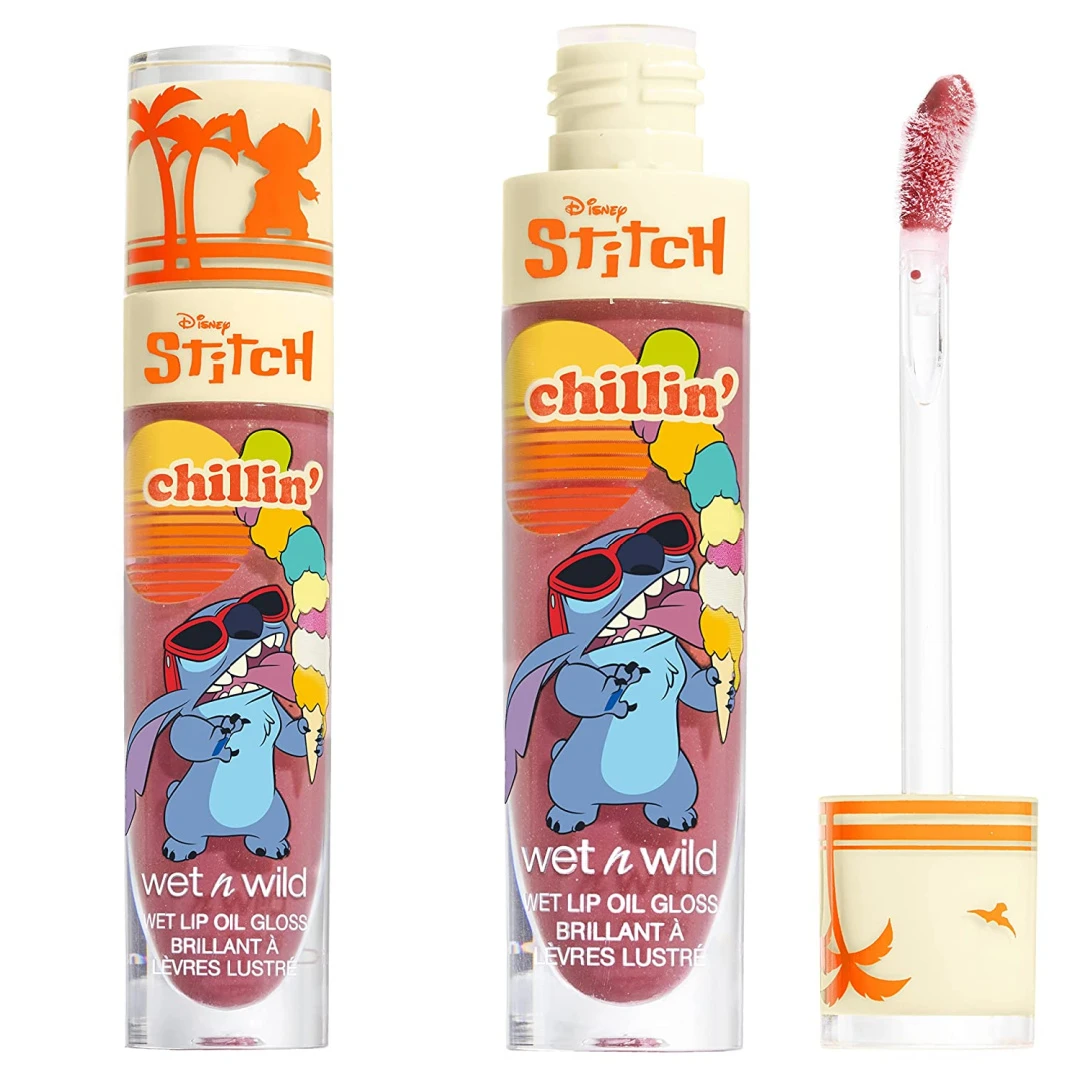 The third and final lip oil lip gloss is Got the Scoop. This shade is a pretty pinky mauve shade, with subtle golden shimmer.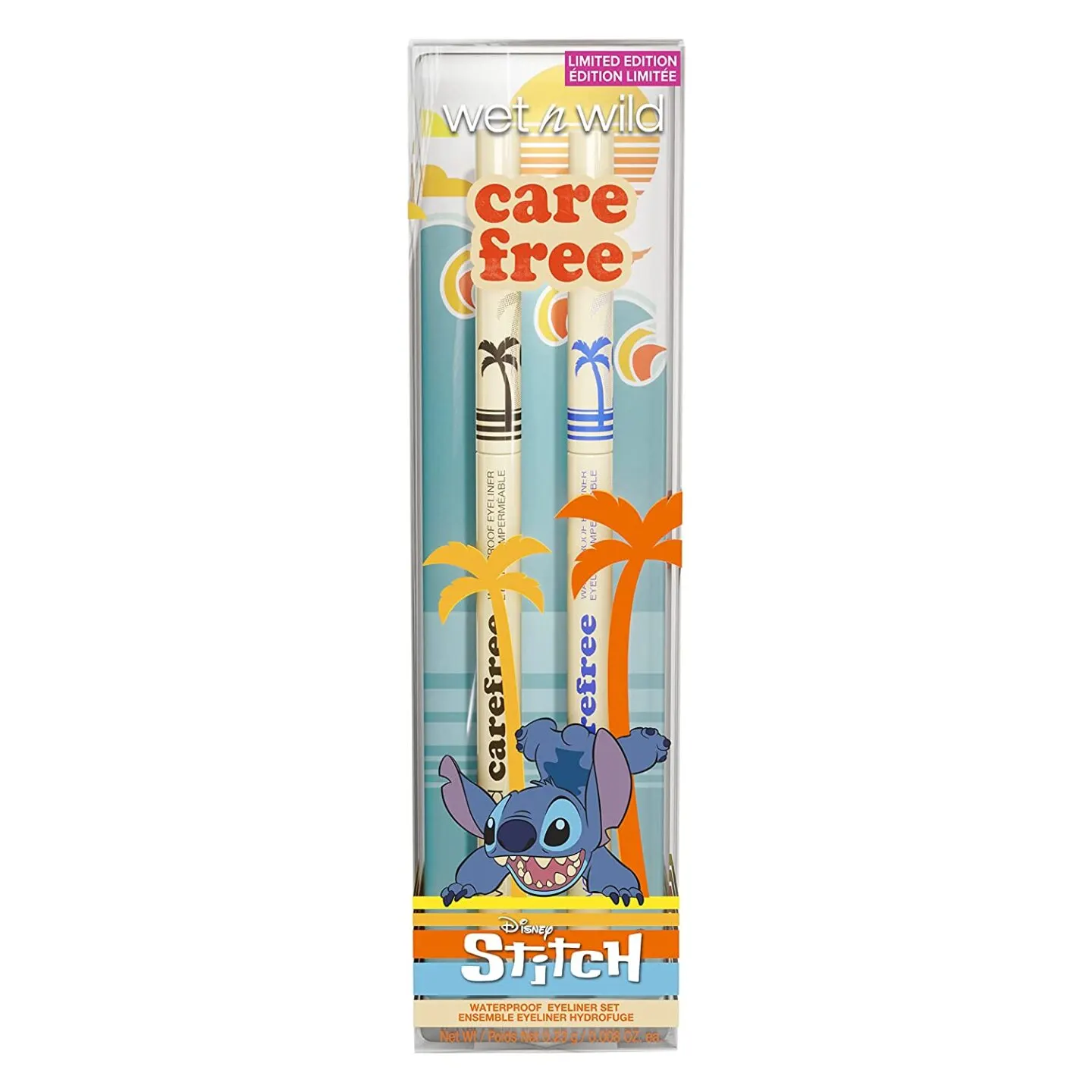 The Wet n Wild x Disney Stitch Collaboration next features an adorable two-piece eyeliner set, and it's the Wet n Wild x Stitch Care Free Waterproof Eyeliner Set $8.43.
Inside this set, you're getting two retractable, waterproof gel eyeliner pencils.
"Live and look carefree with this 2-piece Waterproof Eyeliner Set. Delivering up to 16 hours of long-lasting, pigment-rich color in every effortlessly smooth application, this satin gel formula is waterproof, sweat-proof, pool-proof, and beach-proof. Whether you're looking for cool and classic black or want to shake things up with ocean-blue color, these eyeliners provide the impact you need and won't move until you say so."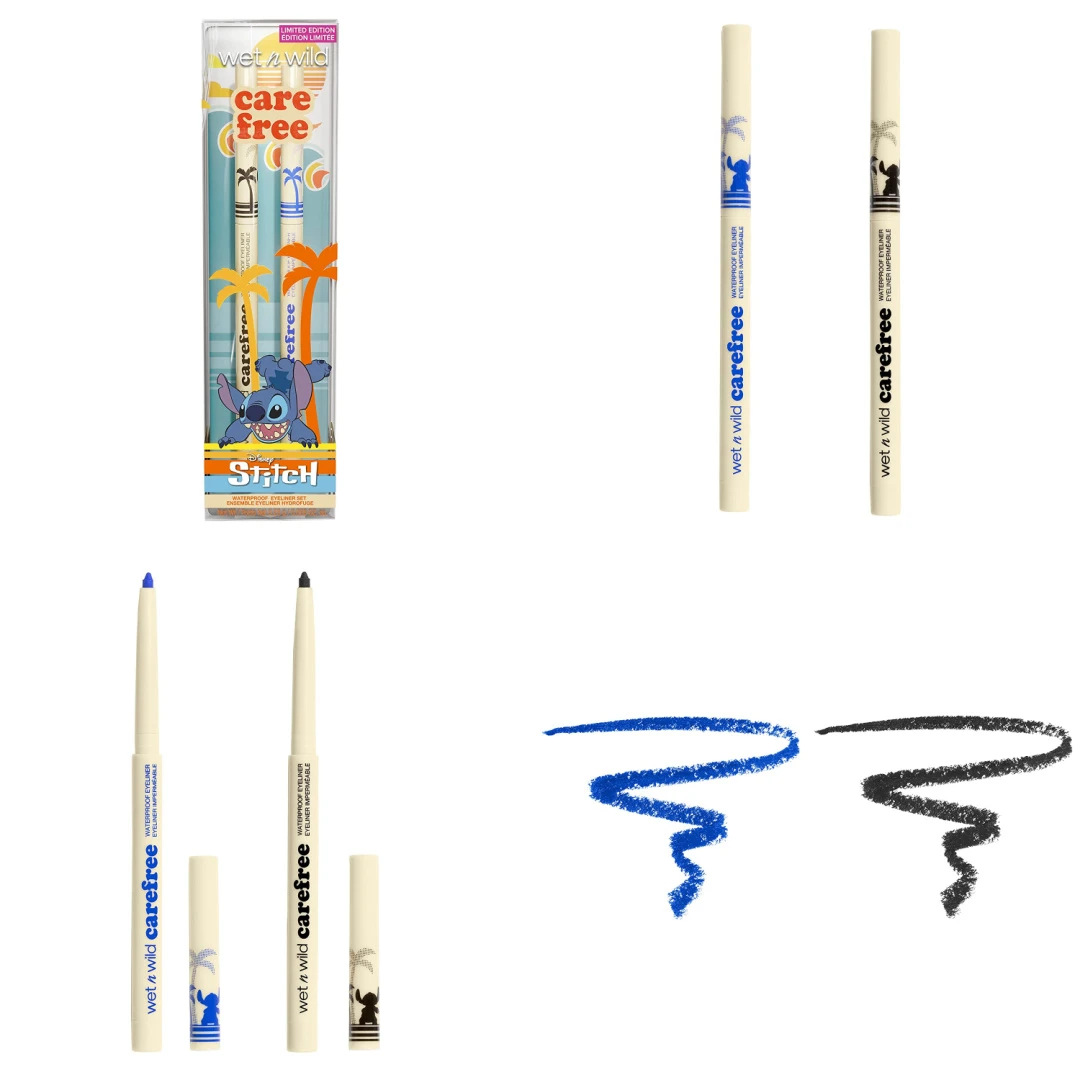 Within this set, you're getting two satin gel retractable eyeliner pencils, offering up to 16 hours of wear time. The set includes a cobalt blue, and a matte black, depending on the eye looks you're wanting to create.
They look super pigmented and creamy, and feature a cute Stitch design on the lids with a palm tree pattern.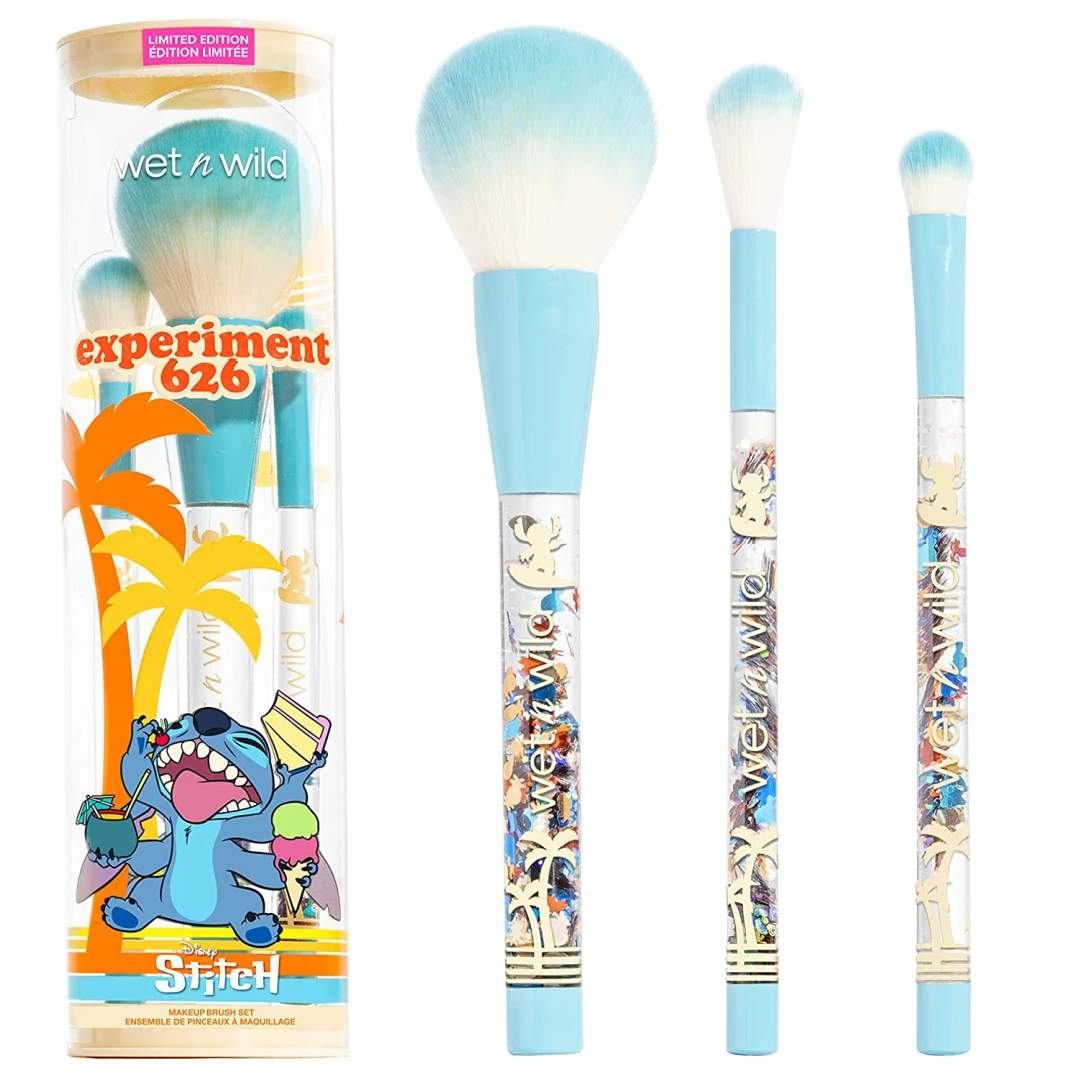 Every time Wet n Wild does a collaboration, they launch some makeup brushes, and the Wet n Wild x Disney Stitch Collaboration features an amazing three-piece makeup brush set.
The Wet n Wild x Disney Stitch Experiment 626 Makeup Brush Set $13, features one face brush, and two eye brushes.
"Create looks as wild as Experiment 626 with this 3-piece Makeup Brush Set. Inside the water-filled handles, sparkling confetti in Hawaii-inspired shapes move with you as you blend to perfection. This convenient brush set has you covered with a large face brush, a highlighter brush, and an eyeshadow brush. Featuring feathery-soft fibers for optimum product pick up and ultra comfortable application."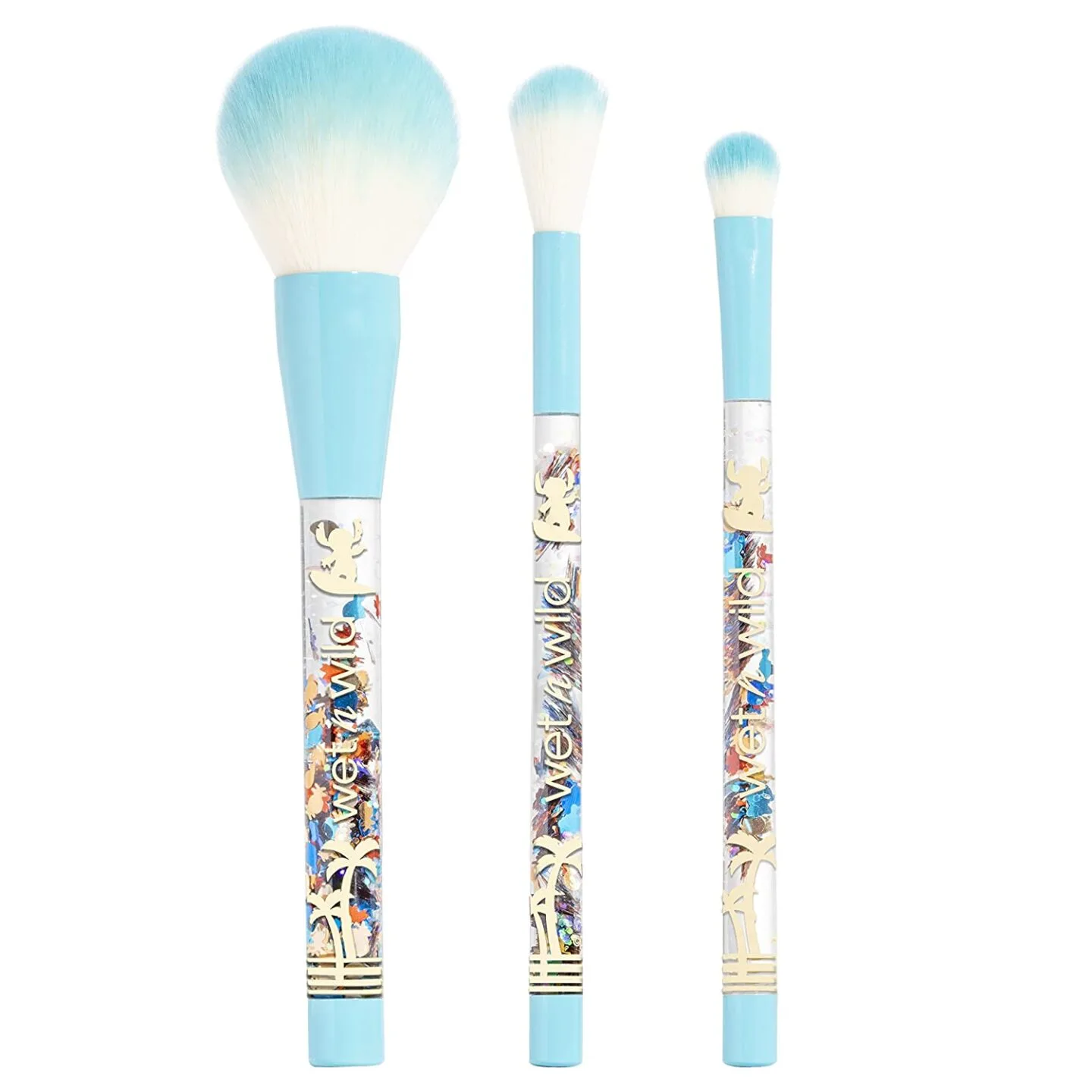 All three brushes feature an amazing water filled handle, which is filled with floating summery sequins, which move around within the handles.
We saw Wet n Wild create something similar for their Twin Stars collaboration. They look so summery and cute, and the bristles are sky blue and white.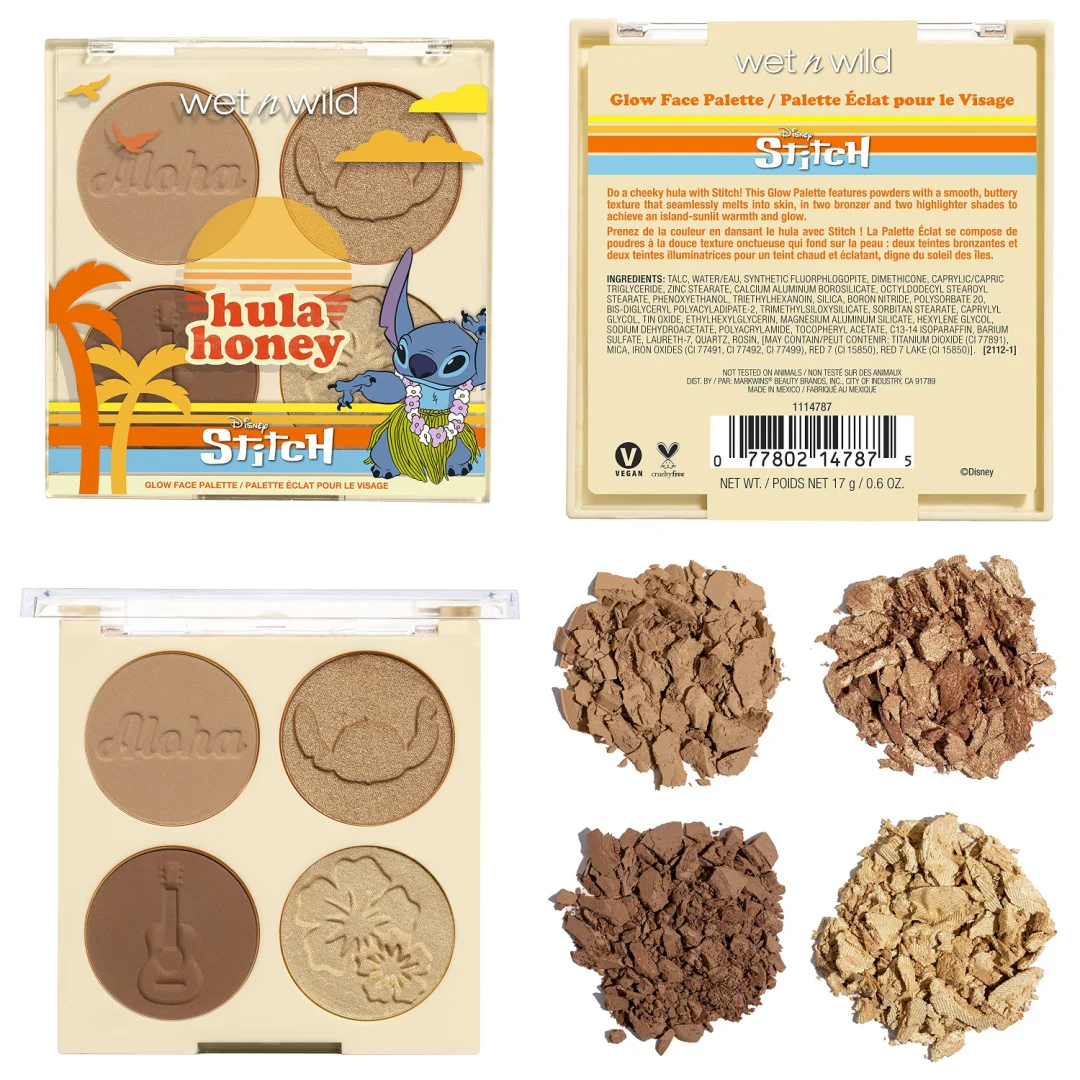 It wouldn't be a Wet n Wild collaboration without a palette, or two! The Wet n Wild x Disney Stitch Collaboration features two palettes, one face palette, and one colorful palette.
This is the Wet n Wild x Disney Stitch Hula Honey Glow Face Palette $9.39.
"Do a cheeky hula with Stitch! This 4-pan Glow Palette features beautifully sunny face powders with a smooth, buttery texture that smooths on for a seamless finish. Warm up your complexion with the two sunny bronzers, then add some definition with the two gorgeous highlighters. Mix, match, blend, and behold as you achieve amazing looks with an island-sunlit warmth and glow."
This four-pan face palette, contains 17g of product, so it's a sizeable cheek palette, featuring both powder bronzers and powder highlighters. All four pans feature a cute Stitch themed pan embossing design, which is a cute touch.
There are two matte bronzer shades, and two shimmery bronze shades, which could also work as highlighters too, depending on your skintone. I think it would double up as a cute neutral eyeshadow palette too.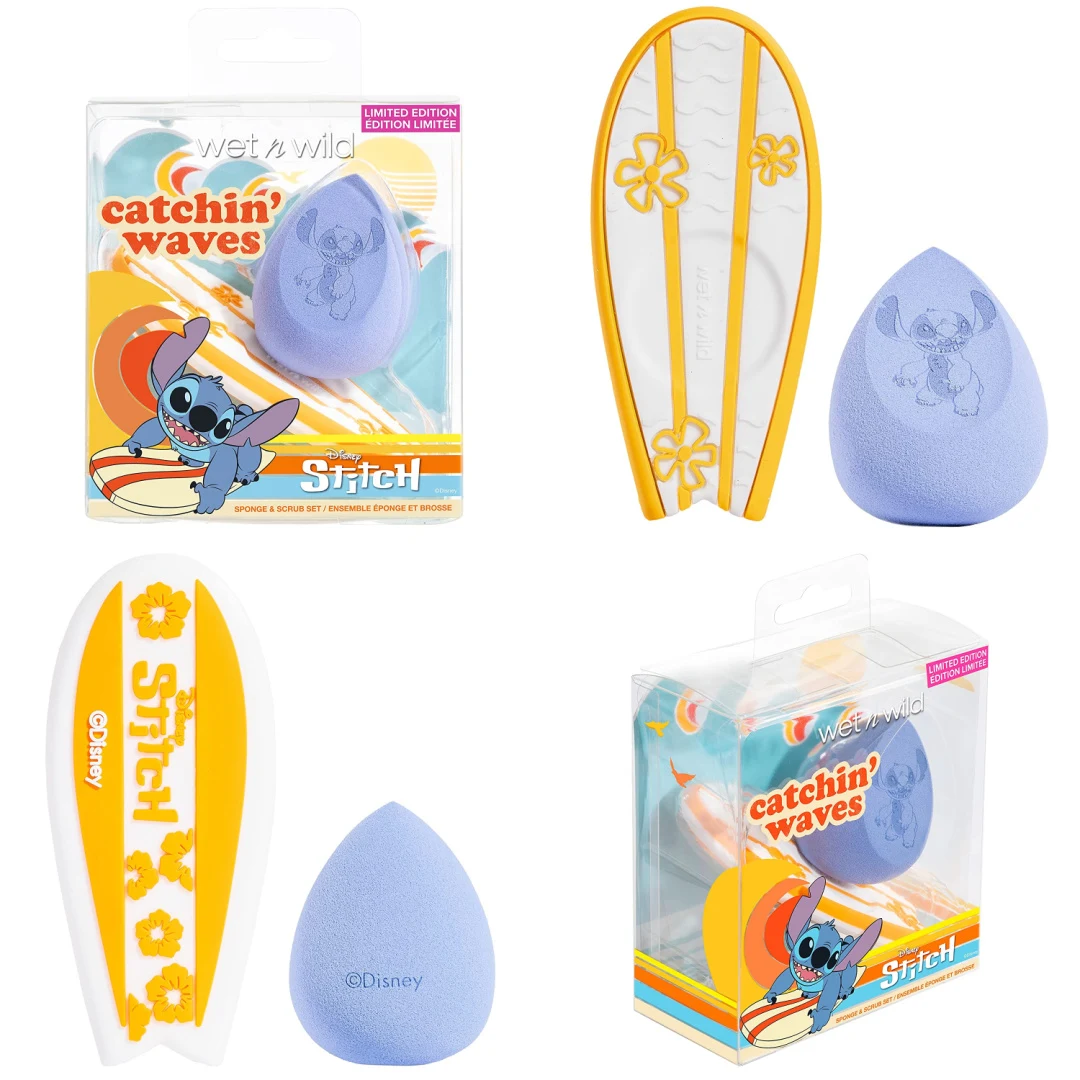 Wet n Wild always do the best limited edition beauty sponges for their licensed collaborations, and the Wet n Wild x Disney Stitch Collaboration is no different.
This is the Wet n Wild x Disney Stitch Catchin' Waves Sponge & Scrub Set $9.42.
"It's time to ride the wave with Stitch! This 2-piece set features a Stitch makeup sponge and a surfboard cleansing scrub to match. The versatile beauty sponge is made with hydrophilic technology for smooth, streak-free blending every time. It's super easy to keep your sponge and tools clean by using the textured cleansing scrub to swirl away makeup build-up, dirt, and oil. "
This two-piece set features a powder blue, teardrop shaped beauty sponge, as well as a surfboard shaped cleansing tool, to help you clean your sponge. The surfboard is adorable, and the sponge features a Stitch embossed design.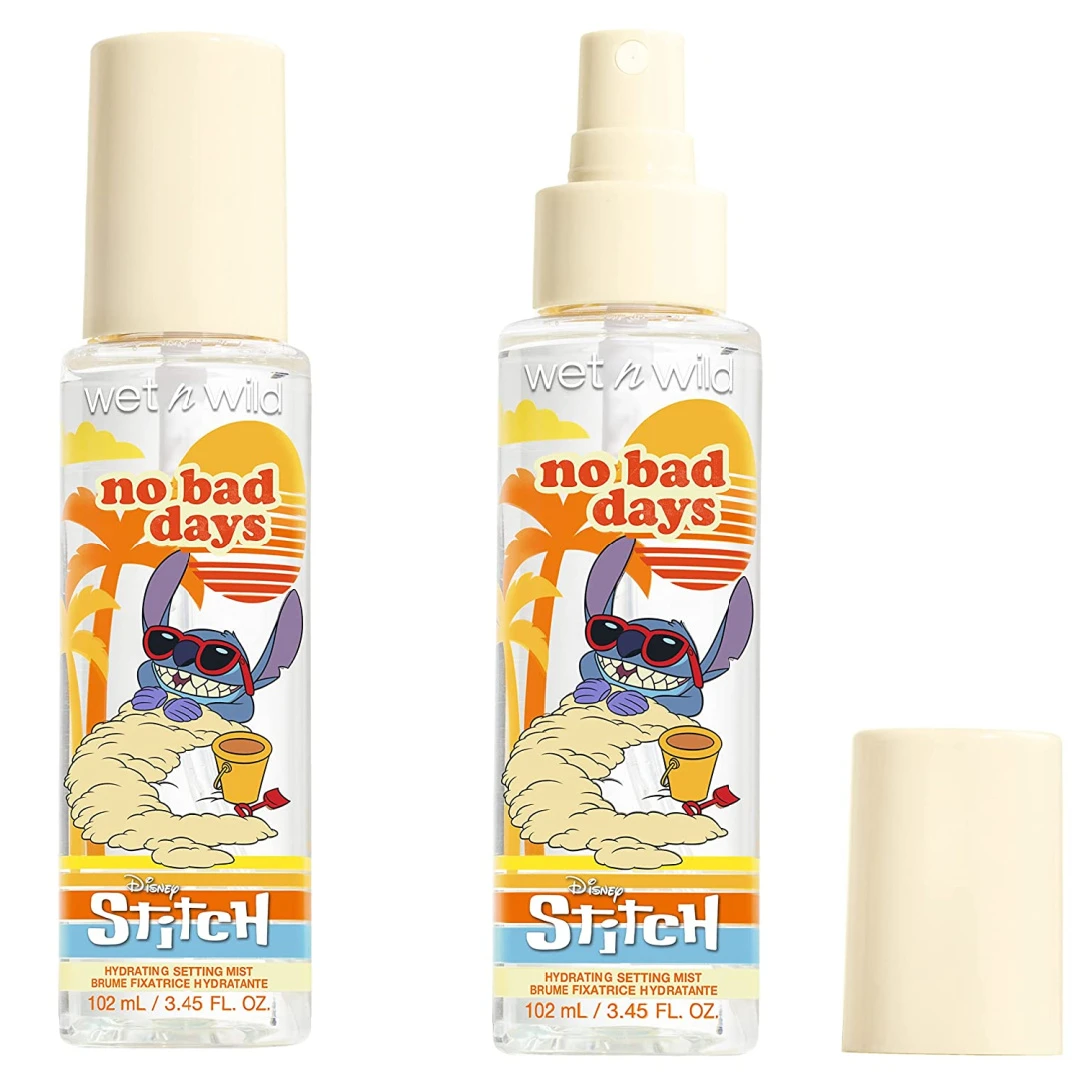 Every single Wet n Wild collaboration features at least one setting spray, and for this collection we have the Wet n Wild x Disney Stitch No Bad Days Hydrating Setting Mist 102ml / 3.45 fl.oz $9.40.
"No bad days with this Hydrating Setting Mist! Super lightweight and ultra-refreshing, this face mist sets makeup to look fresh so you can enjoy that just-applied look for hours. Formulated with a tropical blend of Hyaluronic Acid, Coconut Water, Pineapple Extract, and Dragonfruit Extract to hydrate, brighten, and help reduce the appearance of redness, it's time to say Aloha to fresh looks in a single spritz."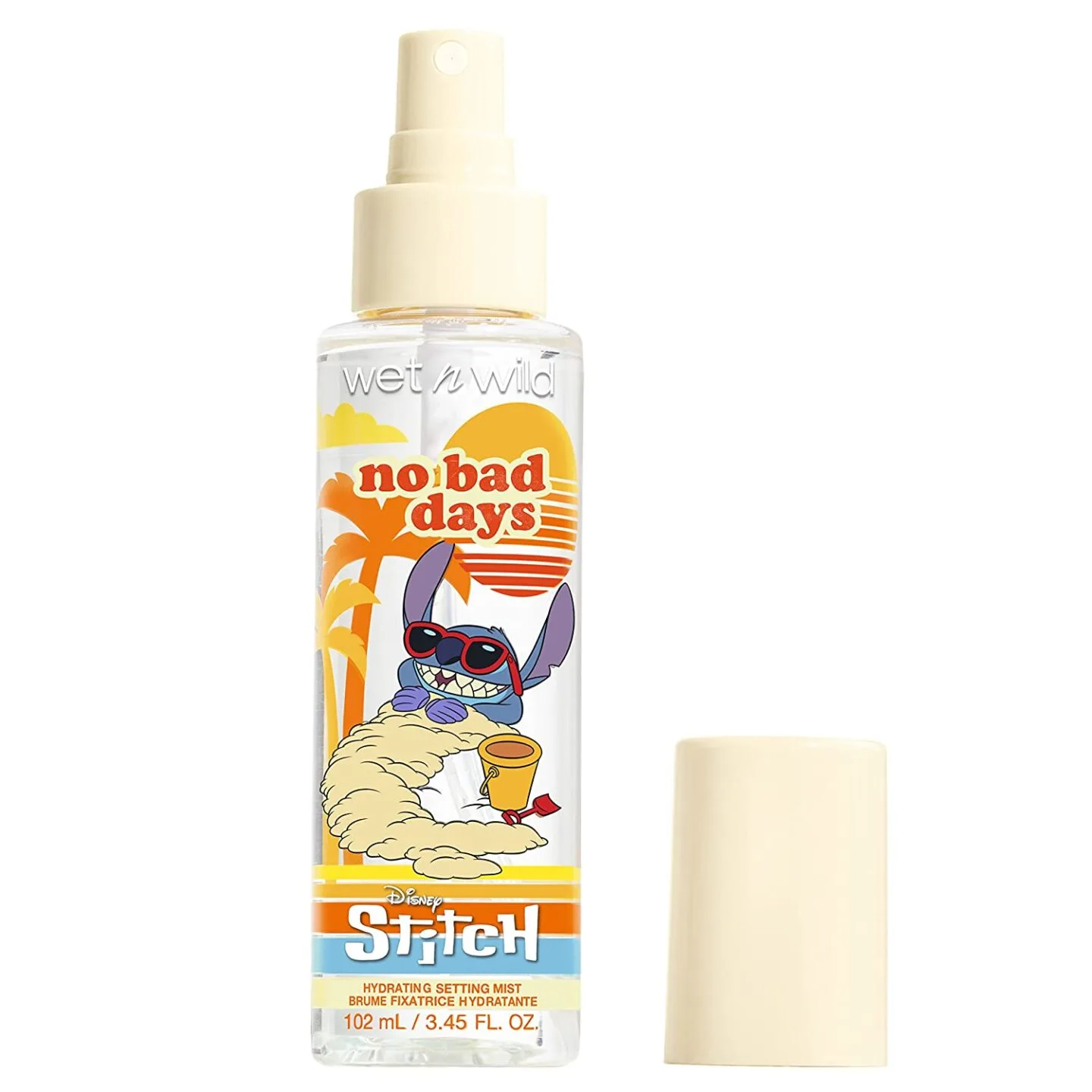 This setting spray has a clear plastic bottle, with a pump dispenser. On the front of the bottle, there's an image of Stitch in the sand, with a mermaid tail, and a bucket and spade.
It's just adorable! From the description, it sounds like it's going to have a delicious tropical scent too.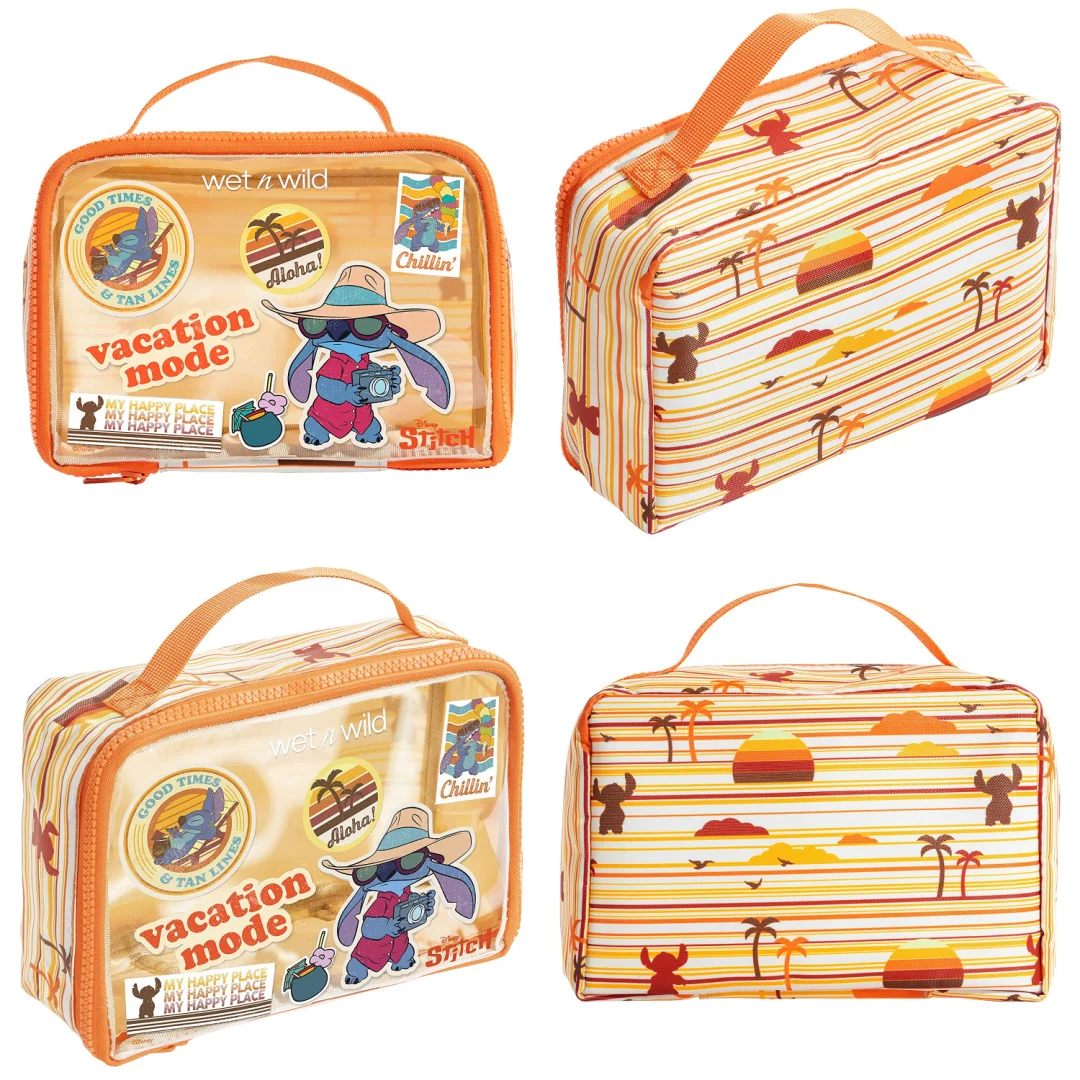 My personal favorite item in the entire Wet n Wild x Disney Stitch Collaboration has to be this incredible Wet n Wild x Disney Stitch Vacation Mode Makeup Bag $9.43.
"Say Aloha to the Vacation Mode Makeup Bag! Stitch is your perfect travel companion with this mini suitcase, sized just-right to carry all your cosmetic essentials to create vacation-ready looks. Whether you're heading out on a beach trip or just need some convenient storage, this makeup bag is ready to go with a full-zip closure and enough space for all your supplies. "
It's a zip-up PVC makeup bag, with a clear front, and an orange, burgundy and yellow striped pattern on the back.
On the clear front of the bag, there's an image of Stitch with a camera, and some stamp patterns, so it looks like a retro suitcase. It's so cute!!
The very last item in the Wet n Wild x Disney Stitch Collaboration, is a summery palette, which is the Wet n Wild x Disney Stitch Ohana Palette For Eye and Face $13.02.
""Ohana means family" – and Lilo & Stitch are forever! This palette features 15 hyper-pigmented shades in a mix of buttery-soft mattes, sparkly shimmers, gleaming satins and self-adhering multi-dimensional glitters for a variety of magical looks. Formulated to last, silky-smooth glide and seamless blending, this super versatile palette can be used to create an endless array of artistic styles – use dry or wet for high-impact color. "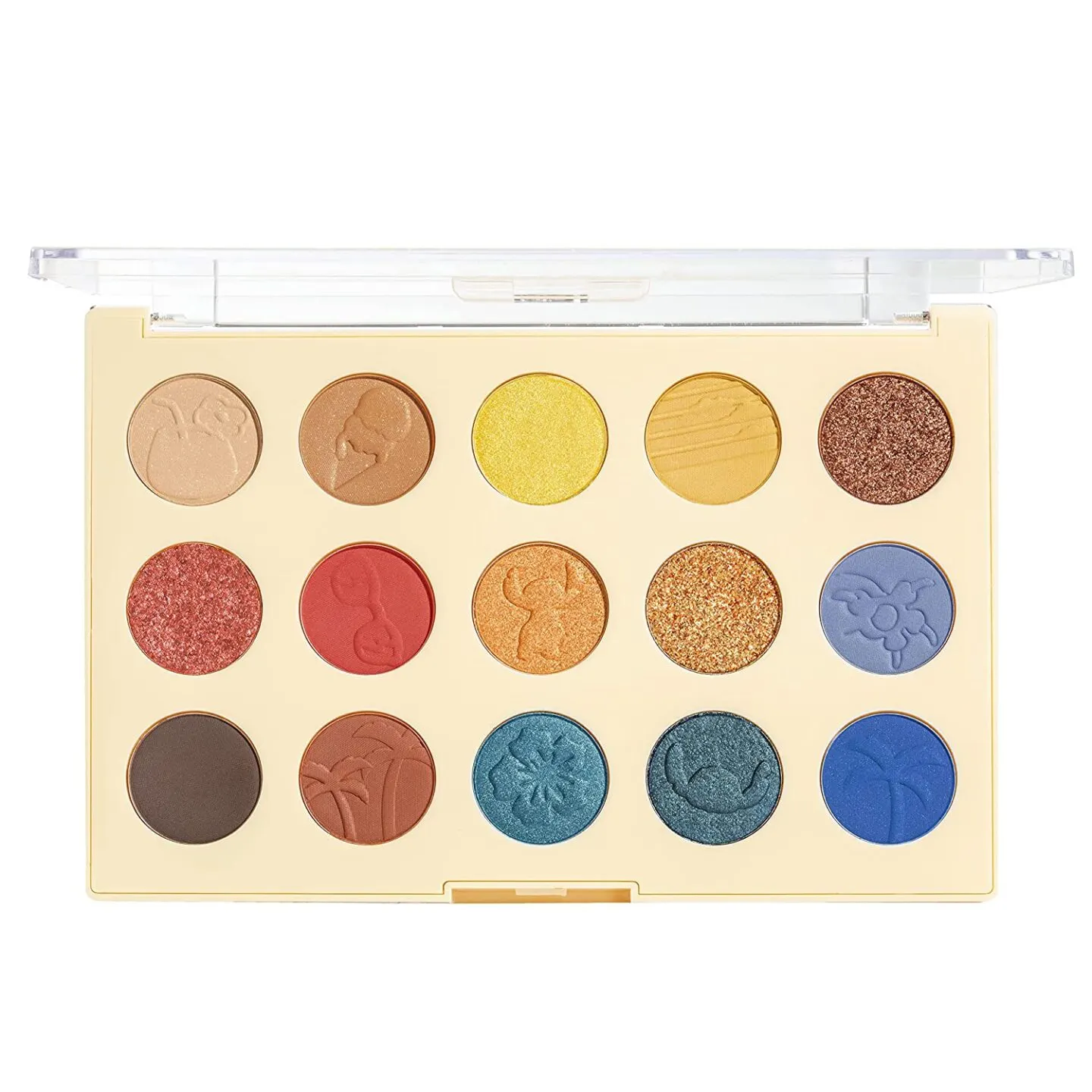 Inside this palette, there are fifteen powder shadows, featuring a mix of matte, shimmer, satin and pressed glitter formulas. Some of the pans have a raised Lilo & Stitch themed embossed pattern, and there's a mix of neutrals, reds, and blues.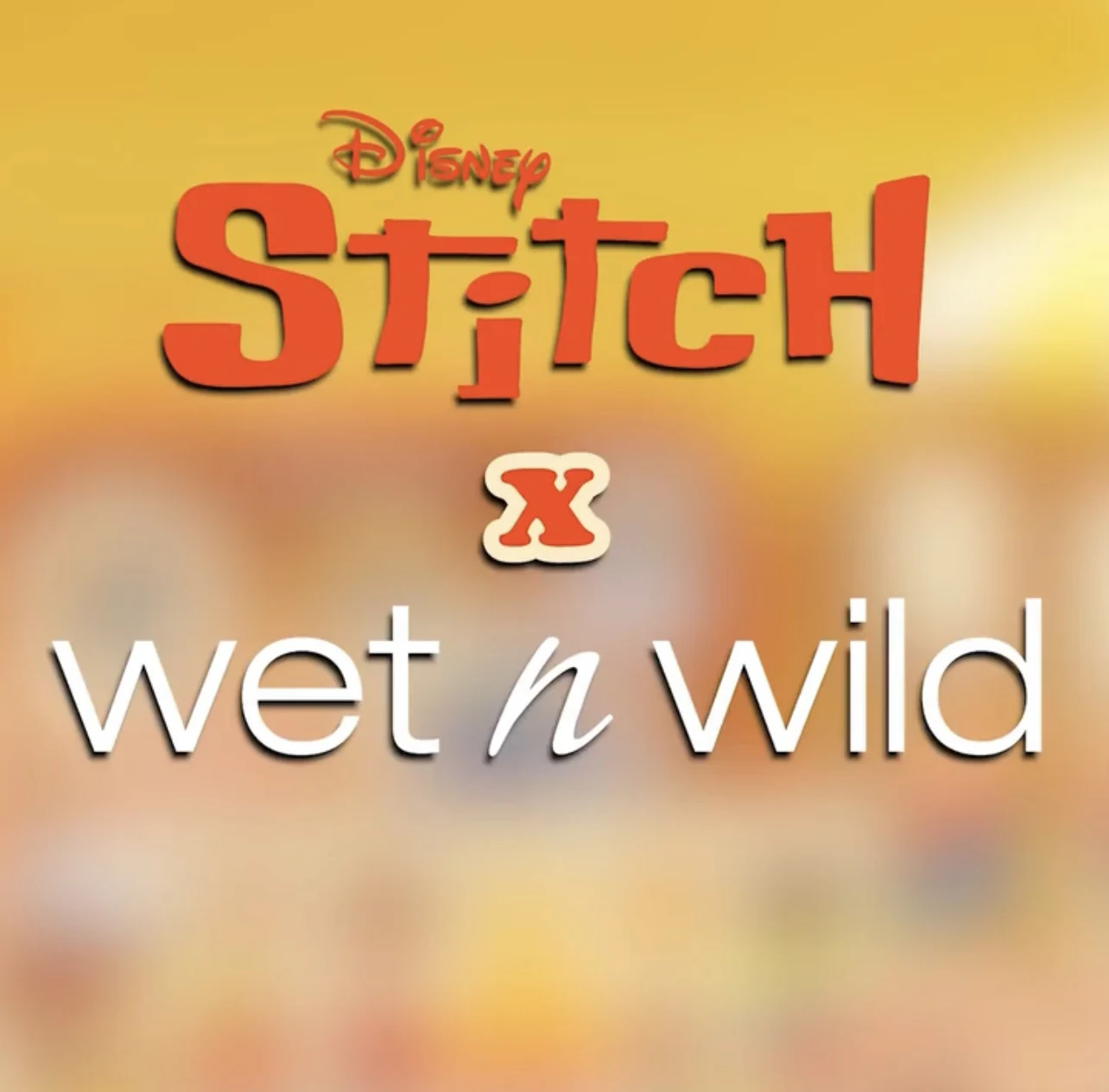 So, that's the entire Lilo and Stitch Wet n Wild collection. I can't get over how adorable everything is! So much attention to detail from the packaging designs, and shade names, to the products themselves. The Stitch Makeup Collection is the perfect summer collection, and it's available right now.
BUY HERE: Amazon / ULTA / Wet n Wild
All images belong to Wet n Wild.
Thank you to @snoopycoupon for the exclusive reveal!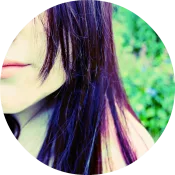 Hi, my name is Gemma, and I'm the owner of MakeupMuddle.com. I'm a true beauty obsessive, and love writing about anything to do with beauty – I have been a beauty writer since 2012.
As well as owning Makeup Muddle, I also own GemmaEtc.com, and love sharing my thoughts and feelings about the greatest (and not so great) beauty products!