Wow, 2021 is all about the beauty brand collaborations, and the Wet n Wild SpongeBob SquarePants collaboration as been revealed as the latest to launch this year.
If you'd like to find out all about this exciting twelve product Wet n Wild x SpongeBob SquarePants Collection, keep on reading…
BUY HERE: Target / Wet n Wild / ULTA / Amazon / Walmart
We've seen multiple beauty brands tackle a SpongeBob SquarePants collaboration like HipDot and Juno & Co, but I think Wet 'n Wild have nailed it with their collaboration.
With licensed collaborations you're often left wondering why? Sometimes brands miss the mark, or the products bear no resemblance to the characters of the show/movie/property the brand has collaborated with.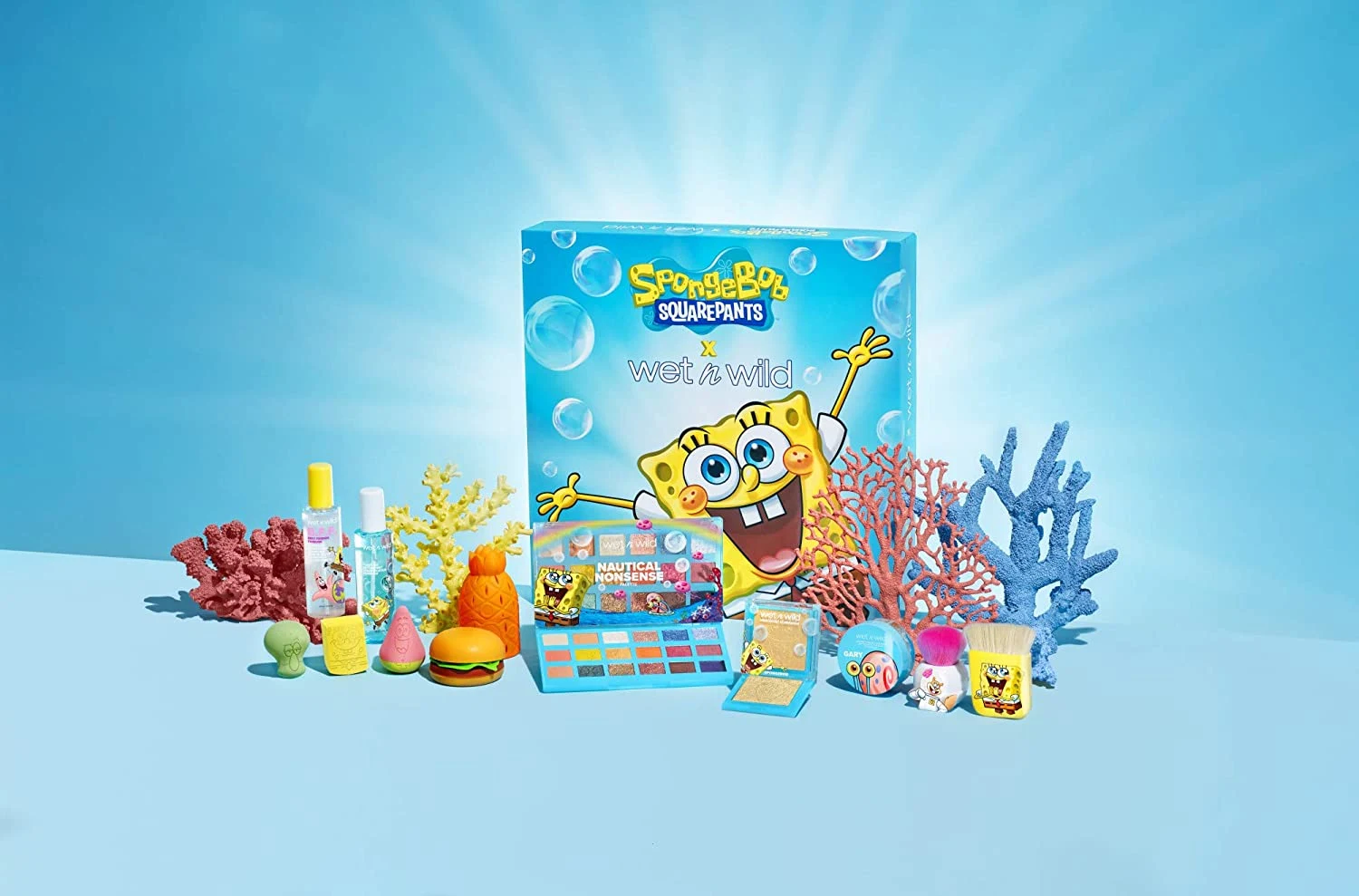 I really love that the Wet n Wild SpongeBob SquarePants Collaboration is going to be super affordable, and accessible for everyone.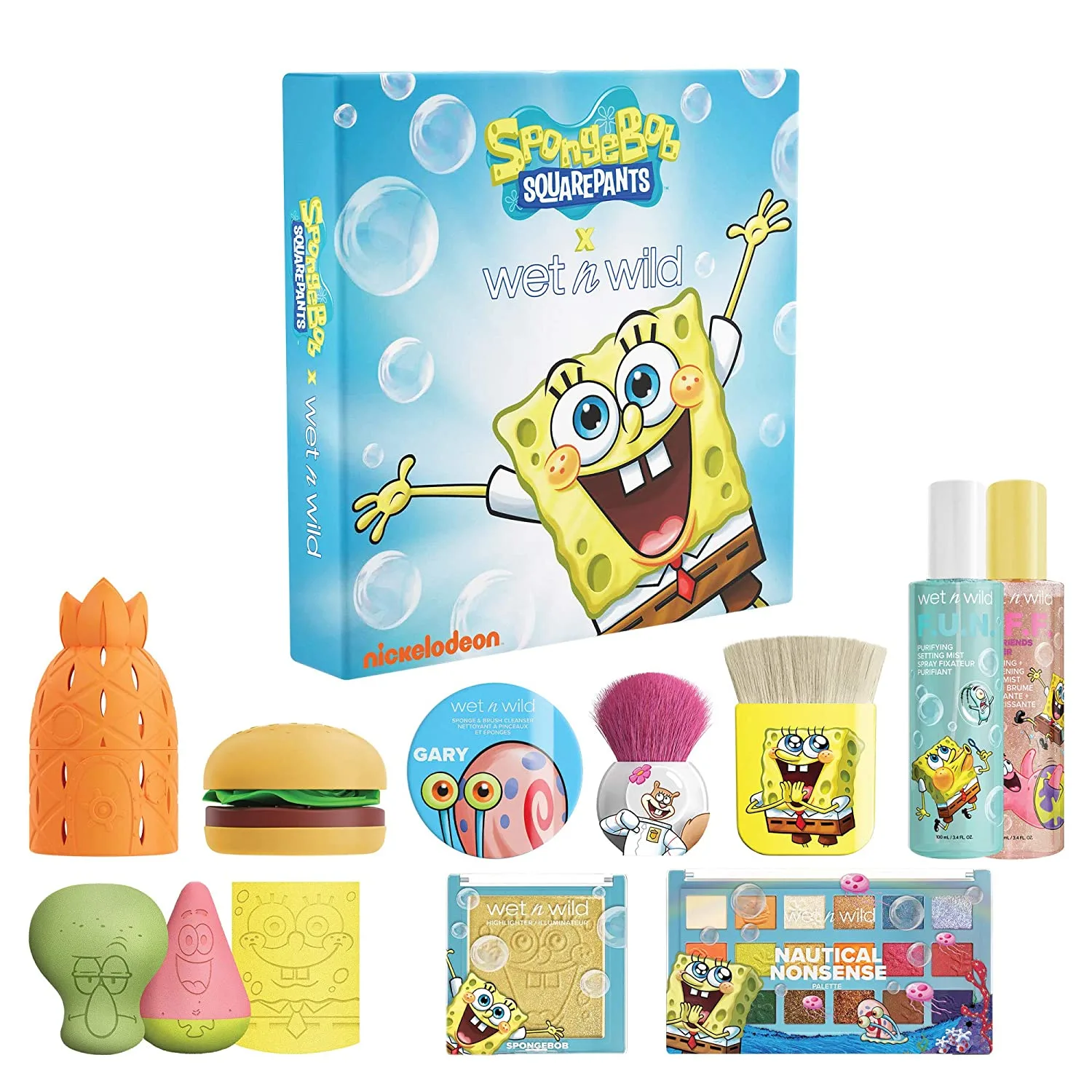 The Wet n Wild SpongeBob SquarePants Collaboration is a diverse collection with twelve different products.
Including makeup sponges, an eyeshadow palette, a highlighter, facial mists, makeup brushes, makeup brush cleaners and more!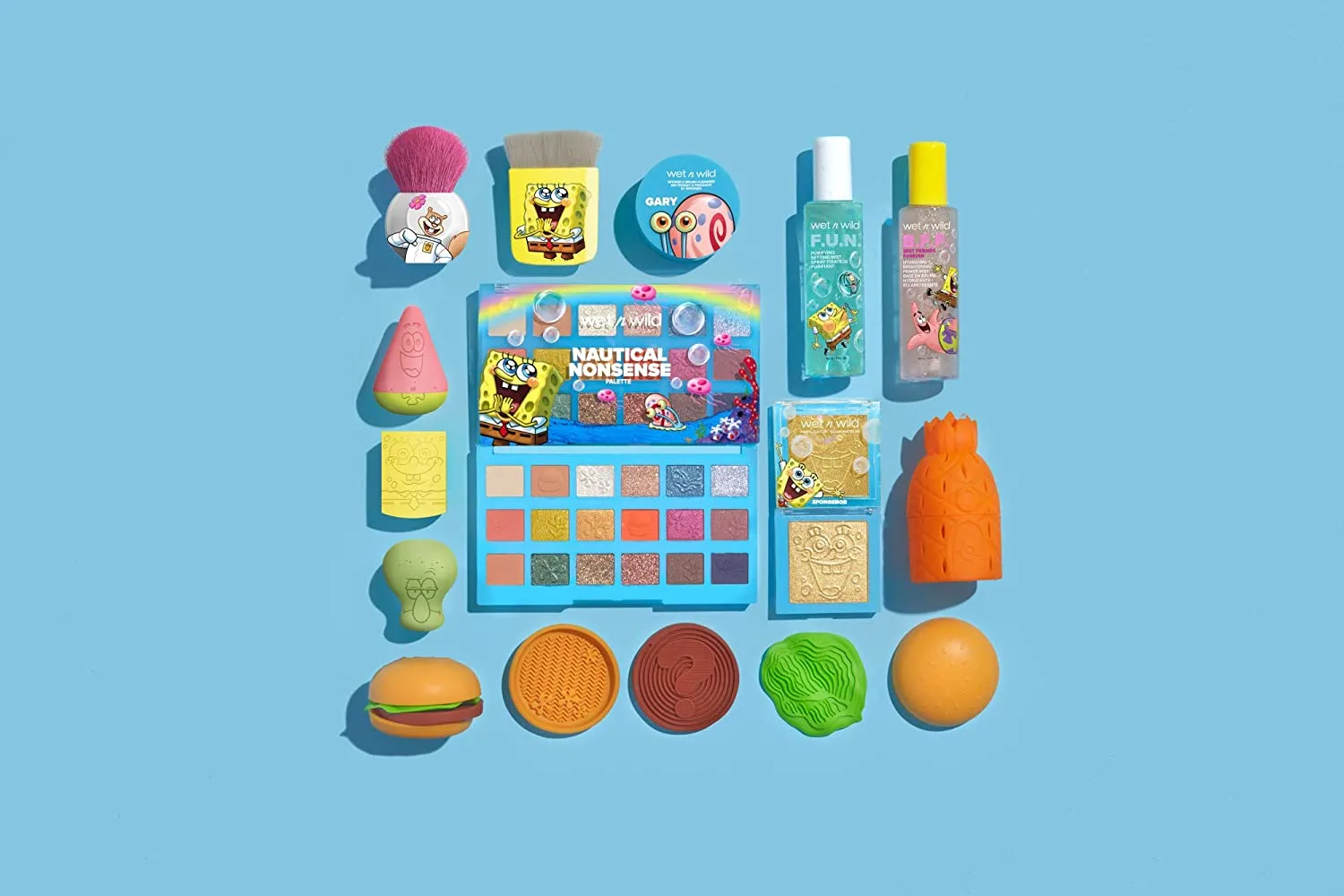 "Bring Bikini Bottom straight to your makeup kit with this ultimate F.U.N-filled Spongebob makeup collection.

This set is packed full of various makeup and applicator tools themed after your favorite sponge and all of his undersea pals.

From highlighters to shadow palettes to makeup sponges, this kit includes everything you need to craft any look your imaaaaaaginaaaaation can dream of."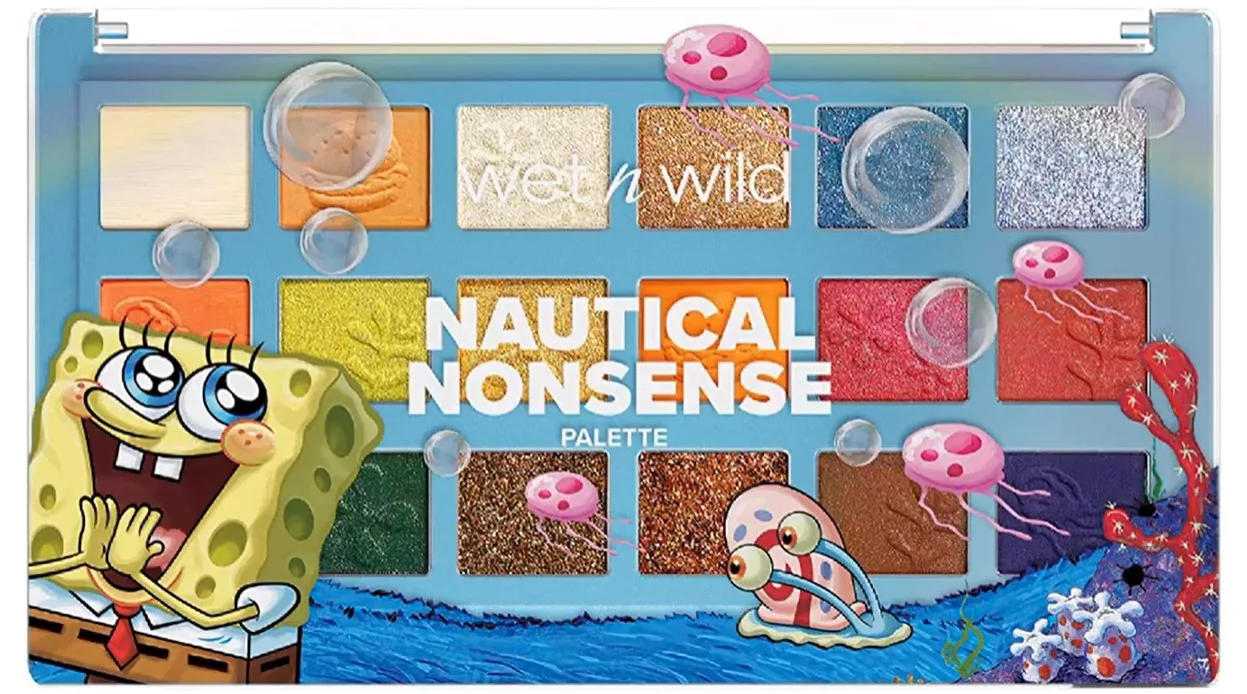 The first product within the Wet n Wild SpongeBob SquarePants collection is a palette, and it's a very bright and colourful palette, which couldn't be more appropriate for a SpongeBob collection!
Inside the palette, there are the following shade names;
Mayonnaise
One Eternity Later
Tartar Sauce
Shady Soals
Bikini Bottom
Aye Aye Captain
Sea Star
Best Day Ever
SquarePants
Pretty Patty
Jellyfish Jam
Gare-Bear
Howdy Y'all!
Me Money
Order Up
Absorb The Love
Load of Barnacles
Secret Formula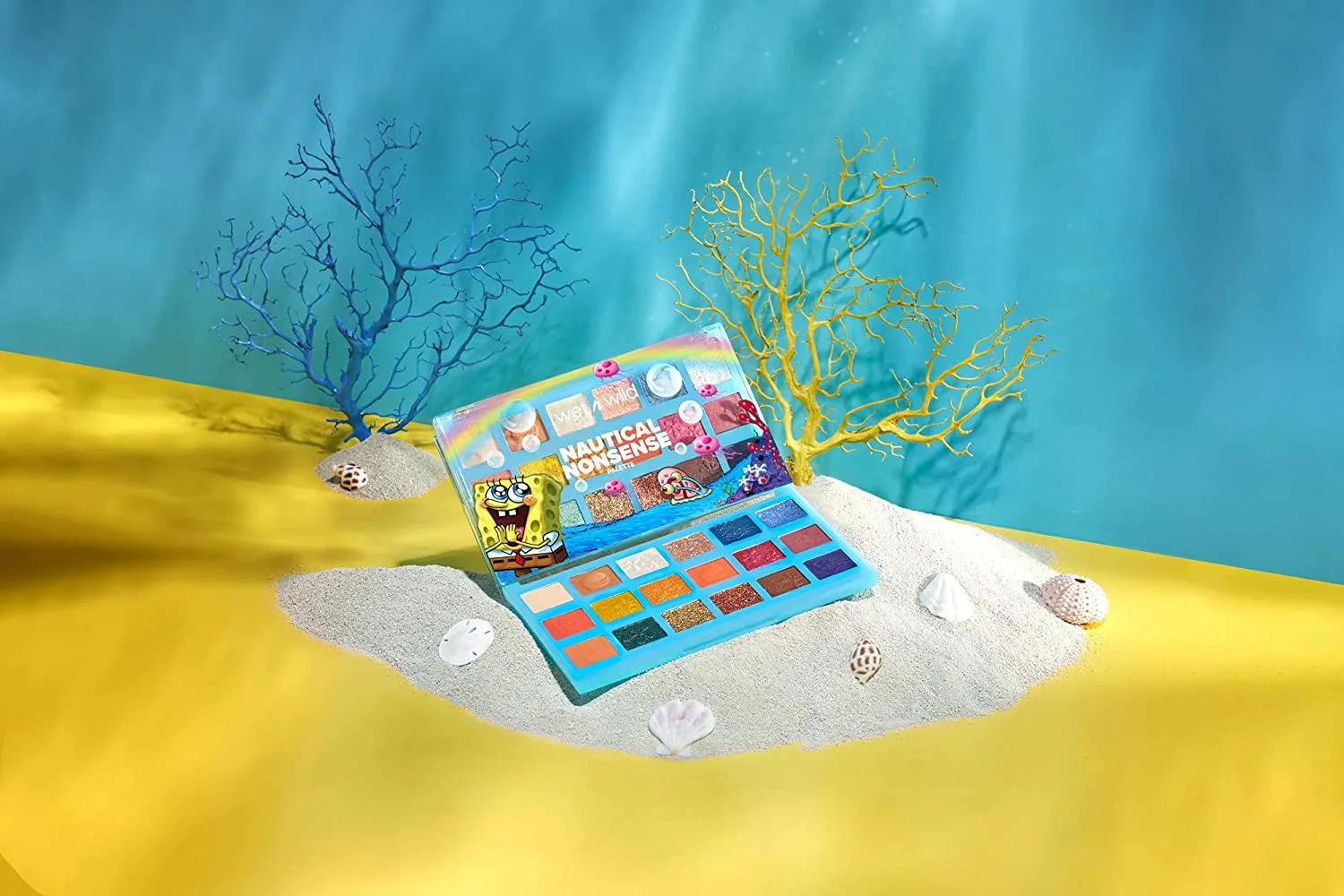 It has a blue plastic base, with a clear plastic lid and features eighteen shades. On the front of the lid, there's a super cute SpongeBob and friends scene, complete with bubbles.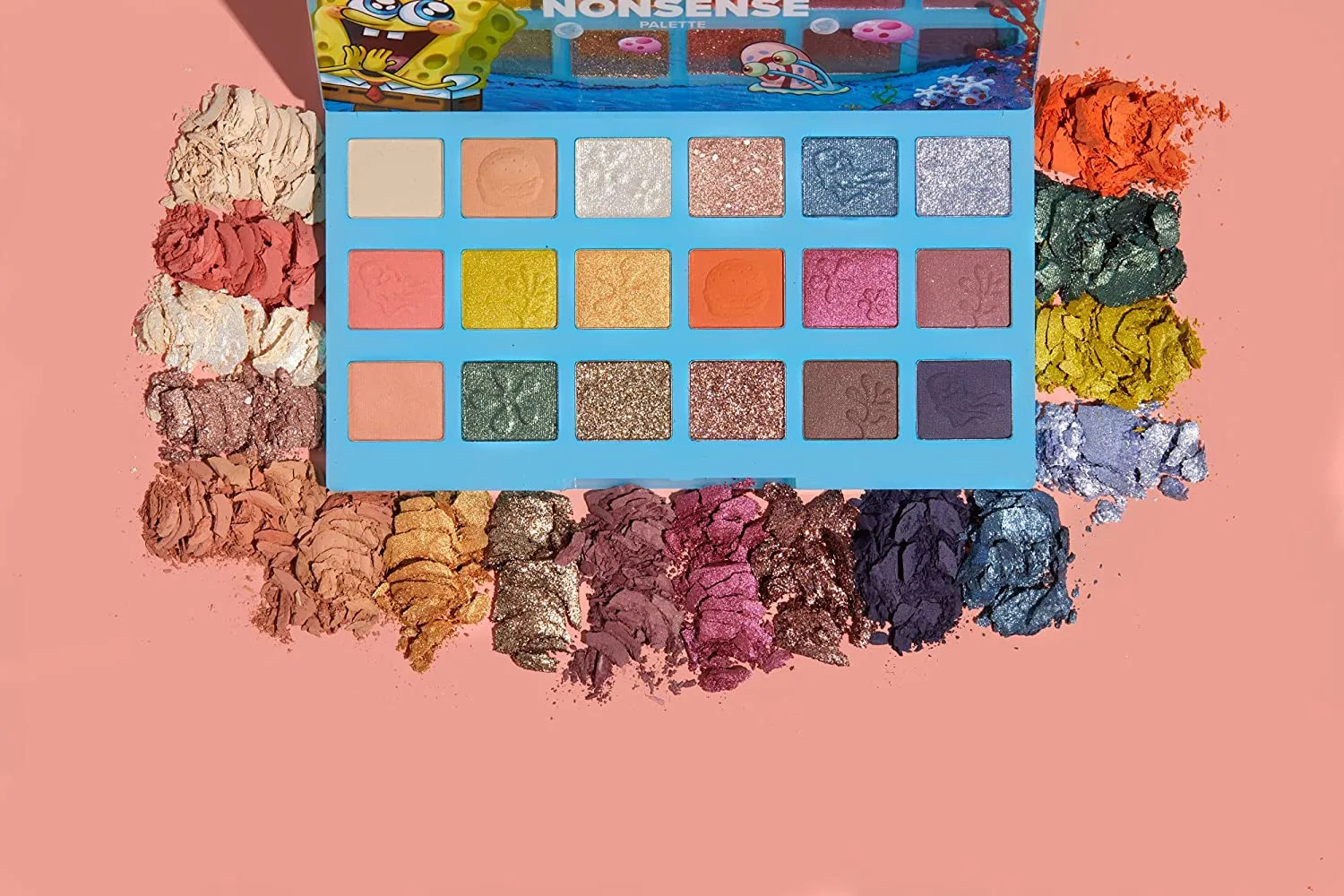 The designs on the whole collection are so perfect, and this collection is going to be a must for any SpongeBob SquarePants fans.
Inside this Wet n Wild SpongeBob Square Pants Eyeshadow Palette, there's a raised pattern on some of the shades, with a mixture of matte finishes, shimmer finishes, metallic finishes and also some pressed glitters too.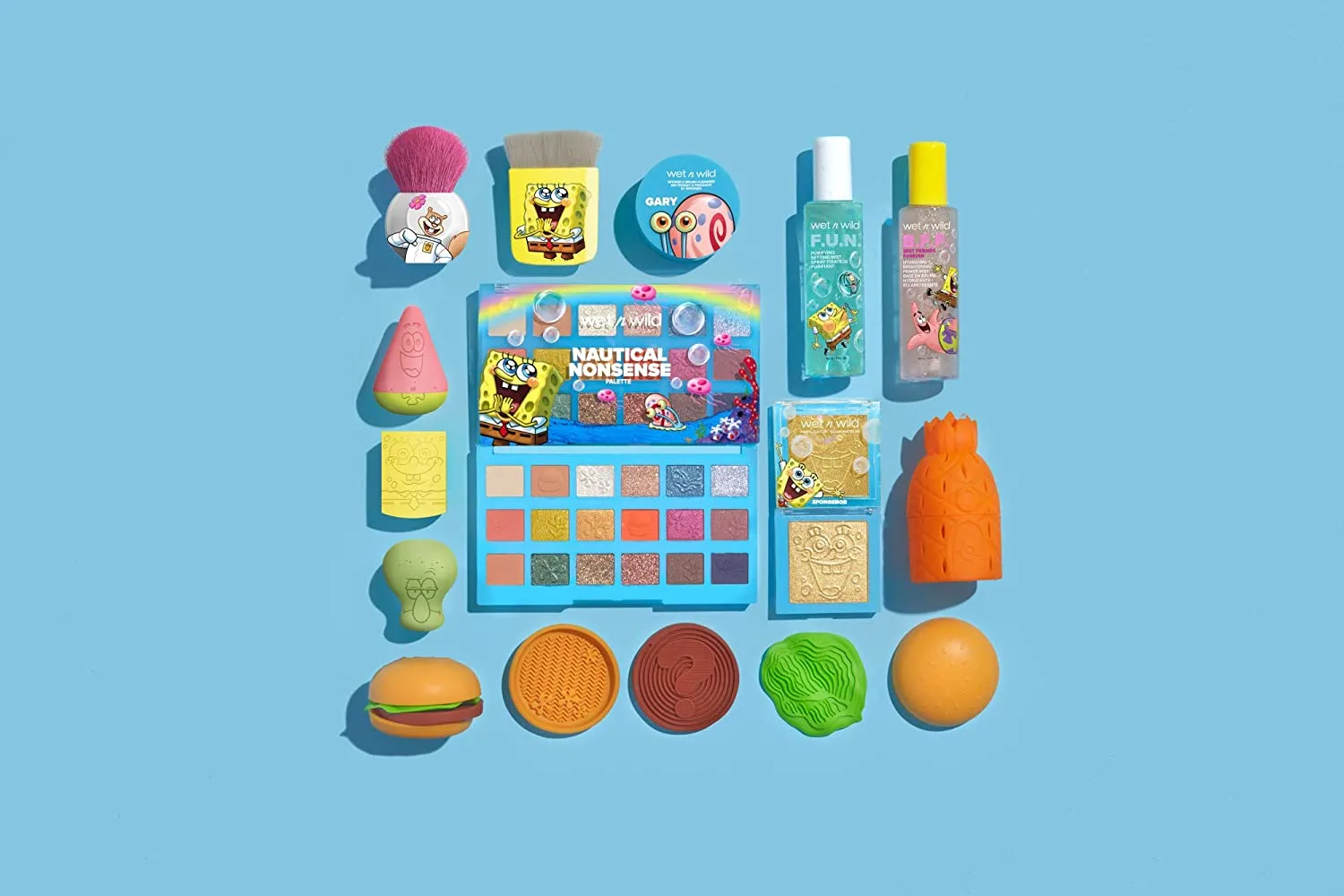 I feel like the shades in this palette will be appreciated by SpongeBob fans, but also those that love and appreciate colourful shadows too.
I think it's a really pretty palette, with some neutrals, and pops of colour. There's even a yellow shade to complement Mr. SpongeBob himself which is very cute!
No Wet n Wild x SpongeBob SquarePants collaboration would be complete without a highlighter. Wet n Wild are known for their MegaGlo Highlighters.
This collection has a special yellow gold Wet n Wild x SpongeBob SquarePants MegaGlo Powder Highlighter.
This highlighter is giving me Fenty Beauty Trophy Wife vibes, and the pan has an adorable SpongeBob face on it, and the highlighter is square shaped, like all of the MegaGlo Highlighters, and it complements the shape of SpongeBob perfectly.
On the lid of the highlighter, there's a very happy looking SpongeBob SquarePants, complete with bubbles.
Plus, just like the Nautical Nonsense Palette, the highlighter has a blue plastic base, and a clear lid which is so colourful and fun for the brand.
Buttery Soft And Blendable: As silky smooth as it is buttery soft, this one-of-a-kind highlighter is infused with nylon, giving it its signature texture that practically melts straight into the skin. It's also easy to blend it with other pigments for unlimited color possibilities.
Highlight Your Best Features: Contour and brighten your face with this reflective and super-pigmented highlighter. Your features transform in an instant as it catches the light and illuminates your natural features.
Go For The Glow: Infused with ultra-reflective, micro-fine pearls, this highlighter illuminates the skin, granting you a radiant glow that's sure to turn heads.
Buildable Formula: Build up from a subtle shimmer all the way to a seriously intense glow for a radiant look that's all you.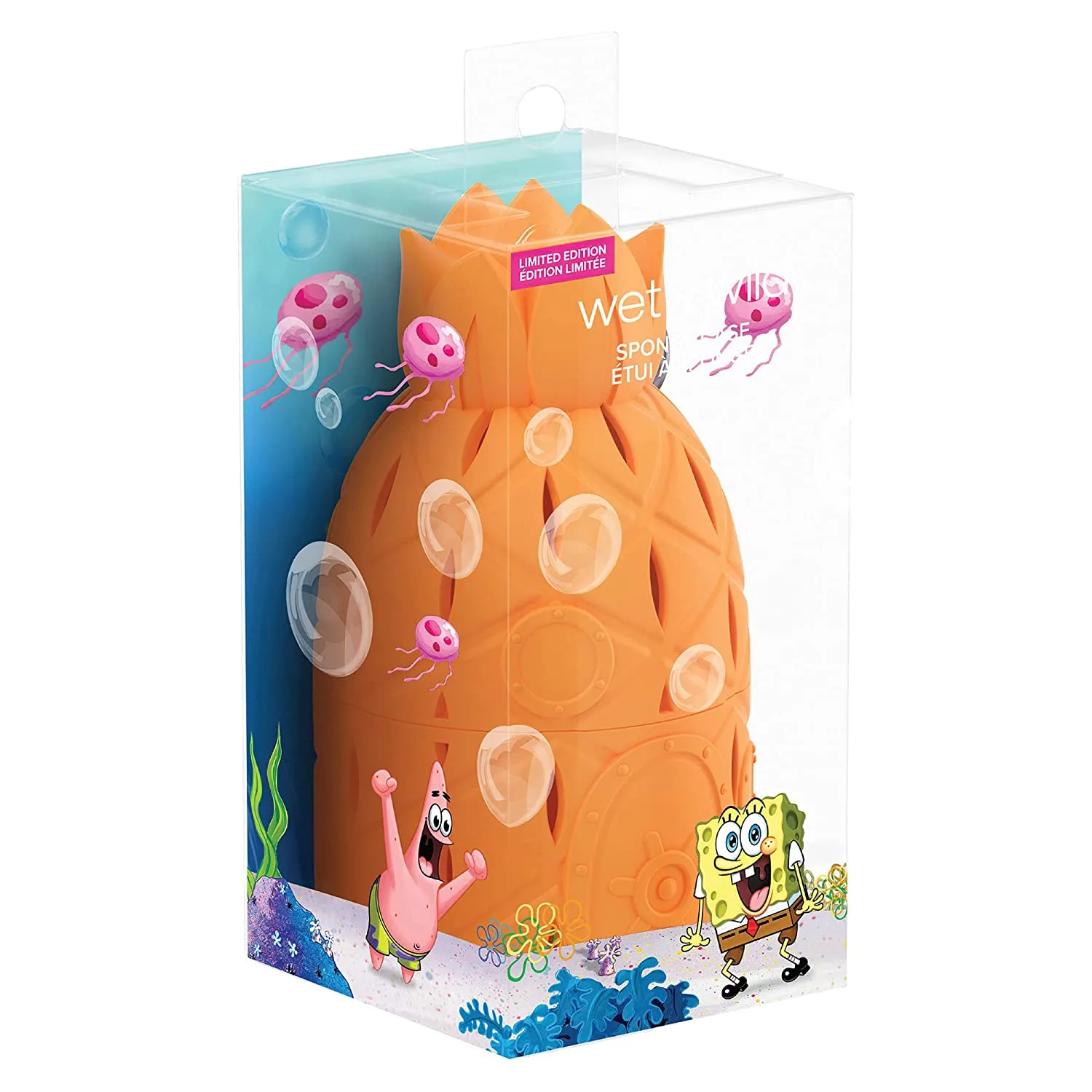 One of my personal favourites in the collection has to be this hilarious silicone makeup brush case, which looks so cute, but is functional too!
It's in the shape of a pineapple, and has been design to resemble a SpongeBob SquarePants house (in a pineapple under the sea), and you can keep your beauty sponge/s inside to keep them protected.
This case is even more perfect, as the collection includes three adorable beauty sponges, which would individually fit inside this pineapple shaped silicone beauty sponge case.
The case has a seam along the middle, and you lift the top off the 'pineapple' to pop your sponge inside, and the case has holes all over, pineapple style, to allow your beauty sponges to dry whilst stored in the case – genius!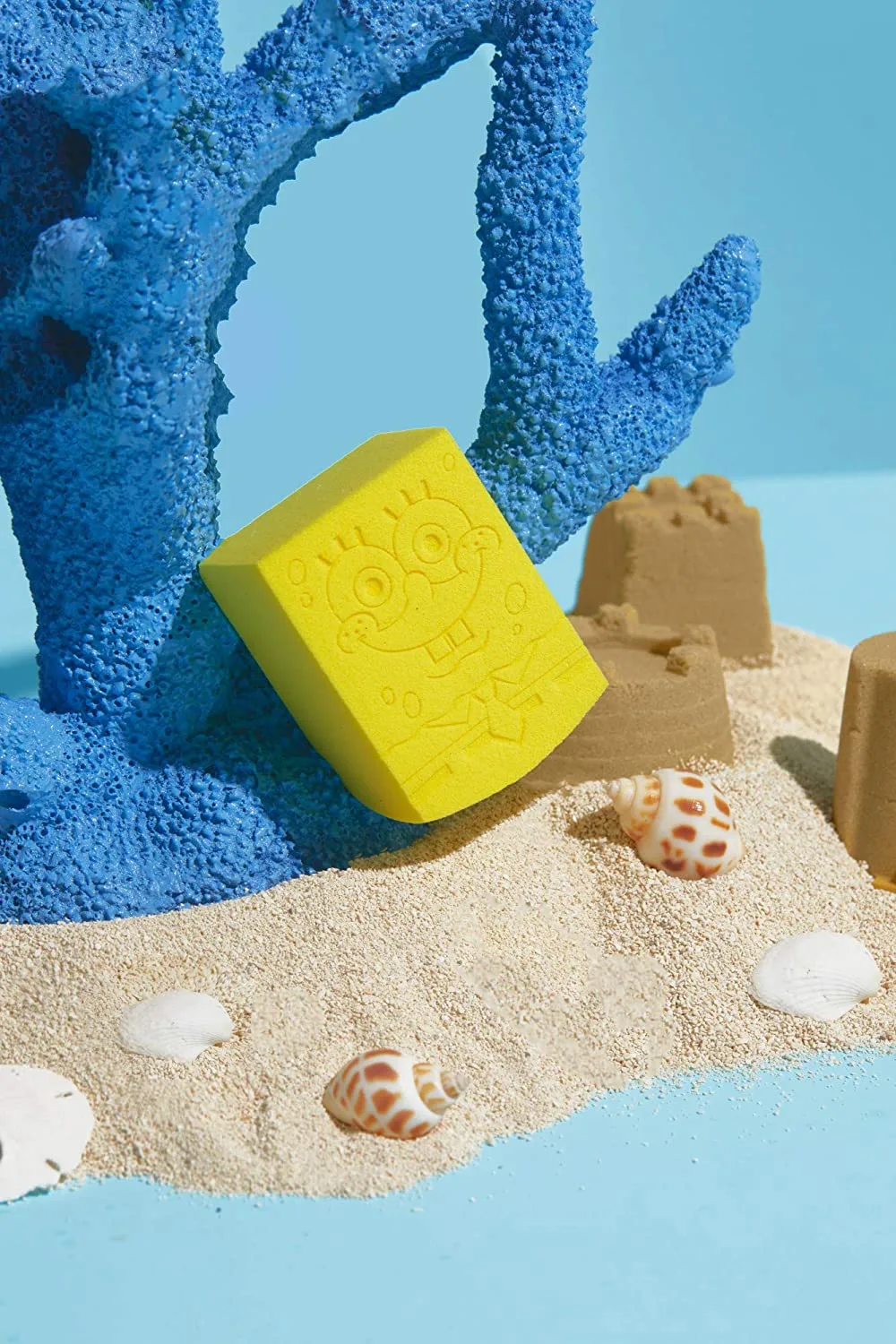 Kicking off the trio of Wet n Wild SpongeBob SquarePants beauty sponges, and with the main man himself; a SpongeBob SquarePants beauty sponge!
"Absorbent and yellow and porous is this makeup sponge from wet n wild!

Designed to let you absorb the love, and not the makeup, this versatile beauty sponge features a unique hydrophillic material to ensure less makeup absorption and waste, while delivering smooth, streak-free blending every time.

The distinct wedge shape features two precise, flat-cut edges that perfect for contouring and baking, while the rounded bottom provides effortless blending. "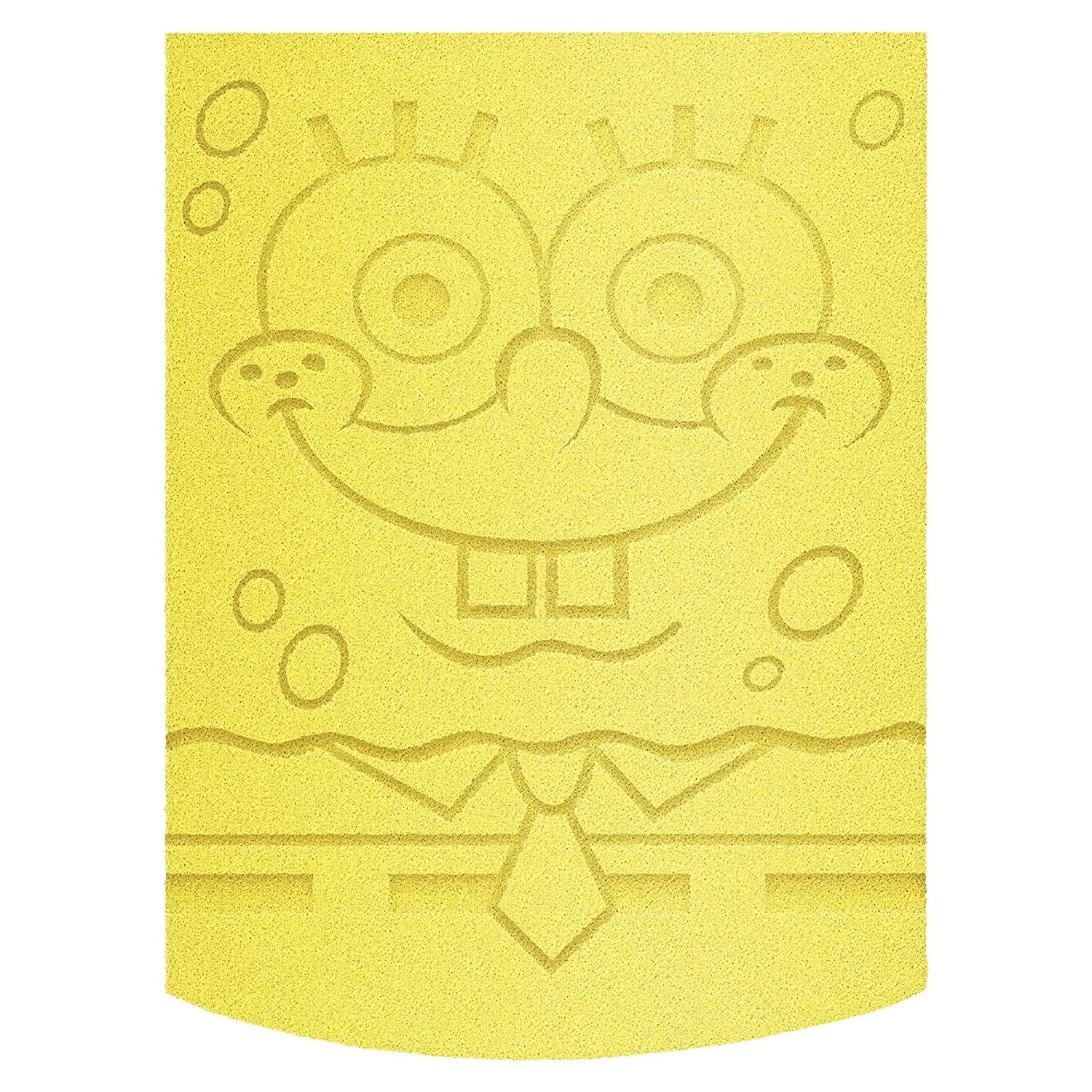 It's a cute, bright yellow, rectangular sponge with a cut-out design, to make the sponge look like SpongeBob with his face, complete with his tie, shirt and pants.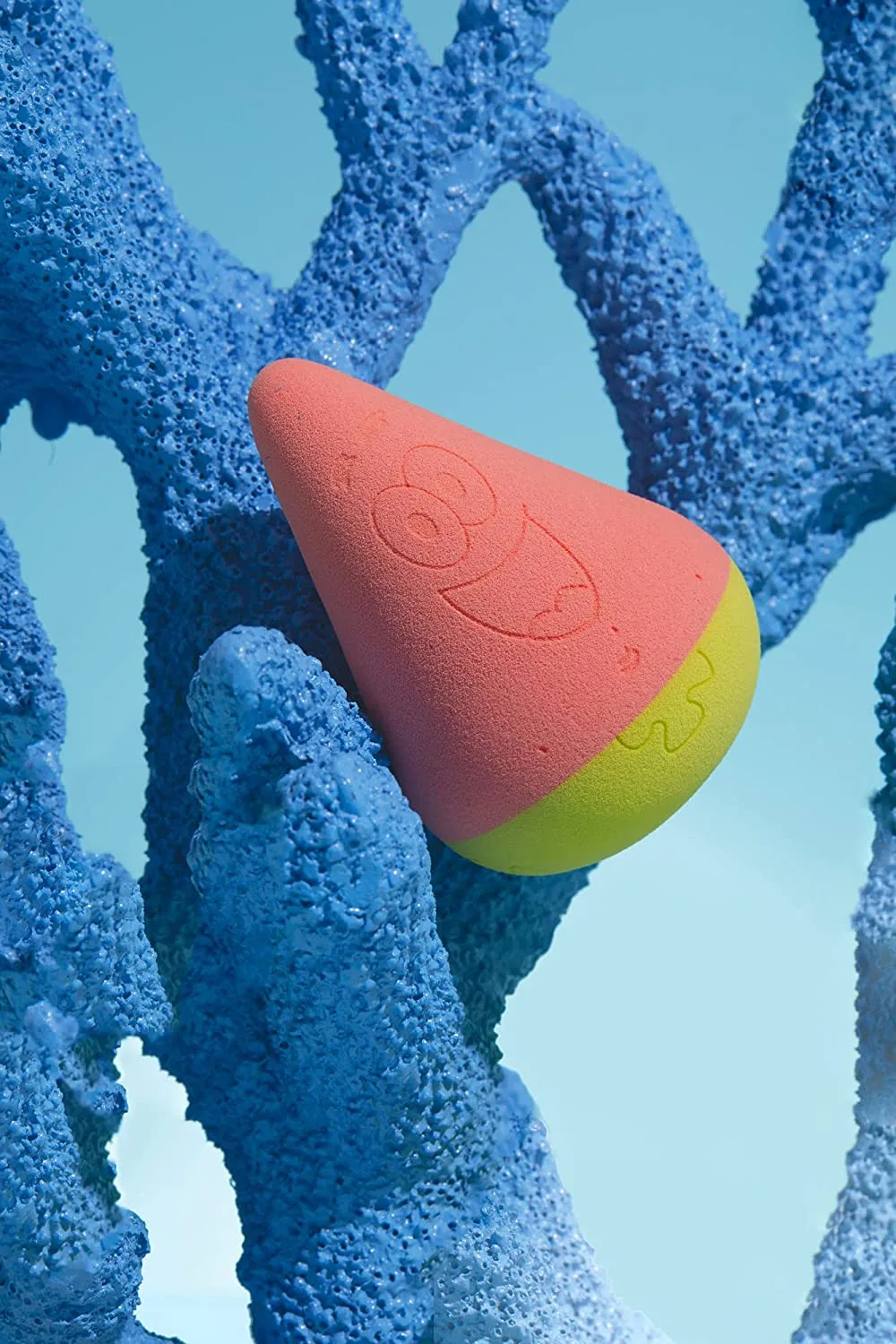 Then we have the Patrick Makeup Sponge, which is a bright pink and lime green, large teardrop shaped beauty sponge.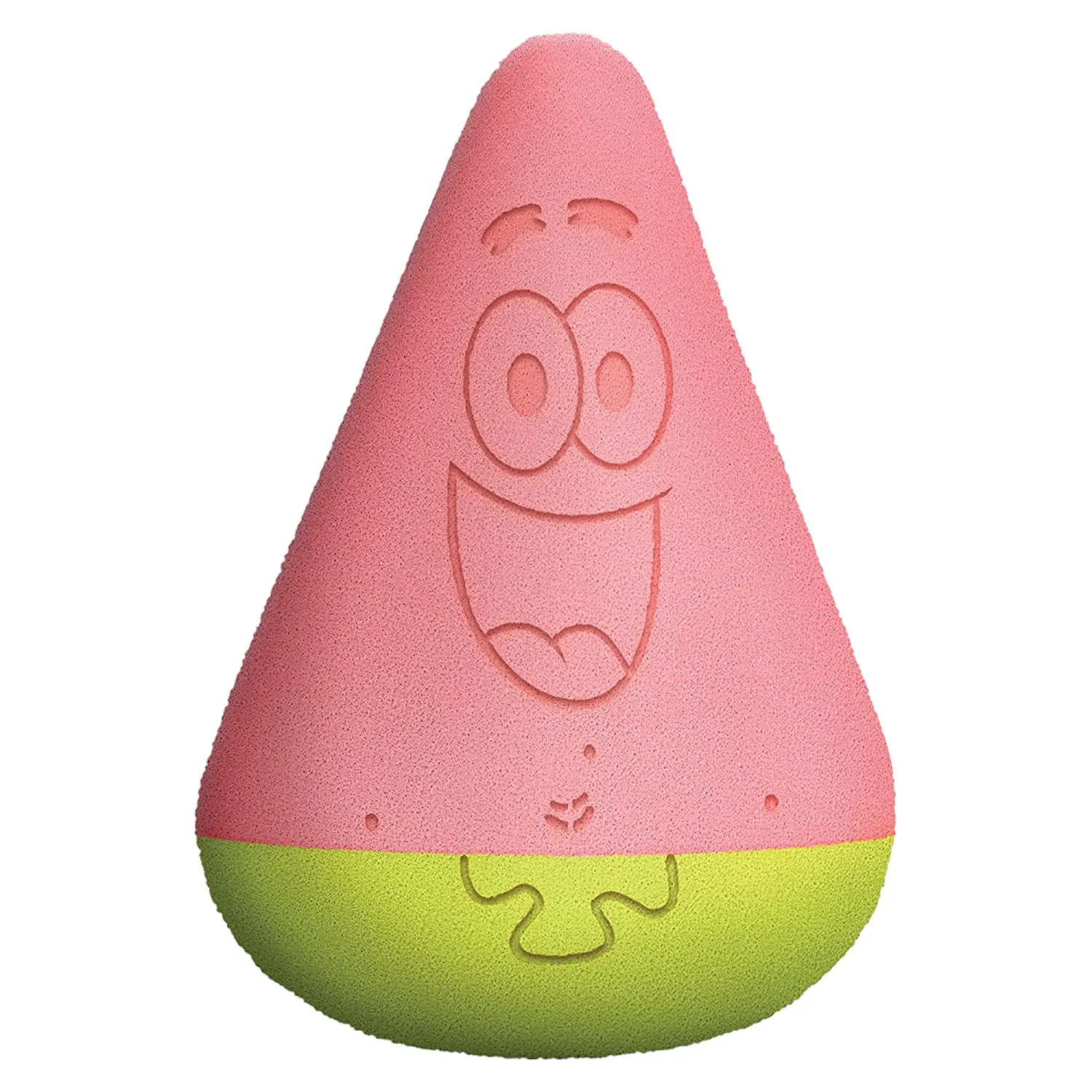 Obviously, Patrick is a starfish, and that shape doesn't lend itself well to being a makeup sponge, so they made a teardrop shape, and it also has a cut-out design of Patrick's gleeful little face.
The third and final Wet n Wild x SpongeBob SquarePants collection is the Squidward sponge. Squidward was supposedly an anthropomorphic octopus
This sponge is a pastel green bulbous sponge to resemble Squidward's head. It has a cut-out design like the other two, with a perplexed facial expression which I love.
There are two brushes within the collection, and I feel like they could be the most popular pieces within the collection as they're so functional, but are more like collectors pieces.
You'd have to throw away the sponges eventually, and makeup expires, but the brushes will be longer lasting, and I can imagine some makeup obsessives wanting to keep these brushes as a collector's piece.
The first brush is the Sandy Round Kabuki Makeup Brush, and it has a round white plastic handle, and bright pink densely packed bristles. On the handle there's a cute image of Sandy, and it's the cutest!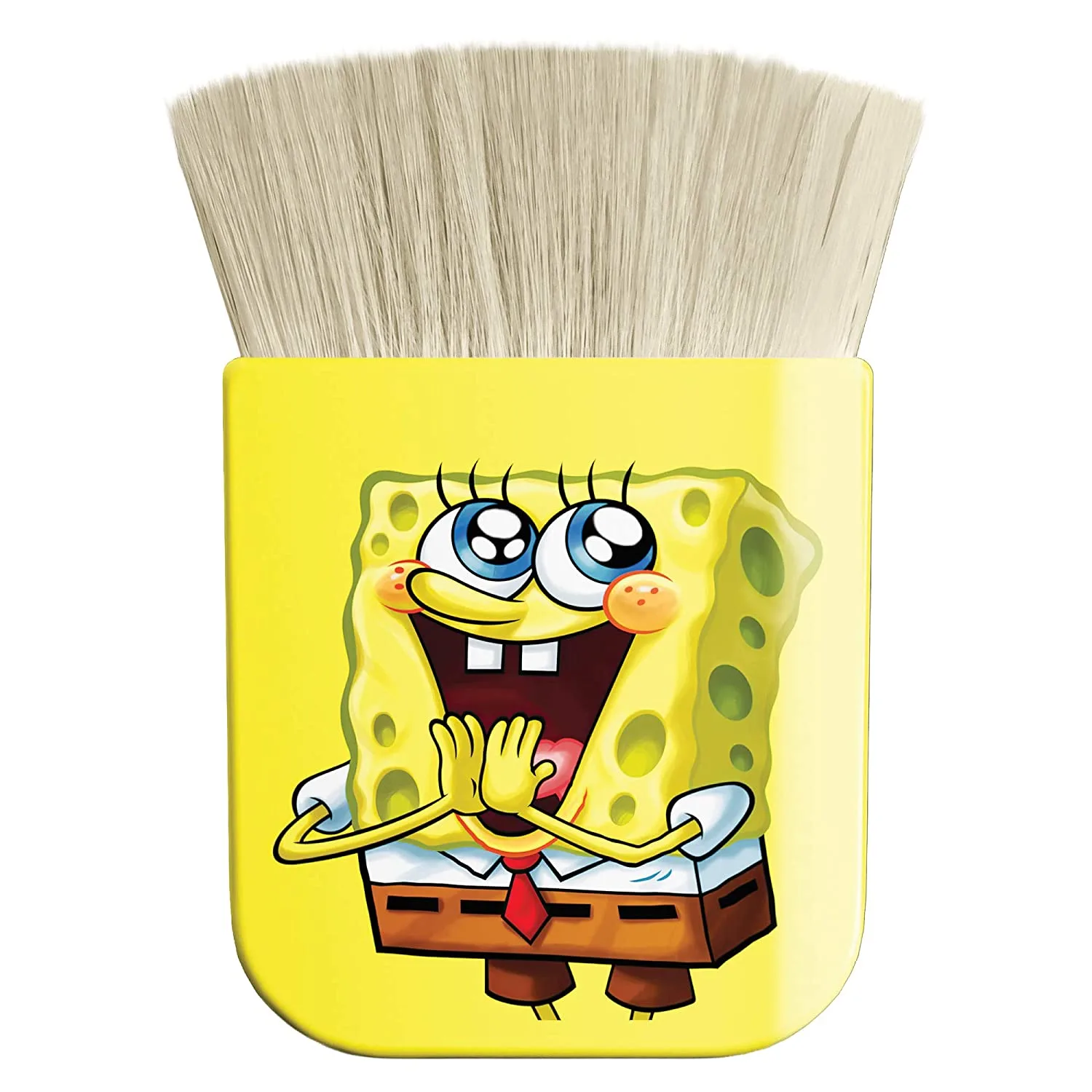 The second brush in the Wet n Wild SpongeBob SquarePants Collaboration is themed around SpongeBob SquarePants, and it has a big, flat yellow plastic handle, with cream densely packed bristles.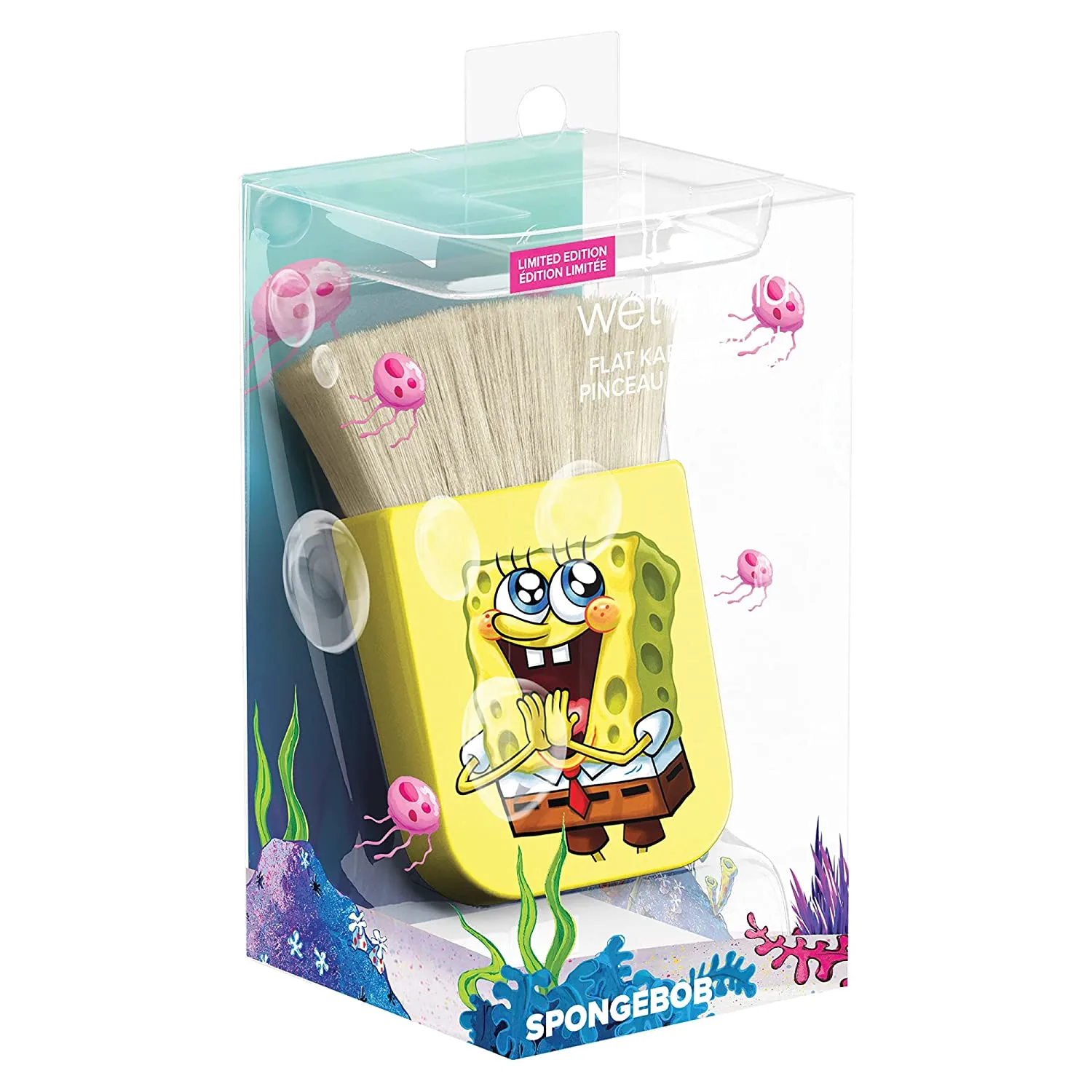 "Bring it arouuund towwwn with the SpongeBob Flat Kabuki Brush. Designed with flat, fluffy bristles, this makeup brush is ideal for controlled powder application and blending.

Perfect for contouring and highlighting, the synthetic fibers are soft and made with the highest quality filaments for superior pigment pick-up and even color distribution.

Experience a truly polished look that proves that you are #1. Perfect for both wet and dry makeup, this travel-sized brush provides excellent control so you can apply your foundation, highlighter, or other makeup evenly."
The big yellow handle has been designed to look like SpongeBob, with the same rectangular design, and printed SpongeBob on the handle.
For cleansing the three sponges and two makeup brushes within the collection, there's a Gary The Snail themed solid brush cleanser.
It comes in a blue, circular jar and can be used with another product within the collection, which is the…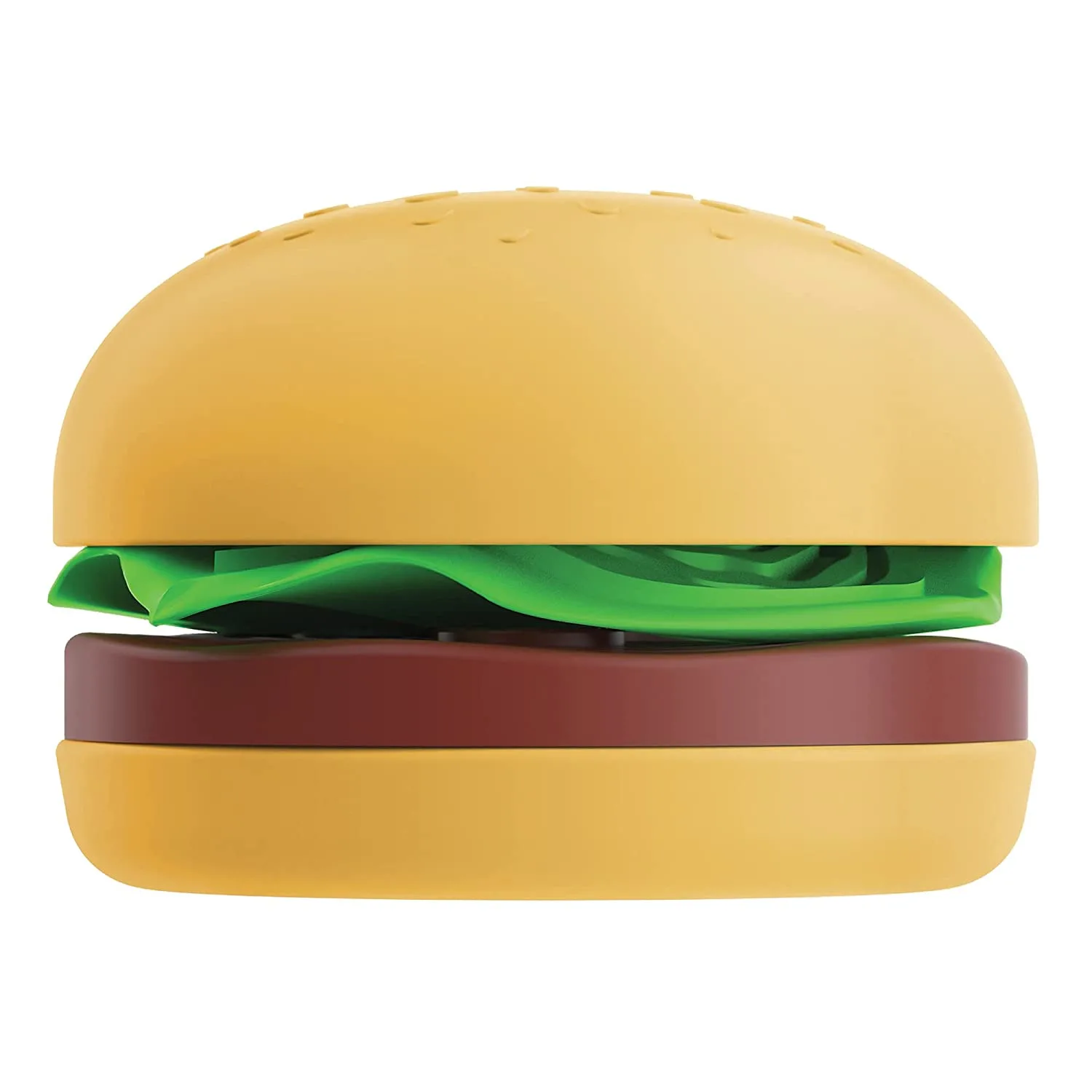 The most epic designed item in the whole collection, has to be this burger shaped makeup brush and makeup sponge cleansing pad set.
You 'open' the burger up, and the stack includes different textured pads to clean your brushes and beauty sponges.
With a pad for the bread, a pad for the meat patty and a pad for the lettuce. You then swirl your brushes, or press your sponges against the textured surfaces within the layers of the burger to help cleanse your sponges and brushes.
Whoever designed this, is a genius. It's such a clever design, and not only does it look good, it's extremely practical too – I love it!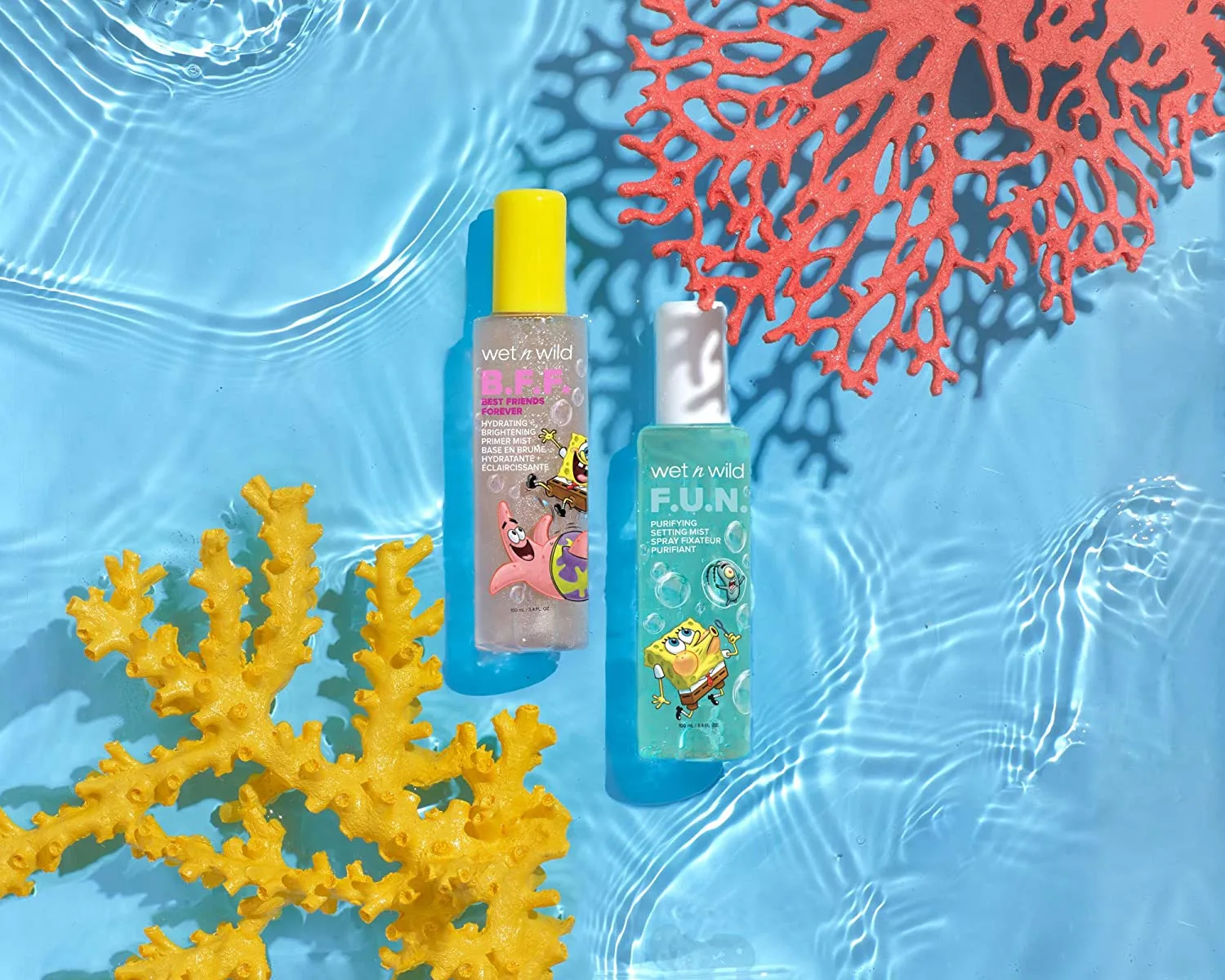 The last two products within the Wet n Wild SpongeBob SquarePants Collaboration are two facial mists, which are designed to help set your makeup in place.
The BFF Mist is the illuminating mist and looks pink, and features SpongeBob and Patrick on the front.
"Glow with the power of friendship. This BFF Hydrating + Brightening Primer Mist and your skin go together like SpongeBob and Patrick!

This revitalizing spray can be used to prep the skin before applying makeup, provide refreshing hydration, and brighten your complexion with illuminating, light-reflecting properties to impart a soft, dewy glow. This 3-in-1 spray will soon become your new BFF."
Then there's one for those that want a more mattifying setting spray, and this one looks blue, and has SpongeBob on the front of the bottle blowing bubbles.
So just to confirm, here are the Wet n Wild SpongeBob SquarePants collection launch dates;
I think Wet n Wild have smashed it with this collection. Everything is thoroughly thought out, relevant and does the show and characters justice.
I like that because it's Wet n Wild, it's going to be super affordable, and it'll be guaranteed to sell out, so snap it up whilst you can.
BUY HERE: Target / Wet n Wild / ULTA / Amazon / Walmart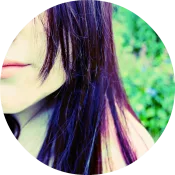 Hi, my name is Gemma, and I'm the owner of MakeupMuddle.com. I'm a true beauty obsessive, and love writing about anything to do with beauty – I have been a beauty writer since 2012.
As well as owning Makeup Muddle, I also own GemmaEtc.com, and love sharing my thoughts and feelings about the greatest (and not so great) beauty products!