Honey is somewhat of a wonder ingredient, and whilst it has many benefits for our health, there are lots of beauty benefits of honey.
You might be wondering what the benefits are, of applying honey on lips, and I'm going to talk you through all the ways in which honey can improve your lips.
So, if you'd like the full low-down on how amazing honey is, and why you should be using honey in your beauty routine, keep on reading…
What Are The Nutritional Benefits Of Honey?
Honey is an incredibly nutritious food that provides a vast array of vitamins and minerals. It has numerous potential health benefits due to its antioxidant, anti-fungal, and antibacterial properties.
Consumption of honey can offer many benefits including strengthening your immune system by increasing production of white blood cells, helping to manage blood sugar levels, aiding in digestion, and providing relief from allergies.
Honey is also packed with polyphenols, which are natural antioxidant compounds that fight damage caused by free radicals in the body.
The unique combination of carbohydrates, minerals, enzymes, amino acids and organic acids make it an excellent nutritional supplement for people of all ages as well as a delicious addition to any diet.
What Are The Different Types Of Honey?
Honey is a sweet, viscous food product made by bees. It has been used as a natural sweetener in many cultures, and it is incredibly versatile.
There are many different types of honey available, each with their own unique flavor and color profile.
Raw honey is the least processed type of honey, containing bee pollen and propolis, as well as other beneficial substances.
Creamed honey is whipped to create a smooth texture that prevents it from crystallizing.
Manuka honey is unique due to its high antioxidant content and antimicrobial properties; many consider it a superfood.
Acacia honey is mild-tasting and light in flavor, making it the perfect choice for sweetening teas or ice cream.
Finally, buckwheat honey packs an intense flavor with earthy characteristics, which is great for baking.
What Are The Many Beauty Benefits Of Honey?
Honey is known for its many beauty benefits and so it's no wonder it's a common ingredient in facial masks, lotions and other beauty products.
It's full of antibacterial and antiseptic properties, and can work to clear up acne and other blemishes, while hydrate and soothe the skin.
Honey is also a powerful antioxidant, meaning it can help fight off the signs of aging caused by free radicals.
It helps to lock in moisture, which helps to reduce wrinkles and keep skin looking younger.
Honey also has natural exfoliating properties that can help to reveal softer and smoother skin.
As an added bonus, honey has a natural sweet smell that makes you feel like going on a spa day.
All of these qualities make honey a great choice for skin care, and it is easy to incorporate into your routine.
Best Ways You Can Use Honey In Your Beauty Routine
To reap the most benefits, use raw, organic honey – you can eat what's left over. One of the best ways to use honey on the skin is to make a simple face mask.
Just mix one tablespoon of honey with one teaspoon of either plain yogurt or mashed avocado for a moisturizing treatment.
You can opt for adding another teaspoon of lemon juice or tea tree oil if you are looking to fight acne.
You can even make your own luxurious homemade shampoo by mixing one part honey and three parts lukewarm water before massaging it into your scalp.
Honey also works great in conditioning treatments, as its texture helps bind oils together once mixed with other ingredients like coconut oil or apple cider vinegar – say good bye to expensive salon products.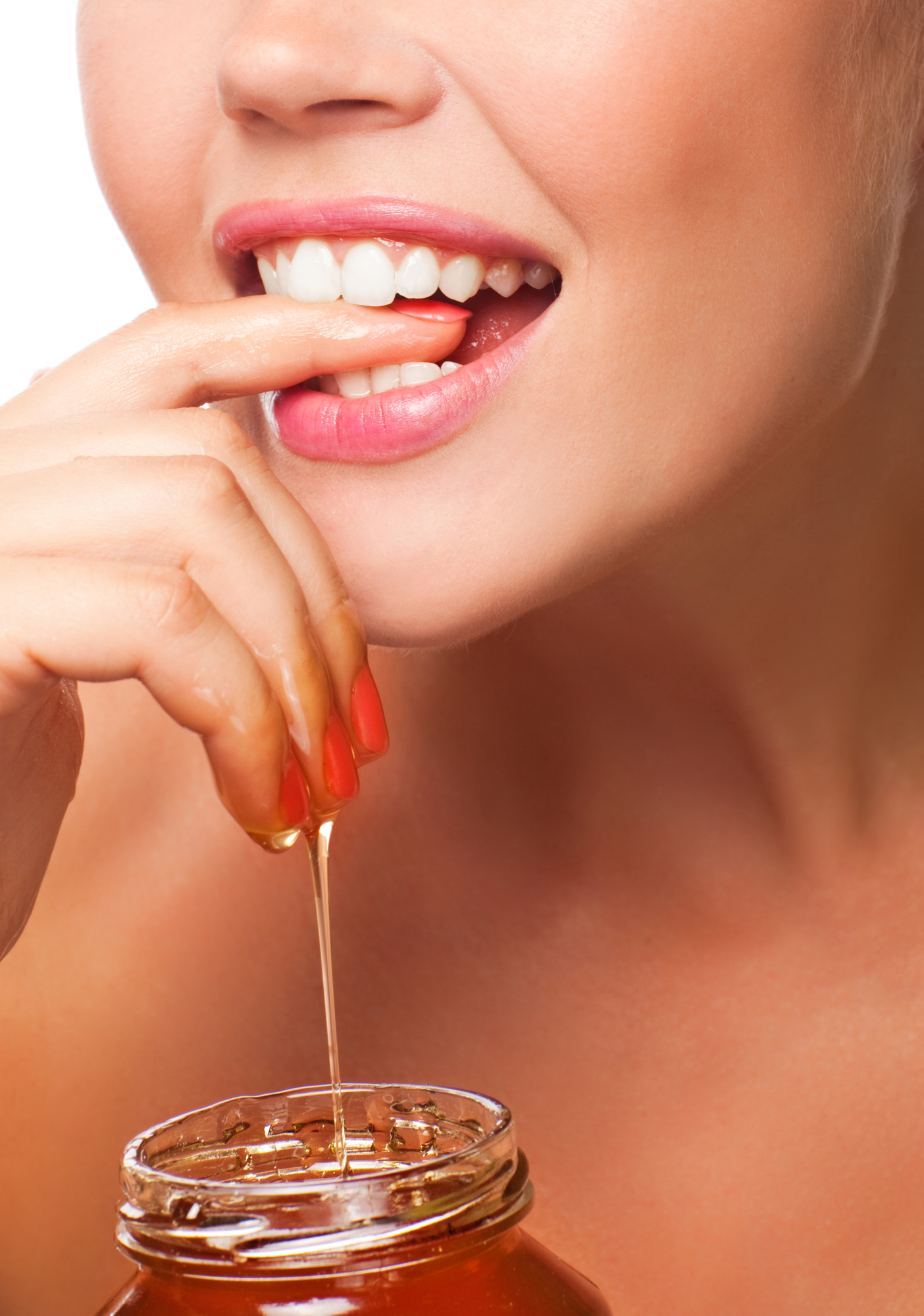 Is Honey Safe to Use on The Lips?
Yes, honey is generally safe to use on the lips. Honey is a natural, versatile ingredient with many health benefits and can provide relief from dry, chapped lips.
It has antibacterial and antioxidant properties that help to protect the skin, and it's also a natural humectant, meaning it helps to keep the skin hydrated.
Plus, raw honey also contains natural emollients that help to reduce inflammation and redness caused by cracked or dry lips.
Although it can be used in its purest natural ingredient form, some people prefer to mix it with other ingredients such as coconut oil or almond oil for added moisturization and to make a nourishing DIY lip balm.
Top Benefits Of Applying Honey On Lips
Applying honey on the lips can help to make them softer, smoother and more hydrated. It also helps to keep the lips nourished and protected from the sun.
As honey has antiseptic, antimicrobial, antioxidant and anti-inflammatory properties that help to prevent infections and keep the lips free of dryness, chapping, and cracking. It can also clear up any existing infections or irritations on the lips.
Lastly, honey can help to keep the lips looking healthy, since it can promote collagen production, making them look more plump and fuller, whilst combatting dead skin cells.
How To Apply Honey To Your Lips?
Applying honey to your lips is a great way to nourish and protect them. The antibacterial properties of honey work hard to guard against the formation of dry, cracked skin or infection that can occur when dealing with chapped lips.
To apply honey, be sure to start by exfoliating any dead skin from the area by either using a toothbrush or a lip scrub.
Then take one teaspoon of raw honey and apply it lightly with your finger over the lips, concentrating on edges and problem areas.
Rinse off with warm water after ten minutes and pat the area with a towel before applying a body butter and lip balm for best results.
How to Choose the Right Honey for Lips
When it comes to caring for your lips, choosing the right honey is essential. Honey has both antibacterial and anti-inflammatory properties that can help repair dry, chapped lips while making them softer and smoother.
To choose the right honey for your lips, think about what type of honey you need and what benefits you're looking for.
For example, Manuka honey is known for its healing properties, while lemon honey is thought to be hydrating and refreshing.
Some honeys provide more antioxidant benefits than others, so consider that as well.
Make sure to read the label carefully for any ingredients you may want to avoid or are allergic to.
You should also check to see if the honey is organic or if it contains added sugar or preservatives.
Some manufacturers may process the honey differently to concentrate its beneficial antimicrobial activity properties, so take that into account as well.
How To Make A DIY Honey Lip Scrub?
DIY honey lip scrub recipes are a great way to get your lips feeling soft and nourished in no time, especially if you enjoy wearing lipstick.
The key to making a lip scrub that really works is to make sure you have the right ingredients.
All you need is honey, sugar, and a little bit of oil. Start by combining one tablespoon of honey and one tablespoon of sugar in a bowl.
Then, add one tablespoon of any oil you prefer; almond oil, coconut oil, or even olive oil.
Mix all the ingredients together until they are well combined. You can adjust the consistency of the scrub to your preference by adding more oil or honey, depending on what feels best.
Application is super simple. To use your DIY lip scrub, simply apply it gently to your lips, rubbing in slow, circular motions.
Leave the scrub on your lips for a few minutes to give it time to work its magic, then rinse off with warm water.
Can Honey Help Relieve Chapped Lips?
Many people suffer from chapped lips throughout the year, especially during wintertime.
To find relief without having to invest in greasy ointments and skin softeners, use honey as an alternative.
Honey is known for its healing properties and can help reduce inflammation on skin, as an alternative treatment to conventional lip balms. To apply the mixture to your chapped lips, spread a small amount over them.
Then, massage it with circular motions for about thirty seconds before rinsing with water. You'll find that the moisture from honey can make all the difference against dry skin.
Can Honey Help With Cracked Lips?
Chapped, cracked lips are an annoying problem during the colder months. Fortunately, there is a natural remedy that can help soothe your sore lip cracks – honey.
Honey has many beneficial properties, including antibacterial and antioxidant ones. With its moisturizing qualities, applying honey to cracks or irritated skin can help heal them faster.
All you have to do is rub some honey onto the cracks, leave it on for 10-15 minutes, then rinse off with water.
Though more research needs to be done on this topic, many swear by using honey as a DIY lip treatment and swear they have never looked back.
Can You Leave Honey On Your Lips Overnight?
When it comes to skin care, honey can offer a number of benefits for keeping skin soft and smooth.
And one beauty ritual and home remedy that is starting to gain more popularity is leaving honey on your lips overnight.
Honey naturally has antibacterial and antiseptic properties, which allows it to help cool down skin irritations, breakouts, and speed up the healing process.
Making this the perfect home remedies for chapped or dry lips. Honey's antioxidants can work wonders in protecting skin from harmful UV rays and keep skin looking fresh and healthy all day long, whilst boosting hydration.
Therefore, by applying a thin layer of honey before bedtime may be just what you need to get rid of dry skin and enjoy soft, kissable lips all through the night.
Are There Side Effects Of Applying Honey To Your Lips?
Although natural products like honey contain natural elements beneficial to our skin, clinical studies have shown that they can also pose potential negative side effects if used incorrectly.
For instance, applying honey directly to your lips can lead to a tingling, burning sensation.
This common side effect is due to the natural acidic characteristics of honey that can irritate the delicate skin on lips and cause discomfort.
Therefore, when it comes to natural beauty treatments involving honey, it is important to do your research beforehand and understand how to use the ingredient correctly in order to avoid any unwanted irritation or skin damage.
Summary
There are many benefits of applying honey on lips, from helping reduce inflammation to soothing chapped or cracked lips and protecting skin from harmful UV rays.
It is important to research honey before use, as it can cause potential negative side effects if used incorrectly.
However, when used correctly, applying honey can be a powerful natural remedy for hydrating and restoring the health of your lips.
*This post contains affiliate links
Hi, my name is Gemma, and I'm the owner of MakeupMuddle.com. I'm a true beauty obsessive, and love writing about anything to do with beauty. In addition to Makeup Muddle, I also own GemmaEtc.com, and love sharing my thoughts and feelings about the greatest (and not so great) beauty products!