Suqqu have revealed their beautiful new summer collection; the Suqqu Frozen Summer Collection 2020, and it's set to launch very soon within the UK. The collection features the sleekest, chicest limited edition pearlescent white packaging, which looks so striking.
If you live in Japan, you'll already be able to get your hands on the Frozen Summer Collection as it launched in Japan on the 1st of May, but those of us in the UK will have to wait until the 23rd of May.
Suqqu Frozen Summer Collection 2020
The Suqqu Frozen Summer Collection 2020 will be launching on the 23rd of May at Selfridges (here) and Harrods (here), so if you'd like to see which products are included within the beautiful new collection, keep on reading.
"An icy finish, like a summer frozen over in an instant. The luster, colors and freshness freeze time for all eternity.
The Frozen Summer Collection brings breath-taking coolness in the sweltering summer heat." – Suqqu
How incredible are these Suqqu Frozen Summer Collection promotional images? It's such a refreshing change to see a summer collection that isn't photographed on sand, or near the sea.
I don't know about you, but these photos really make me want to try the products, and I think this collection is the prettiest summer collection I've seen this year thus far.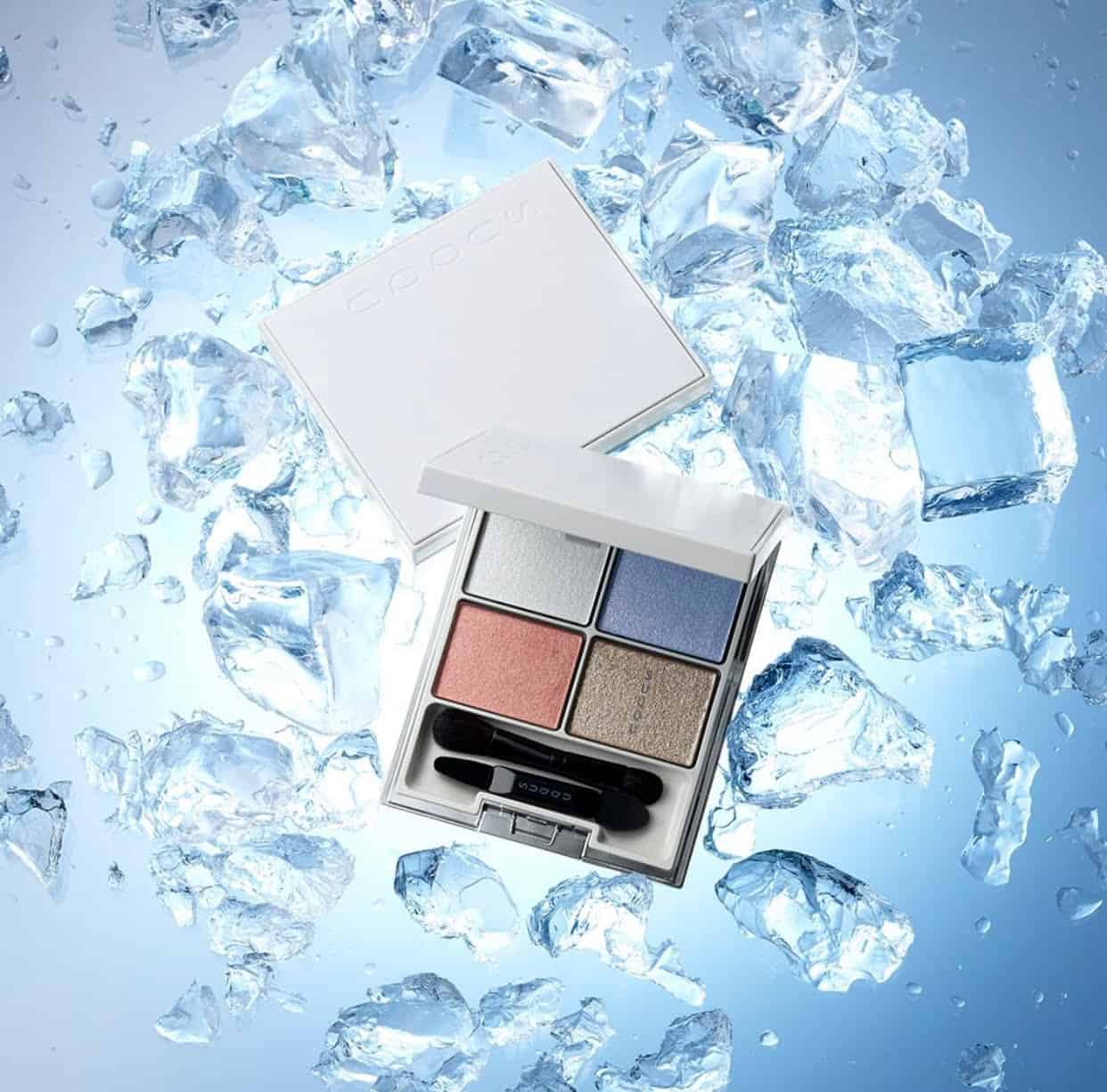 The first piece within the Suqqu Frozen Summer Collection is the stunning Suqqu Designing Color Eyes Eyeshadow Quad in 132 Touka.
The quad features a super pretty which is described as;
"Veiling the eyes with an icy luster.
An icy white and frosty blue for coolness. Coral and brown to blend naturally with the skin. A palette that lets you enjoy refreshing, summer makeup."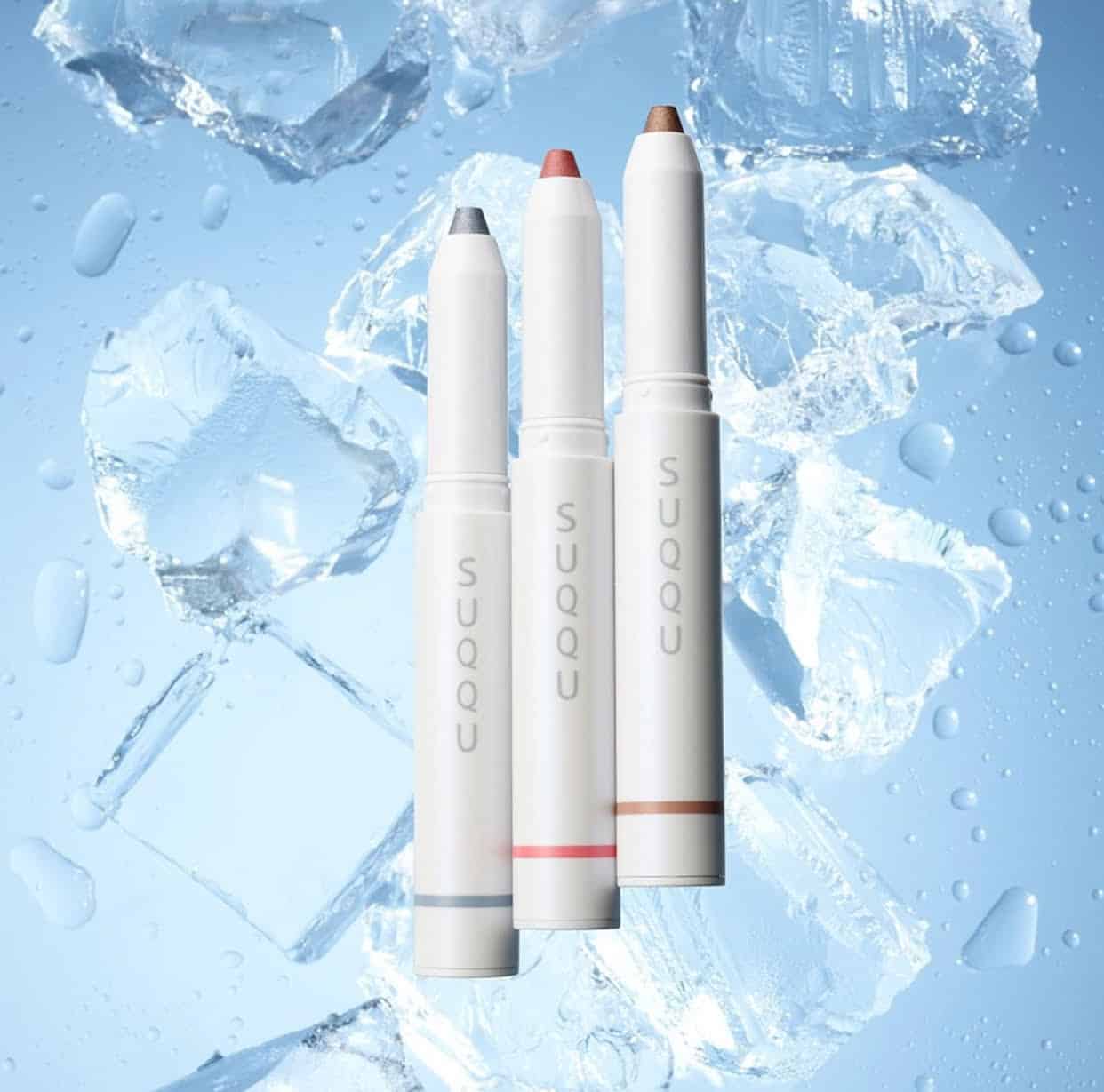 The next pretty piece within the Suqqu Frozen Summer Collection is actually a trio. Meet the Suqqu Frosty Shadow Stick available in three shades.
The shades are; 101 Hoshimabata (blue toned silver), 102 Hanaginu (metallic coral) and 103 Shimobikari (neutral toned brown).
"Draw fine lines and bestow a deep subtle radiance.
Eyeshadow sticks featuring cool colors perfect for the height of summer. Colors spread smoothly and adhere closely to the skin.
The eyeshadows contain three moisturizing beauty ingredients – jojoba seed oil, squalane and hyaluronic acid."
I think the next product might be my favourite in the whole Suqqu Frozen Summer Collection; Suqqu Shimmer Liquid Blush.
There are two shades available; 103 Miosuzumi (delicate lilac) and 104 Hoteaka (fuchsia pink), and the frosted glass bottles look so luxe and beautiful against the colours of the blushes. I desperately want the lilac shade, it's such a unique shade for a liquid blusher;
"Liquid blush that adds a frosty flush to summer cheeks. The liquid blush creates an even and naturally radiant finish.
The blush's pearly lustre and soft reds blend with the skin to give the finishing touches of a refined summer look."
Then we have the Suqqu Nail Polish in 124 Kiramoya, which is just one single shade, but what a beautiful shade it is.
I love duochrome shades on my nails, and this is the prettiest periwinkle blue with a delicate pink shift which complements the frozen theme in the collection;
"A nail polish with flowing vivid colors that add a cool luster to your fingertips. Brighten your fingertips with dazzling light.
The clear, vivid color is also perfect for pedicures."
The next product within the Suqqu Frozen Summer Collection 2020, is the Suqqu Radiant Cream Concealer, which is available in just one single shade; G-101, which is actually an highlighter in a really unique iridescent pale blue, in an convenient brush pen format;
"A highlighter that dresses you up in fresh summer skin with a single stroke.
From the pen concealer that layers natural radiance and moisture with a single stroke comes a limited-edition icy, baby-blue color that makes summer touched skin look remarkably refined."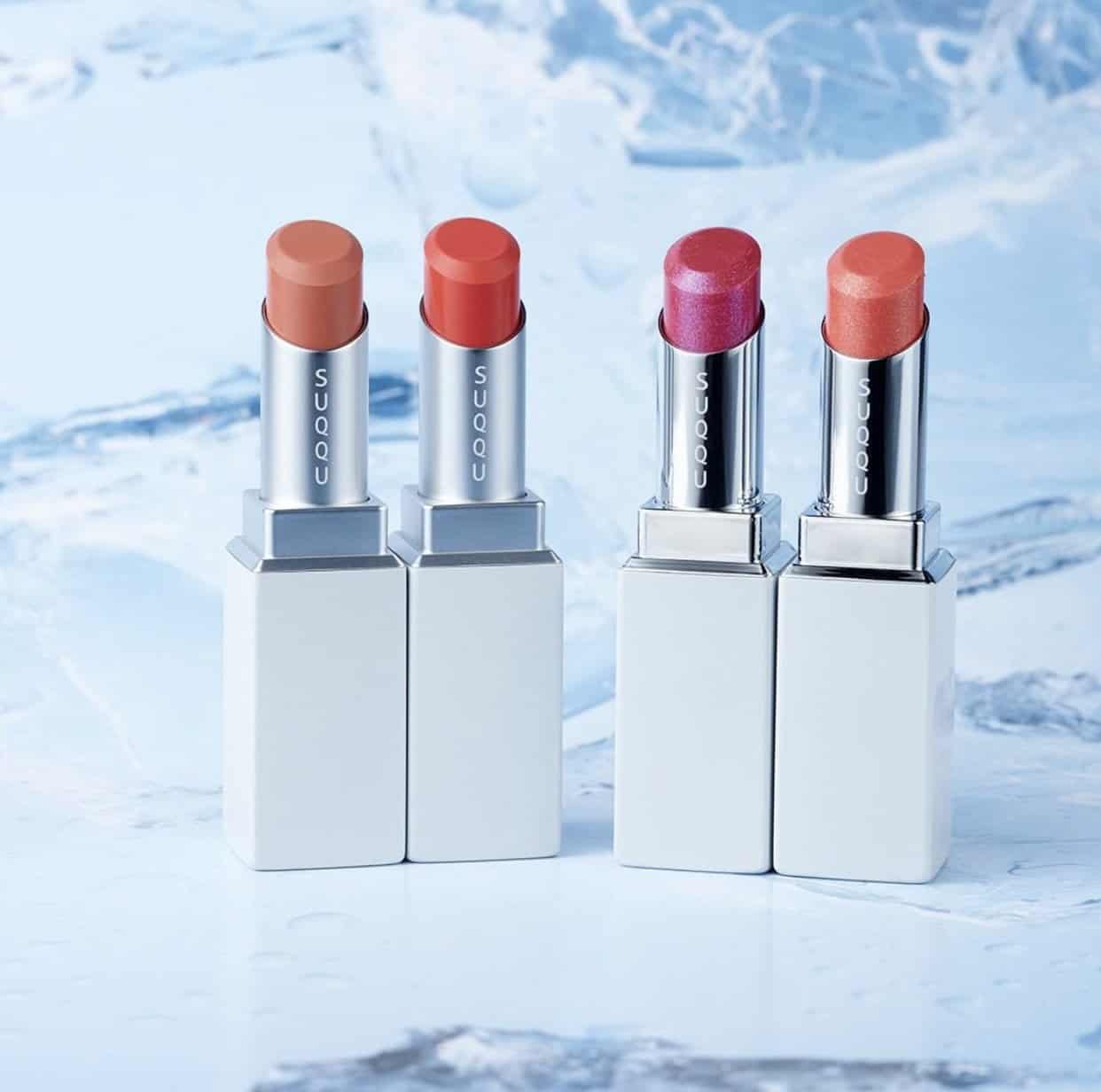 The last product within the Suqqu Frozen Summer Collection is guaranteed to be the most popular.
The lipsticks are always the most sought after within a Suqqu collection, and there are four to choose from in two finishes – 108 Benitsubata Vibrant Rich Lipstick, 109 Shunuri Vibrant Rich Lipstick;
"Adorn your lips with these bright summer shades. The faintly lustrous matte colors enhance the radiance of womanly skin.
From a nudie beige that blends with the skin creating an elegant impression, to an eye-catching vibrant red that brightens the skin and expression lines."
The other two lipsticks within the Suqqu Frozen Summer Collection are in the Moisture Rich formula; 116 Adesango Moisture Rich Lipstick and 115 Kagutsubaki Moisture Rich Lipstick;
"Sheer colors for cool, glossy lips. A bluish pink, accented with blue glitter for radiance and gloss, and a coral orange glistening in pink and gold glitter."
BUY HERE: Harrods / Selfridges
All images belong to Suqqu.
*This post contains affiliate links
Hi, my name is Gemma, and I'm the owner of MakeupMuddle.com. I'm a true beauty obsessive, and love writing about anything to do with beauty. In addition to Makeup Muddle, I also own GemmaEtc.com, and love sharing my thoughts and feelings about the greatest (and not so great) beauty products!