Spectrum Collections know how to make really lovely makeup brushes, and now they've launched makeup too. The Spectrum Collections Oceana Collection has dropped on their website and at Beauty Bay, and it looks like a really pretty collection.
Spectrum Collections always have the cutest packaging designs, and their brushes are amazing. I have their Siren set, and I love the clam shell design on the brush wrap, so I knew the Spectrum Collections Oceana Collection would be special.
Spectrum Collections Oceana Collection
The Spectrum Collections Oceana Collection is the brand's second ever makeup range (the first was the Zodiac Cosmetics collection), and whilst it is a makeup range, it wouldn't be a Spectrum Collections launch without brushes, and sure enough, this collection features two different brush sets.
Something that I thought was really admirable, was the announcement Spectrum posted on their Instagram page which I wanted to include as I thought it was really great and shows they care about their following and not just sales;
"Today we launch Oceana, our second make-up collection. The range is undeniably Spring/Summer focused and while the freedom of this season feels a little distant, our ambition for this collection has not changed despite this.

Our ultimate goal during this very difficult and strange time is to use all out resources to encourage our beauty community to stay indoors, the most certain thing we can do to help play our part in fighting this together.

The Oceana range was developed with happiness in mind, with product designed to provide a 'mood boost' for the wearer.

We believe that there is still a lot to be said for the power of positivity and the situation we all find ourselves in now calls for this more than ever, so we present the collection with this messaging at the forefront.

It certainly doesn't feel like a normal launch day as Spectrum HQ is now remote but we wanted to still launch this range to show you something that we have worked so hard on for the past year.

If you choose to try the new collection, our hope is that Oceana brings some joy to those who wish to use their time indoors to continue to experiment and have fun with makeup and build confidence with colour.

While there are very many uncertainties for most, we believe the element of escapism and opportunity to be creative makeup has always offered continues to be a source of comfort for many, us included.

Join us and bring spring/summer spirit indoors as we fight this together. Love, Sophie & Hannah"
The first product within the Spectrum Collections Oceana Collection is the Oceana Eyeshadow Palette which is £30, and contains nine powder eyeshadows. The palette is made with cardboard, with magnetised pans.
Next to each of the pans, there's a little well allowing you to scoop each eyeshadow pan out and move them around or move them to a magnetised palette. The palette is described as containing 4 creamy mattes, 3 hypnotising metallics and 2 pearly duo-chromes.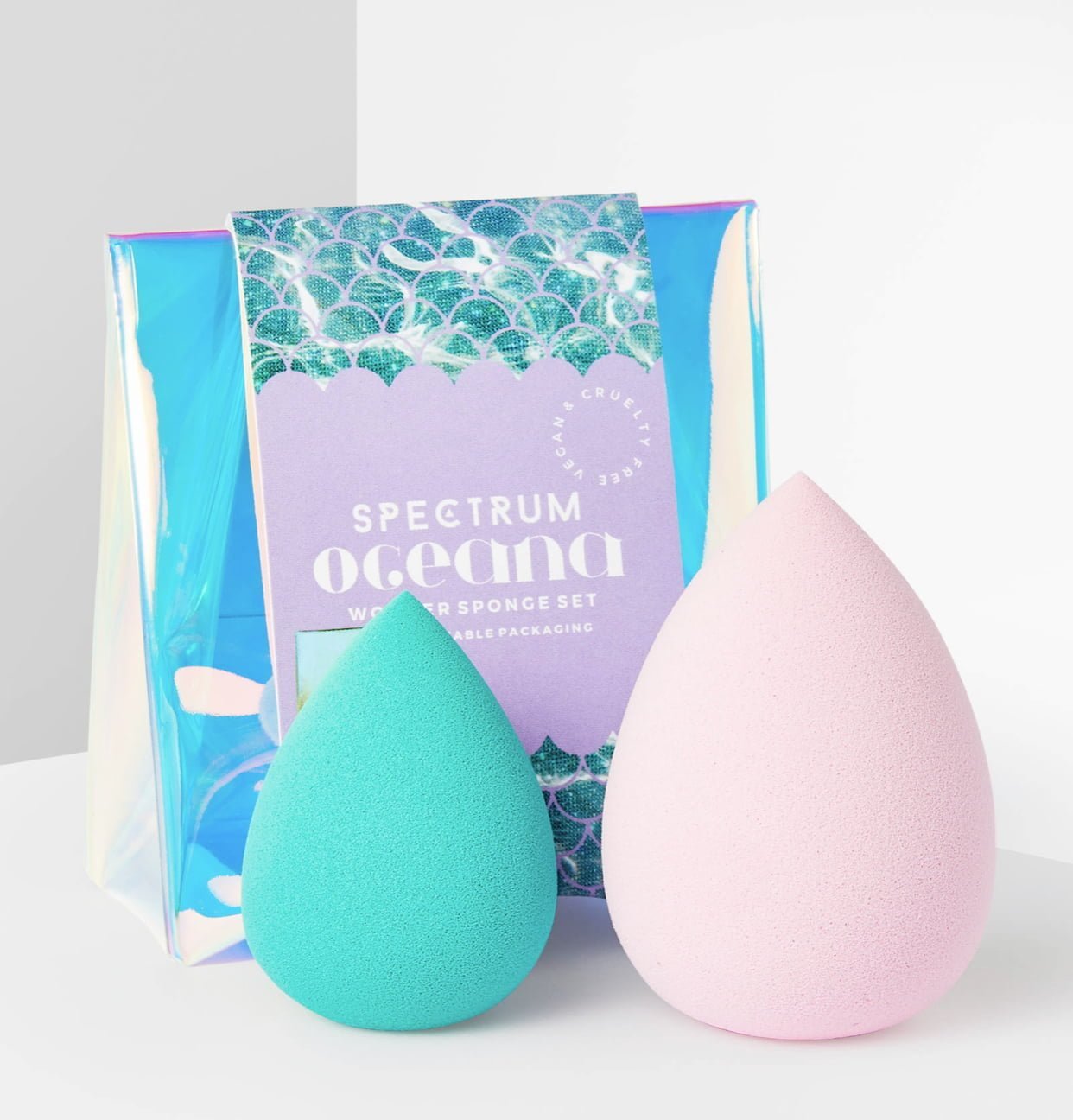 The next product within the Spectrum Collections Oceana Collection is the Oceana Wonder Sponge Set which is £9 and includes two beauty sponges within an iridescent pouch.
They're both teardrop shaped sponges, with one being slightly bigger than the other. One sponge is pink, and one is teal, and they're both latex free.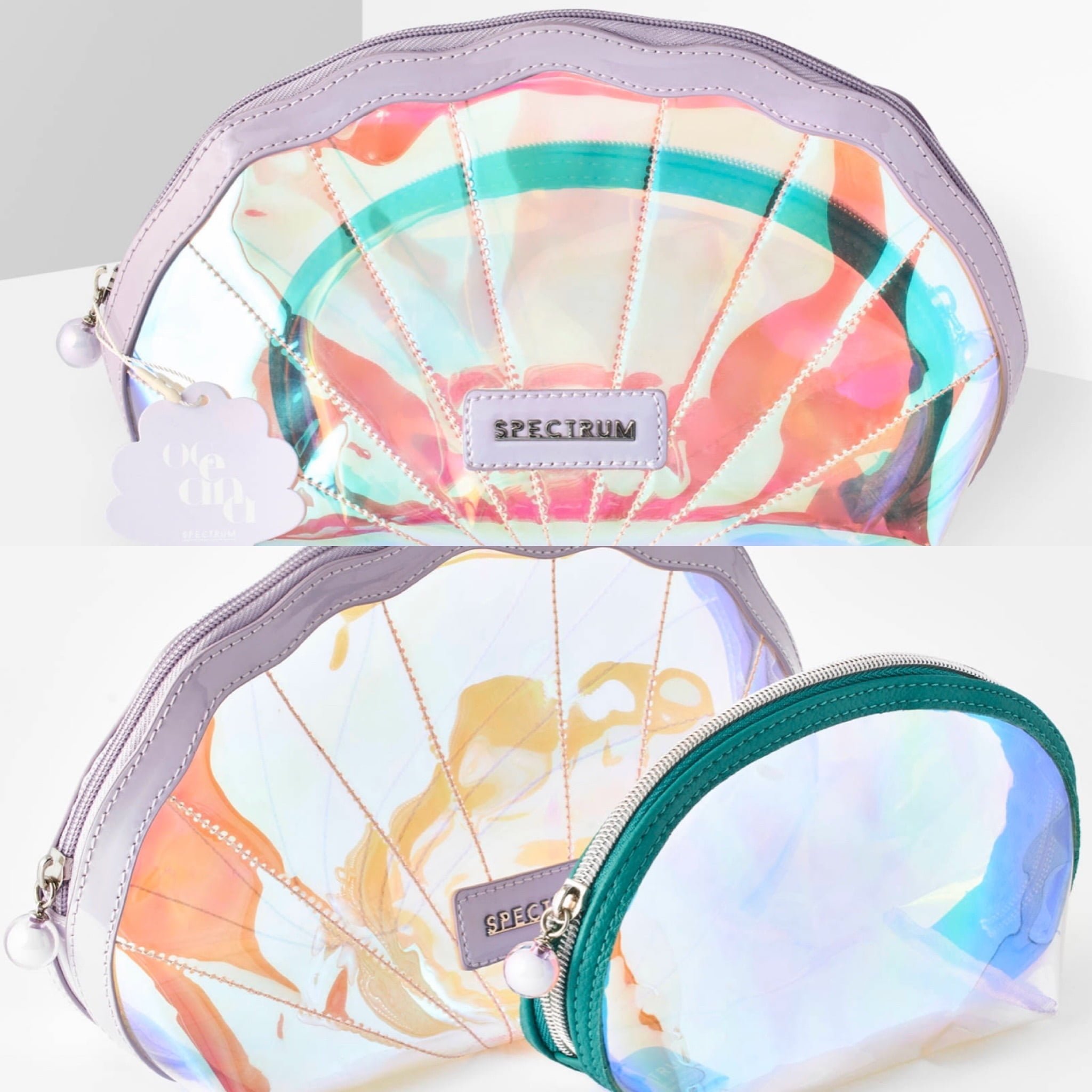 Then we have the Oceana 2 Piece Makeup Bag Set which is £17 for the two bags. They both have a fab iridescent effect to them, with little pearls on the zips, and they look really cute. Compared to say Skinnydip London, £17 isn't bad at all for two pretty makeup bags.
The next makeup product within the Spectrum Collections Oceana Collection is the Oceana Oyster Highlighter £13.
It is described as being a champagne powder highlighter within a cardboard compact. Spectrum Collections infused the formula with duo-chrome pearls for a neutral champagne base with soft iridescence, perfect for all skin tones.
There are two liquid highlighters in the collection; the Oceana Highlighting Ocean Drops £13. These water-based, non-tacky drops feature an eco-friendly shimmer made with high quality, synthetic crushed pearls. The two shades are; Reef (a coral reef pink) and Sea Glass (glass-like finish with purple and green reflects).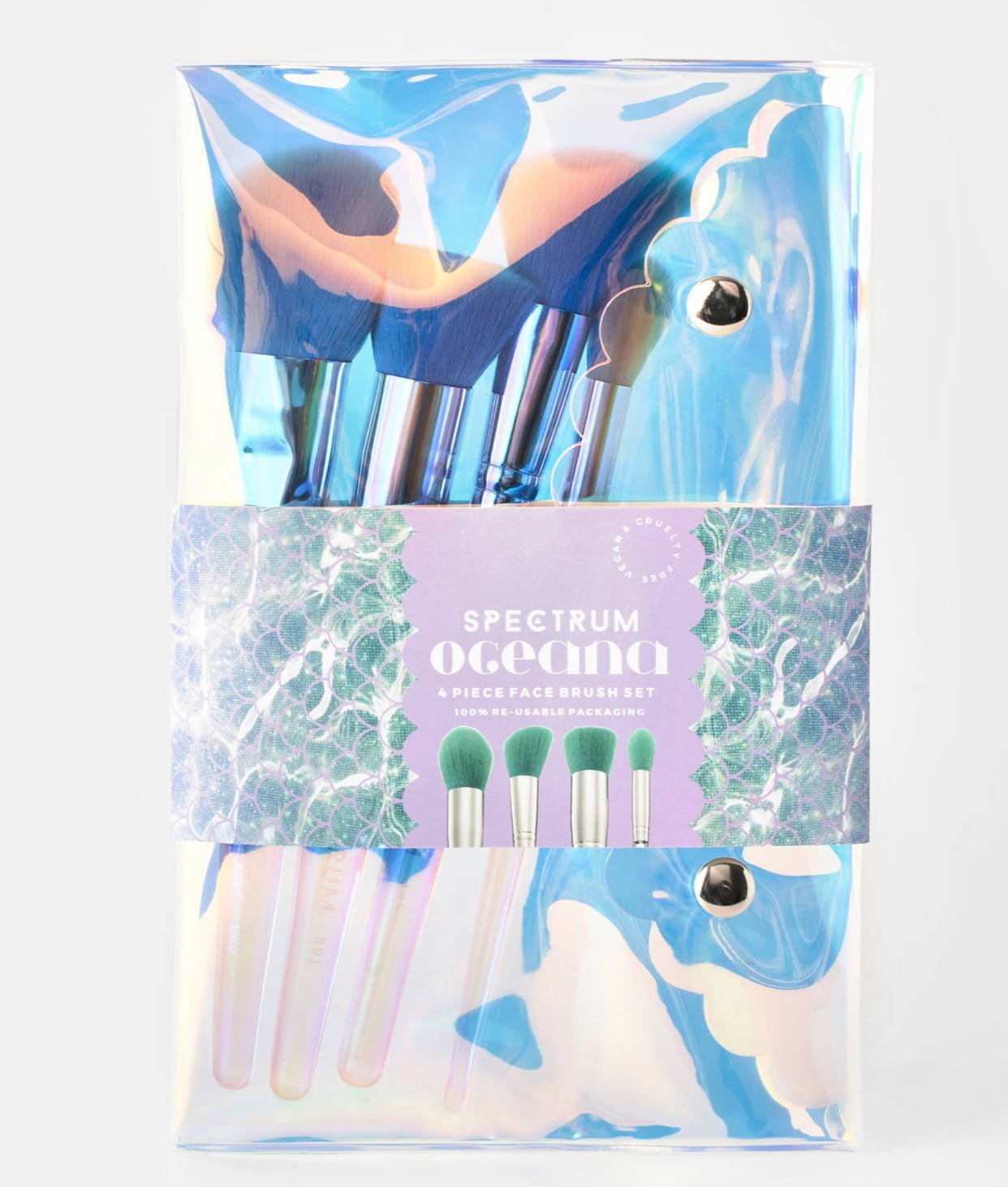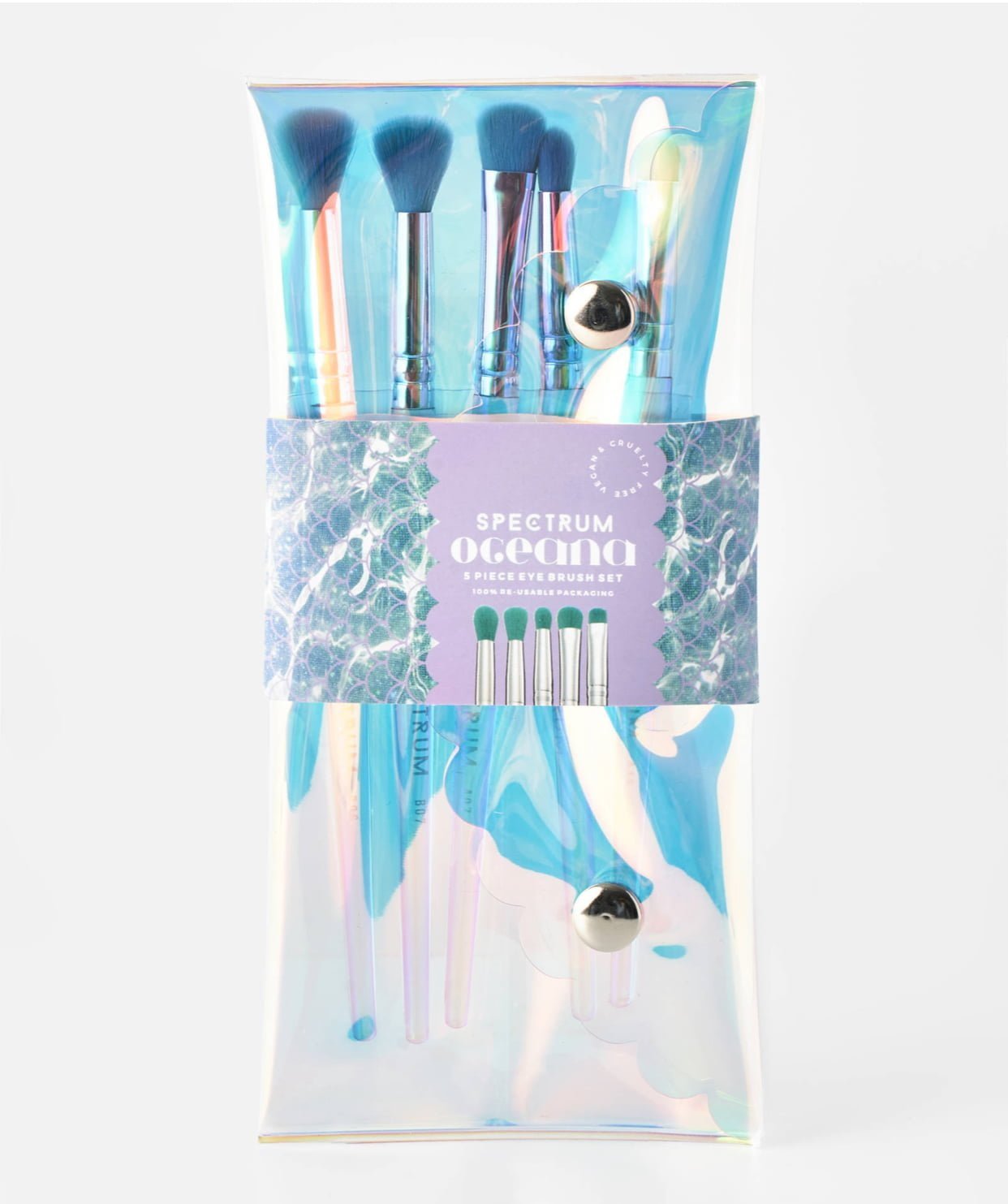 The last two items within the Spectrum Collections Oceana Collection are both brush sets; the Oceana 5 Piece Eye Brush Set £25 and Oceana 4 Piece Face Brush Set £30.
They both have iridescent pouches, with pretty iridescent coated plastic handles and vibrant turquoise silky soft bristles. I already know and love Spectrum brushes, so I can only imagine how lovely these two sets are, and they're affordable too.
All images belong to Beauty Bay
*This post contains affiliate links
Hi, my name is Gemma, and I'm the owner of MakeupMuddle.com. I'm a true beauty obsessive, and love writing about anything to do with beauty. In addition to Makeup Muddle, I also own GemmaEtc.com, and love sharing my thoughts and feelings about the greatest (and not so great) beauty products!