Big, big news for beauty lovers, especially Revolution lovers. The Revolution x Bratz Collaboration is happening! Revolution have kept us on our toes the last year or so with their surprise licensed collaborations.
With a Friends collab (well, technically 3), The Nightmare Before Christmas collab, Disney Princesses and even Marie. Well, now things are getting a little bit retro, and it's time for… Bratz makeup, and not just any makeup – 23 Bratz makeup products!
Revolution smashed it with this collection. Everything is perfect, and with amazing attention to detail. Keep reading to find out about this iconic Revolution x Bratz Collection…
*You can see my review/swatches of the Revolution x Bratz Eyeshadow Palette right here*
BUY HERE: Revolution US / Revolution UK / ULTA / Beauty Bay / Superdrug
The Revolution x Bratz Collaboration was announced earlier this week, and it's very exciting indeed. It's been a while since we saw a new fresh licensed collab, and this one is brand new for the brand.
Plus, they uploaded the above banner on the Revolution website too, which is very exciting, and now I've seen the full collection, they've done an amazing job at creating products which represent MGA Bratz, and their individual personalities.
The Revolution x Bratz Collaboration has been created to help celebrate the launch of the new Bratz Total Makeover Fashion game, which launched on the 4th of June in the AppStore;
"Join Cloe, Sasha, Yasmin and Jade in an all-new mobile game experience!

Choose highly fashionable clothes, hairstyles, makeup, and even furniture as you become a social media star! Deal with dramatic characters like the Tweevils and work with the iconic Bratz cast to rise through the ranks of the fashion world. Play fun, challenging match 3 puzzles and earn Bratz Bucks to help buy that perfect look!"
What's particularly exciting about the Revolution x Bratz Collaboration, is that both MGA and Revolution have teamed up, so the Bratz dolls will be featuring the products from this makeup collection, which is pretty cool.
MAC and The Sims did something similar, so I love that Revolution has been able to recreate something more affordable, and accessible for all Bratz fans all over the world.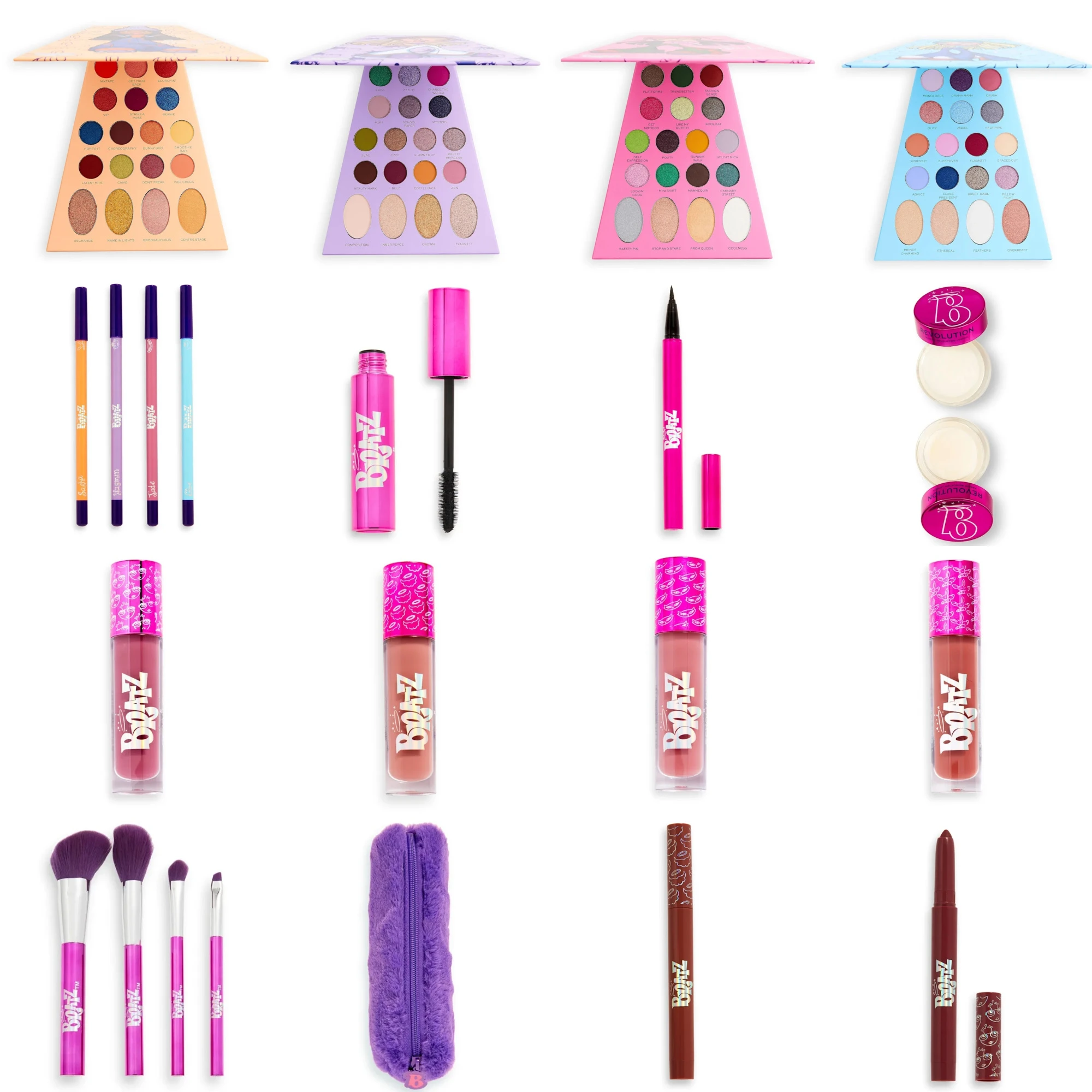 We've seen a heck of a lot of Barbie collections in the beauty world in the last year or so, and they've very repetitive and boring, so I feel like a Bratz themed collection is a little more unique and interesting.
ColourPop's Malibu Barbie collection didn't go down as well as their other licensed collabs, and nothing sold out on launch day, which never happens with ColourPop collabs.
Whilst I know the Revolution x Bratz Collaboration is going to be divisive, in that you'll either love it or hate it, because Bratz are quite niche.
However, I think it's exciting, as no other UK beauty brand has ever created a Bratz collection before, and Revolution have smashed it with this collection.
When does the Revolution x Bratz Collection Launch?
The full Revolution x Bratz Collaboration will launch on Friday the 18th of June on the Revolution UK website, Revolution US website and the ULTA website, with all 23 products.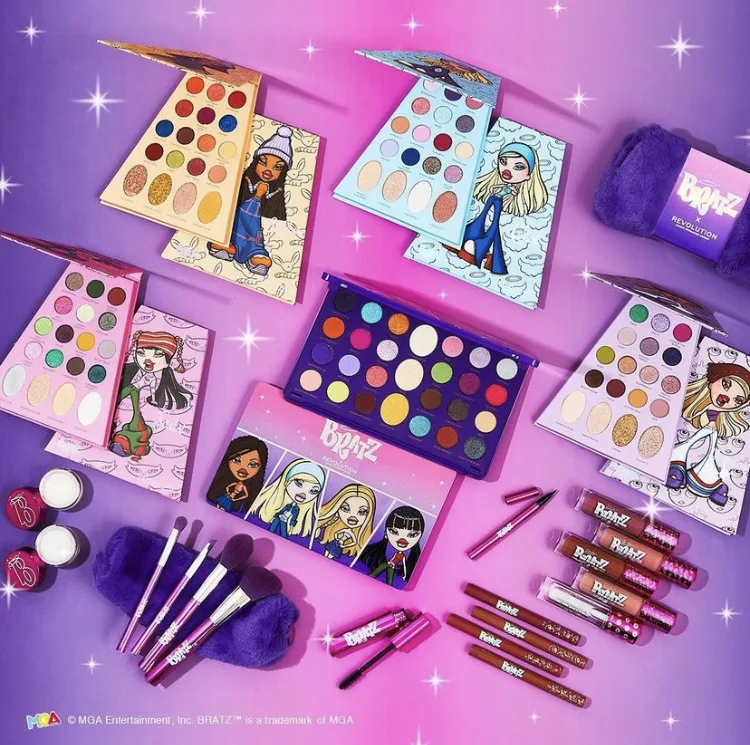 How Much Are The Products Within The Revolution x Bratz Collaboration?
There are 23 products within the Revolution x Bratz Collaboration, and they'll be priced between $10 and $28. I don't have the pound amounts for the products yet, but I'd guess between £8 and £25, but I will update this post once I know more information for you.
Which products are within the Revolution x Bratz Collaboration?
The biggest product within the collection is the Revolution x Bratz Forever Flawless Limitless Palette which is one of their mega Flawless Palettes, like the one we saw within the Revolution x Friends Collaboration.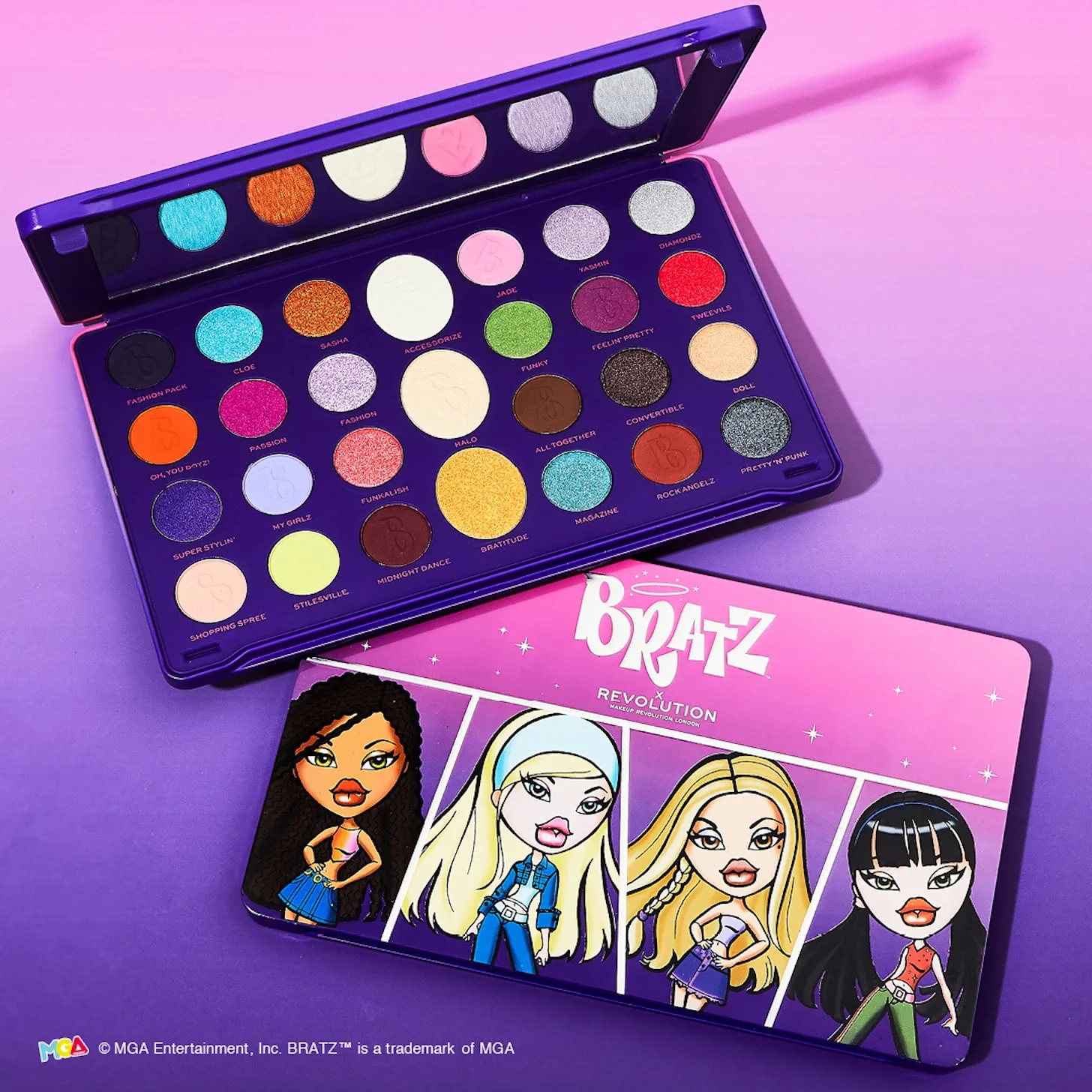 The Forever Flawless Limitless Palette is $28, and has bright purple packaging, with the same tin format as their other Forever Flawless Palettes.
Inside the palette, there are 24 powder shadows and three large highlighter shades within the centre of the palette. There's of course a mirror inside the lid, and on the top of the palette, there's a large image of the Bratz dolls.
It is a huge palette, and the shades are all named after the Bratz Dolls, and their iconic catchphrases and are names Bratz fans will definitely appreciate.
The shade names within the Revolution x Bratz Limitless Palette are;
Fashion Pack – deep purple matte
Cloe – shimmery light blue
Sasha – shimmery deep orangey bronze
Accessorize – light gold shimmery highlighter
Jade – neon pink satin
Yasmin – shimmery lilac
Diamondz – shimmery silver
Oh, You Boyz! – bright orange matte
Passion – shimmery bright fuchsia pink
Fashion – shimmery lilac toned taupe
Halo – yellow gold shimmery highlighter
Bratitude – deep yellow gold shimmery highlighter
Funky – shimmery lime
Feelin' Pretty – deep eggplant purple matte
Tweevils – shimmery pinky red
Super Stylin' – deep royal purple shimmer
My Girlz – bright violet matte
Funkalish – shimmery pink with a peach duochrome shift
All Together – deep brown matte
Convertible – deep cool toned brown shimmer
Doll – shimmery light gold
Shopping Spree – pale peach matte
Stilesville – bright lime green matte
Midnight Dance – deep red toned brown matte
Magazine – shimmery teal
Rock Angelz – brown toned red matte
Pretty 'n Punk – shimmery grey with a duochrome shift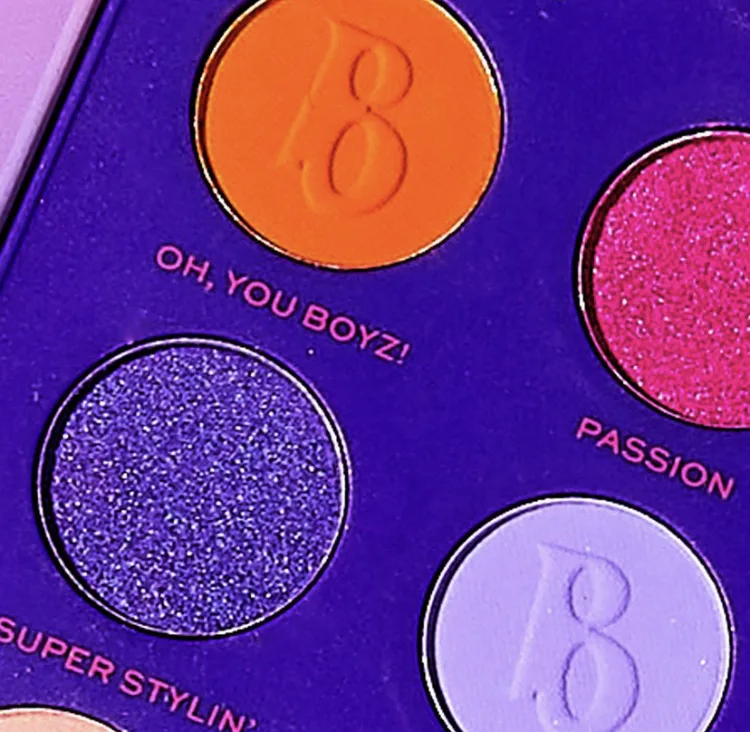 As you can expect, the colour story within this Limitless Bratz Palette is very colourful, bright and fun – just like it should be for a Bratz collaboration.
Some of the matte shades have the 'B' logo on them too, which is cute. The lid of the palette also features a large image of four Bratz dolls on the front too.
It's nice that the palette includes both highlighters and eyeshadows, and you can obviously use the highlighters as eyeshadows too to help you create a plethora of Bratz themed makeup looks.
Next up in the Revolution x Bratz Collaboration is the Revolution x Bratz Liner $10, and it's a liquid eyeliner pen, with metallic pink packaging and a felt tip nib. Allowing you to create the iconic, Bratz winged eyeliner look.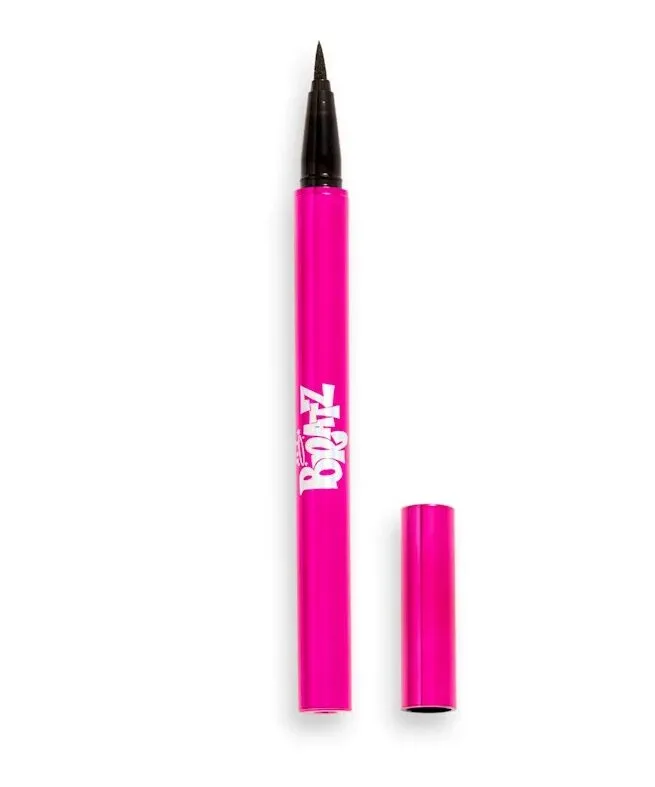 Looking at this swatch above, it's super intense and pigmented, and looks like a beautiful black liner pen for any makeup fan, and not just Bratz fans. It also looks as if the nib has a degree of flexibility too, which will make it easy to glide over the contours of the eyelids.
One of my favourite products from the Revolution x Bratz Collaboration, is the cutest Revolution x Bratz Makeup Bag, which is $14.
One of the most popular pieces within the brand's collaboration with Disney and The Nightmare Before Christmas were the two makeup bags (there was a black patterned bag and a clear patterned bag).
They both sold out almost instantly, so it would make perfect sense that Revolution would try and emulate that success with a Bratz themed makeup bag, and it reminds me of my childhood and buying fluffy pencil cases from Woolworths.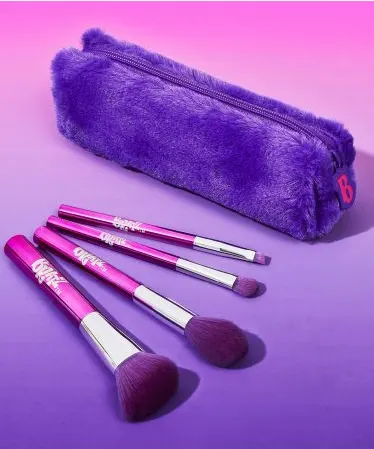 The Revolution Bratz Makeup Bag is a deep royal purple colour (to match the colour of the Mega Limitless Palette), and it has a bright purple zip, and a big 'B' rubber key charm. It's very Bratz, and very cute for makeup lovers of all ages.
To go with the cutest makeup bag, the Revolution x Bratz Collaboration includes a makeup brush set which you can purchase alongside the makeup bag to use them as a matching brush bag and brush set.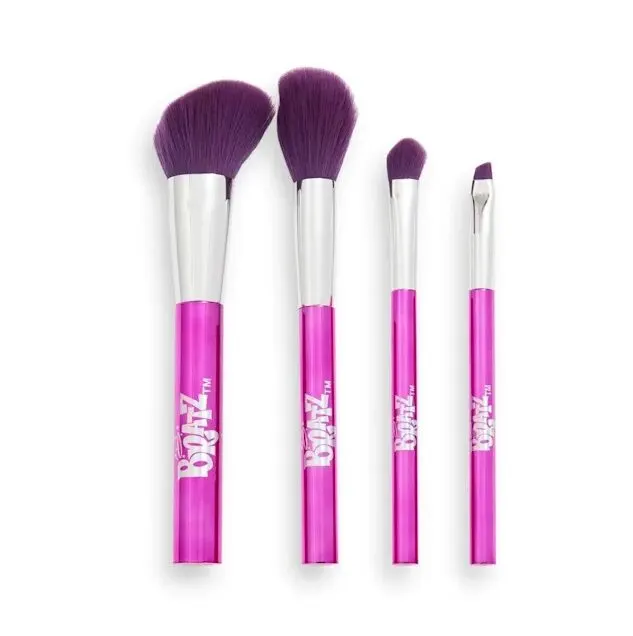 The Revolution x Bratz Makeup Brush Set is $24, and features four beautiful, cruelty free and synthetic makeup brushes. This brush set includes a brush to represent all four Bratz Dolls, and have a super chic design.
Featuring metallic purple chrome handles with flat bottoms, so they'll sit flat within a brush cup/holder, and they also have silver tapered ferrules, and purple bristles.
The quality of the Revolution x The Nightmare Before Christmas Makeup Brush Set is amazing, so I have no doubt that this Revolution x Bratz Collaboration brush set would be equally impressive.
This brush set includes the Angled Face Brush for applying bronzer, blush or powder, Powder Brush for dusting powder or bronzer all over the face, Angled Eye Brush for sweeping shadow across your lids and crease, and lastly the Eye Blending Brush for diffusing shadow.
Next in the Revolution x Bratz Collaboration, is a product for the eyes, and it's the Revolution x Bratz Mascara $10. This mascara has metallic pink packaging, and features a synthetic brush, and it looks like it *could* be their Wispy False Lash Mascara in special edition packaging.
That would make sense, seeing as their dolls, and wispy lashes are essentially doll-like, but it could be a totally new mascara formula, and I'll update this post if I find out for sure.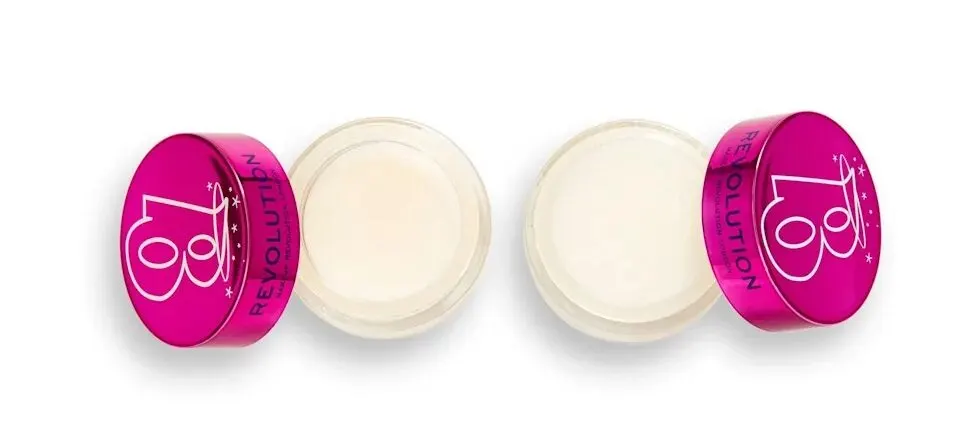 The next product in the Revolution x Bratz Collaboration is something for the lips, and it's the Revolution Bratz Lip Care Set $14, and it's a two-piece set.
This set reminds me of the lip duos we see from ColourPop for their licensed collabs, like the Mulan collection, with a lip scrub and a lip balm to help prep and pamper the lips, ahead of applying your favourite lip colour.
Within this Revolution x Bratz Lip Care Set, there's a lip scrub to slough away dead skin cells, as well as a lip balm to soothe and hydrate the lips. One of them is mint scented, and the other is vanilla scented – yum!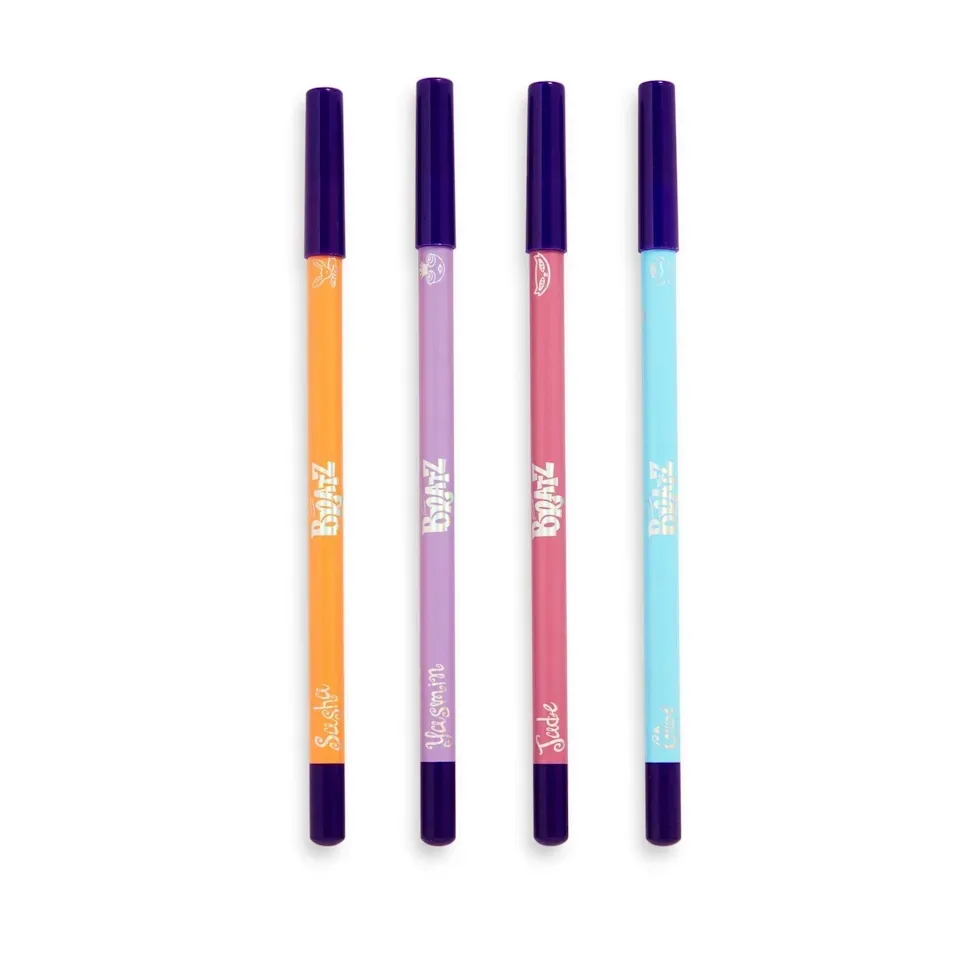 Then we have the very cute, Revolution x Bratz Kohl Eyeliner Set featuring four eyeliner pencils, with a shade to represent the four original Bratz Dolls.
This four-piece set is $15, and it reminds me of the liner set within the ULTA WandaVision Collection, with a colourful mix of shades.
Each of these liners have coloured packaging to represent the liner shade, and the colour favourite of each doll, and there's holographic writing on the pencils too, including each of the dolls' names; Cloe, Sasha, Jade and Yasmin.
It looks like there's an orange, purple, pink and blue within the set, to help you create a TikTok #BratzMakeupChallenge worthy makeup look, and $15 for four pencils is a really great price.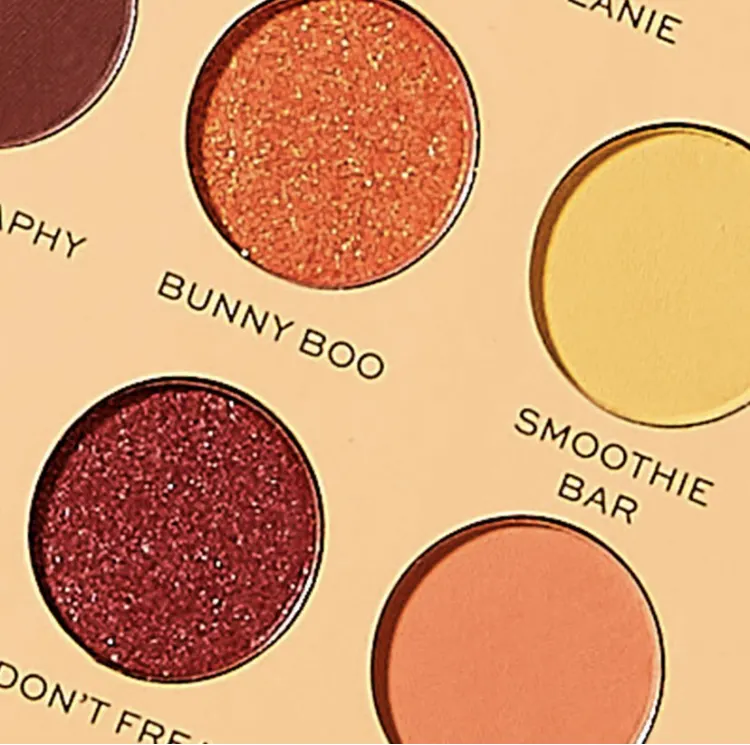 Next in the Revolution x Bratz Collaboration are the capsule collections, and there's a capsule collection for each of the four dolls.
In each capsule collection there's an eyeshadow palette, lip gloss and lipstick crayon, to help you recreate the makeup look of all four dolls….
The Revolution x Bratz Collaboration includes four lip glosses, one for each doll. The Revolution x Bratz Maxi Plump Lip Glosses are $12 each, and they all have clear plastic tubes, metallic pink lids and chic holographic branding on the tubes.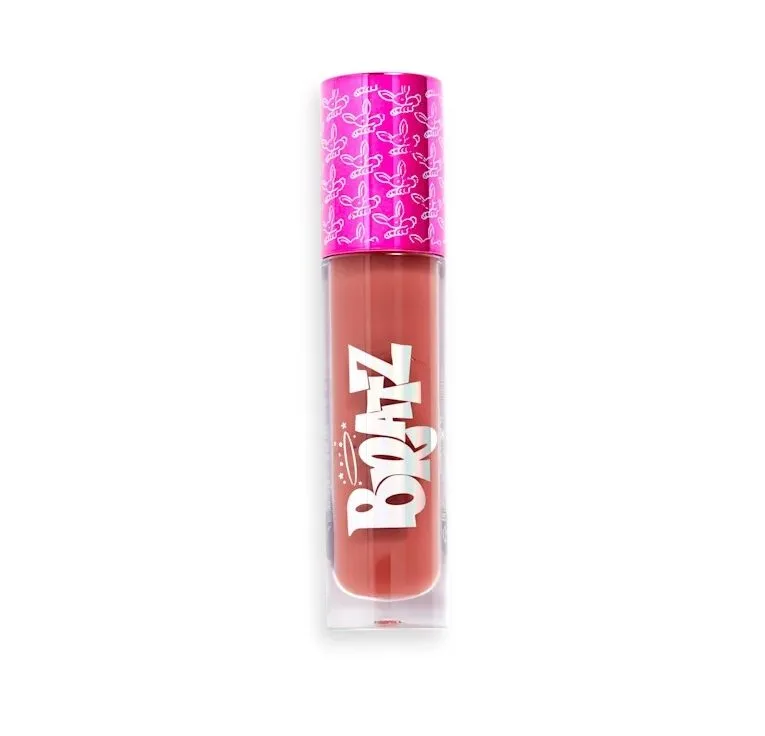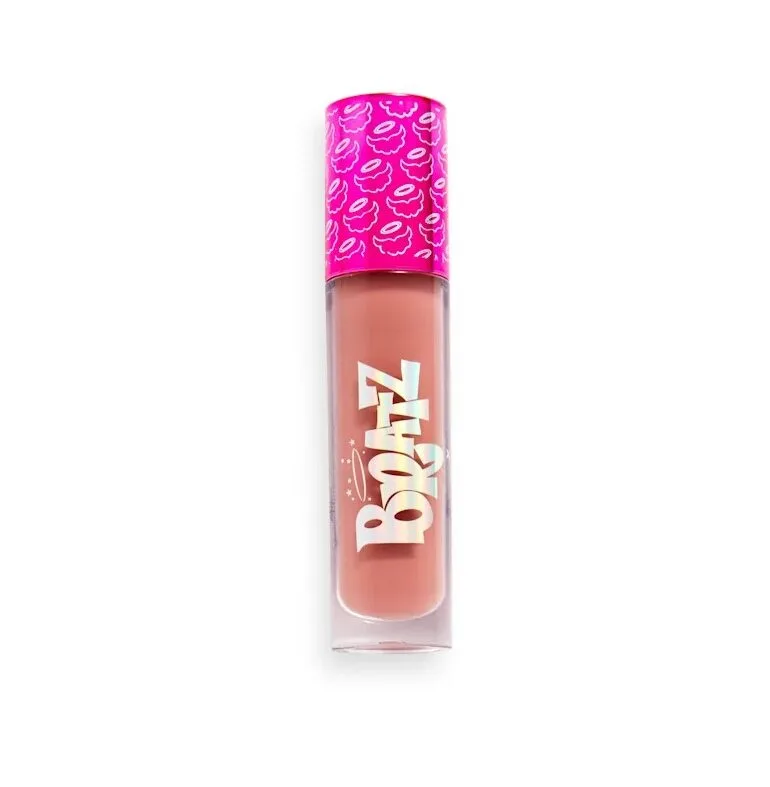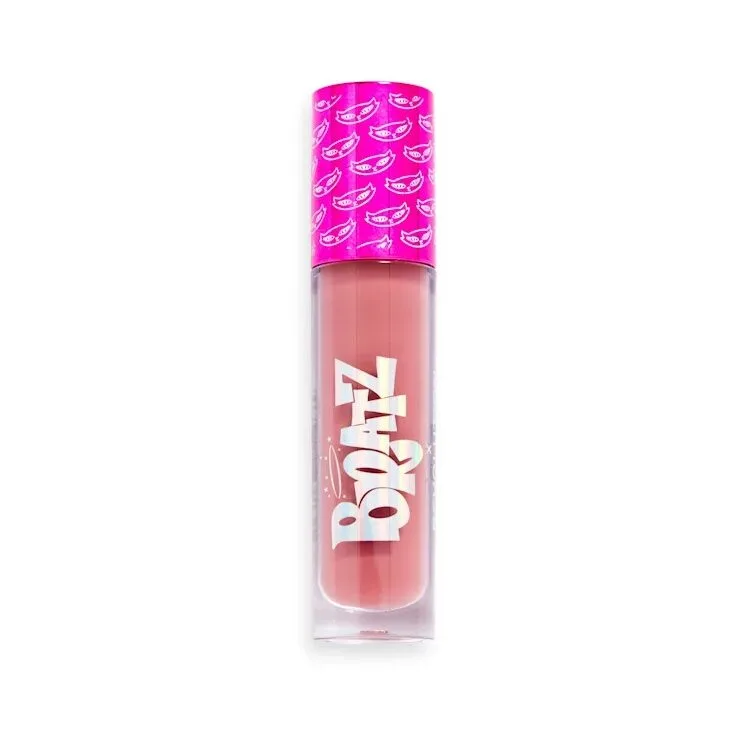 Revolution Yasmin Bratz Lip Gloss is a deep rose
Revolution Chloe Bratz Lip Gloss is a peachy nude
Revolution Sasha Bratz Lip Gloss is a terracotta
Revolution Jade Bratz Lip Gloss is a baby pink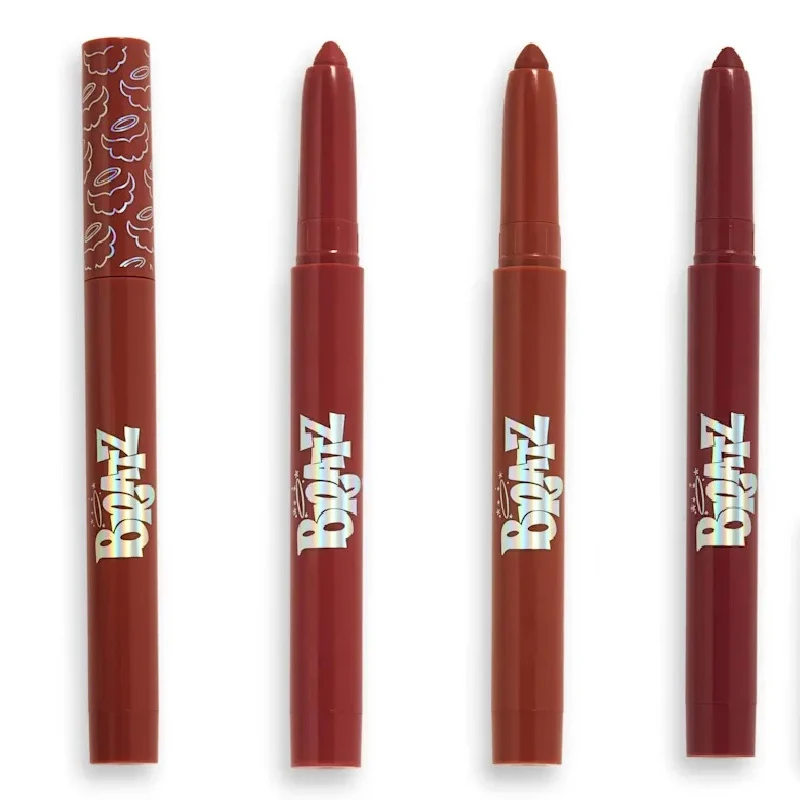 If you prefer a more pigmented lip product, the Revolution x Bratz Collaboration also includes four lipstick crayons too. The Revolution x Bratz Lip Crayons are $10 each, and like the lip glosses, are designed to replicate the lip colour of each Bratz Doll.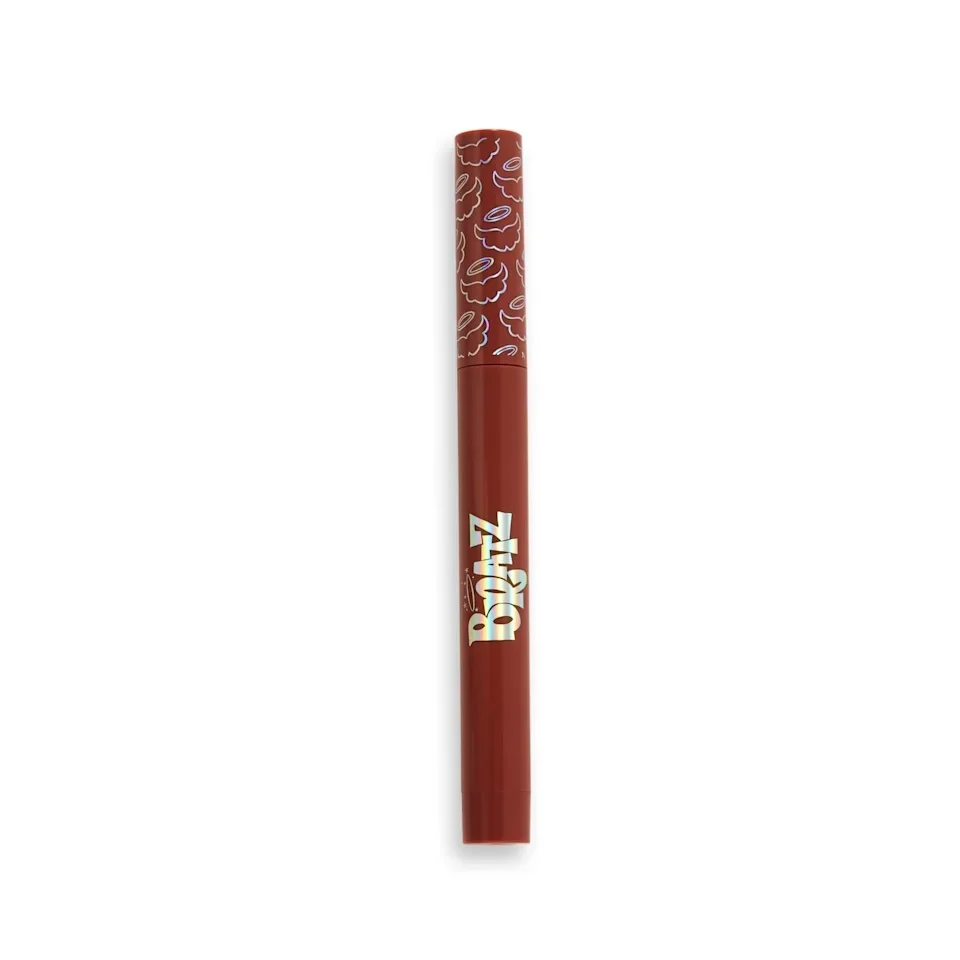 They're all variations of Y2K nudes, and they have holographic icons on the lids to complement the four Bratz Dolls, and they're retractable lipstick crayons too.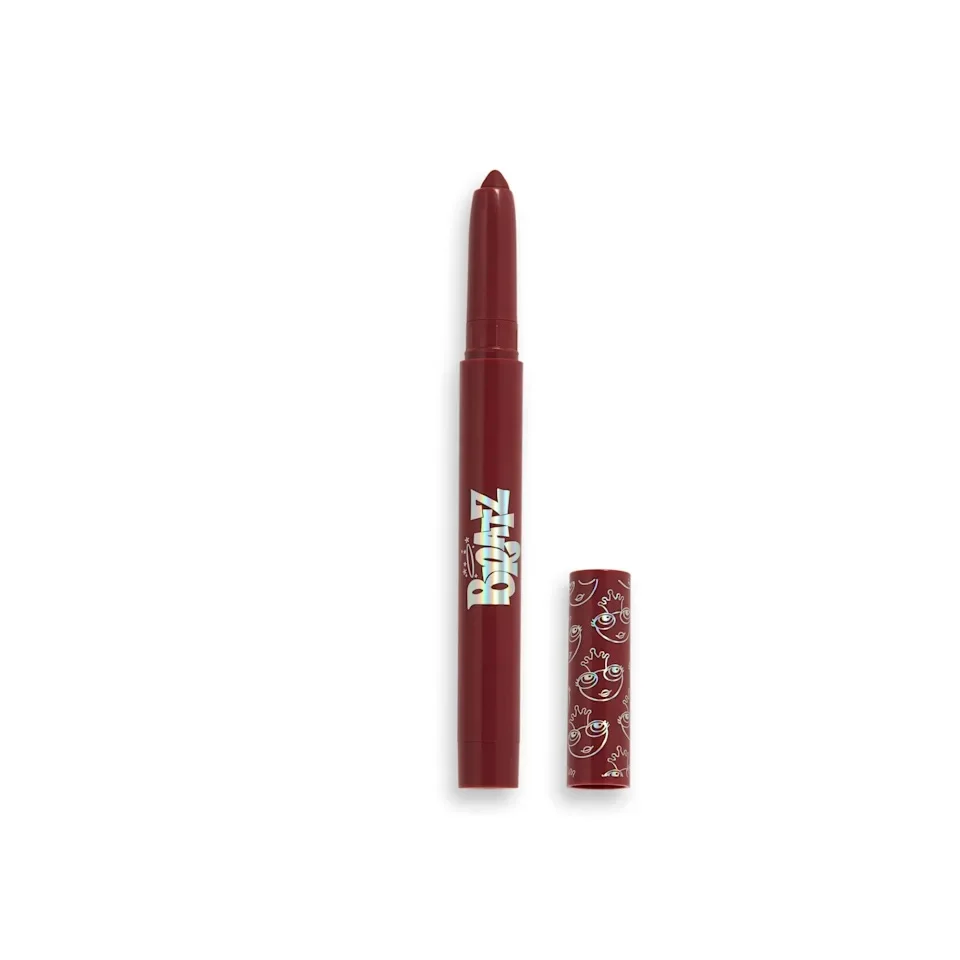 I think they are all very similar, so you perhaps won't need all four, unless you like to have a matching set, but maybe they do look more unique once swatched, so I'll update this post once more information has been revealed.
The last products within the Revolution x Bratz Collaboration are the individual eyeshadow palettes, with one for each doll. The palettes are shaped to be the same shape/style as their boxes which is very cute, and
These four palettes have cardboard packaging, and have a large image of each Bratz doll on the front, and they're $22 each.
The format inside the palettes is the same across all four, with four large highlighter pans, and sixteen powder shadows in a mix of finishes to complement the makeup look of each doll.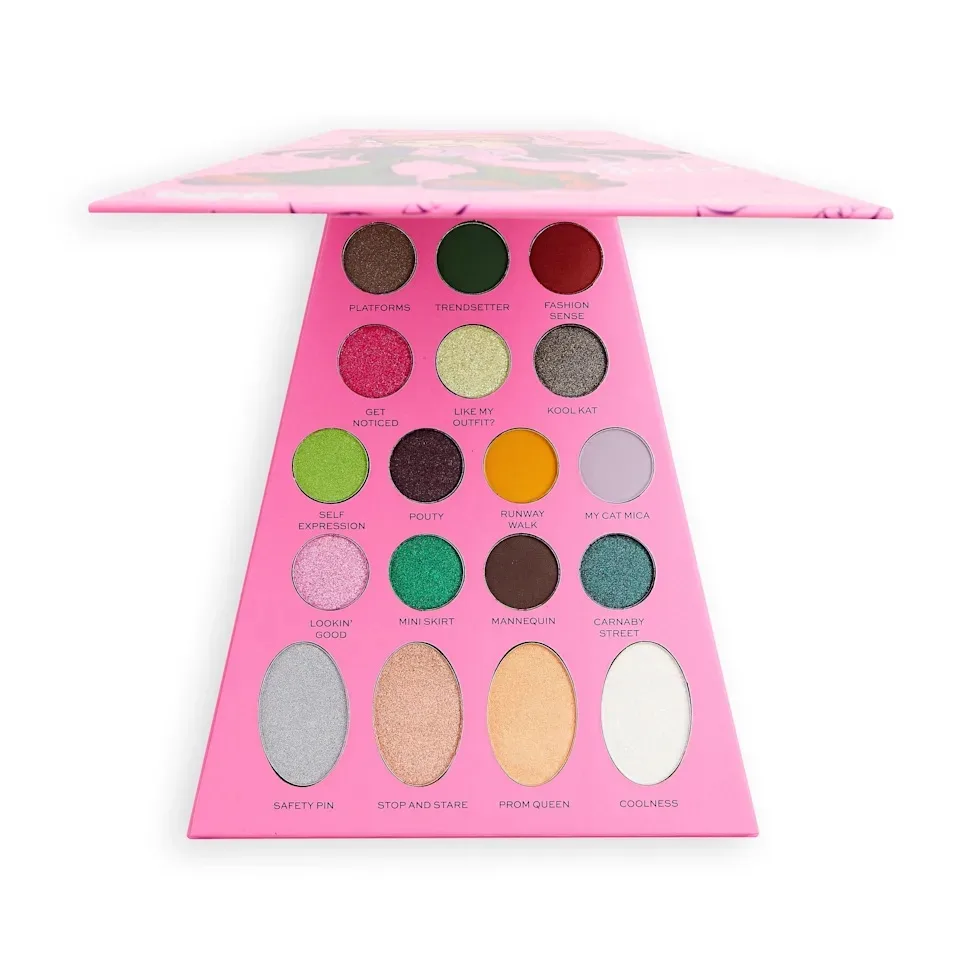 Platforms – shimmery brown
Trendsetter – matte deep green
Fashion Sense – matte deep burgundy
Get Noticed – shimmery pinky red
Like My Outfit? – shimmery pale lime green
Kool Kat – shimmery deep cool toned brown
Self Expression – shimmery neon green
Pouty – satin dark brown
Runway Walk – matte bright yellow
My Cat Mica – shimmery white
Lookin' Good – shimmery lilac pink
Mini Skirt – shimmery emerald green
Mannequin – matte deep brown
Carnaby Street – shimmery dark forest green
Safety Pin – shimmery icy silver highlighter
Stop and Stare – shimmery gold champagne highlighter
Prom Queen – shimmery light gold highlighter
Coolness – shimmery ice white highlighter
Monologue – matte baby pink
Drama Mama – matte black
Crush – matte red
Glitz – shimmery red
Angel – shimmery icy blue
Half Pipe – shimmery dark purple
Xpress It – matte bright orange
Sleepover – satin baby pink
Flaunt It – matte dark red toned brown
Spaced Out – matte light peach
Advice – matte periwinkle blue
Class President – satin navy blue
Biker Babe – shimmery cool toned brown
Pillow Fight – shimmery pinky mauve
Prince Charming – shimmery gold highlighter
Ethereal – shimmery goldy brown highlighter
Feathers – shimmery light champagne highlighter
Overreact – shimmery deep bronze highlighter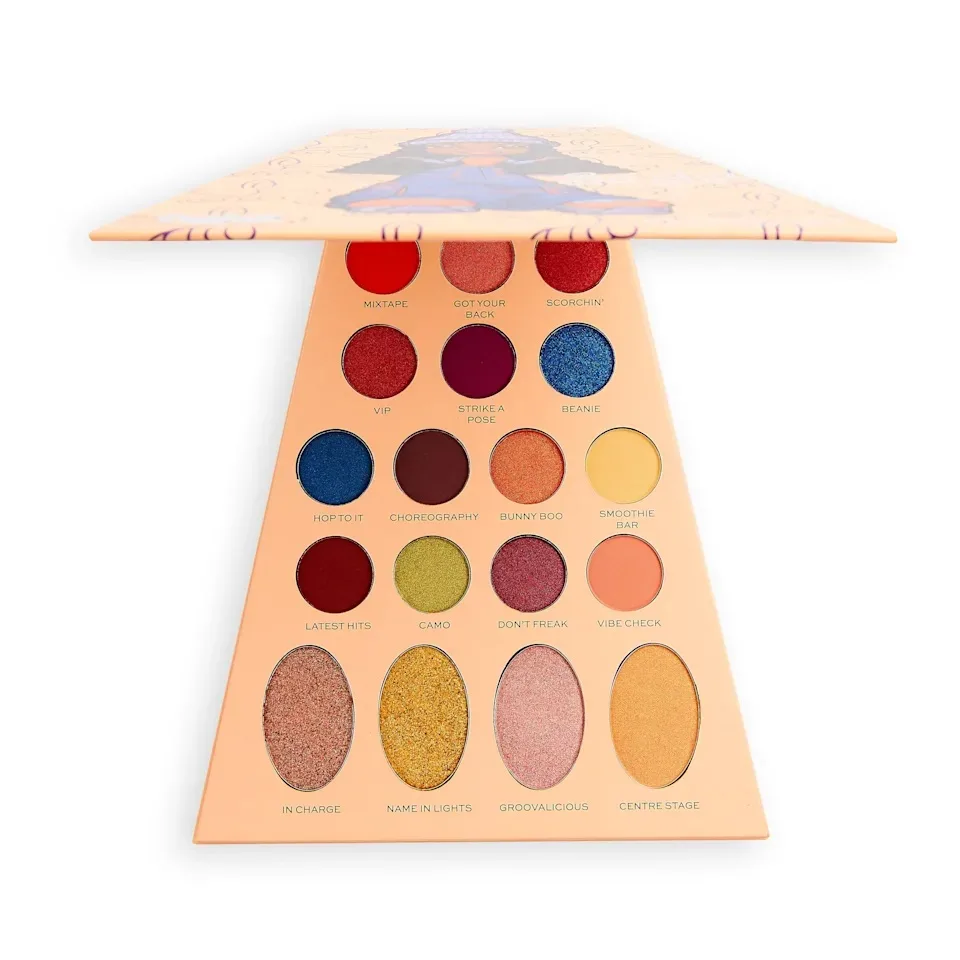 Mix Tape – matte deep orange
Got Your Back – shimmery rose gold
Scorchin' – satin orange brown
VIP – shimmery red toned brown
Strike A Pose – matte warm toned brown
Beanie – shimmery navy blue
Hop To It – shimmery dark teal
Choregorahphy – matte dark brown
Bunny Boo – shimmery orange
Smoothie Bar – matte pastel yellow
Latest Hits – matte red toned brown
Camo – shimmery olive green
Don't Freak – shimmery deep reddy toned brown
Vibe Check – matte peach
In Charge – shimmery brown highlighter
Name In Lights – shimmery dark gold highlighter
Groovalicious – shimmery bronze highlighter
Centre Stage – shimmery yellow gold highlighter
Frog – shimmery dark green
Feel It – shimmery lilac
Change The World – matte fuchsia pink
Poet – matte pastel pink
School Paper – shimmery cool toned brown
Mystery – shimmery black
Guac – matte khaki green
Ozzy – shimmery bronze
Glammed Up – shimmery pink champagne
Pretty Princess – shimmery bronzy brown
Beauty Mark – matte dark brown
I Rule – matte red toned brown
Coffee Date – matte yellow
Zen – matte pink
Composistion – shimmery white highlighter
Inner Peace – shimmery icy champagne highlighter
Crown – shimmery gold highlighter
Flaunt It – shimmery cool toned gold highlighter
So that's the entire Revolution x Bratz Collaboration all wrapped up for you – with all 23 products from the collection! With products for the face, lips and eyes, and the best packaging designs.
I can't imagine any Bratz fan not loving the Revolution x Bratz Collaboration. I know it's hard for brands to please everyone, but Revolution nailed it with this collection, and it's going to be available right here.
BUY HERE: Revolution US / Revolution UK / ULTA / Beauty Bay / Superdrug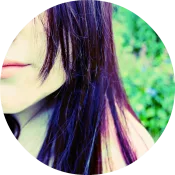 Hi, my name is Gemma, and I'm the owner of MakeupMuddle.com. I'm a true beauty obsessive, and love writing about anything to do with beauty – I have been a beauty writer since 2012.
As well as owning Makeup Muddle, I also own GemmaEtc.com, and love sharing my thoughts and feelings about the greatest (and not so great) beauty products!