The latest Jeffree Star Cosmetics collection has been revealed, and it's the Jeffree Star Pink Religion Collection, which is the most amazing, pink collection. It's been a very long time since we saw a full Jeffree Star Collection, in fact it was his Blood Money Collection which launched back in the beginning of November, last year.
We have seen some exciting launches this year, such as the Blood Money Anniversary Collection, the iconic yet controversial Jeffree Star Mascara, and even the launch of the Jeffree Star Cosmetics Eyeshadow Singles Collection. However, a big full collection was definitely overdue, and now it's happening. Keep on reading to find out more….
*You can see my review of the Jeffree Star Pink Religion Stained Glass Hand Mirror right here*
BUY HERE: Beauty Bay / Beautylish
We saw the launch of the Jeffree Star Cosmetics Mystery Boxes this month also, which launched at the start of the month, and now it's time for Jeffree's latest collection.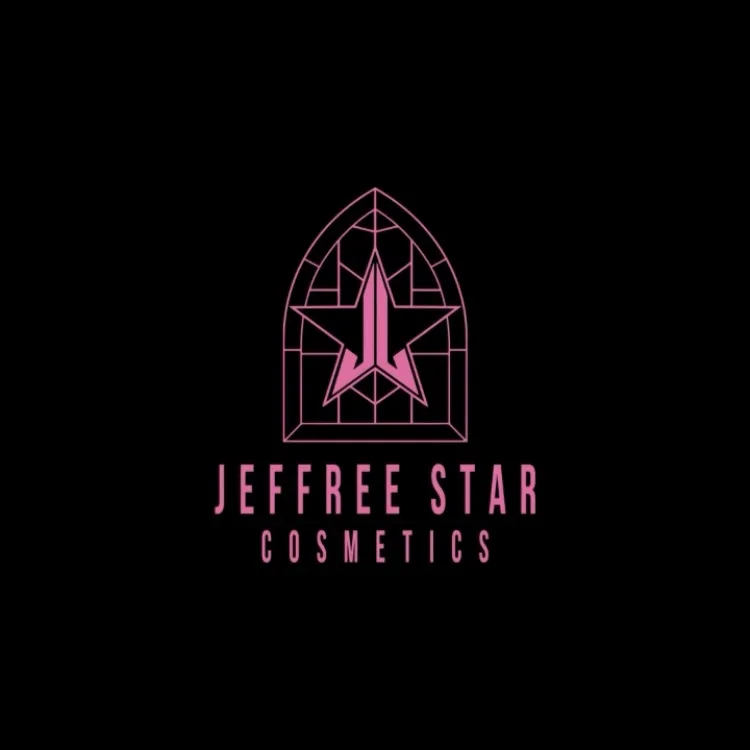 Jeffree has been hinting at his latest collection for weeks, with some black and white photos of him wearing the products, and asking us to get the colour story and theme for the collection.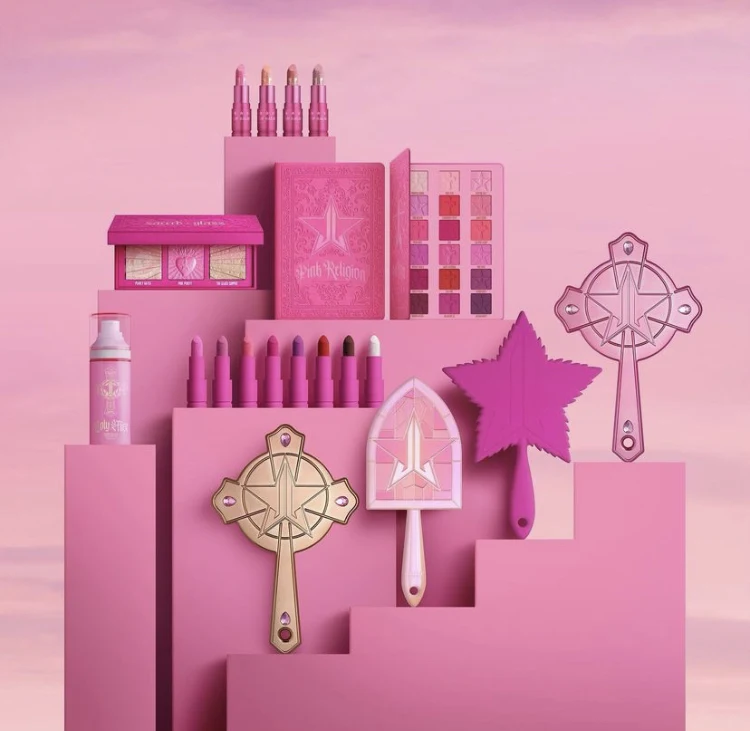 Jeffree has been wearing a lot of yellow, with yellow wigs, yellow makeup and even featuring his yellow car, but he specifically said this new Jeffree Star Pink Religion Collection was definitely not yellow, so it was exciting to see what the new theme was going to be.
I had guessed that this latest collection was going to be a cool toned neutral collection. We saw Jeffree launch the Orgy Palette last year, which was a very warm toned matte palette, and it would make sense for him to launch a cool toned version, which I'd be totally here for.
I love cool tones, and whilst the Cremated Palette was very cool toned, I feel like a cool toned version of the Orgy Palette would be popular.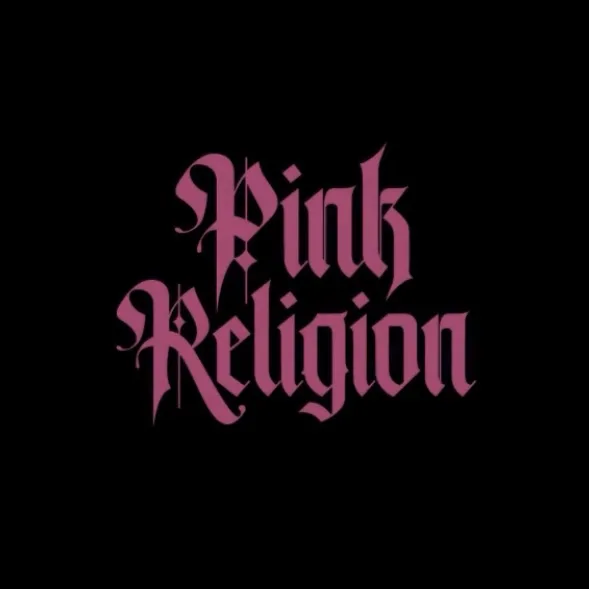 Jeffree said this new palette has 16-18 shades, so that was a hint that the size was not going to be the same as Orgy, as that palette has 30 shades and is the biggest palette Jeffree has ever created.
It has now been confirmed, the Jeffree Star Pink Religion Collection includes the Jeffree Star Cosmetics Pink Religion Artistry Palette, which contains 18 shades, and is described as being a '18 pan bible'.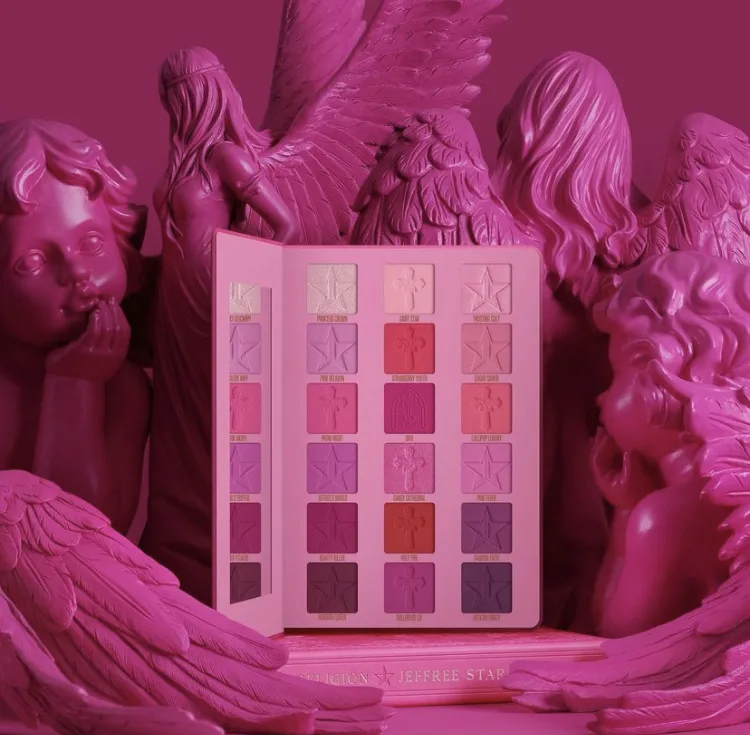 Ahead of the full reveal, I'd seen on Reddit that the Pink Religion Collection was also going to include a Sacred Glass Highlighter Palette too, which is very exciting!!!
In true Jeffree Star style, Jeffree posted the most elaborate amazing video showcasing the collection as a preview, before the full reveal video is posted on his YouTube channel.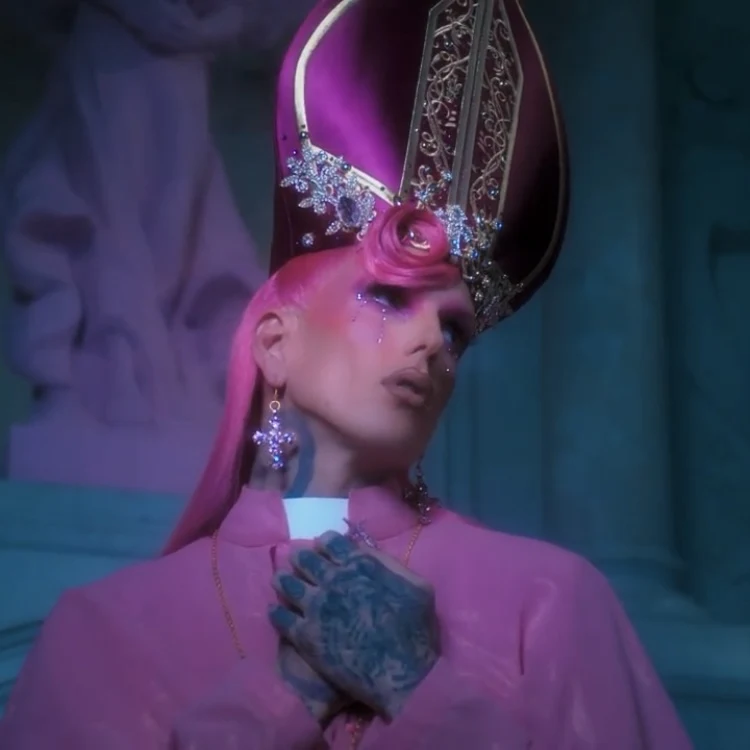 We can see that the Jeffree Star Pink Religion Collection is going to be an amazing pink themed collection, with a religious, almost gothic-inspired collection with props in the video.
Jeffree has done lots of different coloured themed collections so far with a blue collection, green collection, red collection, grey collection, nude collection and purple collection, so the pink themed Jeffree Star Pink Religion Collection is the perfect addition to his brand.
Jeffree said he has done 15 palettes so far, but he has never dedicated a collection to his love, the colour pink. He said he loves everything about pink, and every colour pink, so he wanted the Jeffree Star Pink Religion Collection to play homage to his love for the colour pink.
Jeffree said his newest palette had the most amazing packaging, and he wasn't kidding. The Jeffree Star Pink Religion Collection has a bible inspired design, with a really intricate pattern.
It's without a doubt my favourite design Jeffree has ever done for a palette. It looks like a piece of art, and will be a must-have for the Jeffree Star fans out there. It has been designed to be a 'pink bible' and has a bible design, with a cardboard sleeve on the outside, and the bible has been designed to look like a book with a gold spine, just like a bible would.
The Jeffree Star Pink Religion Collection Artistry Palette has 18 shades, and doesn't have an outer box like his other palettes. Instead it has a cardboard wrap around, with all of the ingredients printed, and it removes to reveal a super detailed, extra pink 'bible' shaped palette with cardboard packaging and a printed design.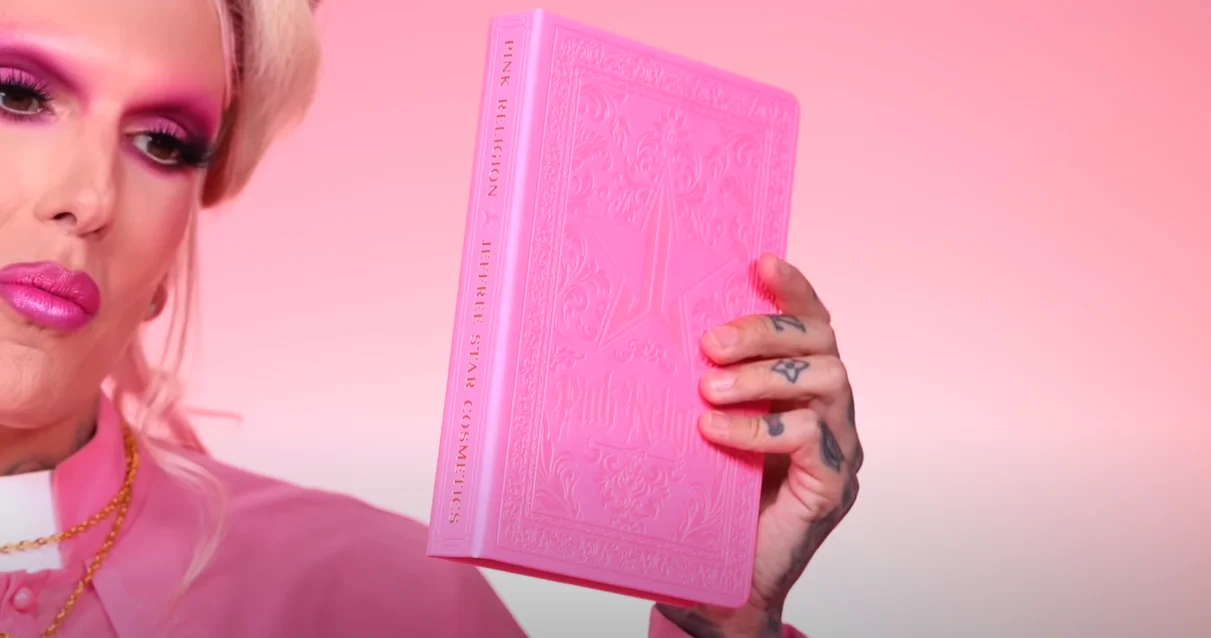 Although it appears to be cardboard, it's been designed so the cover has a faux leather design, with a holographic Jeffree Star logo on the front. Inside the Jeffree Star Pink Religion Collection Artistry Palette, there are eighteen powder shadows in the same format as his Blood Money, Blue Bood and Blood Lust Palettes, except it's not a trunk style palette.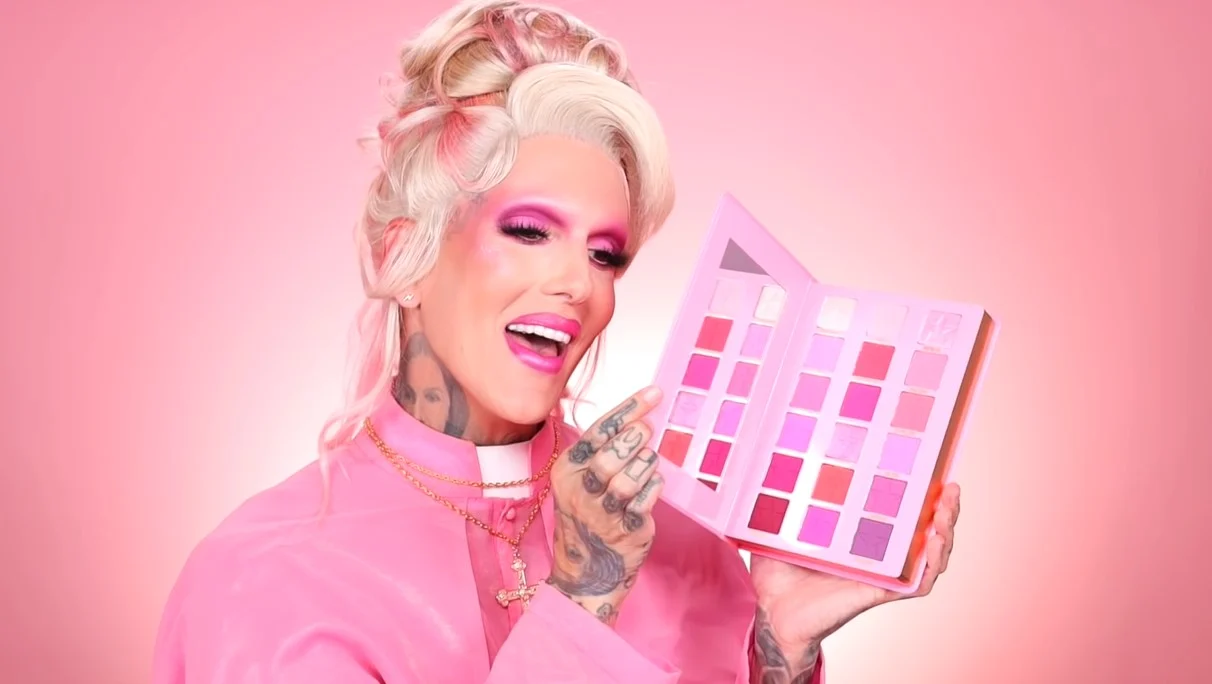 With a name like Pink Religion, the inside of the palette was always going to be super pink, and the Jeffree Star Pink Religion Collection Artistry Palette is a pink lover's dream palette. It looks so beautiful, and I can't think of another pink palette from any other brands as pretty as this.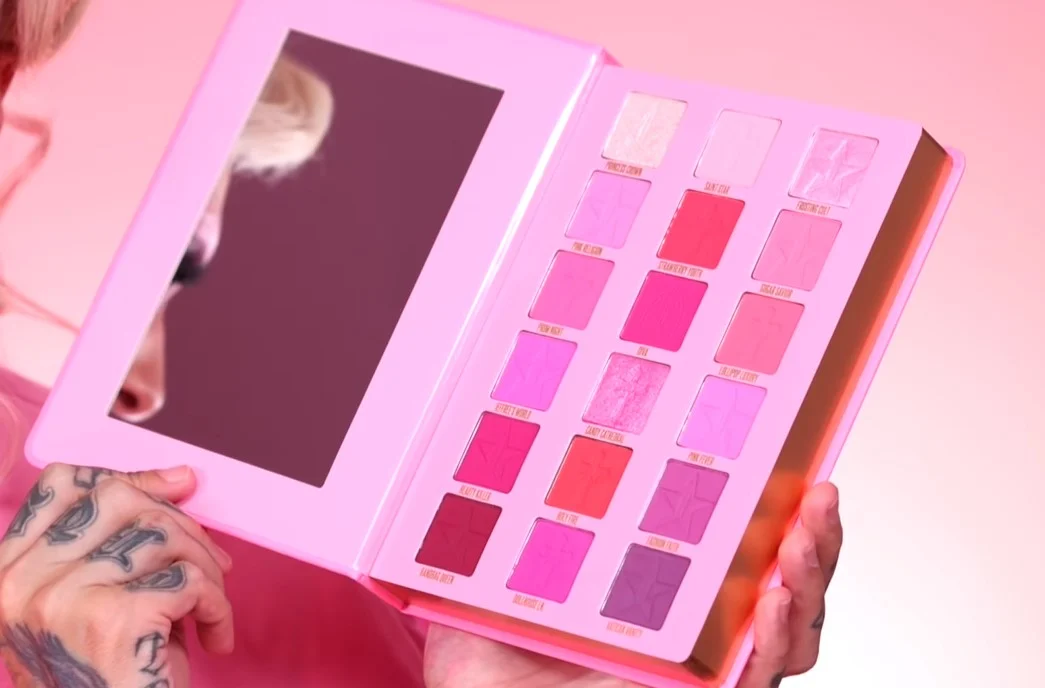 The palette includes a mirror inside the 'bible' and features the eighteen shades in the usual square shaped pan, and the shadows have their names printed underneath each pan, with each shade having a different design printed into the pans.
Jeffree described the palette as being his dream, perfect pink palette from hot neons, muted pinks, deep berries and some purple pinks thrown into the mix too. To decide on the shades, Jeffree looked at all of the pinks in his other palettes and made sure that every shade in this palette is completely new and can't be found anywhere else in his other palettes.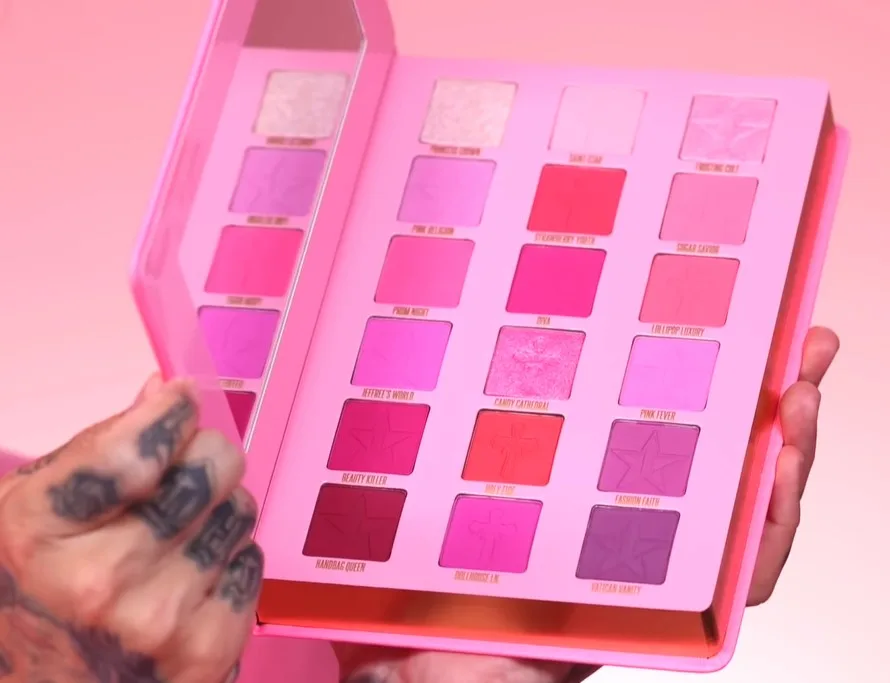 There are three beautiful, stunning metallics, and the rest of the palette are all mattes. That surprised me, as Jeffree palette are usually quite shimmer heavy, but there are only three shimmer shades in this palette, so it's all about the mattes with this particular palette. This palette is going to be $52 and Jeffree said the shadows are all super pigmented, and work out at $2.80 per shade.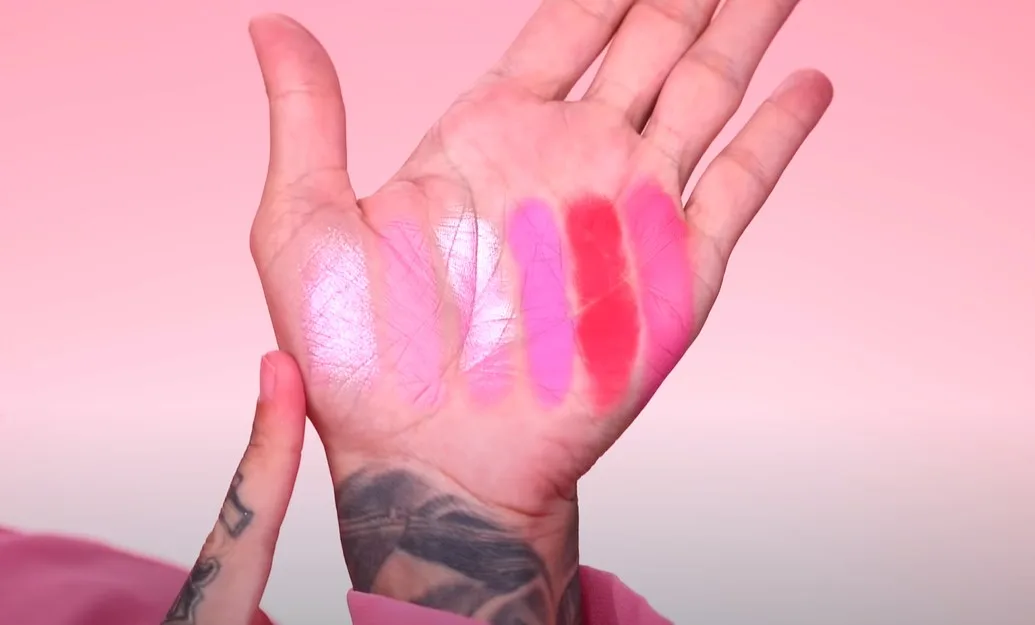 The first six shades are;
Princess Crown – pale pink with a sparkly duochrome shift (reference to Jeffree's Princess tattoo on his neck when he was 18)
Saint Star – straight up matte baby pink
Frosting Cult – duochrome lilac pink
Pink Religion – neon pink matte
Strawberry Youth – matte red
Sugar Savior – bright pink matte
Prom Night – blue toned pink matte
Diva – magenta matte
Lollipop Luxury – hot neon coral matte
Jeffree's World – bright cool toned magenta pink matte
Candy Cathedral – Barbie metallic pink shimmer
Pink Fever – pink matte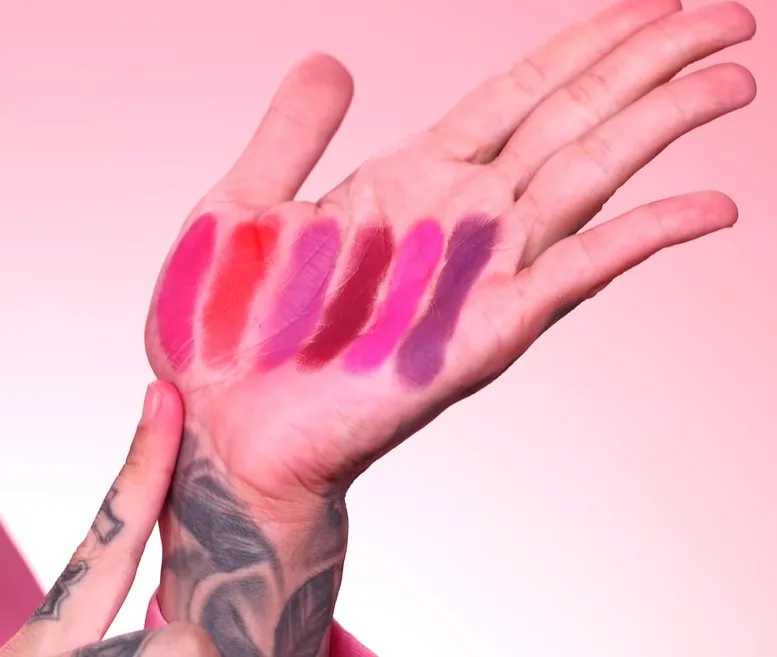 Beauty Killer – dark pink matte
Holy Fire – bright hot orange matte
Fashion Faith – neon lilac matte
Handbag Queen – deep berry matte
Doll house Lane – straight up bright pink matte
Vatican Vanity – deep grape matte
Next up in the Jeffree Star Pink Religion Collection, is the Jeffree Star Cosmetics Sacred Glass Palette. The box has the most amazing stained glass window design, and it looks so cute.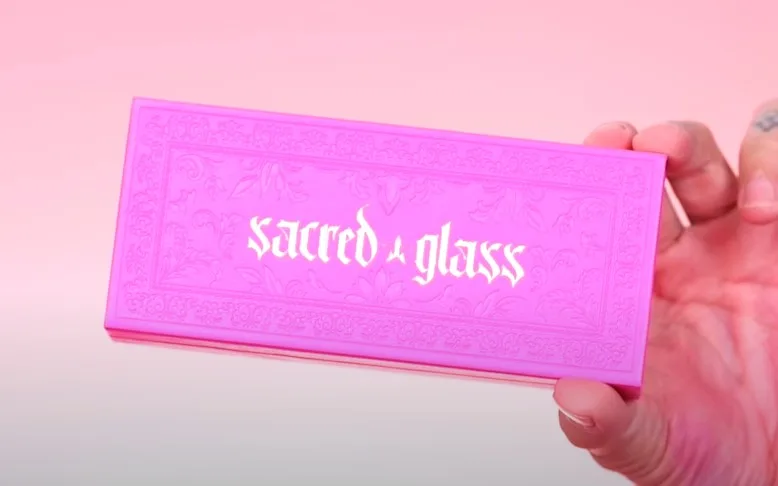 It's an Extreme Frost Palette, and he created it due to feedback from his customers that they loved his Extreme Frost formula, but the full size compacts weren't travel friendly enough, so he decided to make something for those that wanted a more travel friendly format.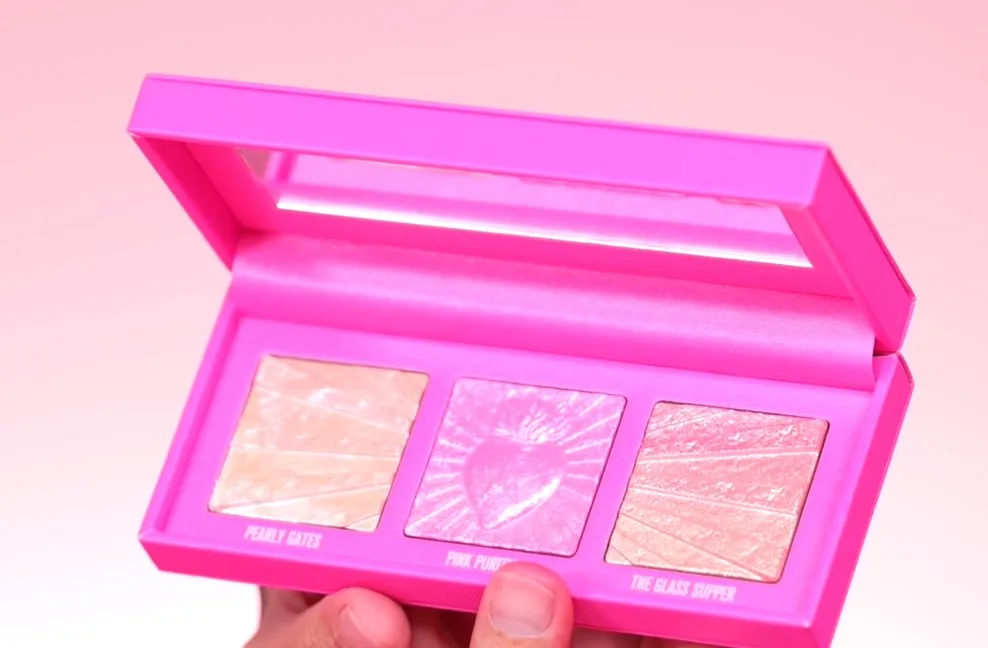 One single shade of the Extreme Frost Highlighter is $50, so it's exciting to have THREE shades in one palette which can be used individually, or blended together for a custom shade, and it'll be on sale for $62.
The Jeffree Star Pink Religion Collection Sacred Glass Palette features a pure pearl formula, which Jeffree says is one of the most expensive, exciting highlighter formulas he's seen. The shades within the palette are;
Pearly Gates – a yellow toned champagne
Pink Purity – a icy pink
The Glass Supper – a pink toned champagne
The next item in the Jeffree Star Pink Religion Collection, is a brand new never-seen-before product for the brand, and it's the Jeffree Star Cosmetics Holy Mist Soothing Facial Spray with 80ml / 2.70 fl.oz of product. Jeffree said he was super excited about this particular products, and the mist inside the bottle is baby pink too.
This product is exciting as Jeffree is launching Jeffree Star Skin later this year, which is his skincare collection, so this product is a sneak peek at what might feature as part of his skincare collection. Designed to relax, calm and soothe the skin, the facial mist will give the skin a burst of hydration.
There's no alcohol or "weird" ingredients within the formula according to Jeffree, and the scent is 'amazing' according to Jeffree too. It contains dragonfruit extract, and it doesn't need to be shaken before application either, and will be available for $26.
Next in the Jeffree Star Pink Religion Collection, are a shade extension collection of the Velvet Trap Lipsticks. Within the Jeffree Star Pink Religion Collection, there are eight brand new shades, which will join the rest of the Velvet Trap Lipstick collection.
The packaging has been updated, with a bright hot pink cardboard design, with the trap logo on the side of the boxes. In all of the promotional images, you can see the models wearing the Velvet Trap lipsticks, and there's so many pretty shades to complement the shades within the palette.
Not only have the boxes had a pink upgrade for the Jeffree Star Pink Religion Collection, but the metal casing for the lipsticks have too. They normally have a baby pink colour to them, but the casing has been given a hot pink upgrade which does look very cute!
The shades within the Jeffree Star Pink Religion Collection are;
Confessional – straight up hot red
Holy Fashion – soft pink
Always Faithful – purple pink berry
Communion Wine – deep wine red
Cult of Roses – watermelon
Pink Messiah – bubblegum pink
Pink Religion – bright pink
God's Gift – pure white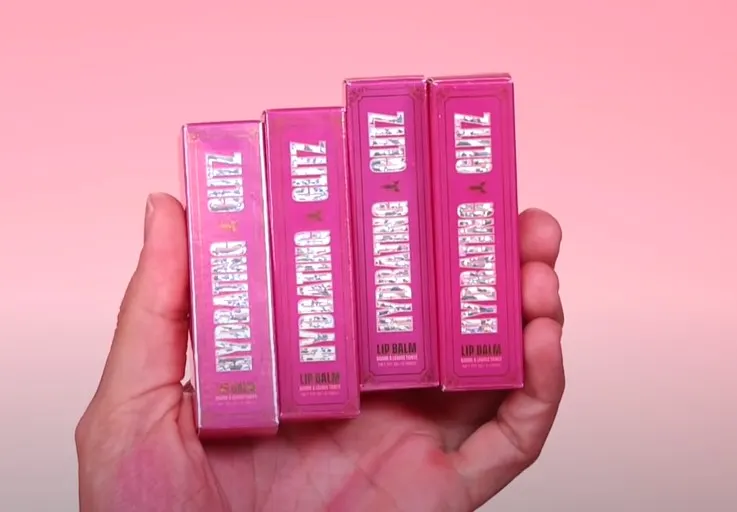 The collection includes another brand new product, and it's the Jeffree Star Pink Religion Collection Hydrating Glitz Lip Balm Collection which is very exciting as the brand have dabbled in lip balms, but never had a full range before.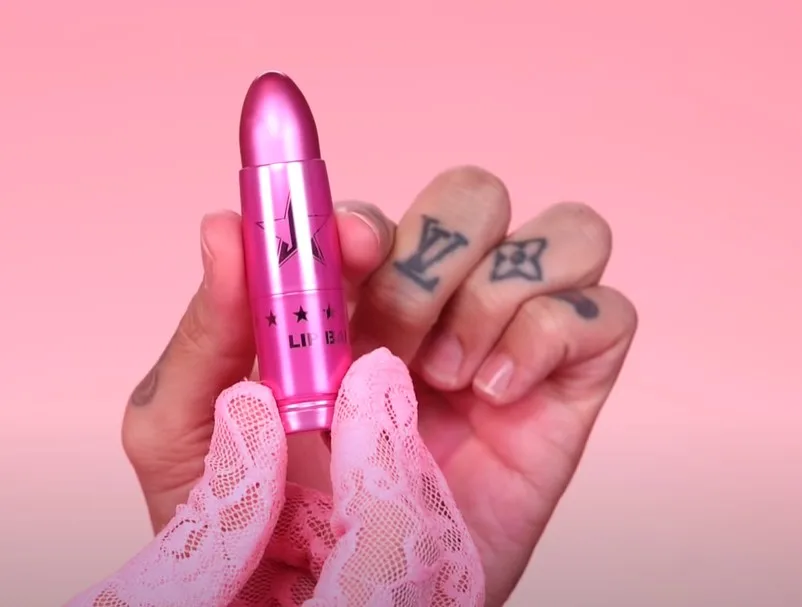 There are four shades, and they're packaged within super sparkly pretty boxes, with new magenta bullet style packaging to match the packaging of the Velvet Trap lipsticks.
The packaging and bullets have sparkly and holographic packaging, because there's an amazing sparkly effect to the bullets of the lipsticks too, which really does look beautiful. We've never seen anything like this from Jeffree before, and I can't wait to try the formula myself as they look so pretty.
These lip balms have a sweet caramel scent, as Jeffree wanted to do something different for the lip balm collection. The formula features shea butter, vitamin E, to hydrate and firm the lips, whilst helping to keep them protected too. The four shades are 'sheer' so you're not getting crazy hot pink glitter on your lips.
Hopeful – sheer soft pink
Scripture – mauve pink
Altar – sultry pink
Pink Roses – bubble gum pink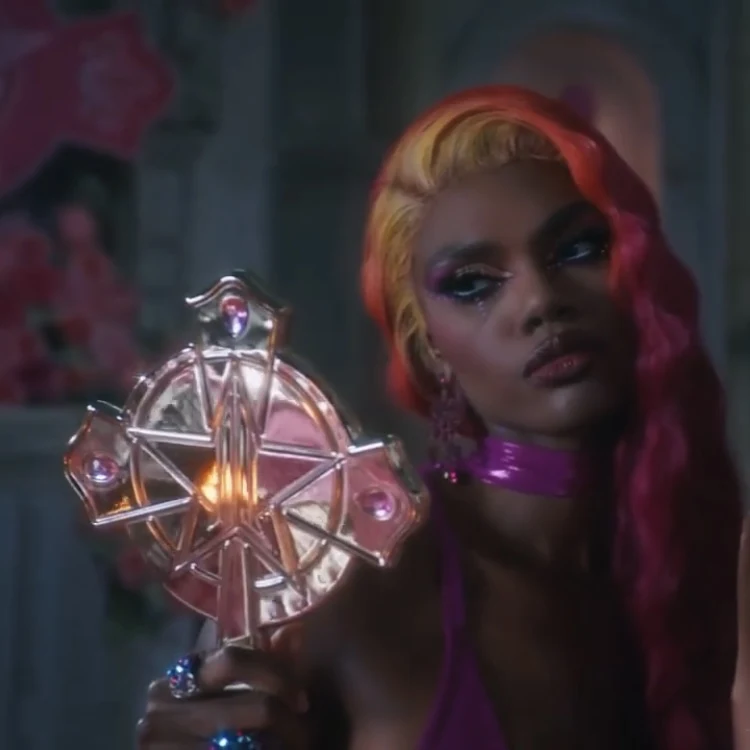 The Jeffree Star Pink Religion Collection not only features an amazing palette, but it also features FOUR brand new mirrors, including this incredible, ornate chrome hand mirror, which has a Celtic High Cross, jewelled design. It looks like an incredible mirror, and it gives me Sailor Moon vibes a little.
This is the Jeffree Star Cosmetics Pink Religion Collection Pink Chrome Cross Mirror AND a Gold Chrome Mirror which has jewels on the front and on back, and are just two of four mirrors.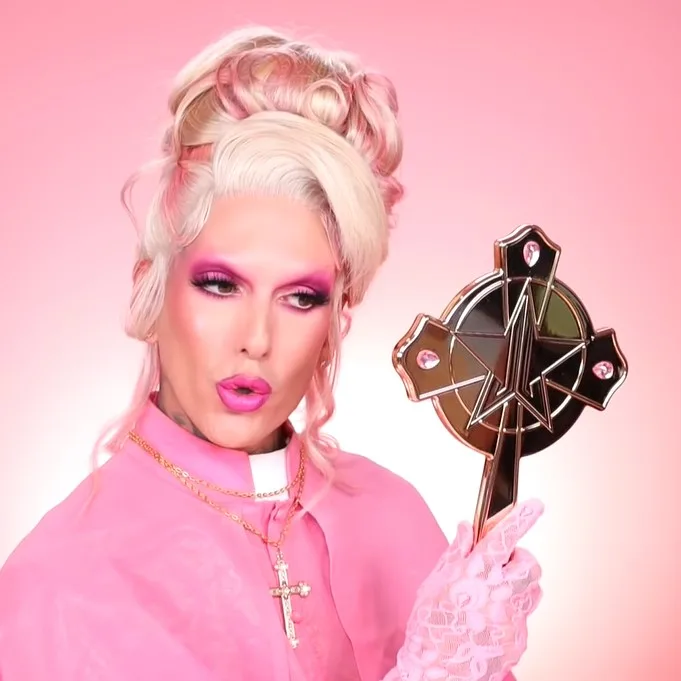 I absolutely love this mirror so much, and will 100% add it to my collection as it's unlike any other mirror I've seen. I don't know which I'd choose out of the pink or the gold, as they're both stunning, and it's amazing they're only two of four new mirrors.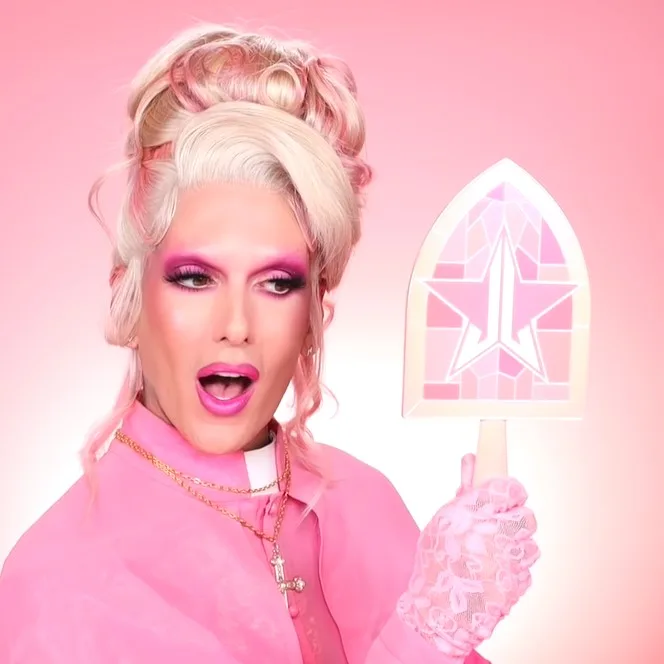 The next mirror is the Stained Glass Window Mirror, and it totally fits the whole vibe of the collection. It's such a cute shape, and I love how unique it is too. It has a cream colour, with different shades of pink for the stained glass effect, and it looks awesome.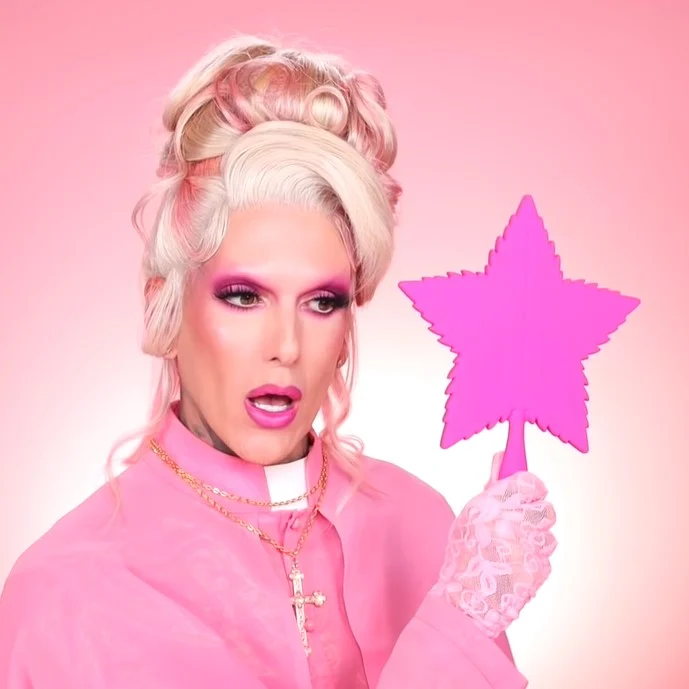 The fourth mirror in the Jeffree Star Pink Religion Collection is another leaf mirror, and it's a soft matte mirror as he knows they're everyone's favourite mirror design. This one is a neon pink, and it's very cute!
The final product within the Jeffree Star Pink Religion Collection is a neon pink crocodile effect faux leather backpack. Jeffree said that the backpacks have been a really big hit, so he wanted to include a pink one for the pink themed collection, and it looks so chic with the faux crocodile effect.
Wow! That has to be one of the biggest collections we've seen from Jeffree Star Cosmetics. Everything launches on the 30th of July at 10am PST, so next Friday, and you can purchase everything in the collection right here.
BUY HERE: Beauty Bay / Beautylish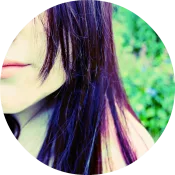 Hi, my name is Gemma, and I'm the owner of MakeupMuddle.com. I'm a true beauty obsessive, and love writing about anything to do with beauty – I have been a beauty writer since 2012.
As well as owning Makeup Muddle, I also own GemmaEtc.com, and love sharing my thoughts and feelings about the greatest (and not so great) beauty products!