I've been sharing lots of amazing beauty advent calendars with you the last few weeks, and today I have the Imperial Candles Advent Calendar 2021 to share with you. I love candles, and enjoy burning one every night.
I usually get the Yankee Candle advent calendar each year, and like discovering a candle every day through Advent, but this offering from Imperial Candles is a twelve-day calendar.
Imperial Candles Advent Calendar 2021
"We believe that the count down to Christmas should always be a magical experience, and that's why this year, our one-of-a-king Imperial Candles Advent Calendar embodies everything we love about the festive season.

Treat yourself and your loved ones with the ultimate gift, 12 handmade luxurious travel-size candles, and the thrill of revealing one surprise jewel inside, all wrapped in a signature design packaging. Each day you will discover a new and unique fragrance specially created to capture the feeling of Christmas."
The Imperial Candles Advent Calendar 2021 is £79.99, and the calendar contains twelve travel-sized candles, each of which contain 90g of natural soy wax. It's a cardboard calendar, with twelve perforated doors.
On the inside of the calendar, there's a massive piece of foam with slits holding each of the candles. The foam does a good job at protecting the candles, but I can hand on heart say this calendar is the hardest advent calendar I've ever had to unbox – and I've unboxed a lot of advent calendars since I started blogging nine years ago.
It is an absolute nightmare trying to get the candles out each day. The slit in the foam is too tight for the candle, so you can't remove it, and when trying to pull the candles out of the foam, I ended up damaging the candle on three of the twelve candles, as well as hurting my cuticles.
If you have dexterity issues, I highly recommend not buying this advent calendar, as it's not enjoyable to unbox, and it's a real shame, as you won't be able to remove the candles each day.
I had to use pliers to hook onto the glass jar, and pull out as it was impossible to remove them any other way, and it's just not fun for an £80 advent calendar to be so unenjoyable to open.
Hopefully you can see in the photo above, there's no room for your fingers to get inside the foam to remove the candle, and the foam is extremely hard and dense, so it's not possible to squish the foam to one side to slip your fingers in to get it out, so pliers was the only option.
The Imperial Candles Advent Calendar 2021 is £79.99, and contains twelve festive scented candles, and one of the candles contains a jewel. When ordering, you can choose if you'd like to receive a ring, necklace or earrings as your "jewel" and if you choose the ring option, you can even choose your ring size; L/M, N/O or P/Q.
In the past, Imperial Candles have done wax melt calendars, but this year is the first votive candle calendar, and you "could" receive a piece of jewellery valued up to £2000.
Let's take a look at the twelve scents inside my Imperial Candles Advent Calendar 2021.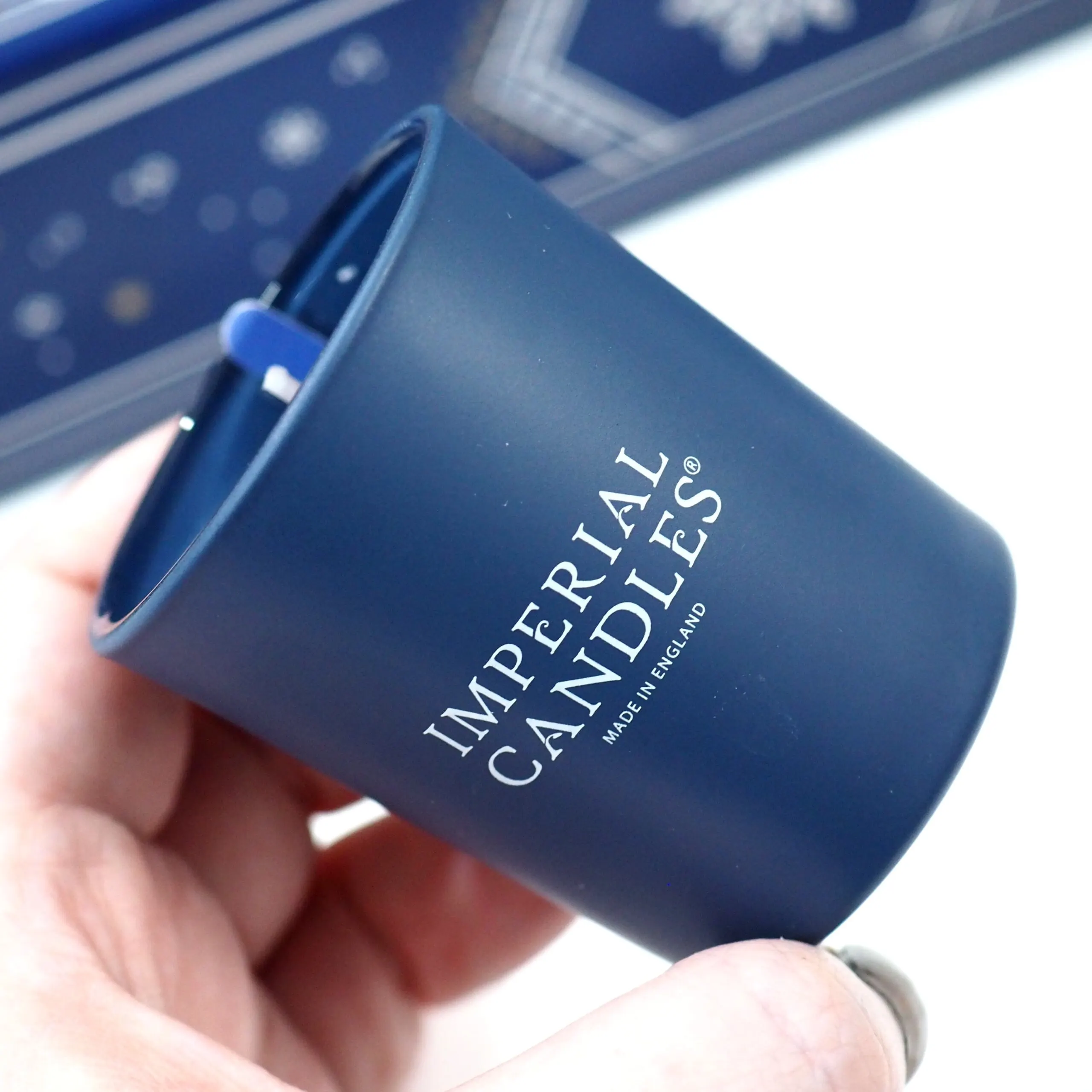 Day 1 – Cosy & Warm Candle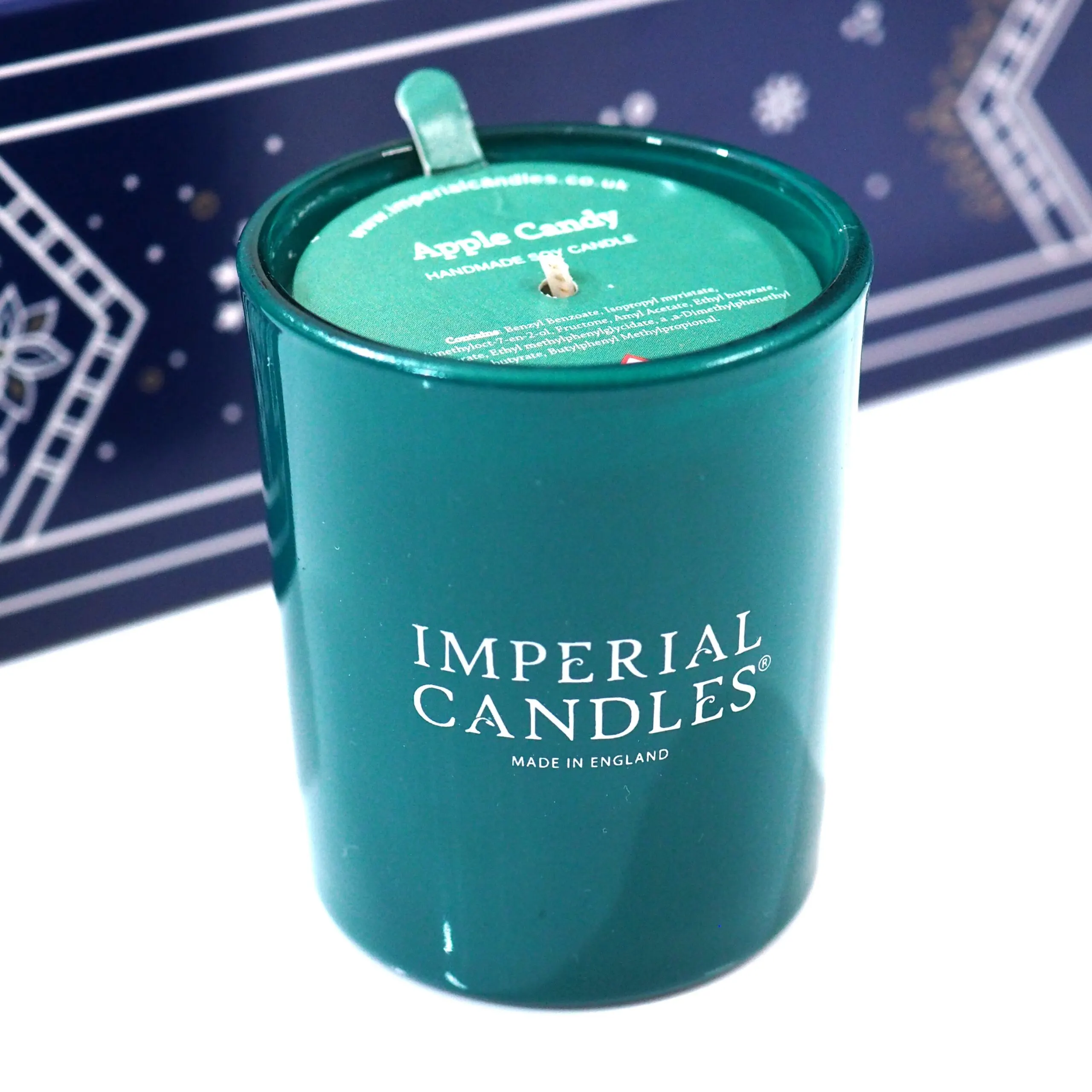 Day 2 – Apple Candy Candle
Day 3 – Snow Angel Candle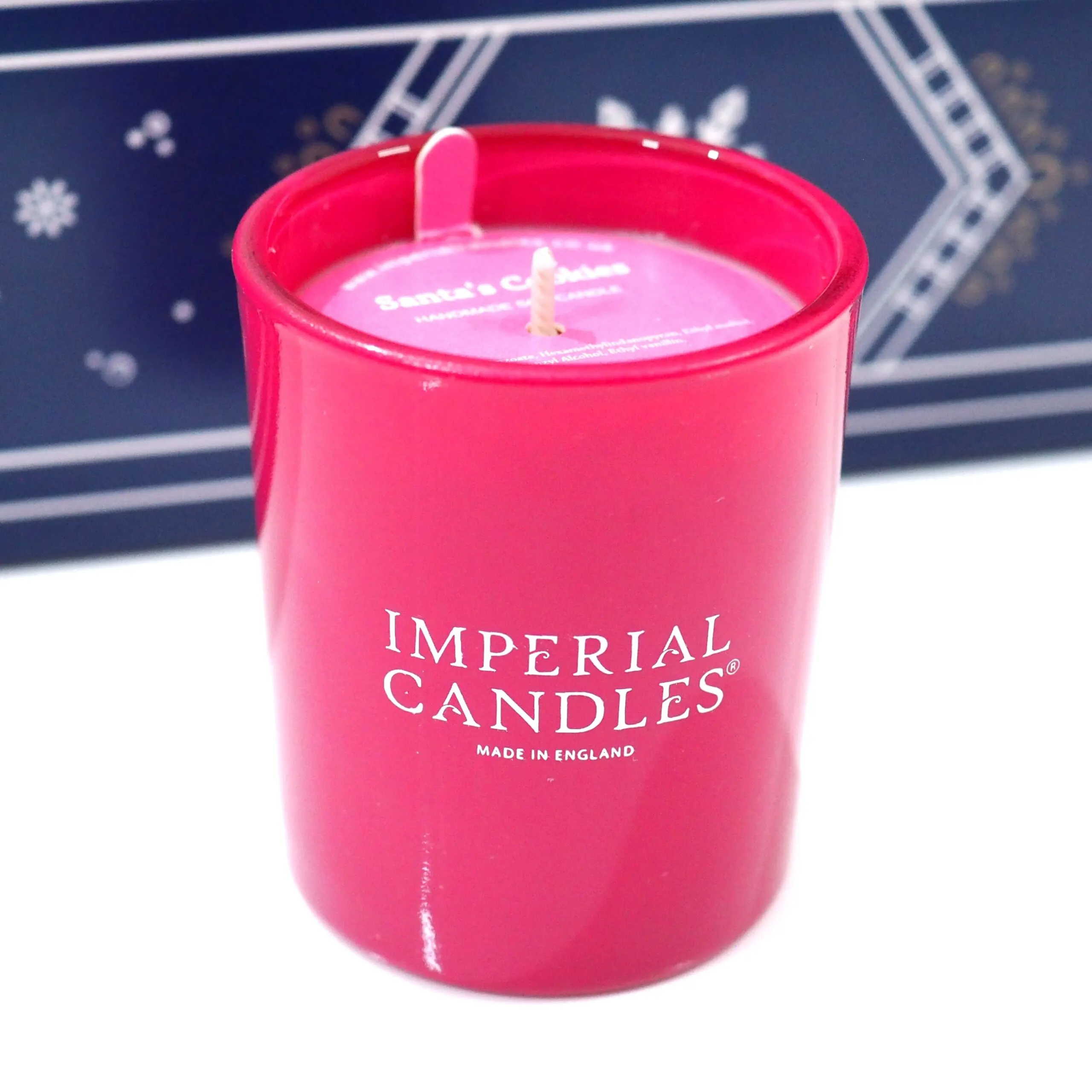 Day 4 – Santa's Cookies Candle
Day 5 – Winter Blush Candle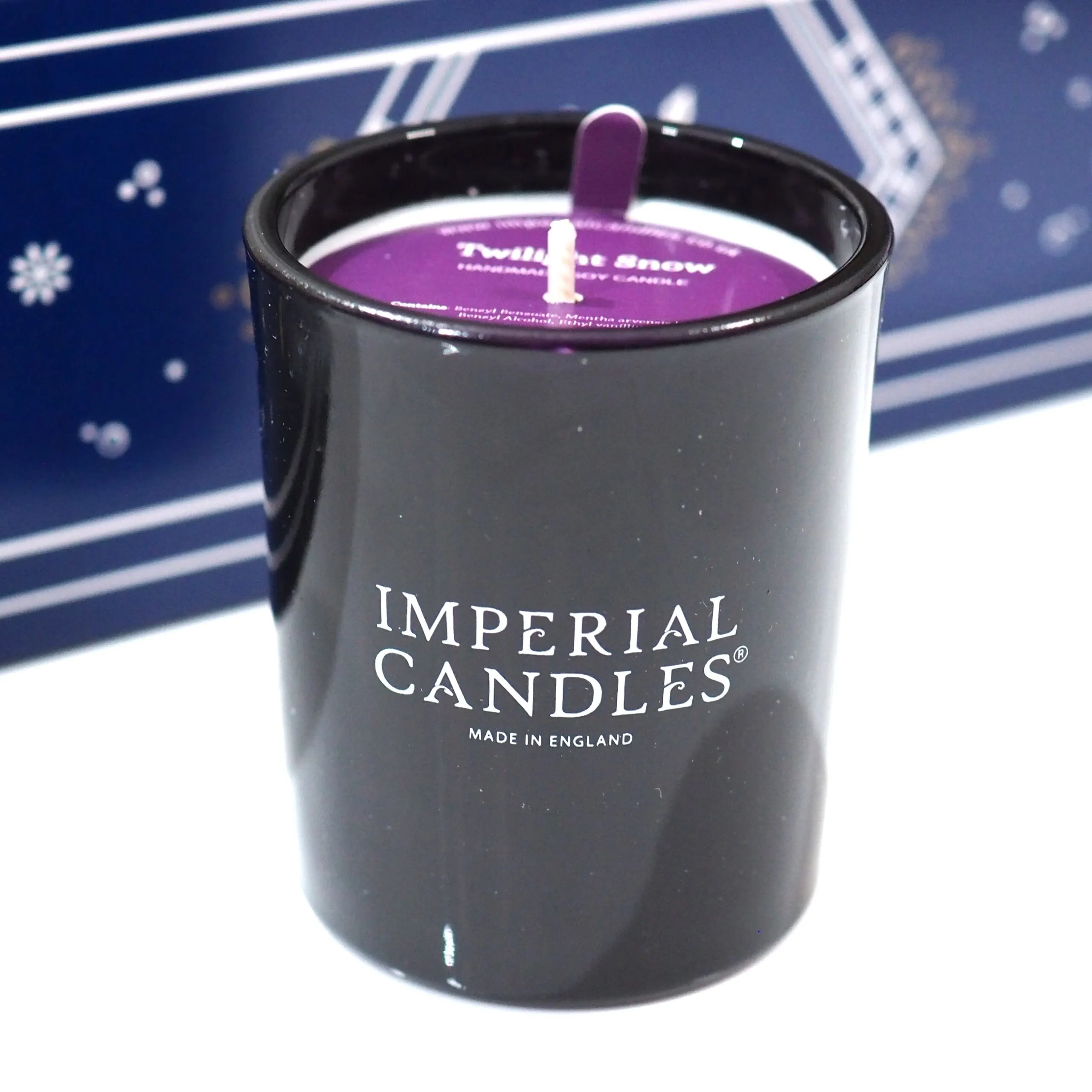 Day 6 – Twilight Snow Candle
Day 7 – Under The Tree Candle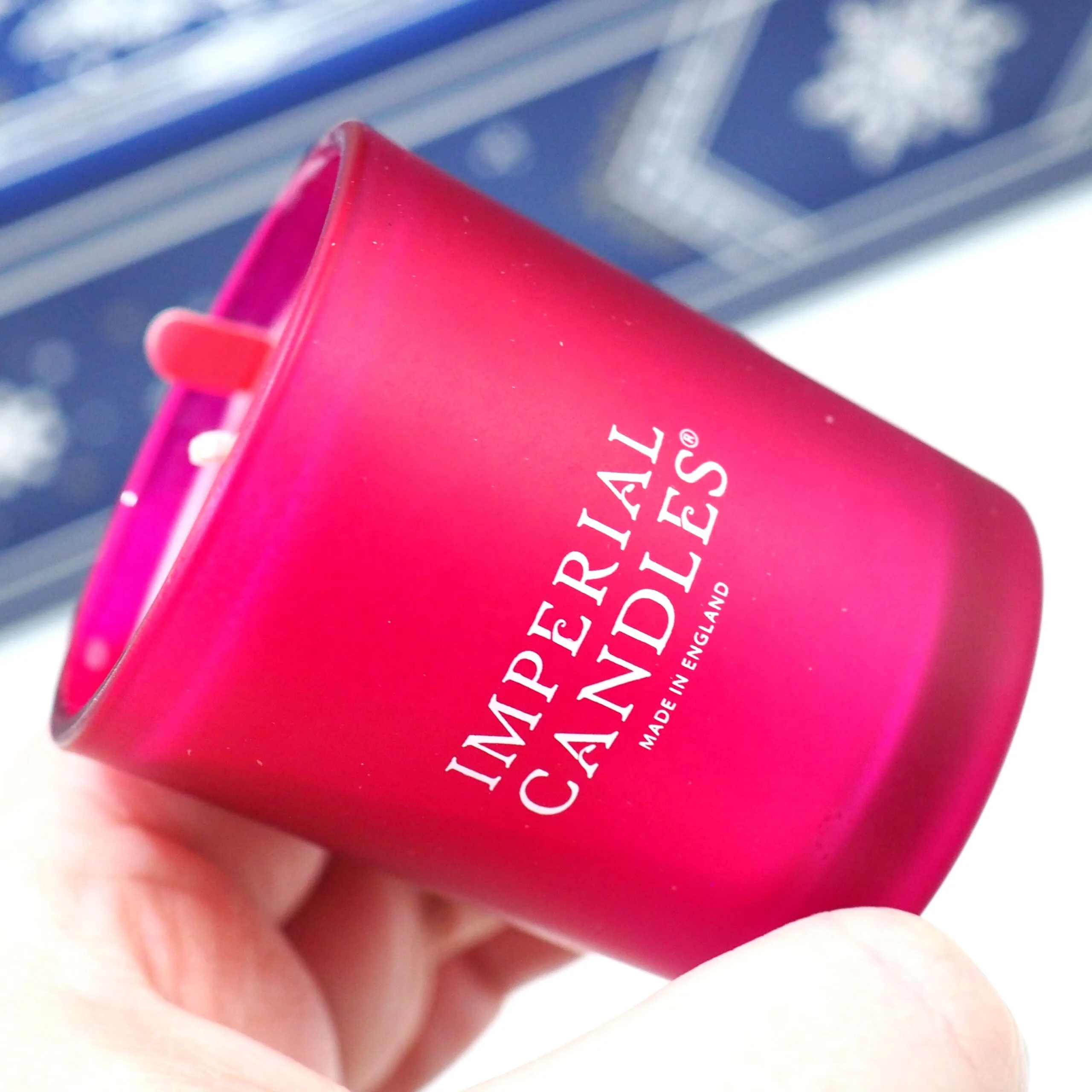 Day 8 – Celebration Candle
Day 9 – Santa Baby Candle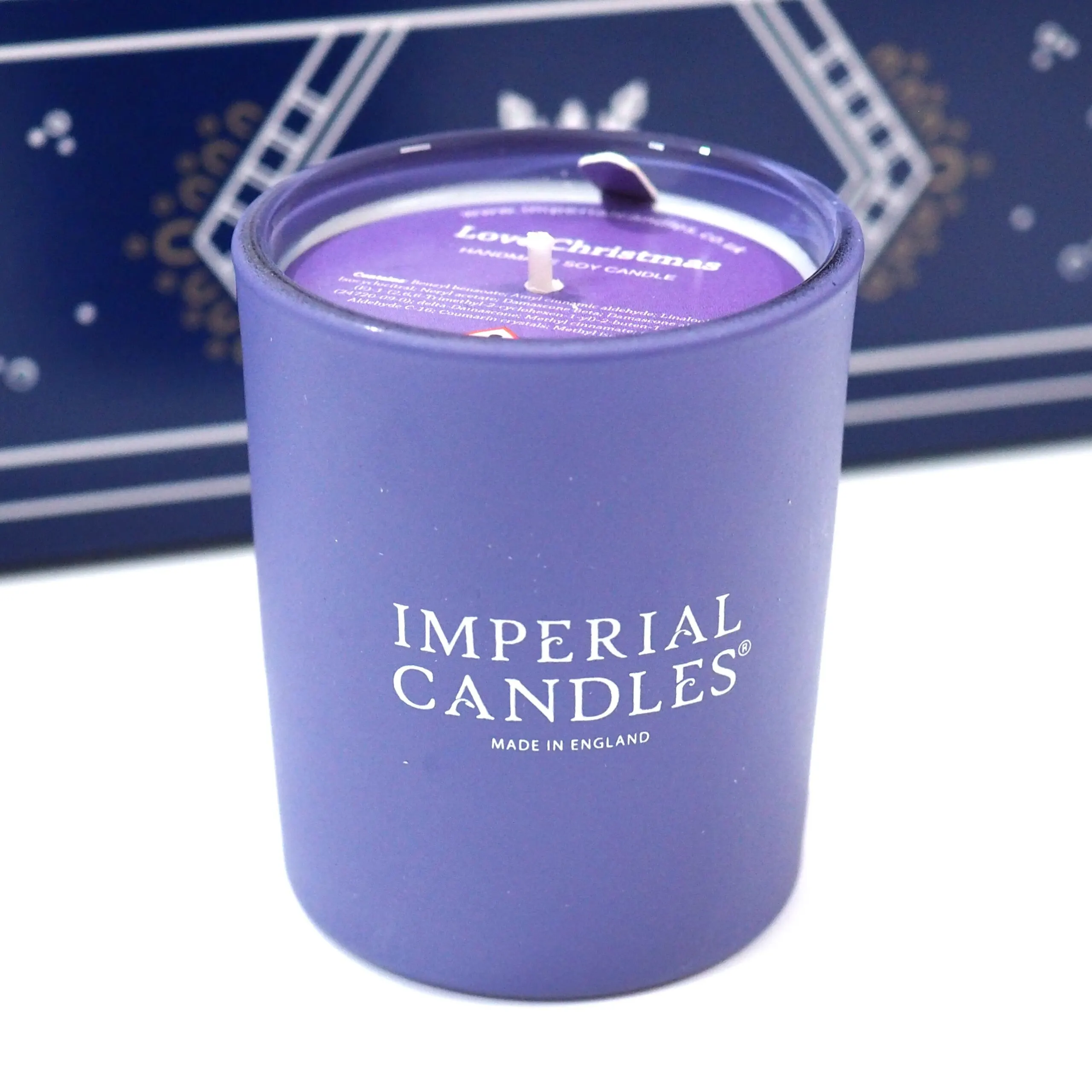 Day 10 – Love Christmas Candle
Day 11 – Sleigh Ride Candle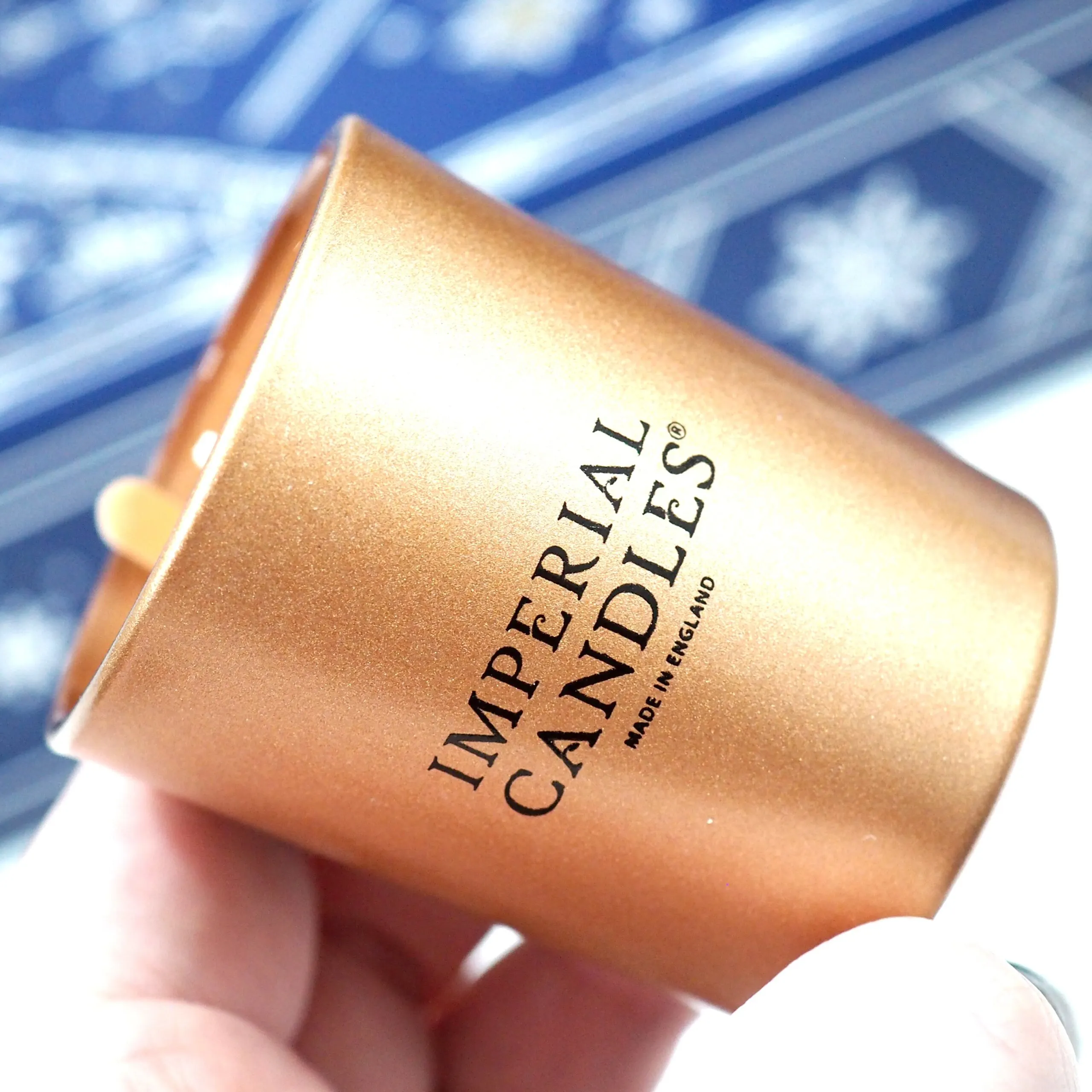 Day 12 – Orange & Chilli Candle
The Imperial Candles Advent Calendar 2021 features twelve different coloured glass jars, with shiny and matte finishes. They do look chic, and the wax is white inside all of the candles. The jewellery you receive "could" be in any candle, but I figured it'd be day twelve, and it was.
As a whole, the candles do smell really nice, but there's no mention of the notes or fragrance, and they're not available on the Imperial Candles website, so there's no way of finding out either, which is a shame.
There's only one candle I don't like, and that's day eleven; Sleigh Ride, but I have no idea what the notes are to explain why. I think it might be jasmine, but I can't know for sure.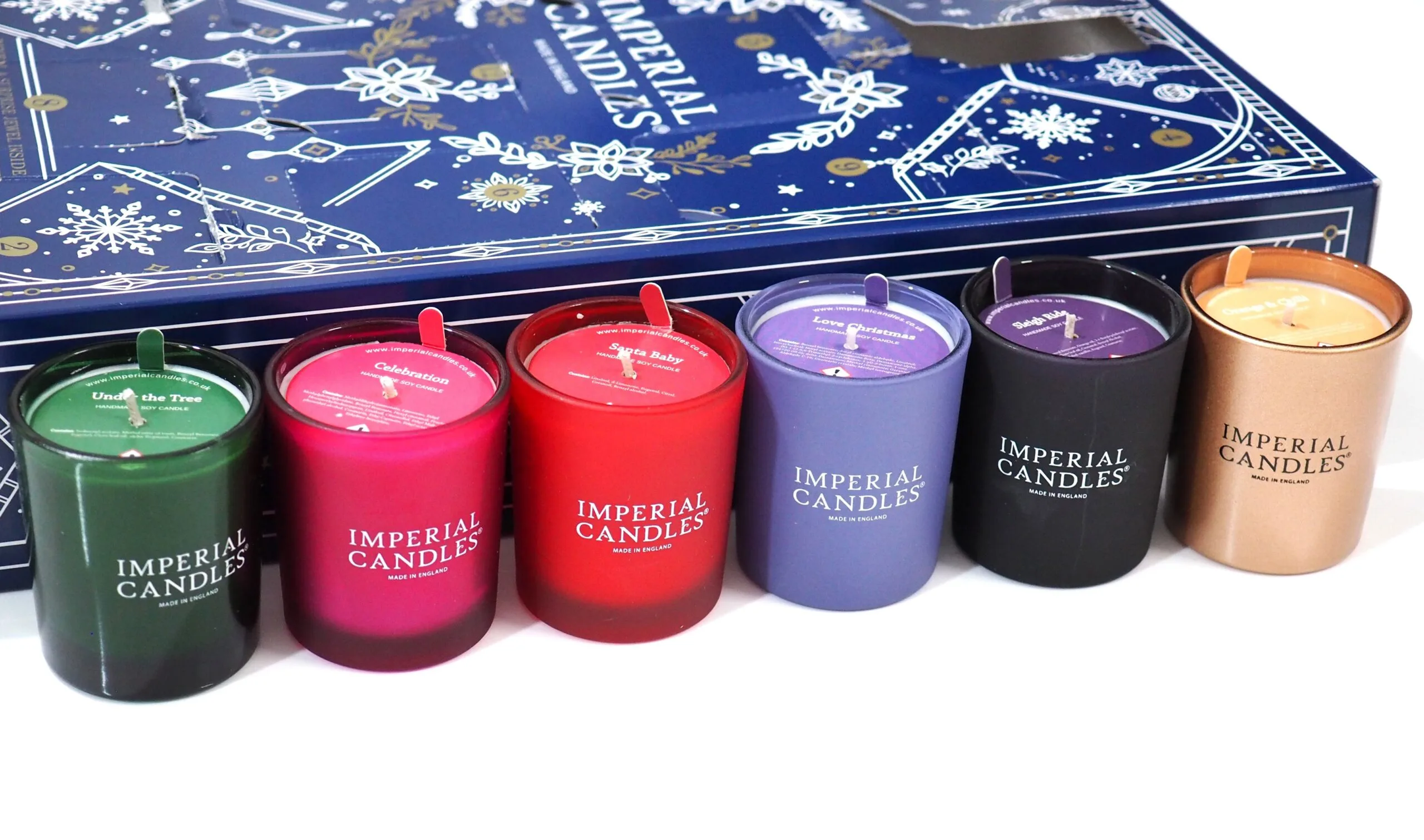 Now the most exciting part about the Imperial Candles Advent Calendar 2021 is the piece of jewellery, so what did I receive inside my calendar? I chose a ring, and I've had maybe 13 different jewel candles from brands like JewelCandle, Royal Essence and Charmed Aroma.
I even discovered a genuine diamond ring (0.60 carat diamond) inside a candle, which was looked at and valued by an accredited jeweller (see the reveal right here), so I was excited to try Imperial Candles.
This calendar is £79.99, and inside my day twelve candles I received a sterling silver ring worth £30. It's a plain silver ring, with a very basic design, and a single pink coloured stone, and the silver band is covered in scratches.
It's really not a good quality ring, with the stone wobbling inside the setting, and when you shake the ring, the stone rattles, and I've never discovered a poor quality piece of jewellery in any of my jewel candles or bath bombs, so I'm really disappointed.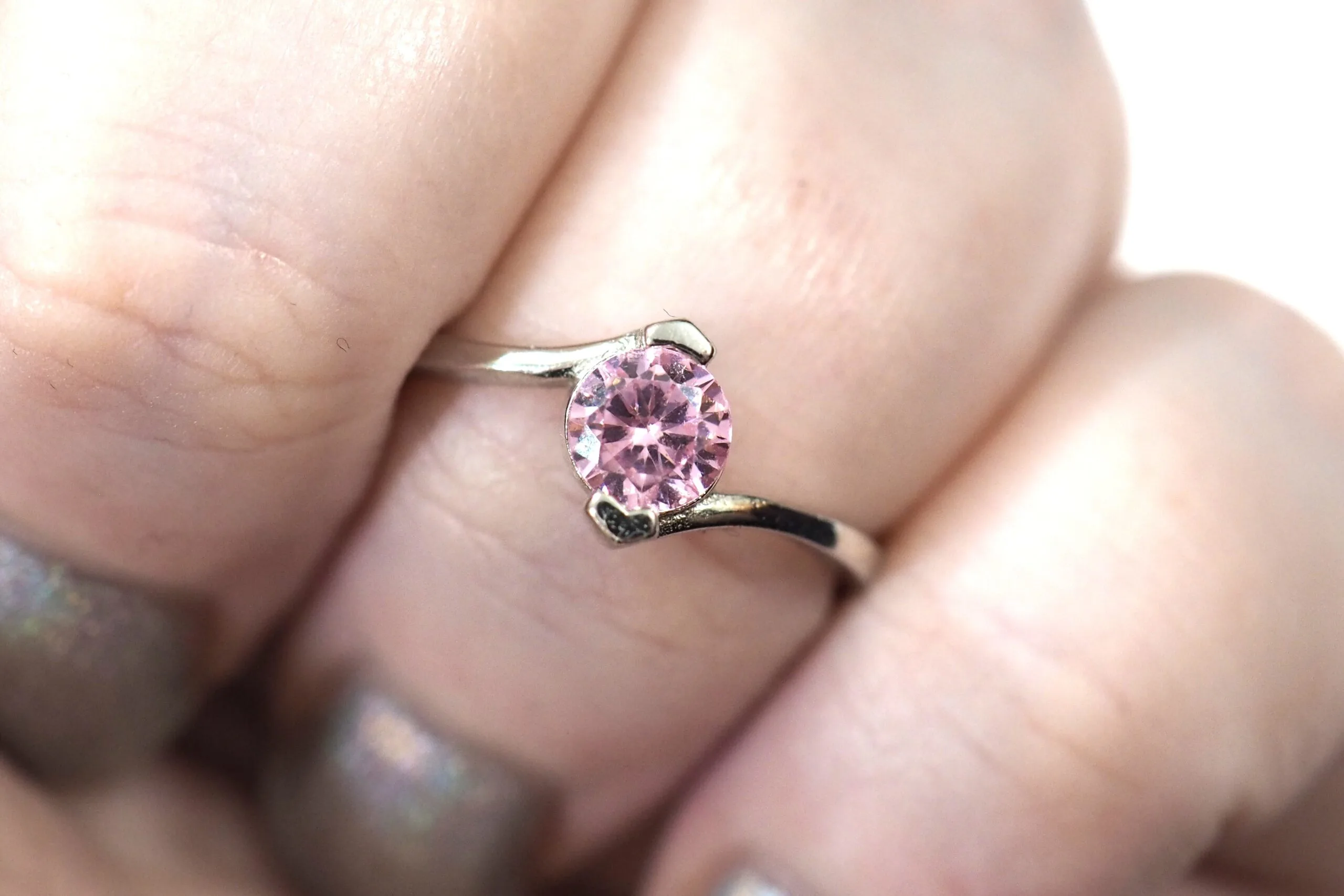 You get a code in the little plastic bag when you recover it from the candle, which you enter on the Imperial Candles website to find out the value, and it "could" be valued up to £2000.
Now this calendar is £79.99, and that means with the £30 ring, the twelve votive candles are worth £50, and I don't believe they are worth £50. They do smell nice, but not £50 for twelve candles nice, but it's down to personal preference.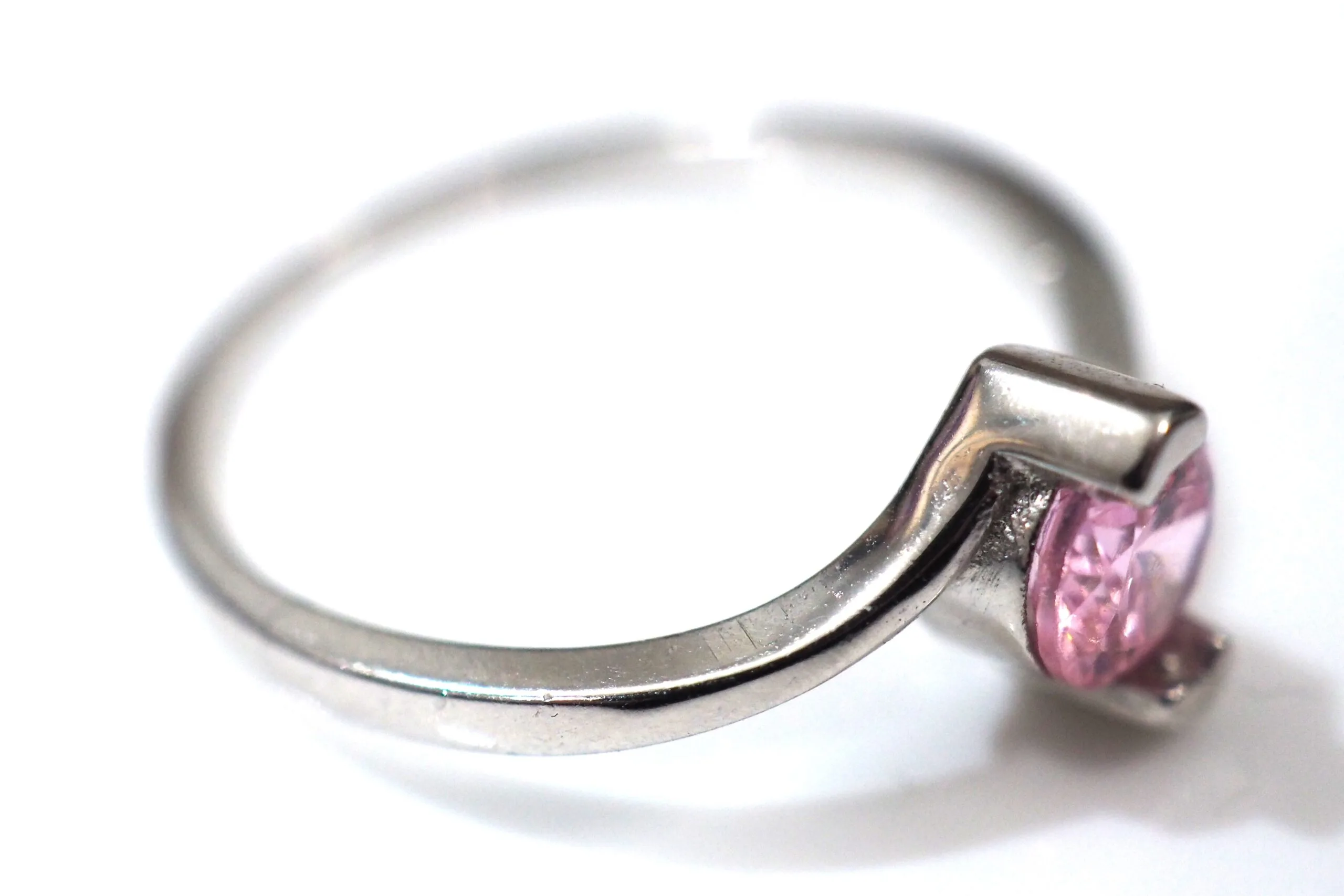 If the ring had been nicer quality, I feel like the £80 price would've been justified, but for me it's just not worth the money, and the scratched ring and wobbly stone isn't something you expect in an expensive advent calendar. Just look at these scratches!!!
I do have a few ordinary Imperial Candles Christmas candles to try, and hopefully the jewellery in those will be better quality.
BUY HERE
All images belong to Makeup Muddle.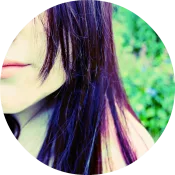 Hi, my name is Gemma, and I'm the owner of MakeupMuddle.com. I'm a true beauty obsessive, and love writing about anything to do with beauty – I have been a beauty writer since 2012.
As well as owning Makeup Muddle, I also own GemmaEtc.com, and love sharing my thoughts and feelings about the greatest (and not so great) beauty products!