Do you have red tones in your hair that you want to get rid of? Are you looking for solutions on how to neutralize red tones in hair at home?
Have you tried to color your hair, but ended up looking a lot more red than you'd hoped for? With some basic home remedies and products, it's possible to reduce red tones in your hair from the comfort of your own home, without needing to head to the salon. Read on to learn more about how you can fix the unwanted red tones in your hair…
What Causes Red Tones In Your Hair?
Various factors like sun exposure, pigmentation differences in your strands and genetics can be responsible for having striking red tones in your hair.
Sun exposure causes the pigment which produces red tones in your hair to break down, therefore making it more vibrant and making the color stand out.
Those with lighter colored hairs are usually more affected by this change, as they don't have much pigment to begin with. Genetics also play a big role, as some people are naturally born with a gene that will code a specific shade of red in their hair.
Which Hair Colors Tend To Get Red Tones In Them?
When it comes to hair color, there are some shades that tend to get red tones in them more than others. For example, dark brown and black hair dyes will easily take on a reddish tone when exposed to certain lighting.
Blondes may find that their locks become auburn, or even orange, when they are out in the sun for too long. Redheads, of course, have the most obvious red tints, although their locks may become more orange or even strawberry-blonde in some lighting.
Ashy brown hair shades can take on a deep wine hue when exposed to bright light, giving it an even more natural-looking hue.
Even shades of gray and silver can take on some red and orange tones when they are exposed to different sources of light.
Why Does My Hair Always Turn Red Whenever I Dye It?
It's especially common to experience unexpected red tones when you color your hair. This may be due to a chemical process called oxidation that causes molecules to break down and change in color over time – the same process is responsible for rusting metal.
Formulas that include too much ammonium chloride or hydrogen peroxide, or the use of semi-permanent or permanent dye, can all lead to increased red tones.
To avoid this from happening, make sure you always do an allergy test before coloring, use low ammonia dyes as much as possible and look into using natural dyes, so there are not any harsh chemicals damaging your hair over time.
Is Color-Treated Hair More Prone To Unwanted Orange Tones?
Those with color-treated hair may find themselves dealing with unappealing orange tones for a variety of reasons. Unbalanced coloring solutions or mistakes made during the coloring process can make the orange tones appear more vibrant.
Over-use of styling products and heat tools such as curling irons, flat irons and blow dryers can damage the hair, making orange tones more visible, causes hair to turn brassy or end up with orange hair.
Incorrect pH balance to the hair and lack of proper maintenance of colored hair can cause unwanted orange hues to overrun the desired color.
Which Hair Color Dyes Will Cancel Out Reddy Tones In The Hair?
If you're looking to cancel out red tones in your hair, cool and ashy color dyes are the best bet. These cool undertones help to counteract the reddish base in the hair.
Depending on how much red is present, it may take several applications of cool and ashy dyes before all of the red is eliminated.
Afterward, keep up with regular cool and ashy toning treatments to maintain lighter shades in the hair. Try to use sulfate-free shampoos, conditioners, and treat your hair with masks designed for dyed hair since these products are gentle enough to preserve your new cool and ashy shade.
How To Neutralize Red Tones In Hair At Home
Red tones in hair can be difficult to control, but there are a few tips and tricks you can use to neutralize them at home. One way to get red tones out of your hair is by using the right hair care products, like a shampoo or conditioner that is specifically designed for red tones.
You can use a clarifying shampoo to help reduce the redness, and warm tones. You could try using a purple or blue toning shampoo, which work as a way to neutralize red tones in the hair by depositing a subtle color over the top of it.
Leave the product on for five minutes and then rinse your hair. You can condition your hair with a toning conditioner, which will help to seal in the color and leave your hair looking healthy and natural.
If these methods don't work, then you could try using a semi-permanent hair dye or color to help with neutralizing red tones. Be sure to read the instructions carefully and always follow the directions on the box.
Here's a little more information on each of those suggestions on how to get rid of the red tones…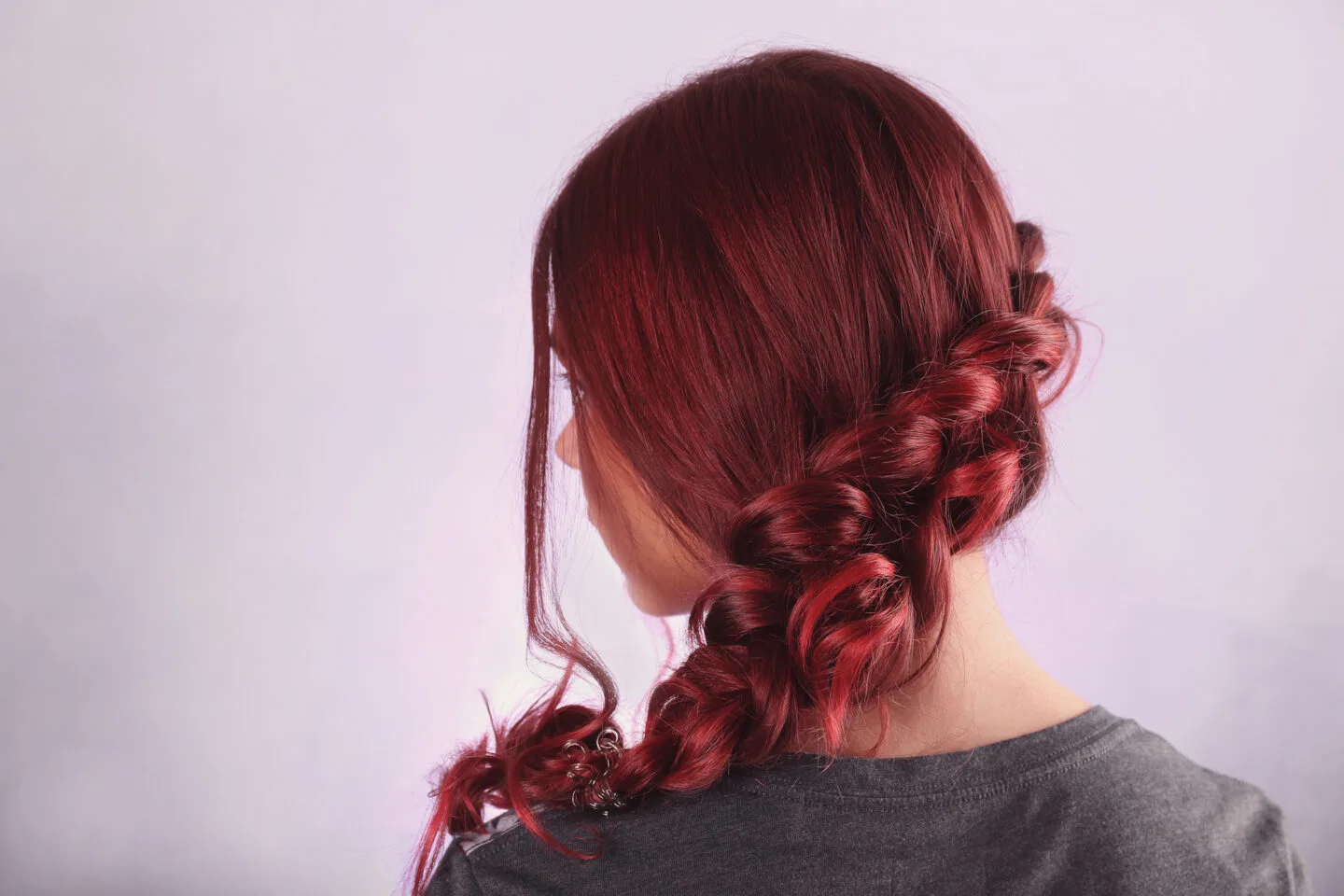 Use Neutralizing Toner
Using a neutralizing toner is an easy and effective way to neutralize red tones. This type of toner evens out your hair color to give you a more natural look.
It works by neutralizing the red pigment in your hair and providing a more balanced, neutral tone. Neutralizing toners come in a range of shades to suit any hair color, from light blonde to dark brunette.
For those with naturally red-toned hair, it is best to use a neutralizing toner with a slight ash or gray tone to achieve the desired look.
However, if you have dyed your hair with a red or burgundy shade, then you should use a neutralizing toner with a green base. This helps to counteract the red pigment, creating a more even, neutral tone.
Use Green Toning Shampoo
Green toning shampoo is a great way to neutralize unwanted red tones in your hair. It works by countering the red tones in your hair with green pigments, stripping away the red color and leaving you with a more natural shade.
It can be used on almost all hair colors, although it works best on lighter shades such as blondes and brunettes. For darker hair, green toning shampoo can lighten the red tones, making them appear less intense.
To use green toning shampoo, apply it to wet hair and massage it in for a few minutes before rinsing it off. It works best when used twice a week and can be used with other products such as deep conditioners and hair masks.
Green toning shampoo is a great option if you're looking to neutralize unwanted red tones in your hair without using harsh bleaching products. It can be used to maintain a natural color or to give your locks a subtle boost of vibrancy.
Try A Blue Toning Shampoo
Blue shampoo (or purple shampoo) is specifically designed to neutralize and counteract unwanted red tones in blonde, silver, or gray hair. It works by counterbalancing the orange, yellow, and red tones in the hair and replacing them with a slightly cooler, more neutral tone.
To use blue shampoo correctly, begin by wetting your hair before lathering up with a small, quarter-sized amount of the shampoo.
Massage the product into your strands for 1–2 minutes, paying extra attention to any red areas, then wash your hair. Follow up with a lightweight conditioner to add back some moisture and shine, and you're done.
Use A DIY Color Remover Kit
These kits usually come with a mixture of peroxide and a stripping agent meant to help remove all traces of unwanted color. It's important to remember that these kits are usually only meant to remove permanent color, so they won't help restore your original color or lighten your shade.
To get started, use the instructions on your color remover kit to mix the solution and apply it to your hair.
Be sure to evenly distribute the mixture, as this will help ensure that all of the unwanted red tones are removed. Leave the mixture on for the recommended amount of time and then rinse your hair with cool water.
How To Make Your Own Hair Toner To Neutralize Red Tones In Hair?
DIY hair toners are an easy and cost-effective way to get rid of brassy red tones in your hair without damaging it.
All you need is an acid-based product, like vinegar, lemon juice, or green tea, a few kitchen utensils and a couple of minutes to spare. To begin, take some of the acid product and mix it with water in a bowl until you get the desired concentration.
Then, apply the mixture to small portions of your hair at a time with a brush or squeeze bottle. Leave it for about 5–10 minutes before rinsing off with cold water – this will help prevent color fading too quickly. It's a simple process, and it'll mean you'll be able to avoid expensive trips to the hair salon and be proud of beautiful natural hair color.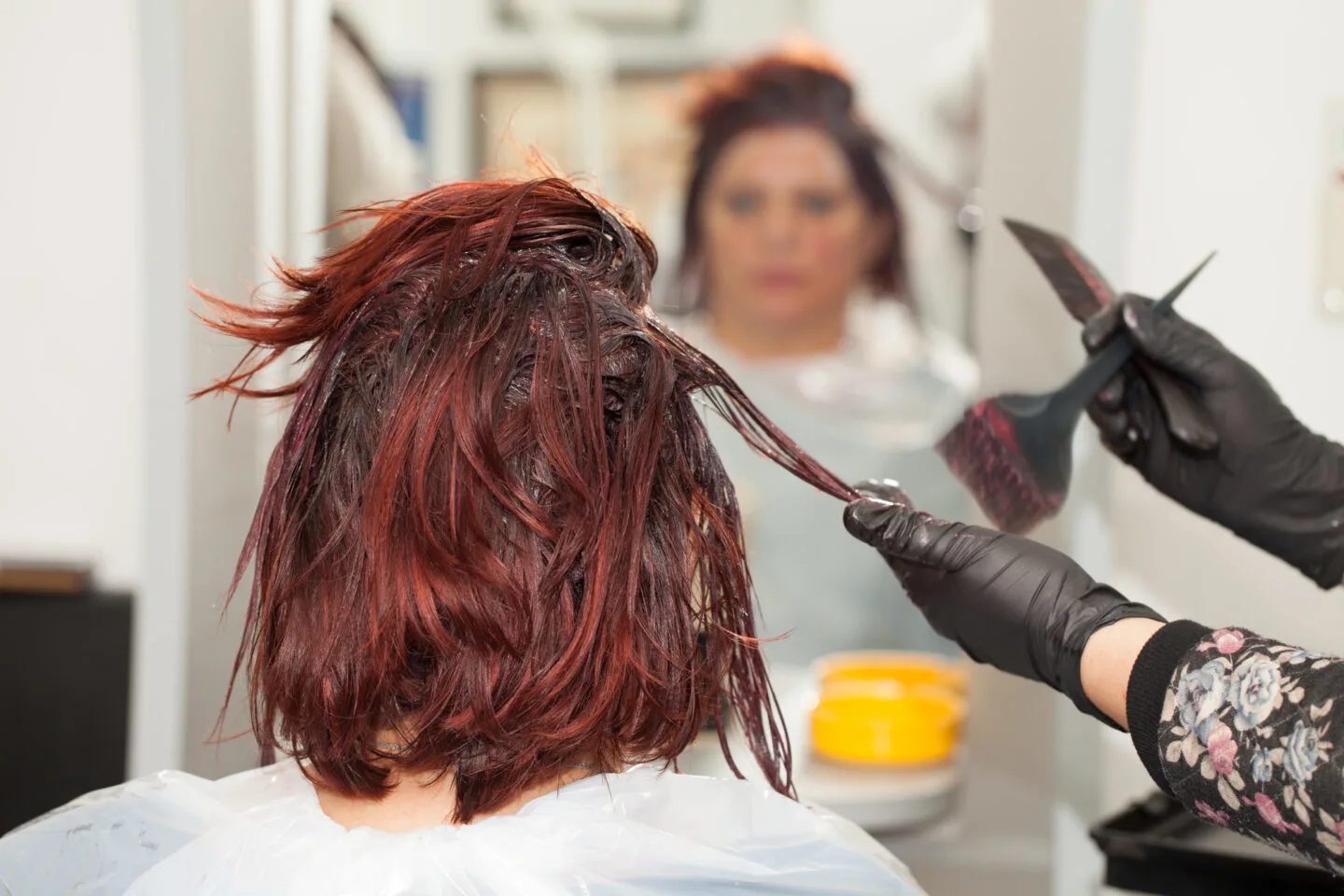 How To Cancel Out Red Tones Without Damaging Your Hair?
At home, you can try using a blue or purple shampoo or conditioner to neutralize the red tones in your hair strands. Be sure to use these products sparingly, as they can affect the color of your hair whether you have dyed it or not.
You can opt for a toner to help neutralize the red tones and yellow tones. This is often the most effective way to go. A toner is a temporary solution and will need to be reapplied every couple of weeks until your hair grows out.
Plus, when used correctly, it can be used without damaging your hair. Depending on your situation, a color correction may be another option.
This can involve taking away the red tones and then adding in a new color that is more flattering and complementary. However, this can be a time-consuming process and should only be done if absolutely necessary.
Can Green Food Color Help With Red Tones?
Gone are the days of attempting to make orangey-red brassy tones disappear from your hair with at-home fixes. Using green food coloring, you can now easily banish those reddish tones in your hair. Believe it or not, this unusual beauty hack actually works.
Simply mix a few drops of green food dye or blue-green food dye with an equal part of your favorite conditioner, and then work the mixture through your hair. Leave it in for five to ten minutes and then rinse it out. You should instantly begin to notice a difference in your hair color, as the green pigment has neutralized those unwanted reddish tones.
Green food coloring can be used on all hair types and colors, and is especially great for those with lighter shades of blonde or light brown. It is an incredibly simple way to enhance and brighten up your hair color, by removing those pesky red brassy hues, and unwanted tones.
It is important to remember though, that green food coloring will only work as a temporary fix. The color will fade out after several washes, so if you find yourself needing this beauty hack on a regular basis, you may want to look into long-term hair color solutions.
How To Prevent Red Tones From Your Hair
If you've been trying to prevent red tones from your hair and have been struggling to get the results you want, then the best place to start is by using a good quality shampoo and conditioner.
When you're looking for shampoo and conditioner, look for ones that are specifically designed to prevent and reduce red tones in the hair. These formulas will help to reduce any unwanted red tones while nourishing your locks at the same time.
You can use purple toners to help balance out warm red tones. Once you've shampooed, apply a purple-tinted toner to your hair and leave for a few minutes before rinsing off. This will help to counterbalance any red tones in the hair, leaving you with a more neutral, cooler color.
Another way to reduce red tones is to use a mask or deep treatment regularly. This will help to keep your hair healthy and reduce any unwanted red tones. Look for masks that are specifically designed for colored hair and contain nourishing ingredients that will help to keep your color looking healthy and vibrant.
Finally, if all else fails, you can always consider using a dye to change your color. A professional hairdresser can help to select the right dye for you, so that you can achieve a more desired look. With the right color and technique, you can get rid of any unwanted red tones and have the hair color you want.
Protect Your Hair From The Sun
The sun can add unwanted red tones to your hair as you are out and about. To reduce the risk of this happening, cover up your hair with a hat or scarf when you go outside. Also, look for UV protection products specifically designed for use in hair which will help to protect it from the damaging effects of the sun's rays.
Protect Your Hair From Hot Tools
Another way to reduce unwanted red tones in your hair is to avoid using hot tools such as curling irons, flat irons and blow dryers.
The heat from these tools can strip the natural color of your strands, resulting in more red tones. When you do use hot tools, always make sure that you're using a heat protectant beforehand and never leave the tool on your hair for too long.
Use Hair Toner To Banish Brassy Tones
Toner is a great way to remove unsightly brassy tones from your hair. It works by restoring the natural pH balance and color of your locks which then helps to prevent red tones from appearing, for both dark hair and blond hair.
You should be able to find hair toner at most beauty stores or you can ask your hairdresser for advice on which one would be best for you.
Use Clarifying Shampoos To Remove Build-Up From The Hair
For those with blonde hair, orange and red tones can be an unexpected hurdle to overcome. To rid the hair of these harsh tones, many stylists suggest using clarifying shampoos during the wash process.
These unique types of shampoos are specially formulated to remove oil and product build-up that can cause unwanted undertones in blonde hair.
Unlike regular cleansing shampoos, clarifying products are specifically designed to strip the hair of any extra debris left from styling aids and conditioner residue.
Using a clarifying shampoo once or twice a week, you'll be able to remove unwanted orange and red tones from your blonde locks and restore your rich, vibrant colors without damaging your precious tresses.
Use A Shower Filter To Protect Your Hair
Not only do shower filters get rid of unwanted minerals in your water, but they also help keep your strands healthy by not allowing brassy tones to take over color-treated hair.
Curly, frizzy or coarse hair can also benefit from using a shower filter because it will declutter your strands and leave them feeling smooth and healthy.
With chlorine, iron and other harsh materials stripped out of your hair and skin, you can look forward to improved shine, lustre and even better hydration.
Get A Hair Gloss Treatment
A hair gloss is a great way to add shine and luster to your locks, while also neutralizing any unwanted red tones that may have crept in over time. It works by depositing semi-permanent color molecules onto the hair shaft which then helps to bring out the natural tones.
Go For Professional Hair Treatments
If the home remedies listed above don't work for you, then consider booking yourself an appointment at the salon for a professional treatment. Ask your hairdresser about treatments such as balayage, babylights or highlights which can all be used to neutralize red tones in your locks and restore them back to their original hue.
What Cancels out Red Tone In Your Hair?
The best way to neutralize red tones in your hair is to use products or ingredients that contain blue, green and/or violet pigments – it's all about the science of color theory with warm pigments and cool pigments, and using opposite colors.
These color-correcting pigments will help balance out the unwanted red tones in your hair, resulting in a much more natural looking shade of brown or blonde.
Some common ways to reduce red tones in your hair at home include using products such as toners, hair masks and purple shampoos. Toners, which are designed to temporarily adjust the color of your hair, can be used to reduce unwanted red tones.
Hair masks that contain blue or green pigments can also help get rid of red tones in your hair. Finally, purple shampoos are especially useful for neutralizing red tones in blonde hair.
Can You Go Over Red Hair Color with Brown?
If you're looking to switch up your hair color but don't want to go too drastic, transitioning from a vibrant red to a deep brown can be a great solution. In order to ensure that the process is successful, it's important to starting by stripping away any dye already in your hair and nourishing your locks with a high-quality conditioner.
After that, you can use semi-permanent or permanent dyes (depending on the desired look) to progressively transform the shade until you reach an evenly pigmented, gorgeous brown.
Best Brown Hair Dye to Cover Red Tones
If you're looking for the best in brown hair dye to cover your red tones, look no further than the Schwarzkopf Keratin Color 6.60 Light Brown Permanent Hair Color. This amazing dye offers a full coverage and natural-looking results that last up to 9 weeks.
It's formulated with Keratin and Collagen, creating a protective barrier over each hair strand and providing intense hydration to the hair during coloring, which results in a healthy, glossy finish. Not to mention, it's also ammonia-free, which helps keep your hair looking healthy and shiny, without damaging it.
If you want to maximize the color and longevity of your dye job, be sure to use the complementary after-care products, such as their Color and Protect Shampoo, Conditioner, and Mask.
All of these products work together to nourish and protect your hair, so it stays vibrant and glossy for up to 9 weeks. So rest assured knowing that with Schwarzkopf Keratin Color 6.60 Light Brown Permanent Hair Color,you are getting the best brown hair dye to cover up those red tones, while enjoying vibrant, healthy-looking locks that last.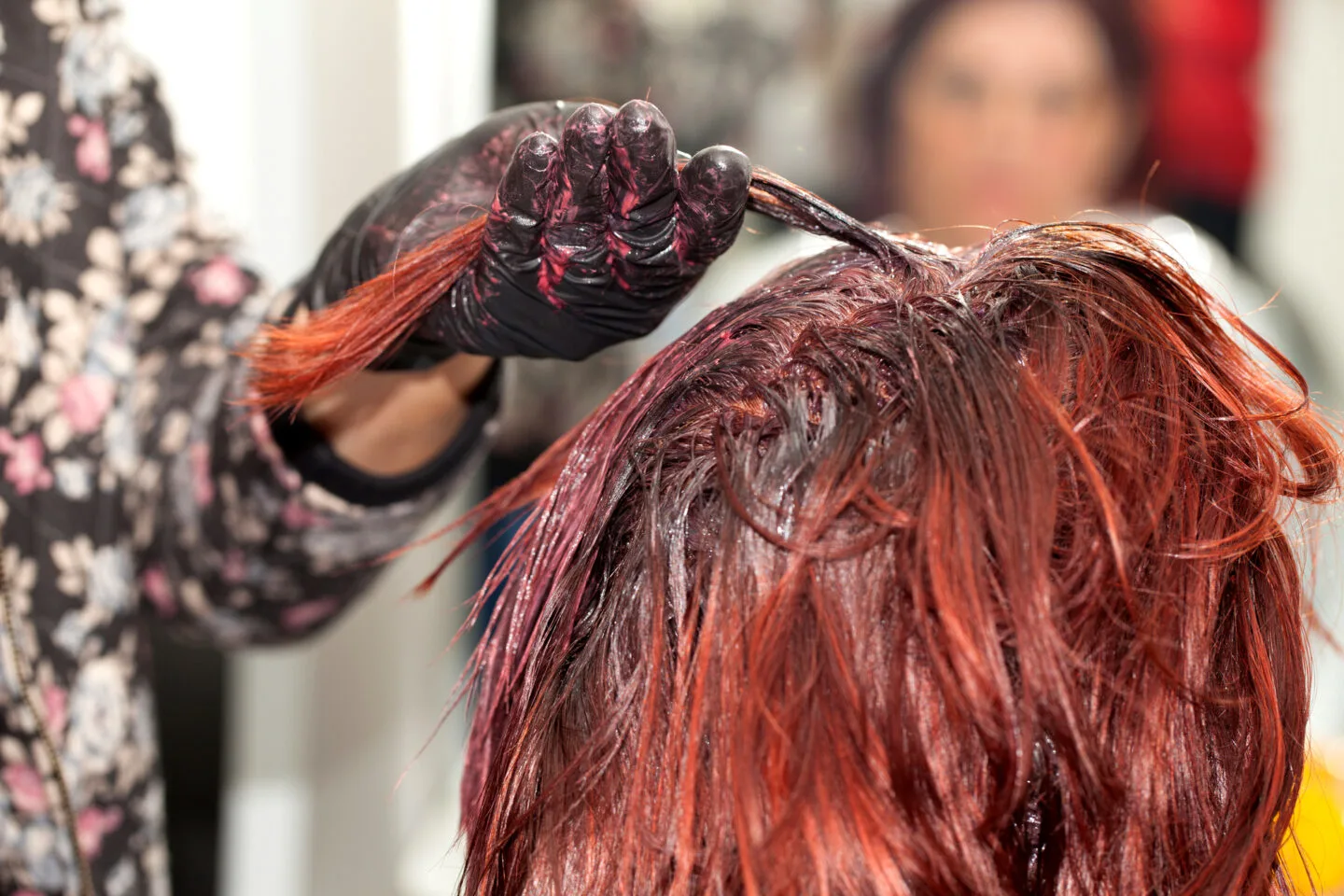 Can You Make Your Own Toning Shampoo To Neutralize Red Tones At Home?
Making your own toning shampoo to neutralize red tones at home is a great way to get the perfect hair color without relying on expensive products.
Using simple ingredients that you can find in any grocery store, you can craft a custom toning shampoo at home. To get started, choose a mild or color-safe shampoo that won't leave your hair feeling dry or over-processed.
Then mix in some water, apple cider vinegar and blue or purple food coloring. Try to match the color that you hope will neutralize the red undertones in your hair. Mix all the ingredients together, then let it sit for about 10 minutes before applying to your hair.
Leave it for about 10 minutes more and then rinse off. Doing this periodically can help maintain a natural color and neutralize any red tones from other treatments such as highlights or bleaching.
Summary
Neutralizing red tones in your hair doesn't have to be difficult. With the help of some simple home remedies, professional treatments and products such as toners or purple shampoos, you can easily restore your natural hue and get the perfect color.
And if you're feeling creative, why not try making your own toning shampoo at home with some simple ingredients? It'll help you to remove the red, or you'll learn how to neutralize red tones, and you'll achieve the hair color you actually want.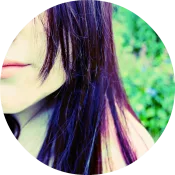 Hi, my name is Gemma, and I'm the owner of MakeupMuddle.com. I'm a true beauty obsessive, and love writing about anything to do with beauty – I have been a beauty writer since 2012.
As well as owning Makeup Muddle, I also own GemmaEtc.com, and love sharing my thoughts and feelings about the greatest (and not so great) beauty products!