When the Fenty Beauty Eaze Drop Blurring Skin Tint was announced as being the latest base launch for Fenty, I have to admit, I wasn't instantly desperate to try it. Keep on reading to find out why…
BUY HERE: Fenty Beauty / Sephora / Harvey Nichols
I've really fallen in love with Fenty as a brand over the last twelve months, but I've never found a skin tint which works for me.
Skin tints tend to be tinted moisturisers, and they never cater for many skin tones. So I assumed, the Fenty Beauty Eaze Drop Blurring Skin Tint would be the same, but I couldn't have been more wrong.
"The blur is real. Rihanna wanted to create a light coverage, easy-to-apply, flexible skin tint that instantly evens out your complexion and give a flattering blurred effect.

Eaze Drop, with hydrating QuickBlur complex, is perfect for a no-makeup makeup look, or for when you want to look effortlessly put together. In 25 adaptable shade options for all."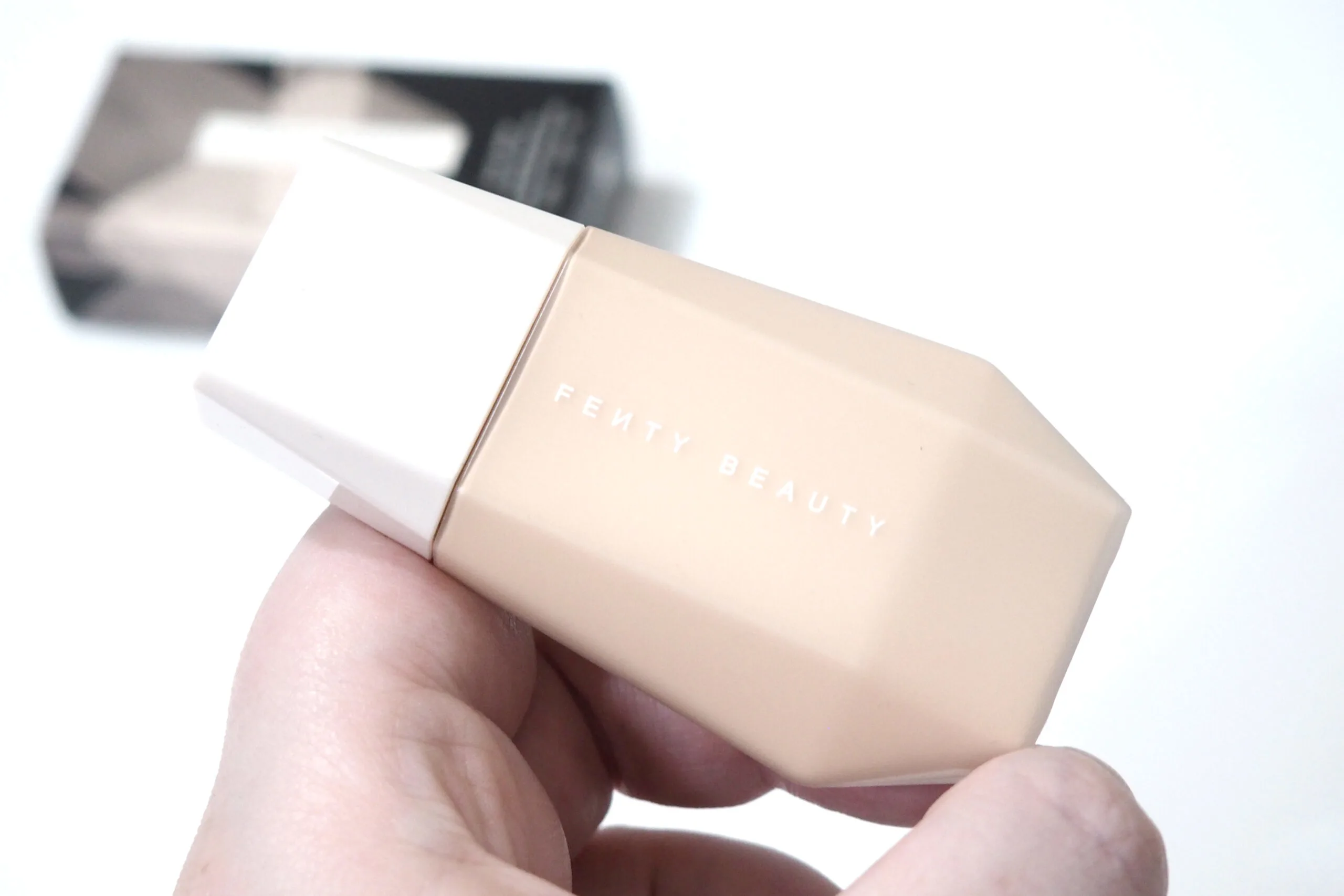 The Fenty Beauty Eaze Drop Blurring Skin Tint is available in 25 shades, which I happen to think is impressive for a skin tint kind of product.
Fenty do claim the shades are adaptable for all, but in all honesty that claim makes me eye roll. Shades either match you or they don't. If it's not your skin tone, there's not a lot you can do to make it work for you unless you add lightening or darkening drops to alter the shade.
Fenty Beauty Eaze Drop Blurring Skin Tint is packaged within a lightweight, squeezy plastic tube with a screw on lid. The bottle has a small nozzle, and you have to squeeze the bottle to get the foundation to dispense from the bottle.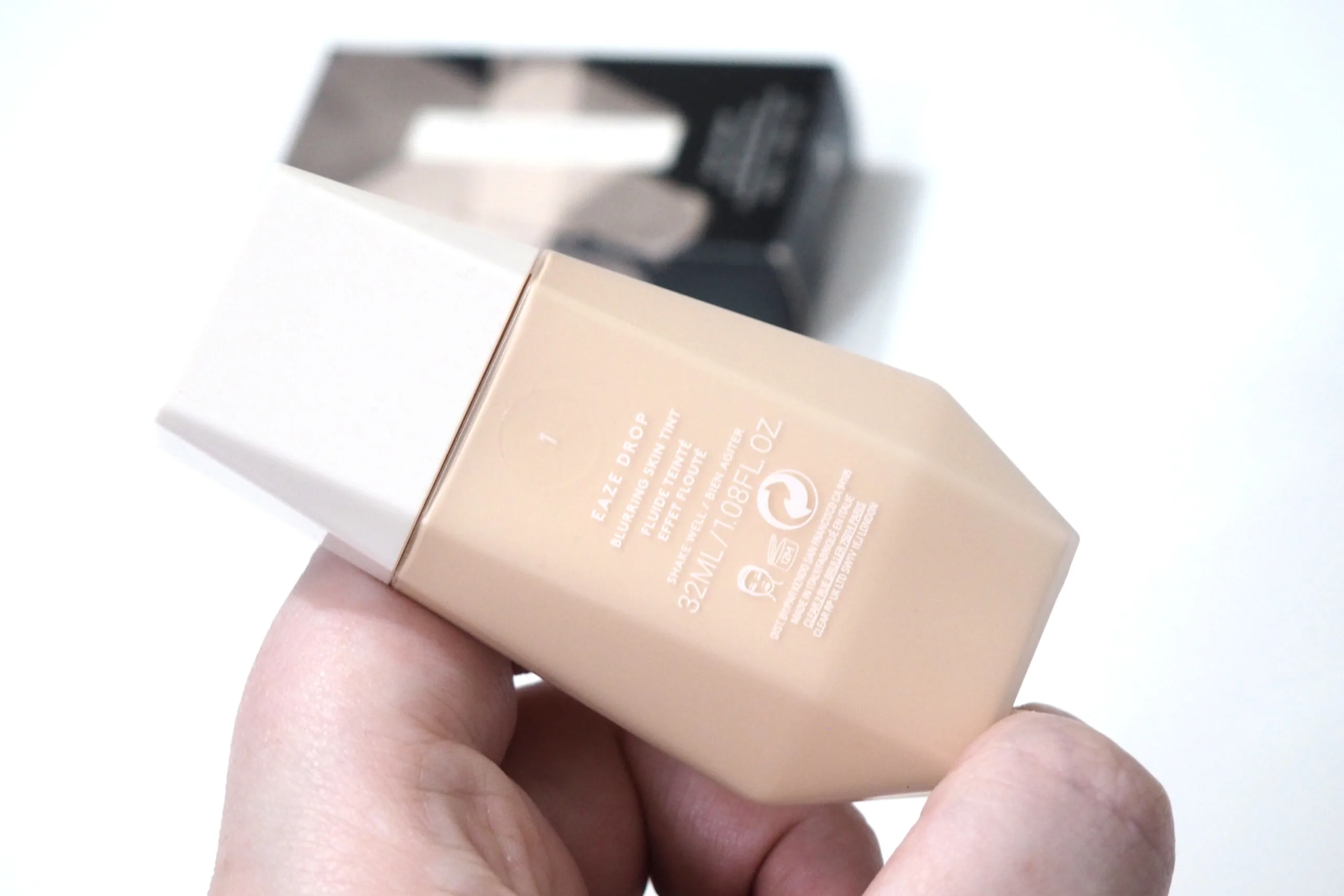 For a £25 foundation, it doesn't look as chic as the rest of the Fenty Beauty range, but the squeezy bottle design is functional for a foundation with such a thin, viscous formula.
Before using the Fenty Beauty Eaze Drop Blurring Skin Tint, you need to shake the bottle to ensure the product is thoroughly mixed together.
It does have a thin consistency, but it's not as runny as I thought it would be. To me, the texture and consistency reminds me of a light coverage foundation rather than a tinted moisturiser like I thought it would!
The Fenty Beauty Eaze Drop Blurring Skin Tint is designed to offer light coverage, whilst blurring and evening out the skin. It's said to be humidity proof, sweat proof and transfer resistant which really surprised me. You never see claims like those for a light coverage skin tint, so I was intrigued to see how it'd apply.
I bought the lightest shade available of the Fenty Beauty Eaze Drop Blurring Skin Tint, which is Shade 1, and is categorised within the 'Light' shade group.
Fenty describe shade 1 as being l ight with cool neutral undertones, which I felt would be the most appropriate for my pale skin tone.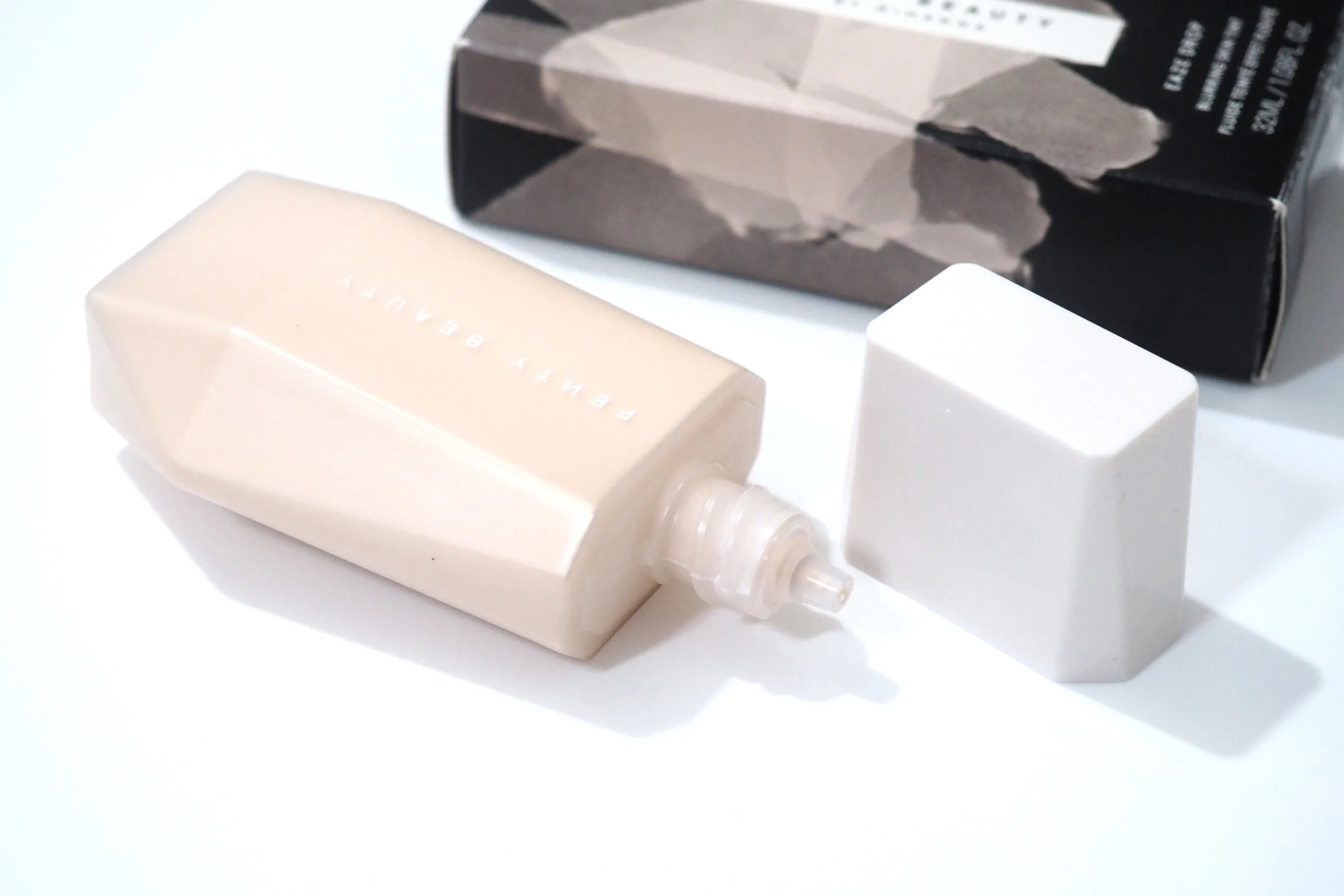 Shade 1 of the Fenty Beauty Eaze Drop Blurring Skin Tint matches me pretty well. Ideally, I'd prefer for it to be a touch paler, but for it being their lightest shade on offer, it's not bad at all. I do ensure I apply it with my Simplehuman mirror, so I can ensure it's fully blended without any obvious tide lines.
I've played around with the Fenty Beauty Eaze Drop Blurring Skin Tint, and I've found that I prefer to apply it with a dampened beauty sponge. I found that using a brush left a streaky finish, and I wasn't a fan of how it looked when blended with my finger tips either, but it's all down to personal preference.
I have a lot of freckles and I like a foundation which will even out my skin tone, disguise imperfections and make my skin look better without being mask-like on the skin, and covering my freckles up.
The Fenty Beauty Eaze Drop Blurring Skin Tint has such a lightweight formula, it doesn't feel like a foundation as you apply it to the skin. The coverage really surprised me, as I thought it would be akin to a tinted moisturiser, but it's definitely higher coverage than any tinted moisturiser I've tried.
It's lightweight and feels breathable on the skin, and makes my skin look nice even on a bad skin day. It covers up the lightest of my freckles, but also any acne scarring or redness too.
I feel like the name of the Fenty Beauty Eaze Drop Blurring Skin Tint might put people off trying it, as they think it'll be a really sheer veil of tint, but to me, it's more of a foundation than a skin tint.
It dries down to a satin finish, and just makes my skin look better, which I guess, is all I ever want from a foundation. It wears really nicely too, with a good four to five hours wear before I'd need to think about touch-ups.
I'm usually really fussy when it comes to foundations, but I've been really impressed with the Fenty Beauty Eaze Drop Blurring Skin Tint (and a couple of other foundations I've been testing recently including the new KVD Beauty Good Apple Balm).
Eaze Drop doesn't emphasise my dry patches, it feels comfortable and lightweight on the skin, and lasts well throughout the day, so for me, it ticks all of the boxes, and I would 100% repurchase, and you can find it right here.
BUY HERE: Fenty Beauty / Sephora / Harvey Nichols
All images belong to me.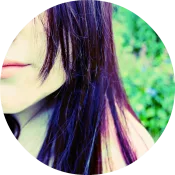 Hi, my name is Gemma, and I'm the owner of MakeupMuddle.com. I'm a true beauty obsessive, and love writing about anything to do with beauty – I have been a beauty writer since 2012.
As well as owning Makeup Muddle, I also own GemmaEtc.com, and love sharing my thoughts and feelings about the greatest (and not so great) beauty products!