As part of the Essence spring 2020 update, the Essence New Nail Care Collection has launched featuring fourteen different products for the nails and cuticles. Essence are known for their budget friendly beauty products, but their nail range has always been a favourite of mine, so I'm always excited whenever they launch new nail products. They never do things by halves either, most brands would launch one or two products but the Essence New Nail Care Collection has 14.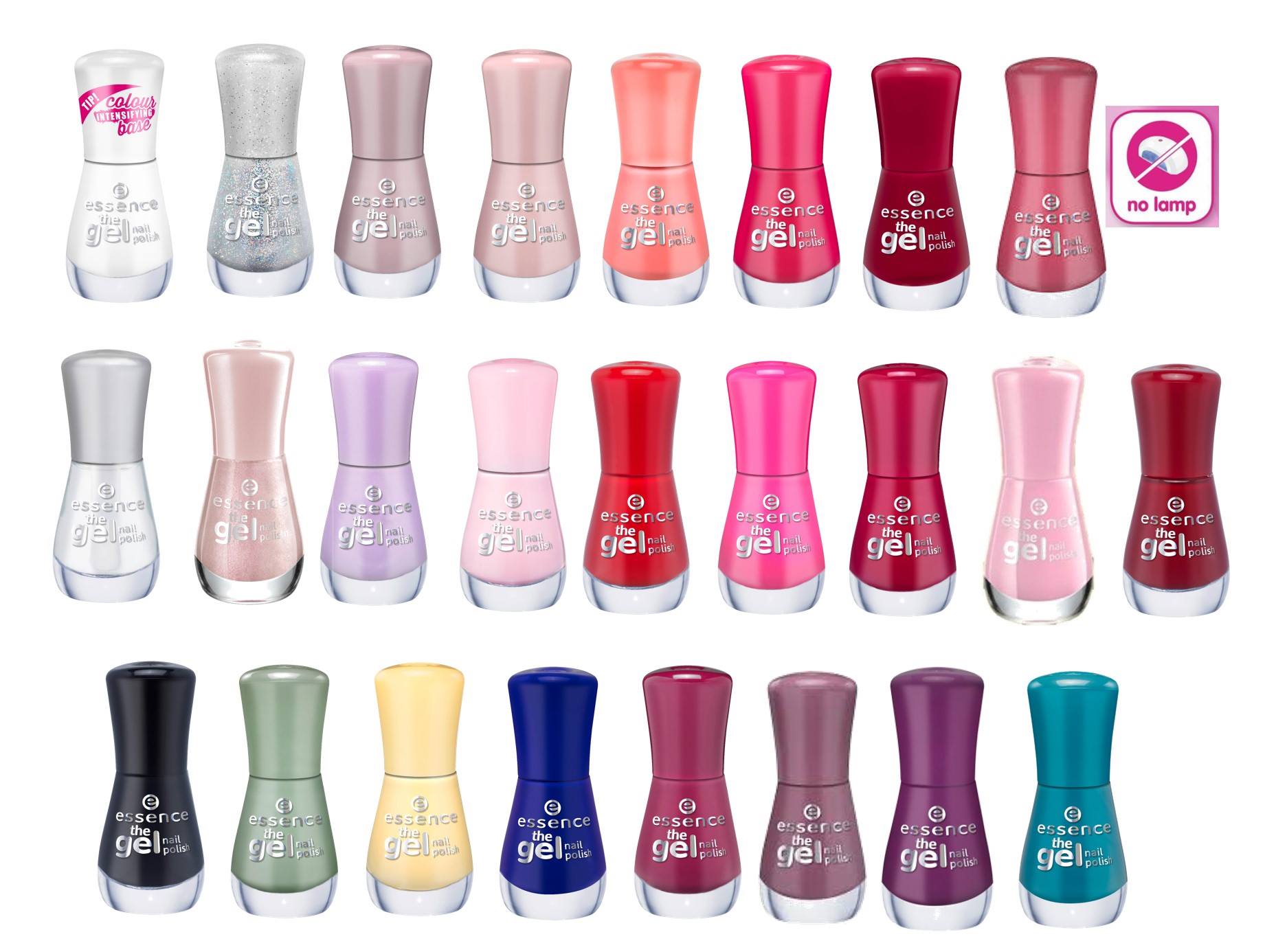 I'm a big fan of their Gel Nail Polish collection which are just £1.60 each, and there are some really great looking products within the Essence New Nail Care Collection. In addition to all the nail care, and nail prep products they've also introduced some new shades to their Gel Nail Polish collection, and some new finishes too. If you'd like to see which treatments and products are included within the Essence New Nail Care Collection, keep on reading..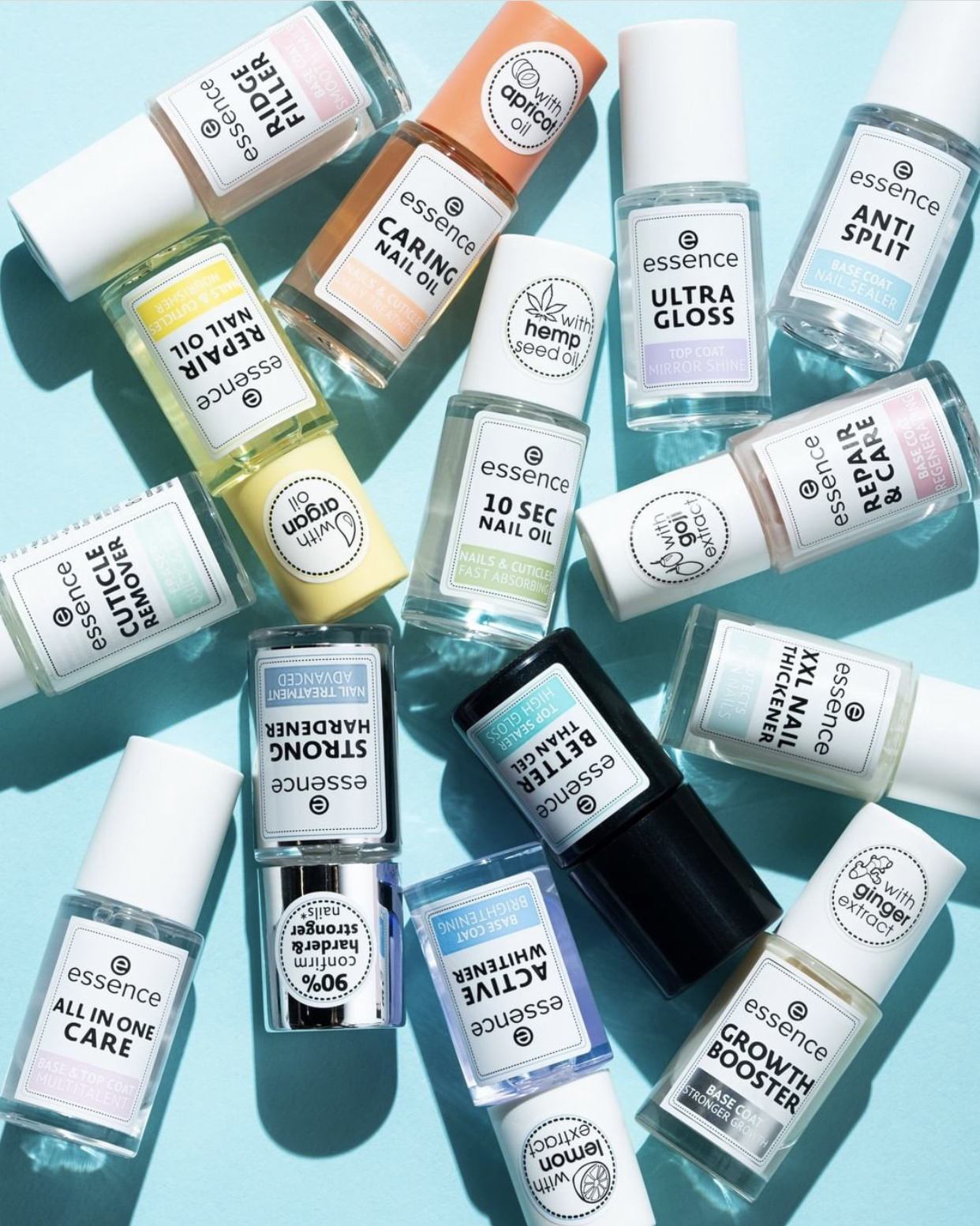 Essence New Nail Care Collection
Essence Ridge Filler Smooth Nails Base Coat – Thanks to the ridge filler base coat, a flawless manicure is now guaranteed. The vegan polish conjures-up a smooth and even nail surface and makes it easier to apply your favourite colour nail polish.
Essence Caring Nail Oil Nails & Cuticle Daily Treatment – Preparation is everything. The caring nail oil helps prevent nails from becoming cracked and brittle. It provides the nails and cuticles with optimal care and protection so that the nails look flawless even without a colour nail polish manicure.
Essence Ultra Gloss Mirror Shine Top Coat – Glitter, shine and gloss are your thing? Then the ultra gloss coat is perfect for you. This top coat is simply applied on top of the finished manicure to give the look an extra portion of shine and instantly protects the colour nail polish underneath. For a long lasting wow effect.
Essence Anti Split Nail Sealer Base Coat – With this base, your nail polish is sure to remain beautiful on your nails for a long time. The effective anti split base coat gives your manicure the perfect base for your favourite nail polish. It prevents unattractive chipping of the nail polish so that you can enjoy your nails for a long time.
Essence Repair Nail Oil Nails & Cuticles Nourisher – Good, well-kept, repair nail oil! With this oil, brittle nails are a thing of the past. The rich oil nourishes and protects the nails and cuticles intensively and makes them look healthy again in no time at all.
Essence 10 Sec Nail Oil Fast Absorbing Nails & Cuticles – Pampering care is a must for beautiful and healthy nails. With the vegan 10 sec nail oil, you can nourish the nails and cuticles in no time at all. The valuable almond oil only needs 10 seconds to provide your fingertips with intensive care without leaving behind an unpleasant oily film.
Essence Repair & Care Regenerating Base Coat – This will not only please you, but your nails, too! The repair & care base coat does what its name promises. It protects and cares for stressed nails instantly. The stressed nails are given a long-lasting care treatment. Once the nail polish has dried, you can apply your favourite colour nail polish as usual. Protection, care and fun in one.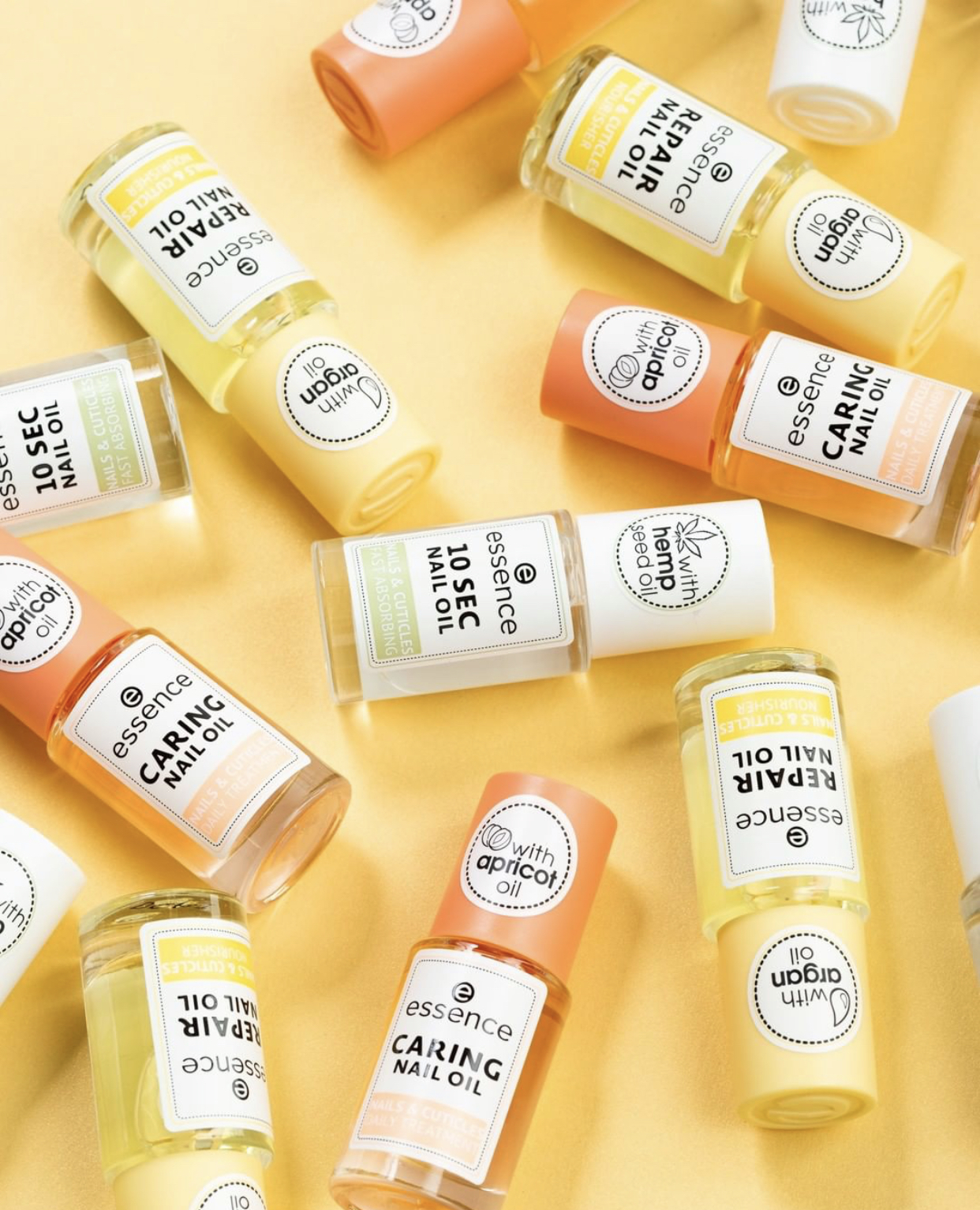 Essence Cuticle Remover Quick & Easy Remover – Every good manicure also includes caring for your cuticles. The cuticle remover eraser does this in seconds! After a short application time, the cuticle is softened and the integrated cuticle pusher simply removes excess skin. It could hardly be any quicker or easier.
Essence All In One Care Multi-Talent Base & Top Coat – A real all-rounder and a true life saver! The nail polish is a base and top coat at the same time. First, it prepares the nail as a basis for the colour manicure and seals it after drying as a top coat. The special formula ensures an intensive shine and long-lasting satisfaction.
Essence Strong Hardener Advanced Nail Treatment – The vegan strong hardener nail treatment strengthens brittle and soft nails. Apply twice a week and the treatment transforms broken nails into noticeably ultra-strong nails with a high-gloss finish.
Essence Active Whitener Brightening Base Coat – Nail polish lovers take note! The active whitener base coat is the ideal basis for a manicure, protecting the nails from discoloration due to colour nail polish. It also visibly brightens the nails and protects them from discoloration, especially from colour or dark shades.
Essence Better Than Gel High Gloss Top Sealer – Painted nails without any cracks? Sounds like a dream. The better than gel top sealer makes dreams like this come true. Thanks to its gel-like formula, it seals the nail polish so it' s absolutely unbreakable.
Essence Growth Booster Stronger Growth Base Coat – Say goodbye to brittle and short nails! The stimulating essence growth booster base coat with Asian ginger activates the power of your own nails, strengthens them, promotes the healthy natural nail growth – and it's completely vegan.
Essence XXL Nail Thickener Thin Nails Protector – a gel finish without visiting a nail salon – the XXL thickener makes it possible. the fast-drying base coat hardens your nails with its special acrylic formula. the results: instantly and visibly stronger nails with a great finish. it also optimizes the durability and shine of colour nail polish.
The Essence New Nail Care Collection includes everything you could possibly need to prep your nails for nail polish, condition your nails during the day or treat the nails if you have peeling or thin nails. Essence really have thought of everything for the Essence New Nail Care Collection and they'll be launching in Wilko very soon.
All images belong to Essence.
*This post contains affiliate links
Hi, my name is Gemma, and I'm the owner of MakeupMuddle.com. I'm a true beauty obsessive, and love writing about anything to do with beauty. In addition to Makeup Muddle, I also own GemmaEtc.com, and love sharing my thoughts and feelings about the greatest (and not so great) beauty products!