Essence has launched their beauty advent calendars, and the Essence Happy Holidays Advent Calendar 2022 is just one of their advent calendars available this year.
As well as this calendar, featuring special advent calendar exclusive products, Essence also has a range of DIY beauty advent calendars, just like last year.
I have a full, exclusive unboxing for you, sharing every single product inside the Essence Happy Holidays Advent Calendar 2022, with swatches – keep on reading to find out more…
BUY HERE: ULTA / Essence / Douglas
Essence Happy Holidays Advent Calendar 2022
"With the advent calendar from essence, the time until the party flies by: with 24 beauty surprises behind 24 little doors, it contains everything you need for your festive Xmas look.

Sweeten the countdown to Christmas Eve for yourself or give your loved one a very special make-up treat!"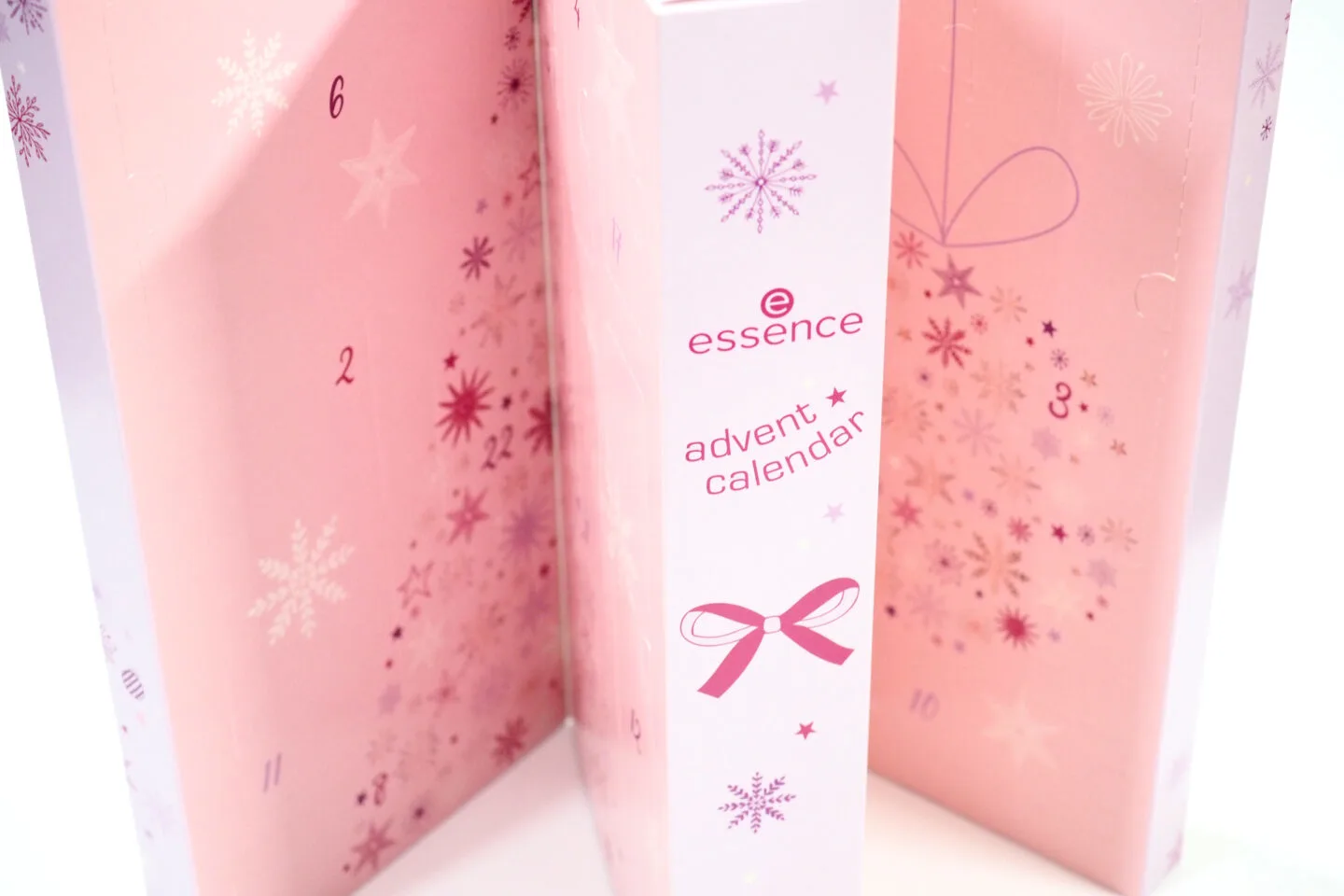 The Essence Happy Holidays Advent Calendar 2022 is €25.99, and is a pretty pink and lilac cardboard advent calendar, with twenty-four perforated doors.
The calendar is decorated with purple baubles, purple snowflakes and rose gold foil snowflakes. The design is much better than last year's calendar.
Essence are wanting to get us in the Christmas spirit with this advent calendar, and this year, the calendar features 21 full sized products, and 3 miniature nail polishes.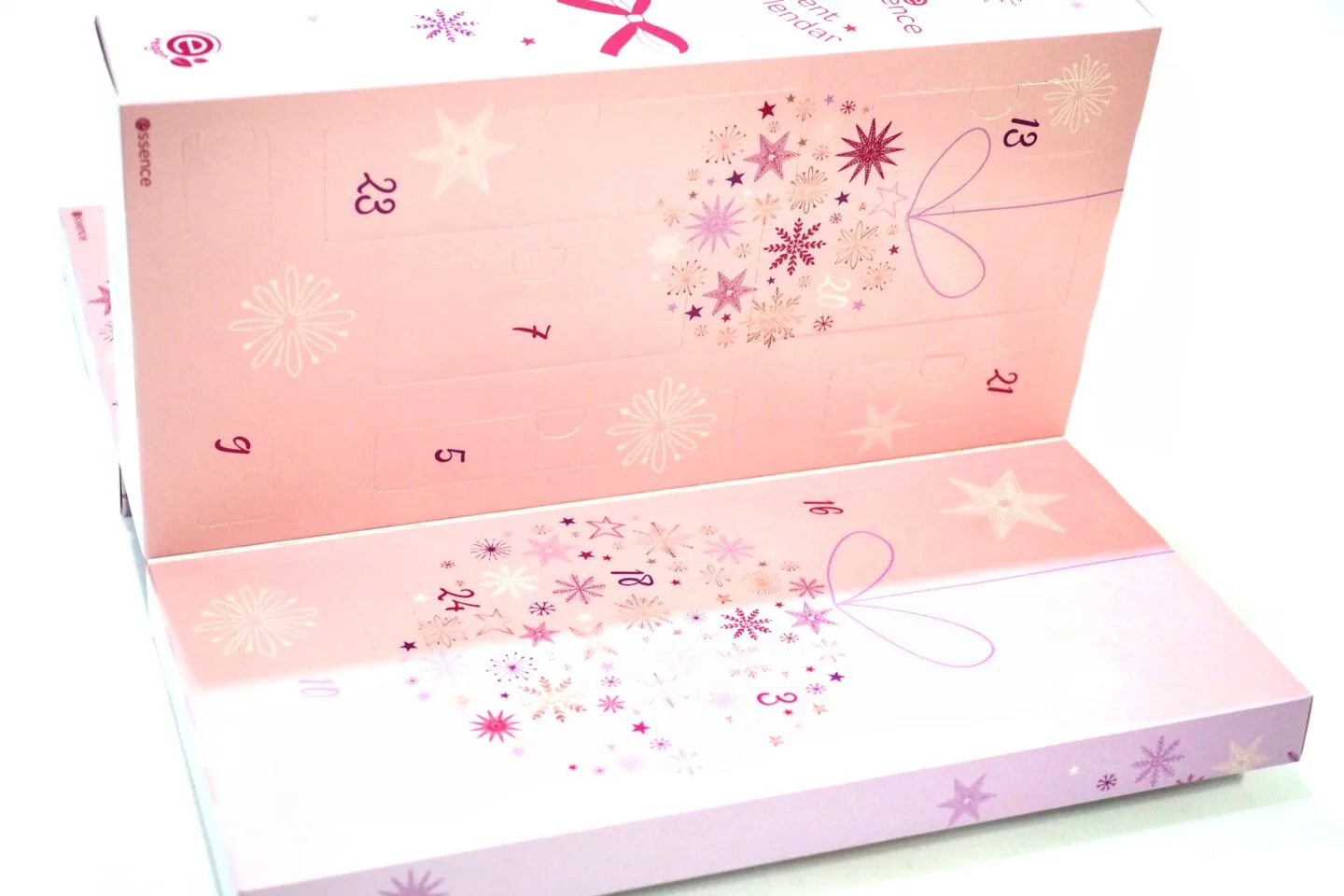 Last year's Essence Beauty Advent Calendar 2021 featured a drawer design, but Essence has changed things up a little this year, and I personally much prefer this year's design.
It's a lot more feminine, and it looks a little more luxurious compared to their 2021 advent calendar. It's definitely more well made, and it's much easier to open all of the doors.
Last year's calendar was quite difficult to open, with the drawers getting jammed, but this calendar has a more sturdy design, and it's easy to find each of the day's products.
Do you want to know what's inside the Essence Beauty Advent Calendar 2022 this year, and see swatches of the makeup products?
Keep on reading for a full exclusive unboxing on this year's calendar…
For day one of the Essence Happy Holidays Advent Calendar 2022 it's the Essence Moisturizing Sheer Lipstick 3g.
It's a beautiful sheer brown toned nude, which features a festive design on the tube.
The lipstick has a clear lid, and the lipstick has a heart shaped core, and the core of the lipstick features a blend of shea butter and sweet almond oil to nourish and soften the lips.
It's very sheer, and very glossy, making it the perfect lip product for when you want hydration and a tiny bit of colour. It also has a nice sweet scent.
Day two of the Essence Happy Holidays Advent Calendar 2022 is the Essence Colour Correcting Mattifying Powder 4.5g.
This is a pressed powder, with a marbled design, featuring white, tan and mint green marbling.
The compact features a rose gold foil star and snowflake design, and looks really cute.
I was worried what colour the powder would be, when all three shades are blended together.
But, as you can see from the swatch photo, it's a cream colour. I'm not sure if it would work for deep skintones, as it's a little ashy, but it's a silky soft powder. If you have a deeper skintone, you could always use the powder to help set your eyeshadow primer, before applying powder eyeshadows.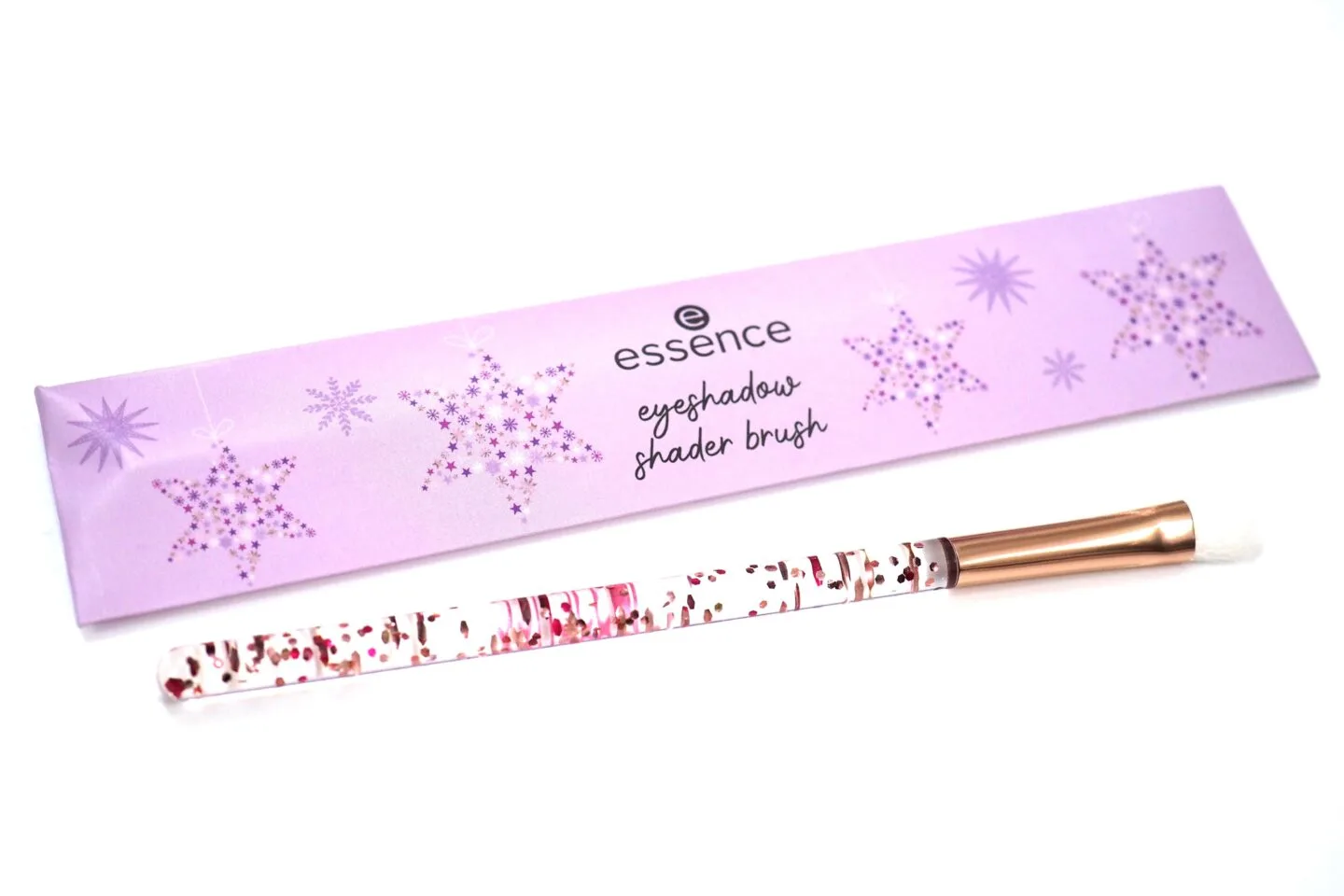 For day three, the calendar contains the Essence Eyeshadow Shader Brush.
The brush has a clear acrylic handle, with pink glitter suspended within it. With a rose gold ferrule, and white synthetic bristles. The glitter makes it so sparkly, and the bristles are nice and soft.
Next we have the Essence Pocket Glitter Nail Top Coat 5ml. There are three nail polishes within the calendar, and they're all 5ml mini sized bottles.
This is a shimmery gold topcoat, with larger golden glitter particles, and there's a bauble design on the glass bottle. You can apply it to your bare nails, for a sheer veil of gold shimmer, but it looks prettiest when layered over the top of other colours.
Day five of the Essence Happy Holidays Advent Calendar 2022 is the Essence Brow Wax Pen 1.2g.
Which is a chunky clear brow wax in a pencil format, for helping you to set your brows in place. It's also formulated with shea butter.
You can use it before applying your brow pencil, brow powder or brow pen, and it'll help to keep your brow hairs set all day. As it's clear, it'll work for every brow colour.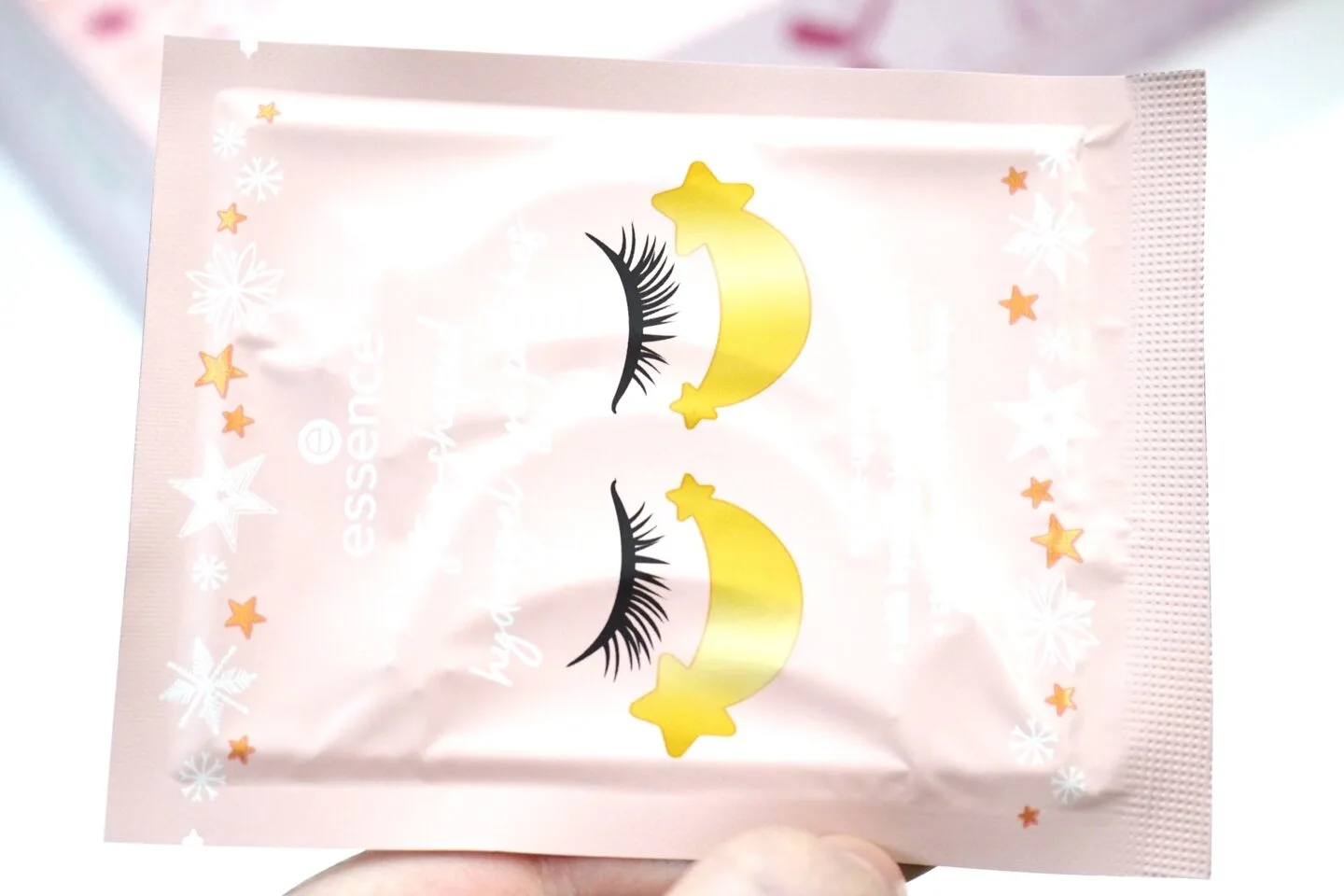 Day six of the Essence Advent Calendar 2022 is the Essence Star Shaped Hydrogel Eye Patches, which are a pair of hydrogel eye masks, with a gold star shape pattern.
It's nice to see something skincare themed within the Essence 2022 advent calendar. As it's usually just makeup and beauty tools within the Essence advent calendars.
These eye gel masks are really cute, and the Essence skincare products I've tried, have actually been quite good. They're nice and easy to apply, and they stick well to the skin too.
Next up is the Essence Xmas Nail Stickers, which is a sheet of 57 Christmas themed nail stickers.
They're so cute, and there's a mix of pastel stickers, and foil stickers, and they're simply adorable. I like that they're tiny, and you're getting such a decent amount of stickers for many festive manicures.
Day eight of the Essence Happy Holidays Advent Calendar 2022 is the Essence Overnight Lip Mask 4.9g, which is enriched with shea oil and vitamin E.
It's a lip balm type stick, and it smells like sweet sugary sweets / candy, and feels like a lip balm on the lips. As it's clear on the lips, you don't need a mirror to apply it, and it's so quick and easy to apply.
Day nine in the Essence Advent Calendar 2022 UK is the Essence I Love Extreme Crazy Volume Mascara 12ml.
Which is part of the permanent Essence range, but it's had a festive makeover for the calendar.
If you've never tried this mascara before, it's a synthetic bristle mascara, and it does an amazing job at adding both volume and length.
It's one of three mascaras within the Essence I Love Extreme Mascara collection, and this brush is the smallest of the three mascara, which is ideal if you don't like big chunky natural bristle brushes.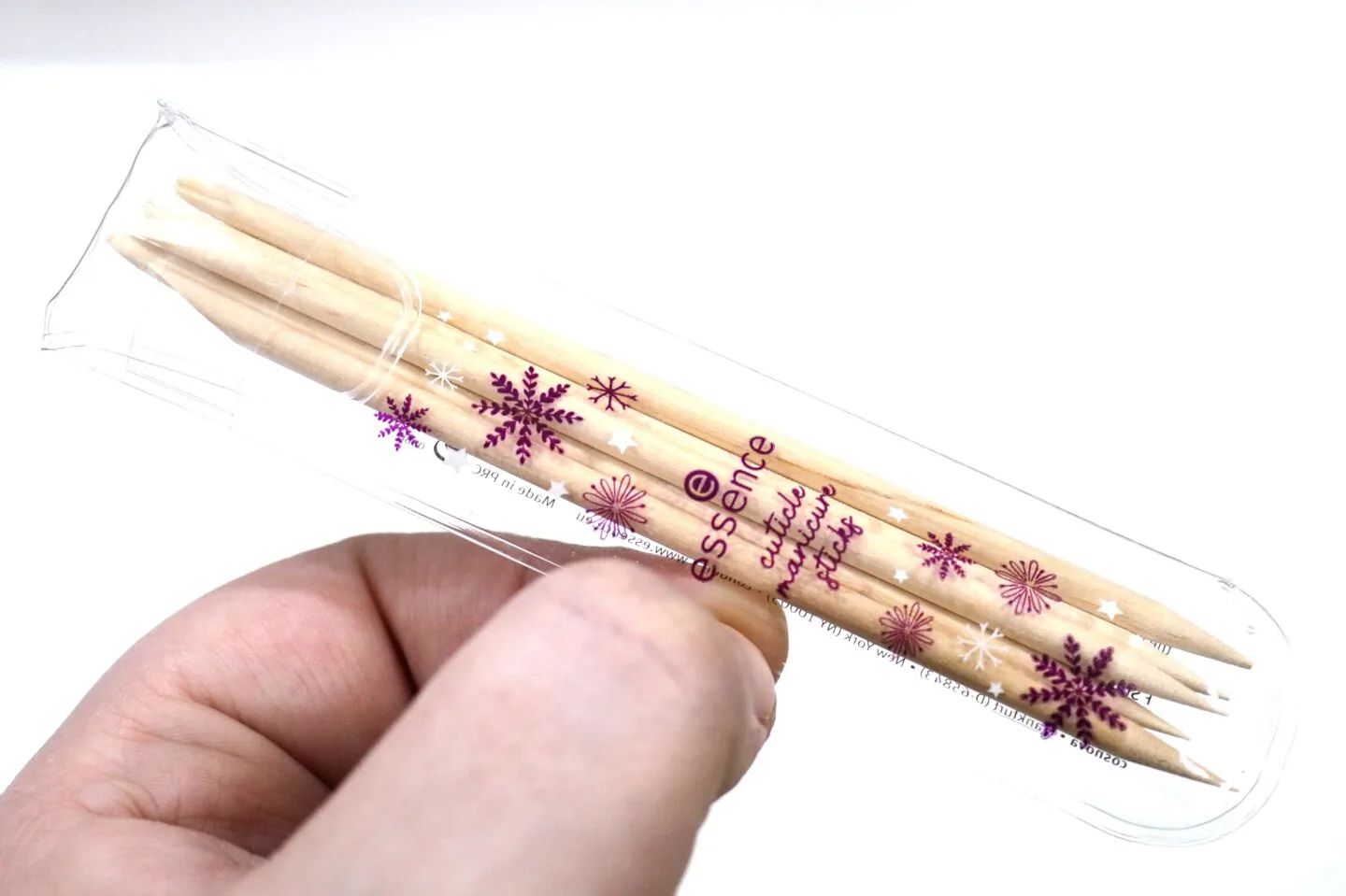 Day ten is the Essence Cuticle Manicure Sticks, and it's a pack of five orange sticks for helping you to push back your cuticles, or for cleaning under your nails.
They're always handy to have within your manicure kit. I use orange sticks whenever I do my nails, so I'm happy to have a pack inside this calendar.
I know they're not very festive, but they make sense as the calendar contains other manicure essentials.
Day eleven of the Essence Happy Holidays Advent Calendar 2022 is the Essence Blushlighter 4.5g, and it's a beautiful shimmery rose gold.
The pan of the blusher/highlighter also features a star and snowflake pattern. It's such a stunning shade, and it's not at all glittery or chunky. This shade reminds me of Benefit Rockateur Blusher, and it's just so pretty on the skin.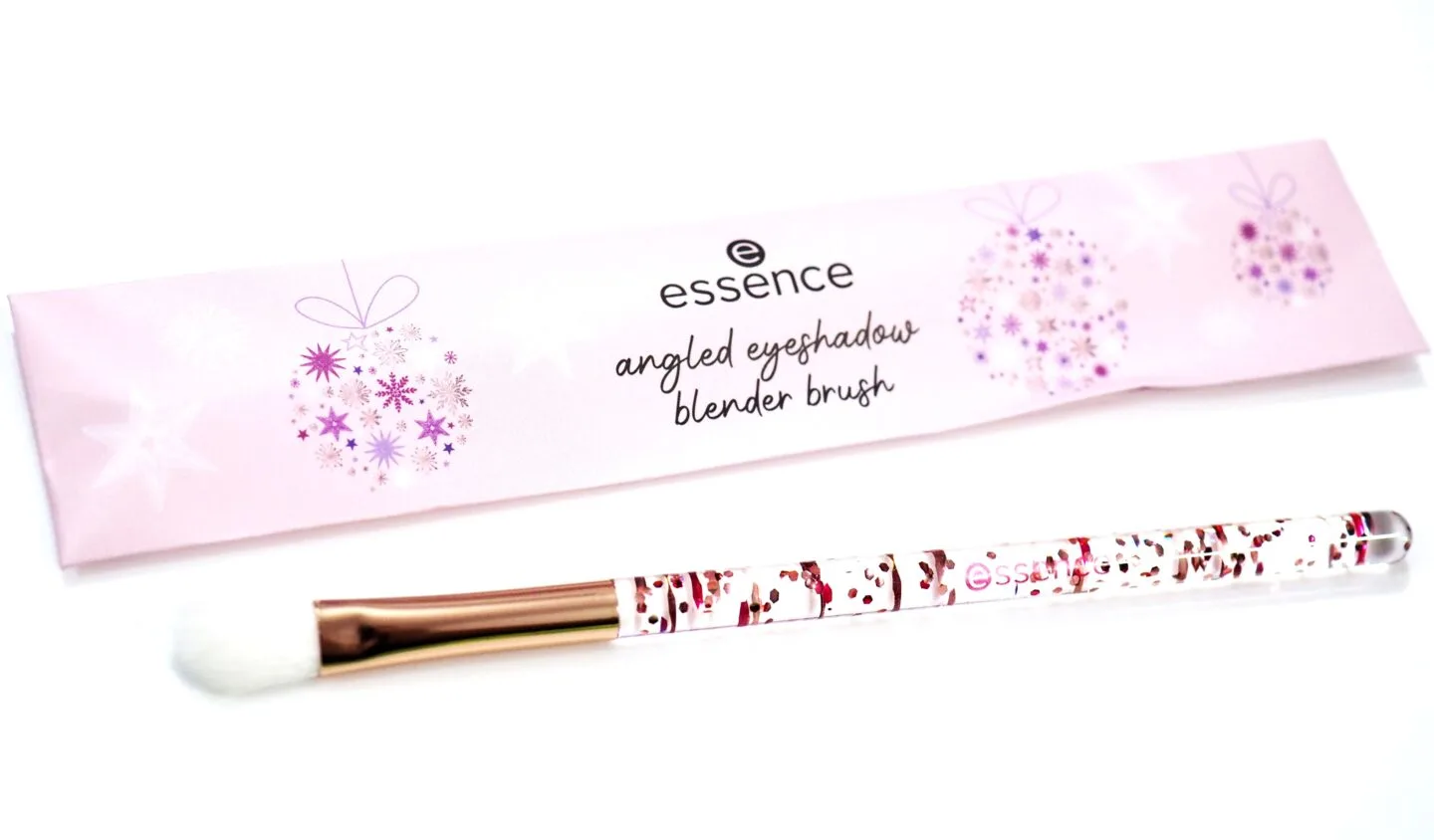 Day twelve is the Essence Angled Eyeshadow Blender Brush, which like the other brushes in the calendar, have clear acrylic handles with glitter, and rose gold metal ferrules.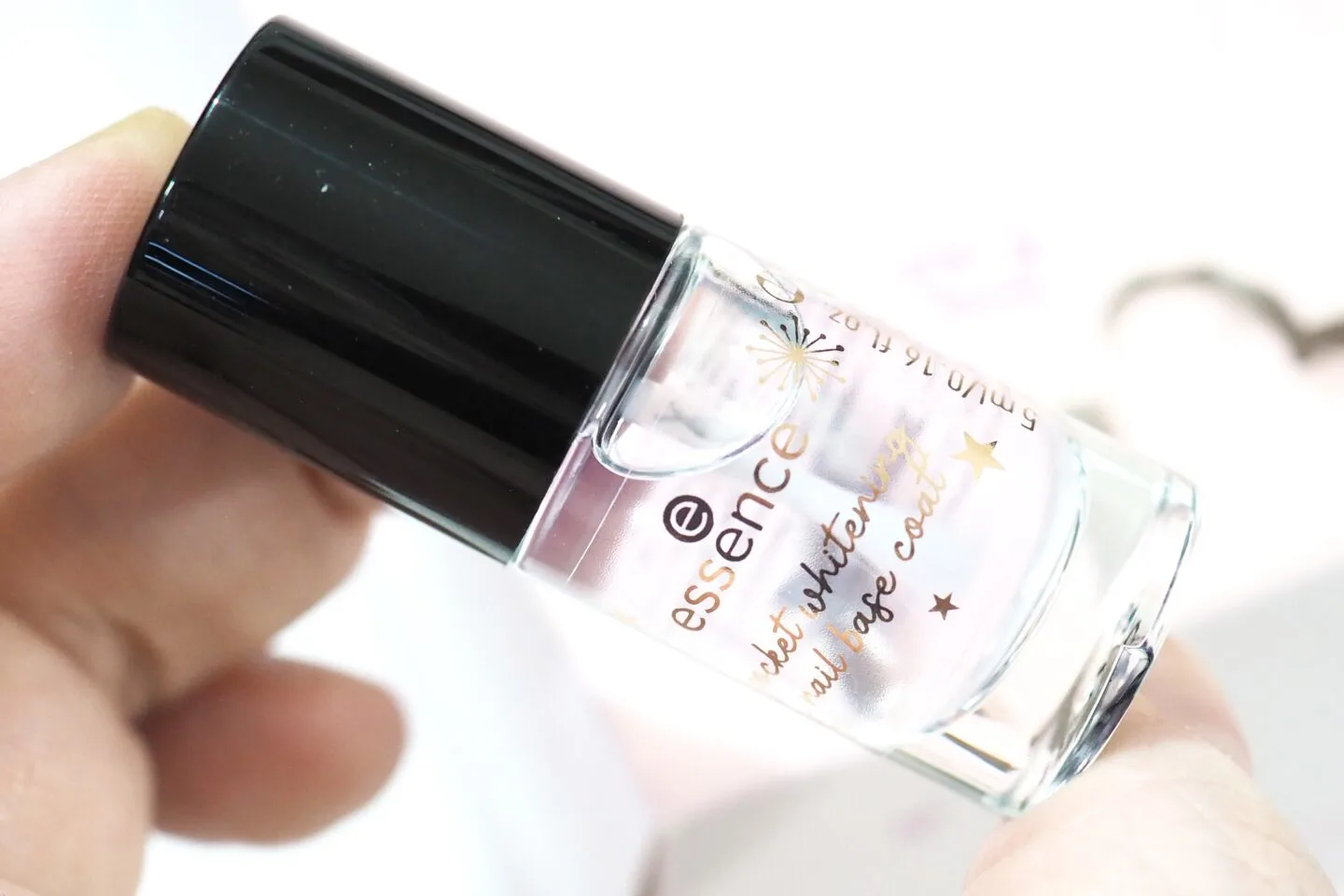 There's another nail product for day thirteen of the Essence Advent Calendar 2022, and it's the Essence Pocket Whitening Nail Base Coat 5ml.
This base coat is designed to help with brightening the nails, especially if you have staining of the nails, and will help prevent future staining of the nails.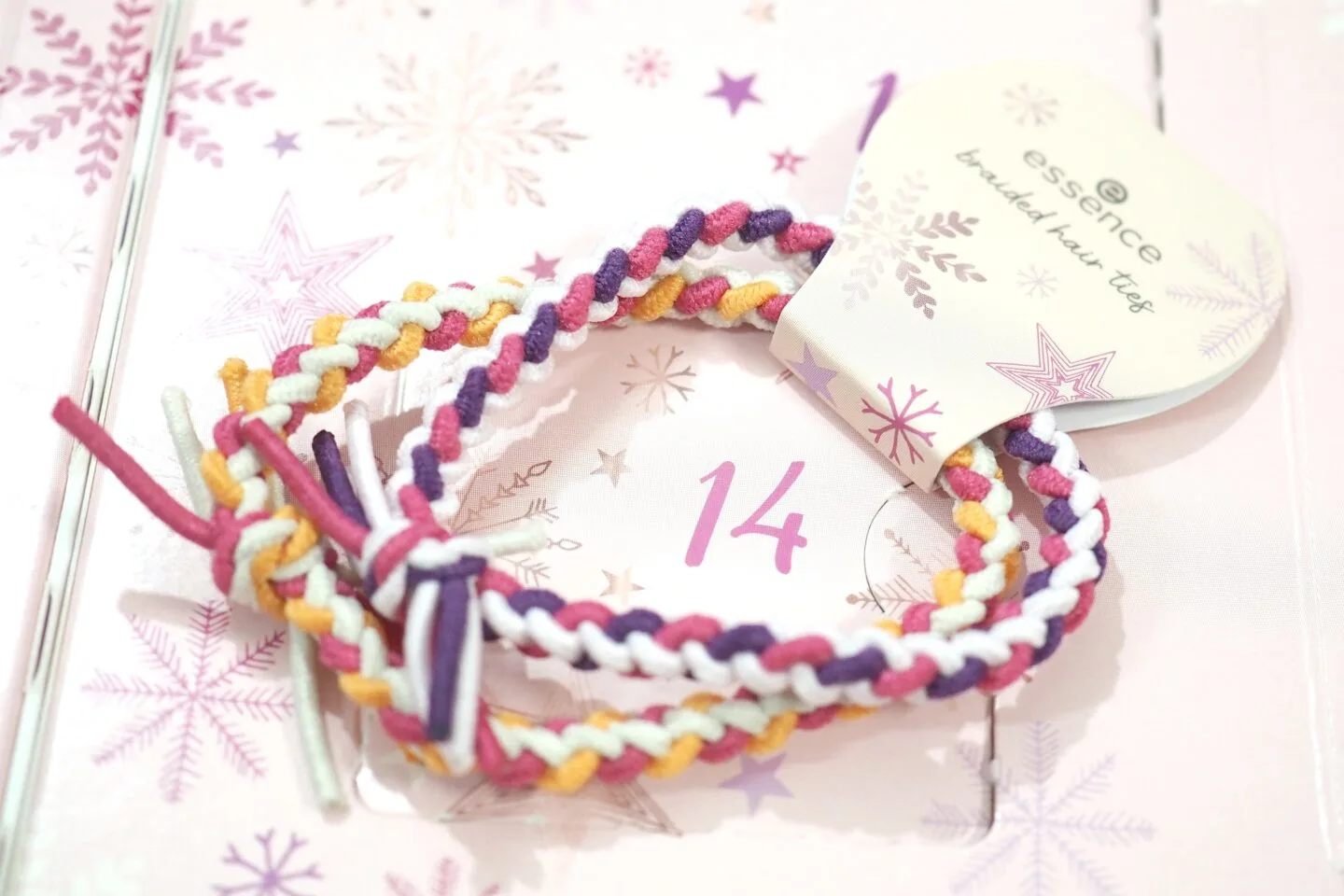 Day fourteen of the Essence Advent Calendar 2022 is a hair accessory, and it's the Essence Braided Hair Ties, which is a set of two plaited elastic hair bobbles.
I know these two hair ties are not at all festive, but the colours match the colours of the advent calendar. They're nice and stretchy, so if you have a lot of hair (like me) these stretch enough to hold all of your hair.
Hidden behind day fifteen is the Essence Juicy Bomb Shiny Lip Gloss in shade 04 Crazy Cherry.
It's a squeezy tube lip gloss, in a bright red colour, with red glitter particles. it's the most perfect gloss for the Christmas period.
This juicy lip gloss tube even smells like cherry too. It smells incredible!! If you've ever tried Cherry Drops sweets / candy, it smells identical to those. I don't think you could find a more perfect lip gloss for Christmas.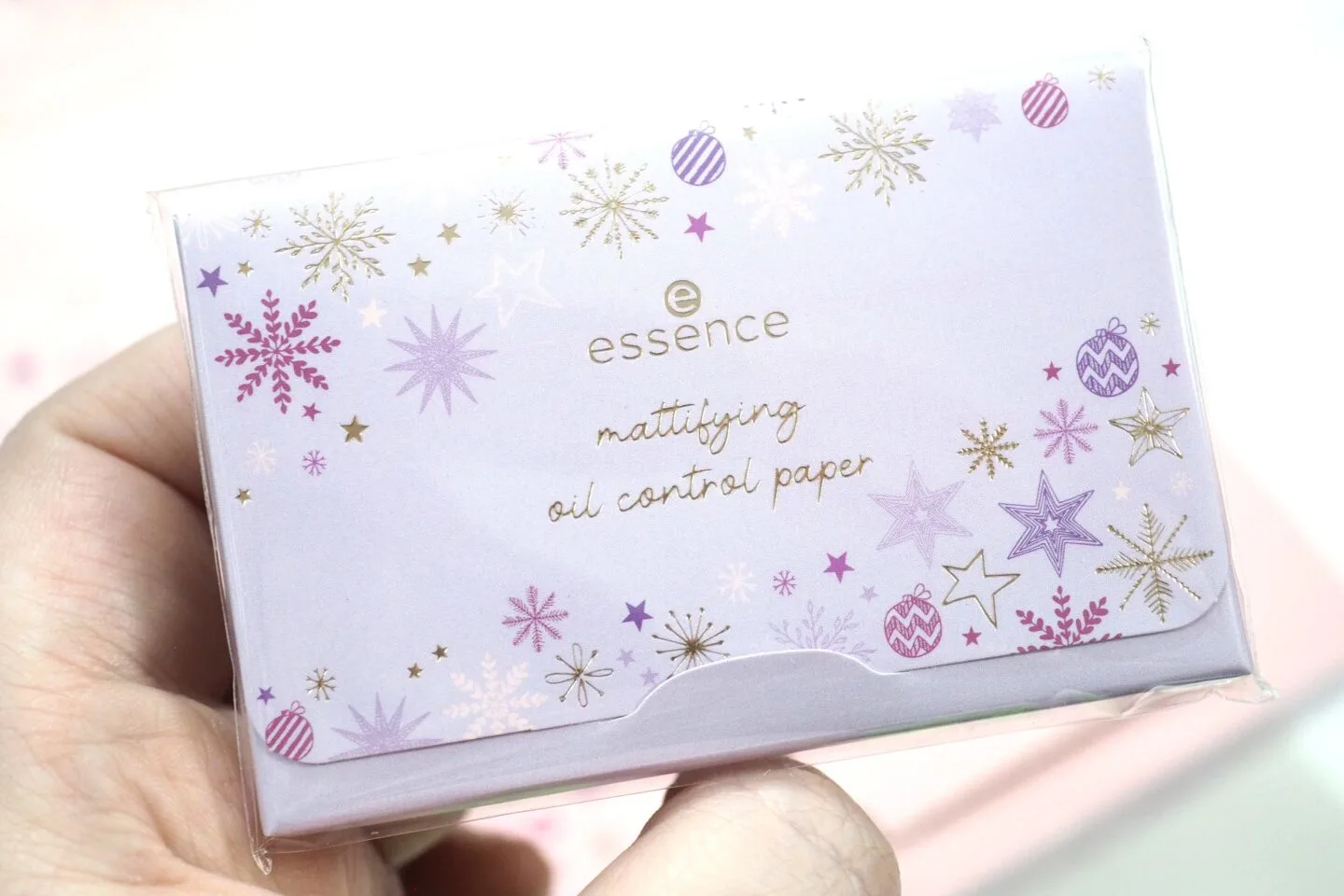 Day sixteen of the Essence Happy Holidays Advent Calendar 2022 is the Essence Mattifying Oil Control Papers (aka blotting papers).
It's a cardboard packet containing 30 lilac blotting sheets, to help absorb excess oil and shine from the skin. You just take one of the super thin, silky papers and press the paper onto the skin, and the oil/shine is instantly mattified without disturbing or smudging your makeup.
Day seventeen of the beauty advent calendar is an Essence Dual Sharpener, to keep your eyeliners and lip liners sharp and precise. One side of the sharpener is a conventional size.
Then the other is a chunky pencil size, so you can sharpen the eyeliner within the calendar, and also the wax brow pencil too.
Day eighteen is the Essence X-Mas Highlighter 4.5g, which, like the Blushlighter within the calendar, has a pattern design on the pan of the powder.
It's a pretty, champagne shade with a gold undertone, and it's very smooth and silky on the skin. It'll also double up as an eyeshadow, alongside the blusher too.
Day nineteen is for the eyes, and it's the Essence Kajal Pencil Eyeliner in Black 1g. It's a nice and soft black eyeliner pencil, and it's a wooden eyeliner pencil.
Some wooden eyeliners can be very scratchy and hard, but this is a lovely soft liner, and it's effortless to blend and smudge. Essence pencil eyeliners are always really great quality, and this calendar liner is no different.
Day twenty of the Essence Happy Holidays Advent Calendar 2022 is one of my personal favourites in the calendar.
It's the Essence Moisturizing Hand Cream 25ml, and it's a vanilla scented hand cream.
I can't believe how quickly this hand cream absorbs into the skin. It smells divine, and leaves the hands feeling like silky, with no greasiness or residue either. I so wish I could repurchase this, once I've finished, as I really love this hand cream formula!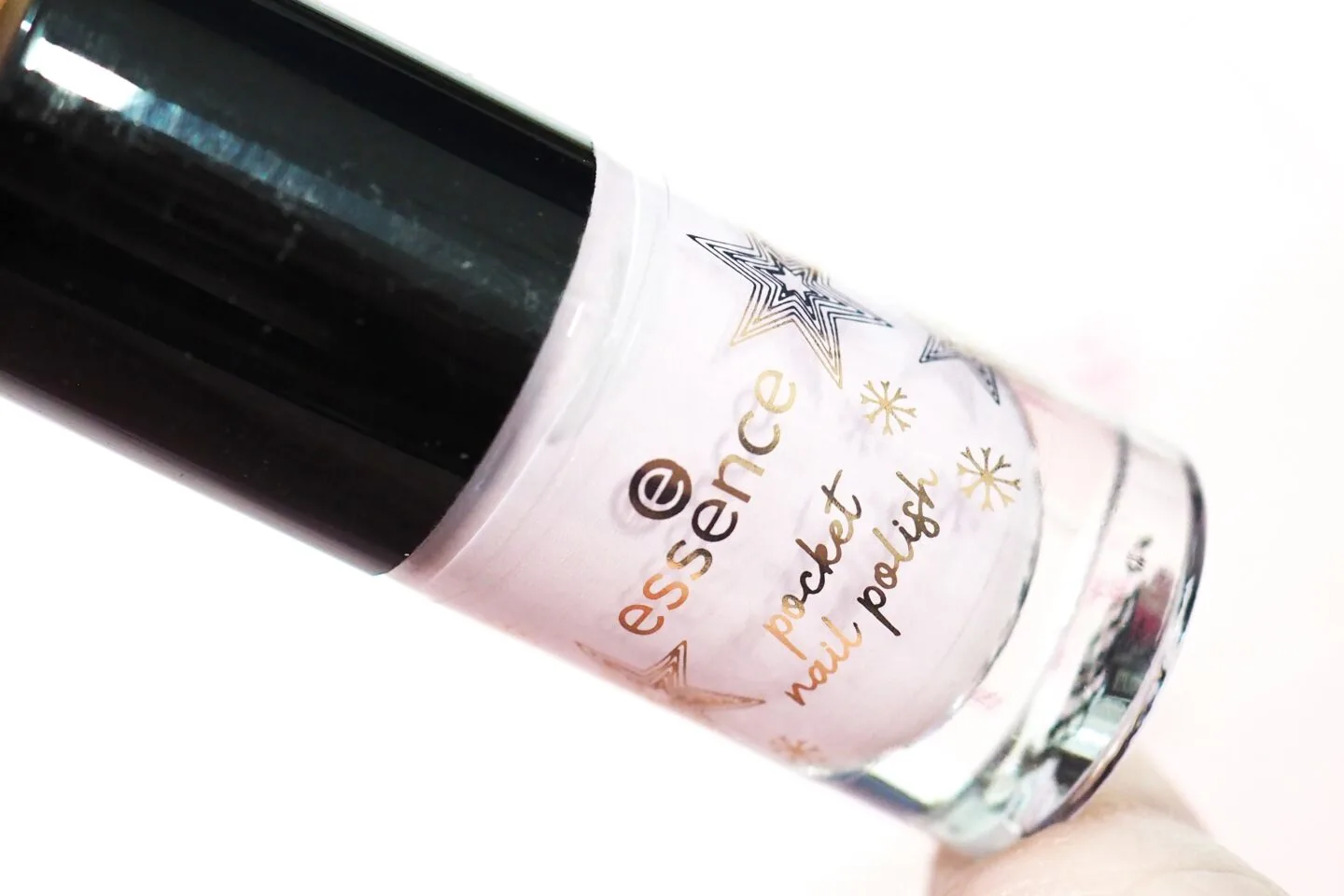 There's another nail product for day twenty-one, and it's the Essence Pocket Nail Polish 5ml.
It's a pale baby pink colour, and it's a mini size, like the other nail polishes in the calendar. It's very sheer, but can be built up to be fully opaque with three thin coats. The gold shimmer top coat looks super pretty layered over this pale pink shade.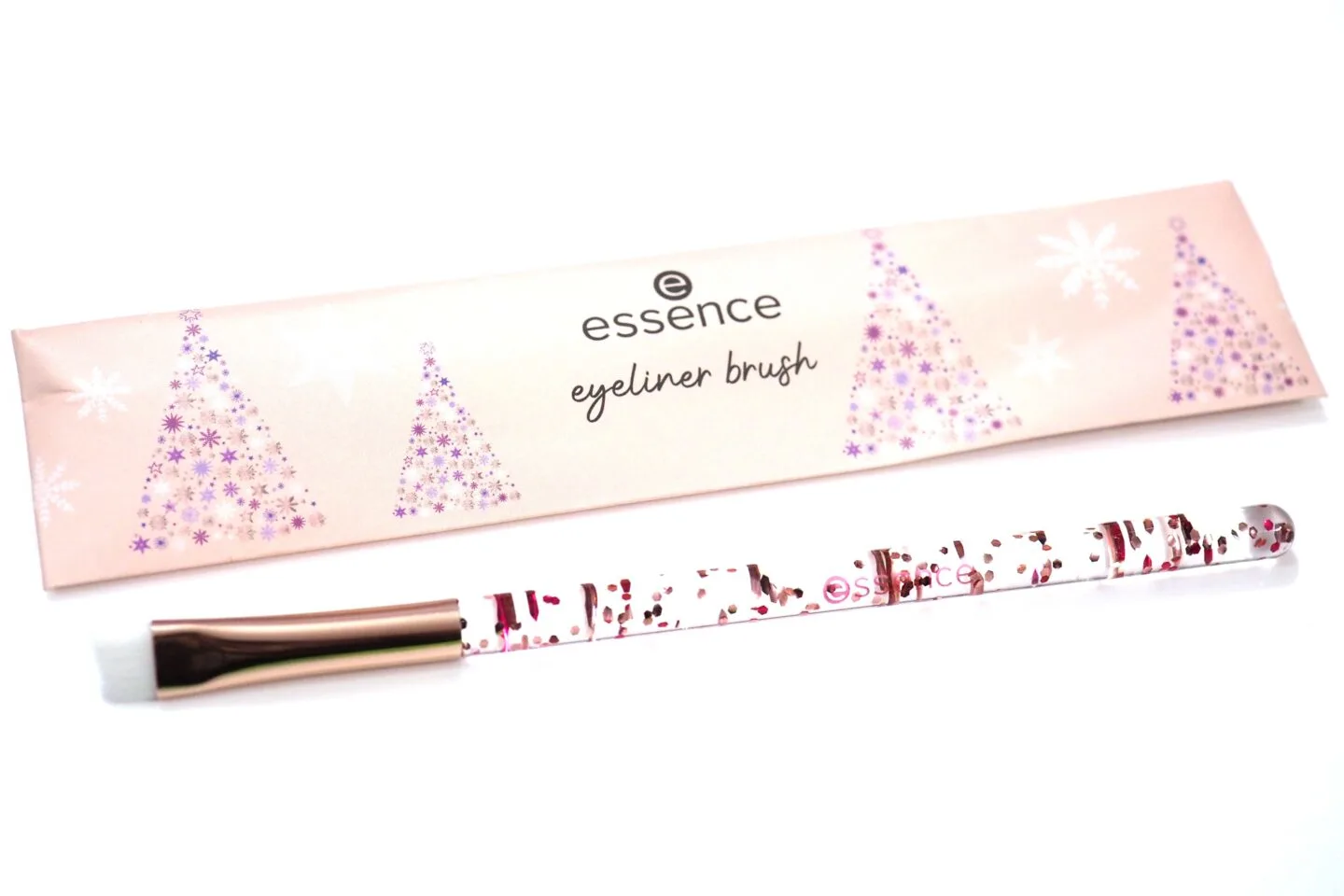 Twenty-two of the Essence Happy Holidays Advent Calendar 2022 features the Essence Eyeliner Brush, which is the last makeup brush within the Essence Advent Calender.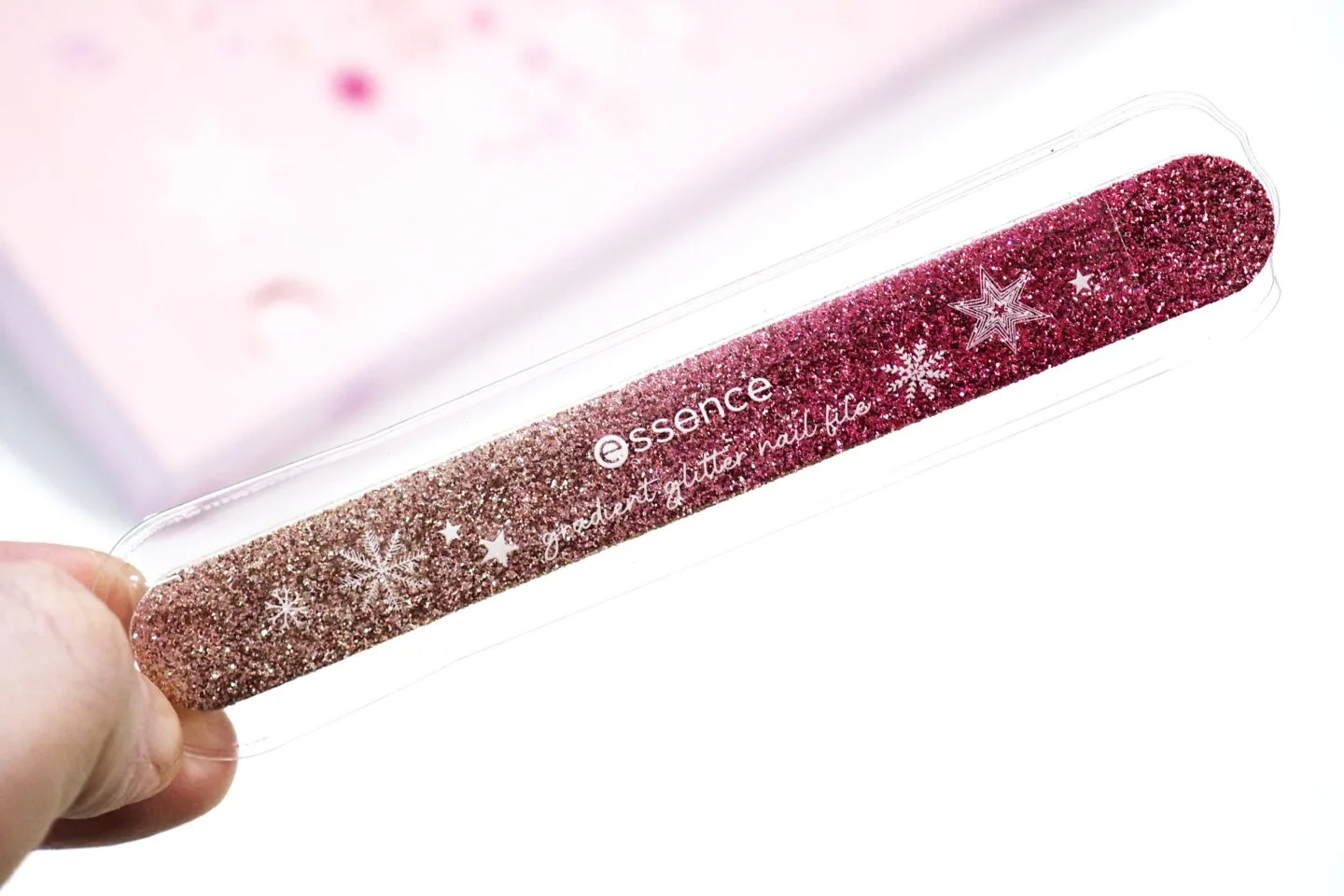 Then we have the Essence Gradient Glitter Nail File, which is a super sparkly nail file.
One side of the file is glittery, but the underside is the conventional nail file, with a good amount of grit, to help you file and shape your nails. It comes with a plastic sleeve, so you can keep it covered inside your bag.
For day twenty-four, and the very last day of the calendar, we have the Essence pH-Reacting Gliter Lip Glow 3.2g.
This is a clear balm, with pH technology, which is supposed to turn your lips a shade of pink, depending on your natural pH level.
Inside the bullet, there's lots of glitter, but none of this glitter appears to translate on to the lips. Surprisingly, this Lip Glow stains the lips for hours and hours, and it feels balmy and smooth too.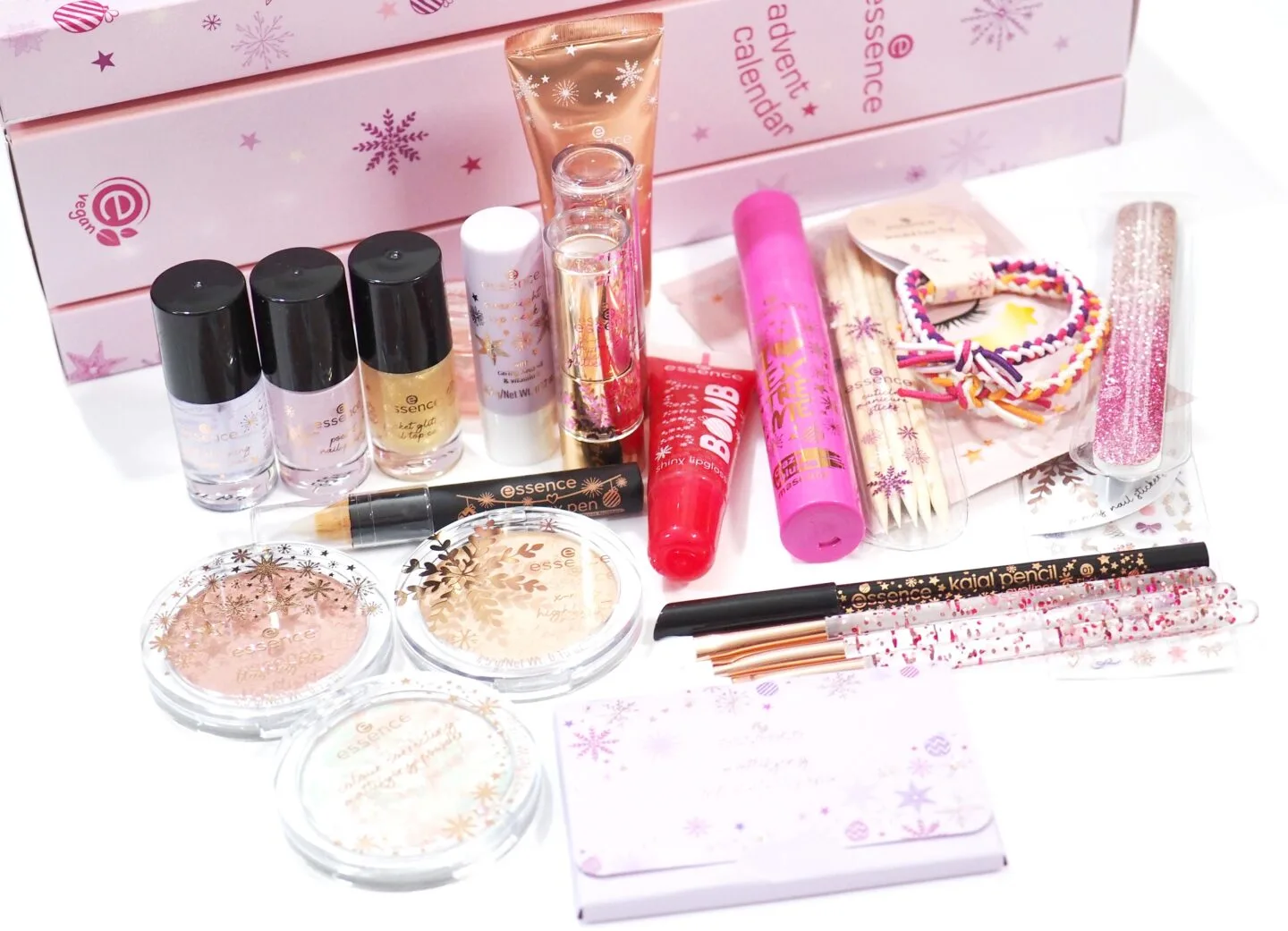 So, that's everything inside the Essence Happy Holidays Advent Calendar 2022. It's such an amazing calendar, with a mix of makeup, nail care, beauty accessories and more.
My favourite items have to be the hand cream, the blusher, and the overnight lip mask balm, but there are no disappointing items in the whole calendar.
Sure, there are items which are definitley calendar fillers (like the hair ties), but everything has adorable packaging, and for the price, it's an amazing calendar.
As you can see, the Essence Happy Holidays Advent Calendar 2022 is such a cute Christmas advent calendar.
The fact that every product within this Essence Calendar features a cute, festive design, makes the Essence Christmas Calendar 2022 a little more special.
As the Advent Calendar 2022 Essence exclusive products are unique, and you won't have received them in previous calendars.
Essence beauty advent calendars are always popular, but this Essence Advent Calendar 2022 is an amazing, affordable Advent Calendar Essence (or Essence Adventskalender 2022 if you're in Germany) with really lovely products inside, and this Essence Calendar 2022 is available right here.
BUY HERE: ULTA / Essence / Douglas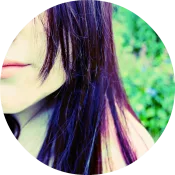 Hi, my name is Gemma, and I'm the owner of MakeupMuddle.com. I'm a true beauty obsessive, and love writing about anything to do with beauty – I have been a beauty writer since 2012.
As well as owning Makeup Muddle, I also own GemmaEtc.com, and love sharing my thoughts and feelings about the greatest (and not so great) beauty products!