Diptyque Candles are always super luxe and special, but the Diptyque Colouring Spring Candle Collection is a stunner of a collection and it's launched in time for Mother's Day. These candles are extremely limited edition, so if you do fancy picking one up, it's something you'd need to do quickly because they're going to sell out very fast, with Diptyque fans being very loyal with new launches. (available right here at Nordstrom)
Diptyque Colouring Spring Candle Collection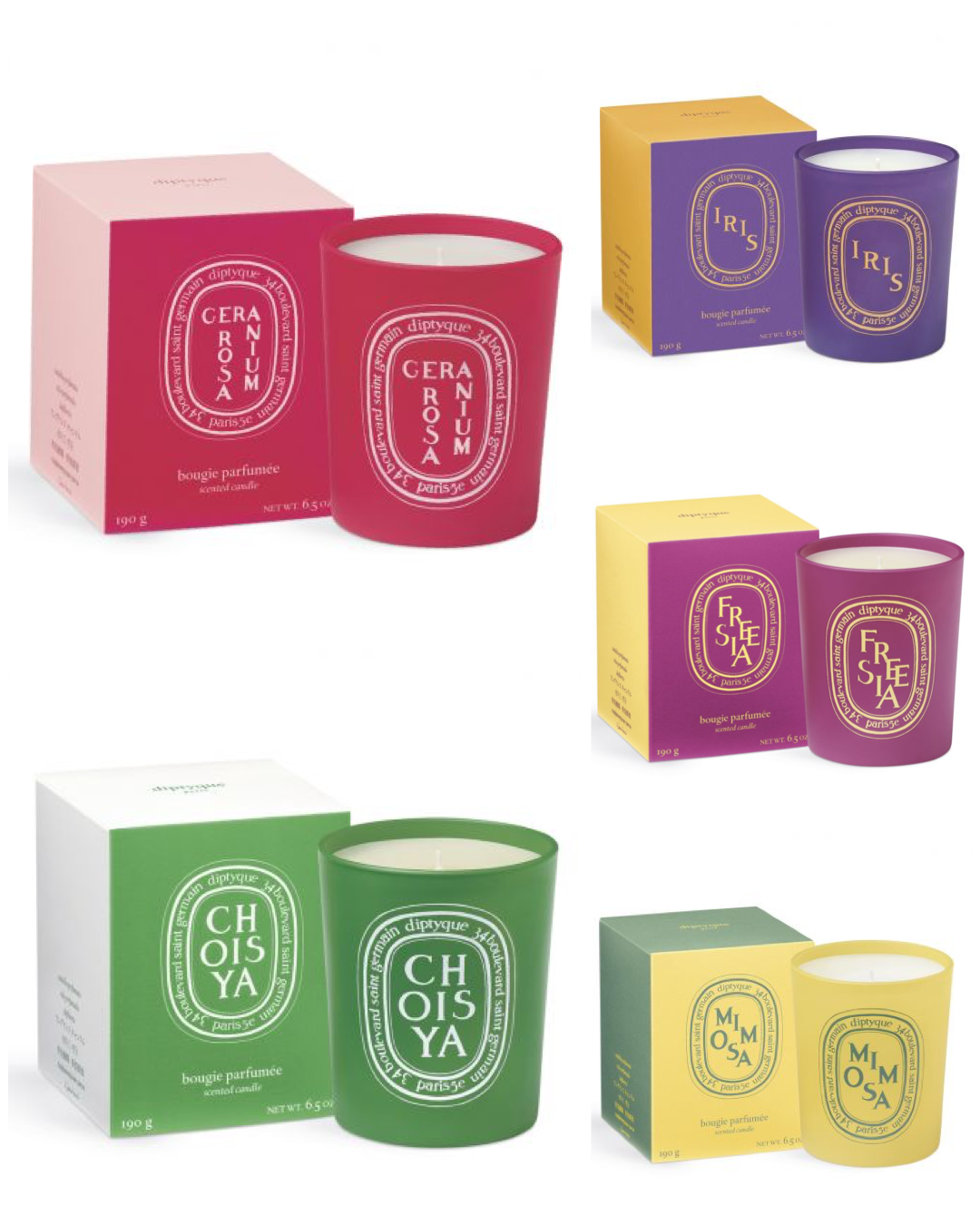 The Diptyque Colouring Spring Candle Collection includes five beautiful candles, which are £49 each.
Freesia – A large spring bouquet of freesias with their multicolored, fragrant flowers. Yellow, white, pink, violet, purple… Each one reveals its delicate, heady perfume crowned with a touch of pepper.
Mimosa – In February in the South of France, on the Tanneron hills near Grasse, the mimosas are in bloom. Their sunny golden yellow color stretches as far as the eye can see, and their small velvety blossoms scent the air with velvety, delicately honeyed notes.
Choisya – Choisya is the botanical name of the Mexican orange blossom flower. Its fragrance is greener and more lively than its Mediterranean relative. As the shrubs break into bloom the buds slowly open to release their delicate perfume.
Geranium Rosa – A geranium blooming with red flowers. A combination of the green and slightly aromatic freshness of fragrant leaves, and the flowery, spicy nuances of the rose with which it naturally shares some of its scents.
Iris – The whimsical scent of iris blossom that borrows its lightness from gossamer-thin layers of powder, and its soft elegance from fine leather gloves perfumed with its rhizomes. The plant's legendary scent is concentrated in its roots, which are traditionally used in perfumery.
Each of the five Diptyque Colouring Spring Candle scents contain 190g in a beautiful, brightly coloured glass jar. Diptyque candles are usually clear, with a white label, so I love how bold and bright this new collection are.
Usually Diptyque reserve their pretty candle glass designs for their festive collection, but these would make amazing Mother's Day gifts, or gifts for yourself as they all sound so lovely.
All images belong to Diptyque.
*This post contains affiliate links