ColourPop have just announced the most random collab of the year, and it's the ColourPop x NBA Makeup Collection. ColourPop have been doing lots of game related hints that something sport related was coming, especially when they asked for influencers from specific cities, where successful NBA teams were located.
Well, it's official. The ColourPop x NBA Makeup Collection is happening, and keep on reading to find out more…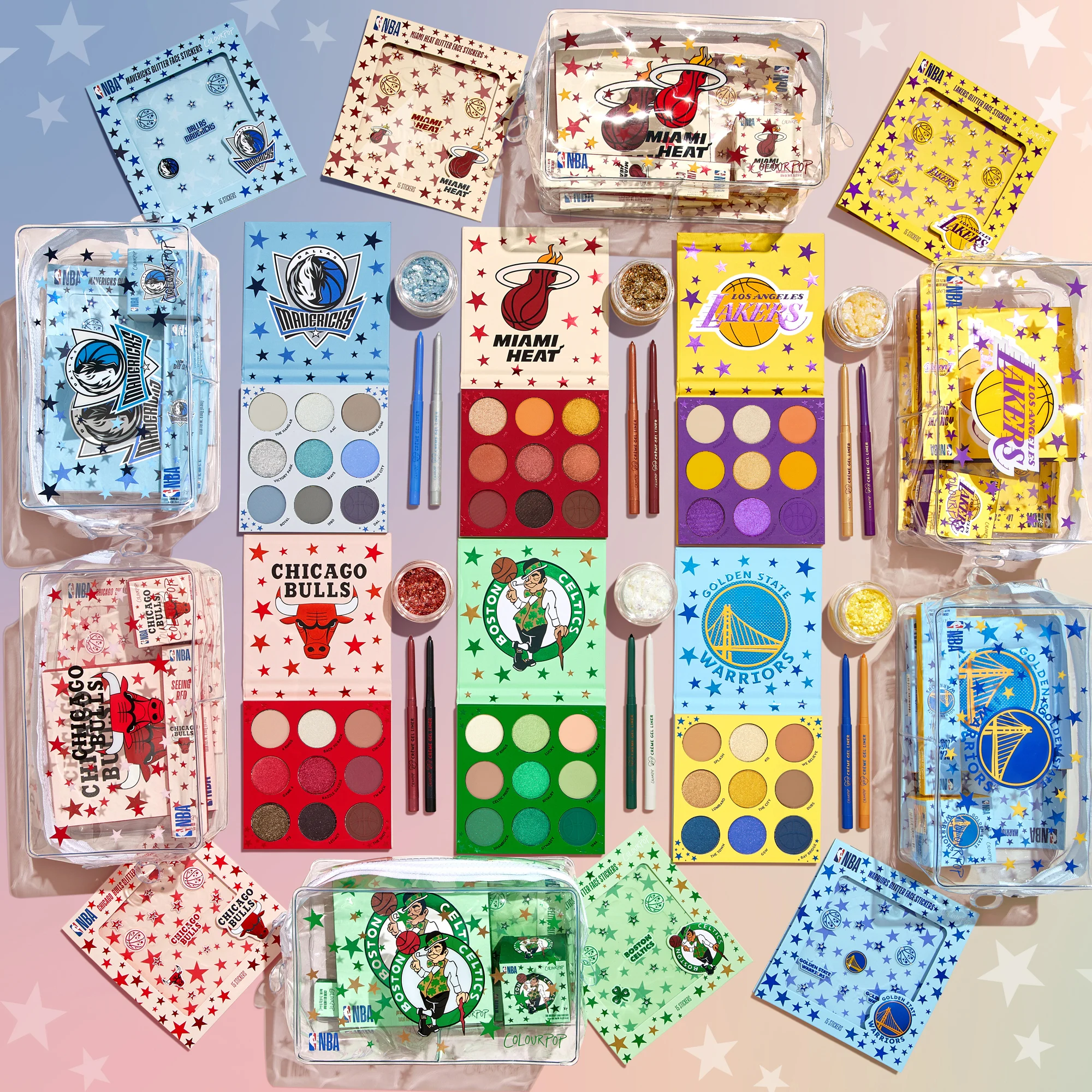 ColourPop has been getting a lot of heat lately about their lack of colour. Although when they do launch colourful products, people are still not happy, so hopefully the fact there's six colourful palettes within the ColourPop x NBA Makeup Collection, will please some!
If you're not a sports fan, the NBA is the National Basketball Association, and for this collaboration, ColourPop have created six capsule collections to represent six leading teams from the NBA league, and they're colour themed to represent each team.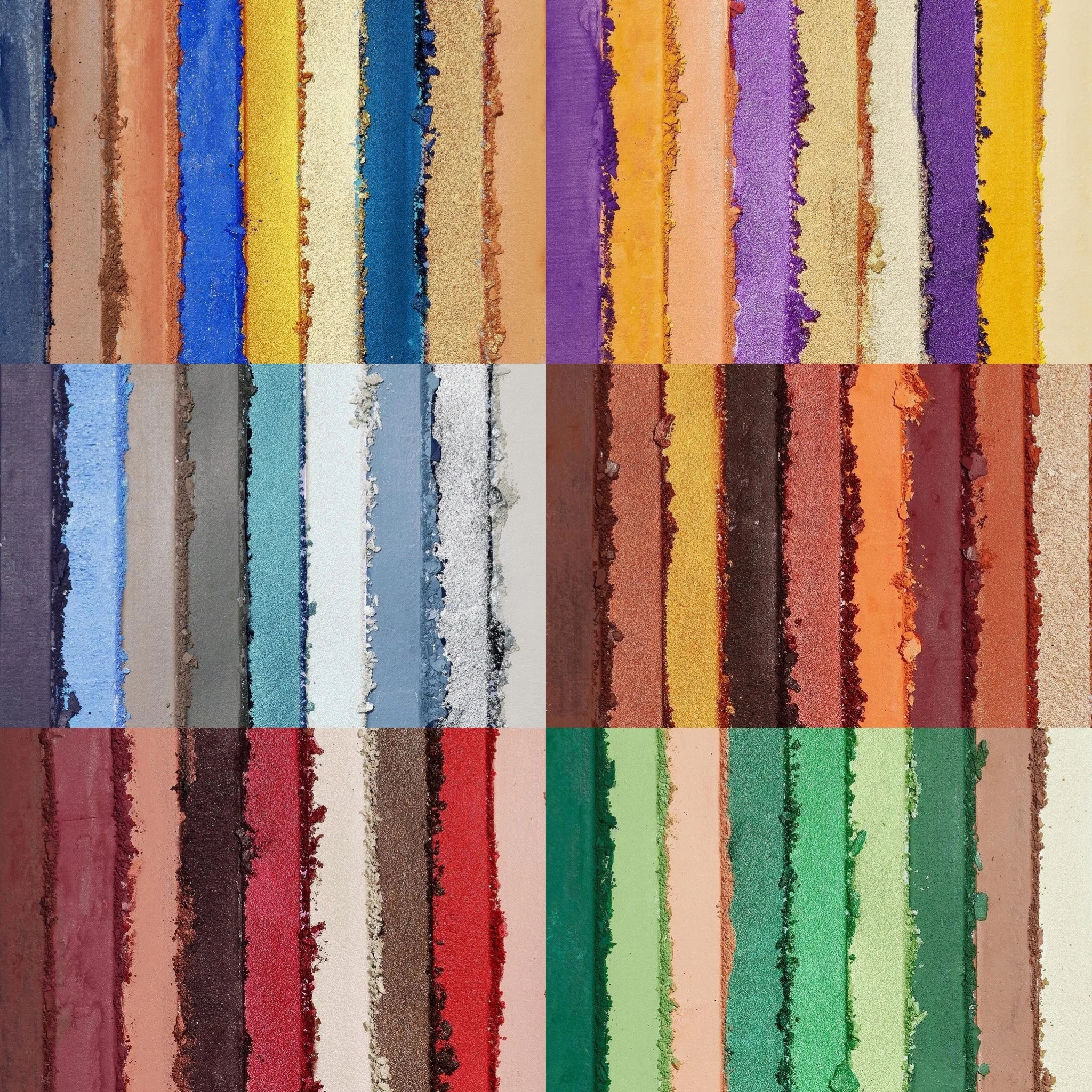 The ColourPop x NBA Makeup Collection is launching to coincide with the launch of the 2021-2022 season on the 19th of October, which is kinda cool, to see both the makeup and sports world collide for a colourful, albeit slightly random collaboration.
ColourPop first teased this collaboration with the above photos, showing nine shades of eyeshadow in stripes, and many were guessing they were Disney Princess colours.
However, we knew it 100% wasn't going to be Disney as ColourPop specifically said the new collaboration was nothing they'd ever done before, and they definitely haven't ever done a sport themed collaboration before, so props to them for doing something so unique.
So, the ColourPop x NBA Makeup Collection is dedicated to six of the teams from NBA;
All six teams are represented within the ColourPop x NBA Makeup Collection with an eyeshadow palette, a shade of Glitterally Obsessed Face Gel, a Creme Gel Liner duo set, a sheet of face stickers and a clear makeup bag.
If you support a team, I like that you can get the whole set, or purchase items individually should you just like them, with no affliction with any specific NBA team.
Let's take a look at the six capsule team collections within the ColourPop x NBA Makeup Collection…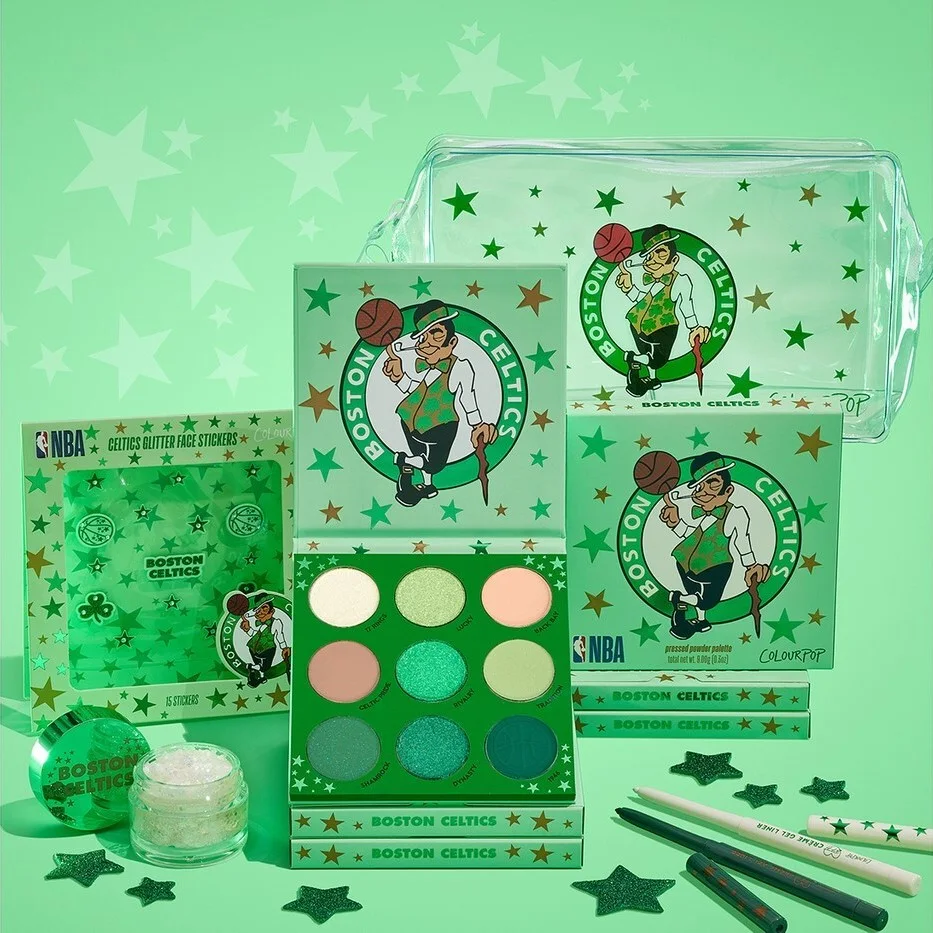 This collection features a green themed bundle, with a palette featuring pops of green, taupe and beige. In the Creme Gel Liner Duo, you get a metallic pearl shade and a matte green shade too, and the Glitterally Obsessed shade looks like a white pearl shade.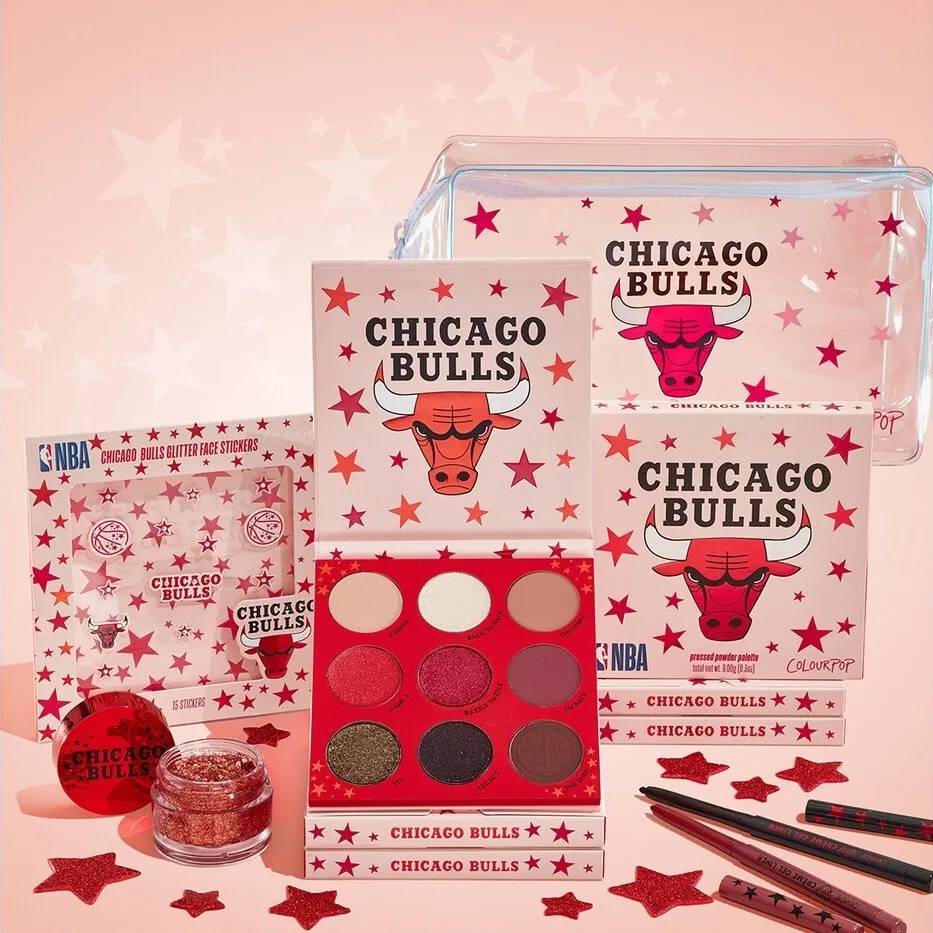 The Chicago Bulls collection in the ColourPop x NBA Makeup Collection features Bulls approved shades in a range of pink, peach, rose, red, maroon and burgundy. The liners are metallic garnet, and a black with hints of silver.
For the blue themed Dallas Mavericks collection, the palette contains a range of gray, blue, taupe, silver, white and turquoise shades, with liners to match in icy metallic silver and matte cerulean – that blue liner is to die for! The glitter gel looks to be an icy silver too.
The Golden State Warriors collection in the ColourPop x NBA Makeup Collection features a mix of peach, gold, brown and blue in matte and sparkly metallic finishes. With the liner shades being a cobalt blue and bright yellow, finished with a marigold shade glitter gel.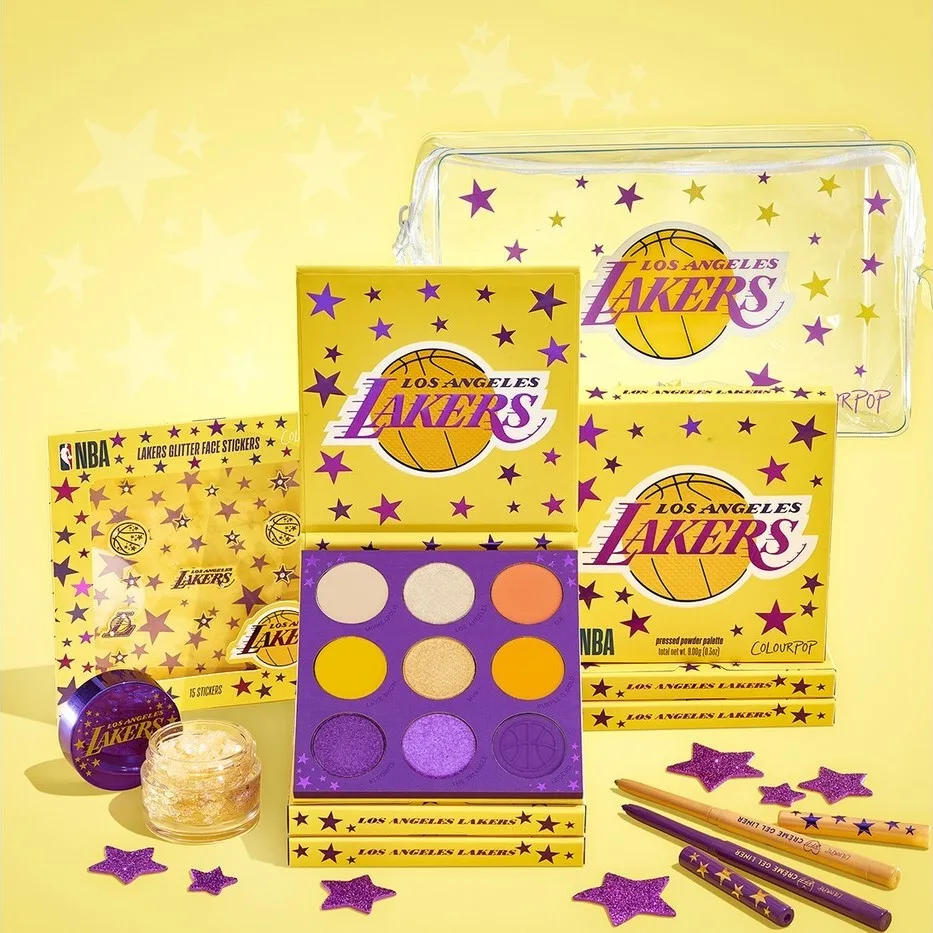 Next in the ColourPop x NBA Makeup Collection is the Los Angeles Lakers collection, which includes ivory, tan, yellow, gold and purple tones, with a matte purple and metallic gold gel liner duo. If you like the glitter gels, the Lakers gel is a light gold.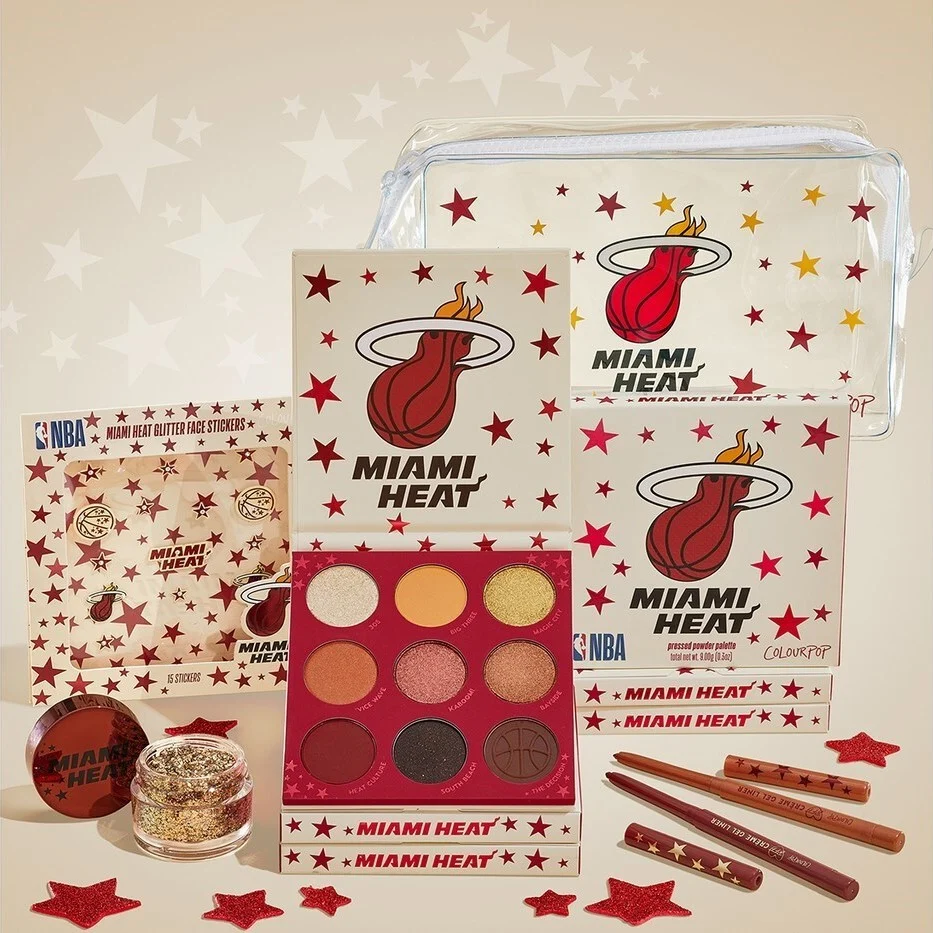 Miami Heat's collection contains shades of gold, apricot, orange, terracotta, auburn, bronze, red and chocolate too. Then for the last set of liners, we have a matte wine and a metallic terracotta shade, and the glitter gel is a bright gold.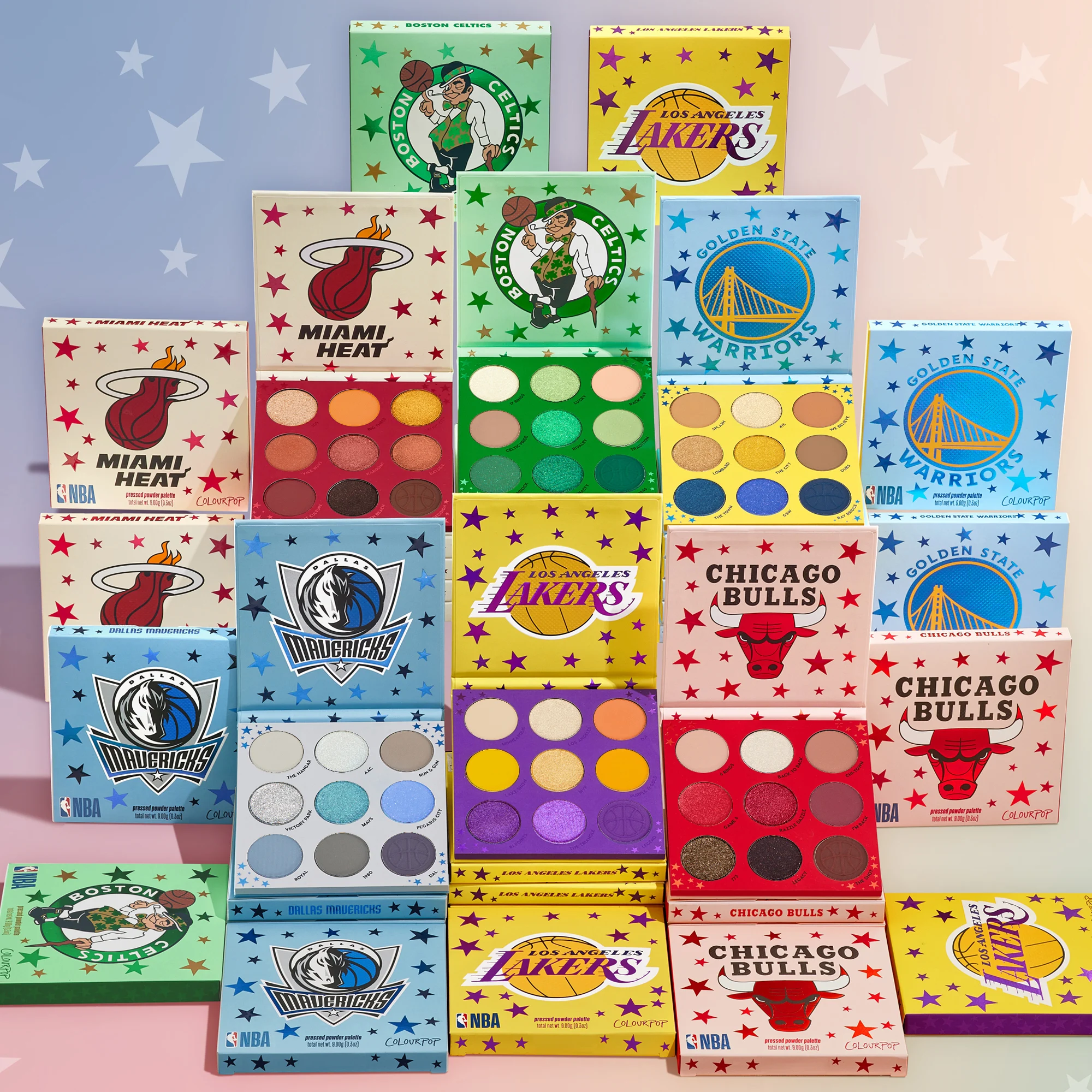 All six of the teams within the ColourPop x NBA Makeup Collection come with a nine pan eyeshadow palette, themed around the team's colours, and the names are themed around the team too. Each of the palettes have a basketball, raised pattern effect on a pan too, which is a cute extra touch.
Then there's a clear PVC makeup bag, with the team's badges on, to store all of your makeup essentials. The collections each feature a sheet of face stickers, which again, are themed around the six individual teams, and you get 15 stickers in the pack.
Lastly, the six teams each have a BFF Creme Gel Liner Duo Set in shades to complement the tones in the palette, and the colours of the team.
The liners have foil stars on them too, just like the packaging on everything else. The very last product in each collection is a shade of glitter gel, with team themed packaging on the jar.
This is going to be such a polarising collection. Basketball fans that love makeup, will love it. However, it might be kinda niche and random, so it'll be interesting to see how it's received once it launches on the 15th of October right here.
Thank you so much @snoopycoupon for the beauty news!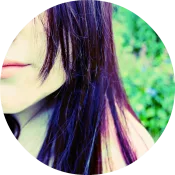 Hi, my name is Gemma, and I'm the owner of MakeupMuddle.com. I'm a true beauty obsessive, and love writing about anything to do with beauty – I have been a beauty writer since 2012.
As well as owning Makeup Muddle, I also own GemmaEtc.com, and love sharing my thoughts and feelings about the greatest (and not so great) beauty products!