Now it's September, it means it's time for the Halloween launches to start, and the ColourPop x Harry Potter Collaboration has been revealed as the first ColourPop Halloween theme collection for this year.
We've seen some really great collabs from ColourPop this year, from Winnie The Pooh to BT21. We've even seen a High School Musical collab in the last few weeks, but a ColourPop Harry Potter collab? That's going to be extremely popular…
Keep on reading to see the entire Colourpop x Harry Potter Collaboration, and every single product in the collection.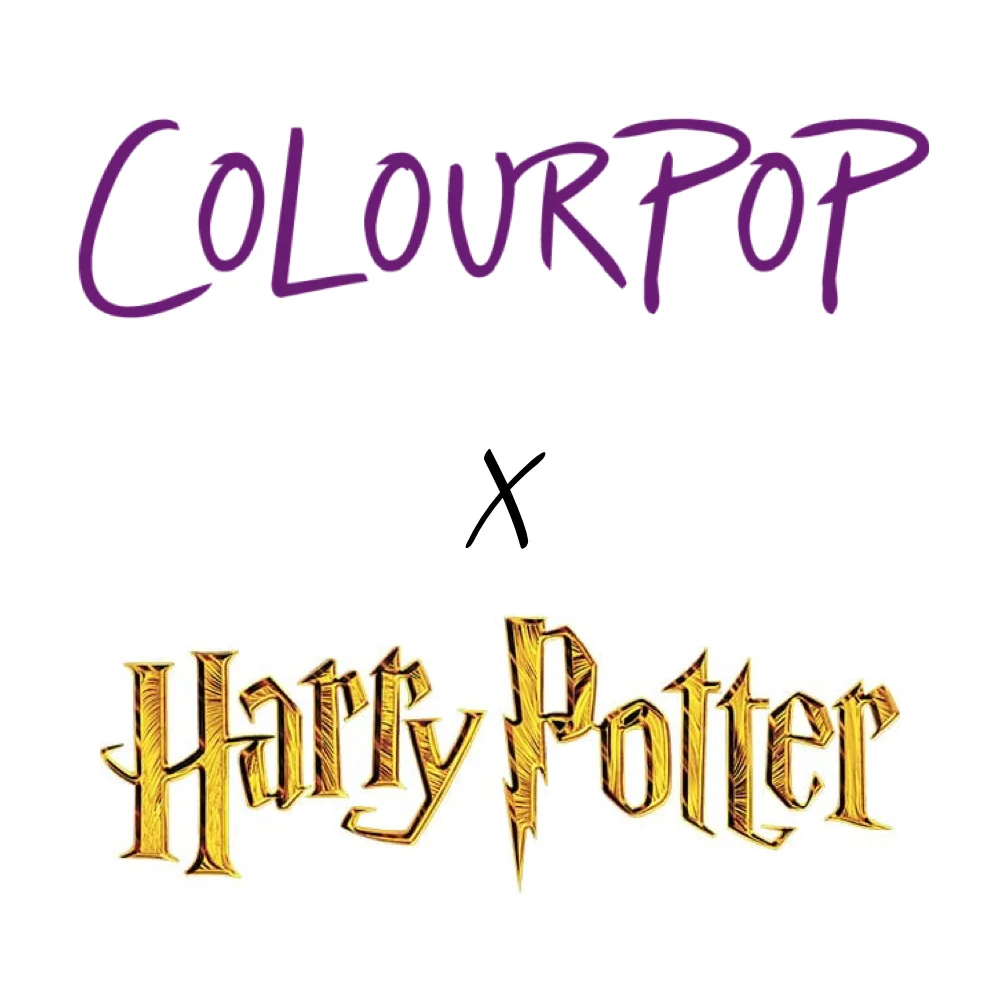 ColourPop x Harry Potter Collaboration
So, how did ColourPop announce that they were collaborating with Harry Potter? Well, they shared a video on their Instagram of paper, envelopes, a quill, and the process of creating a wax seal with a tealight. In the caption, ColourPop included the hashtag #BackToHogwarts, so there's absolutely no doubt the collab is happening.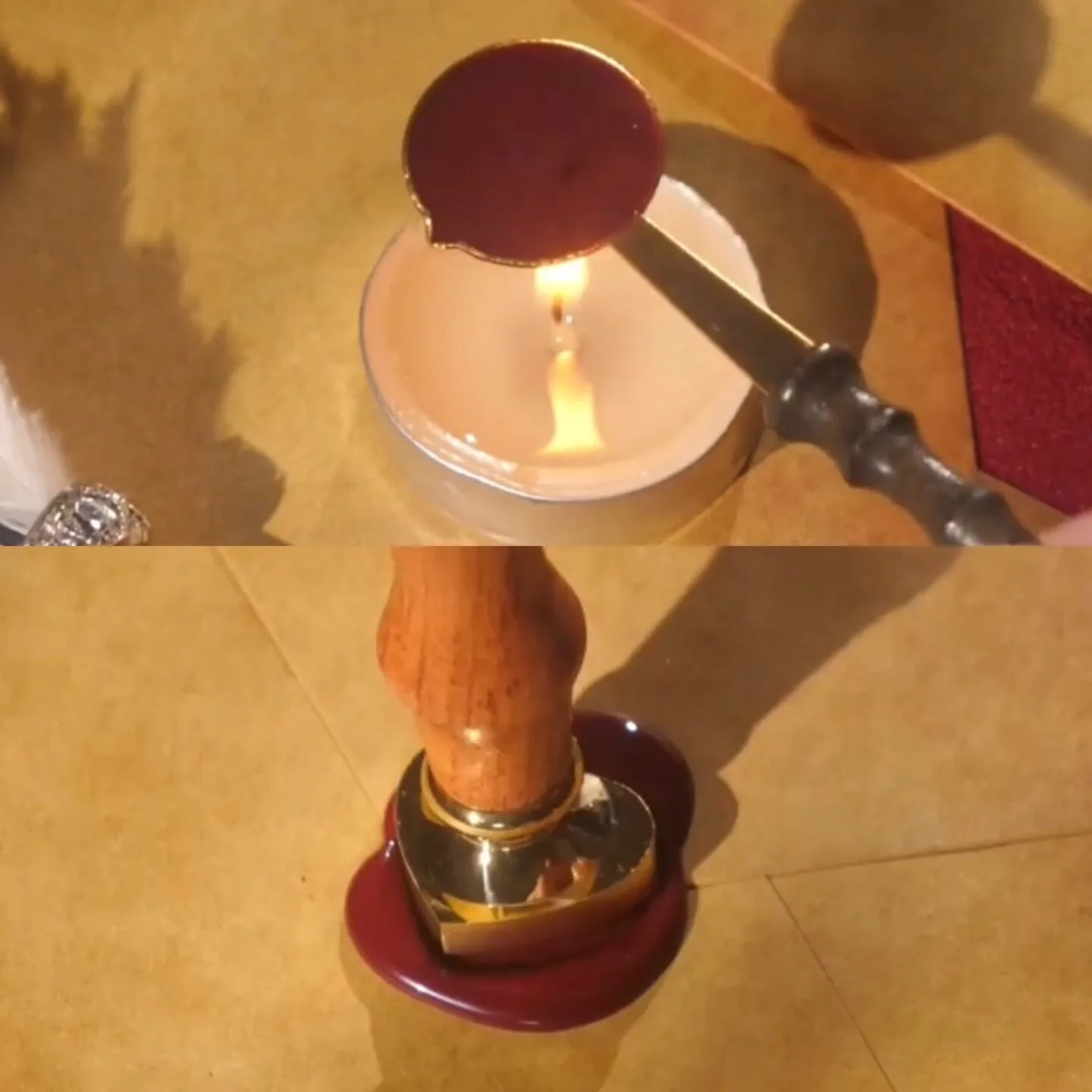 ColourPop tweeted that the 1st of September meant Halloween, so I think this ColourPop x Harry Potter Collaboration could be one of multiple Halloween themed collections this year.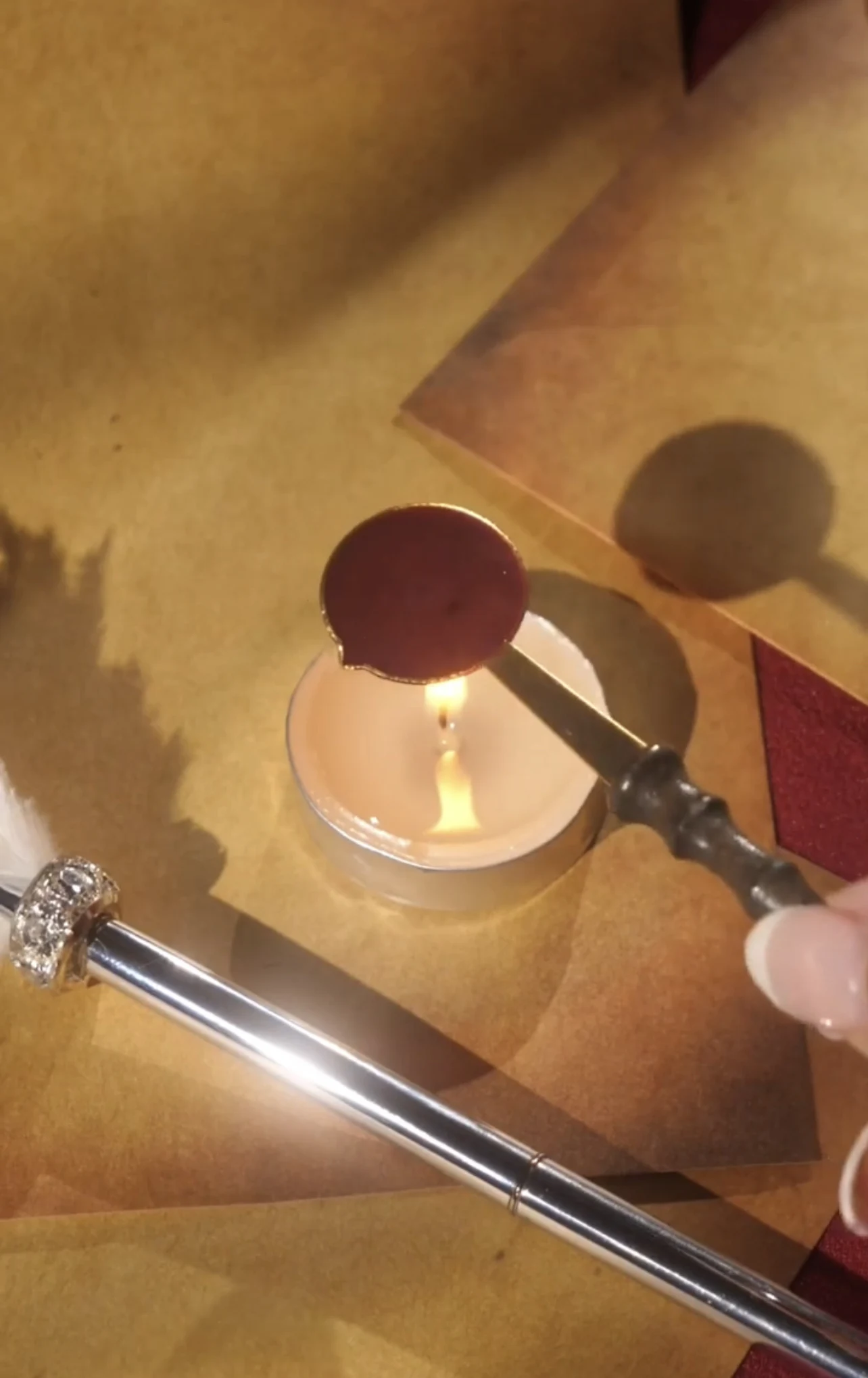 For the last two Halloweens, ColourPop has done a Hocus Pocus themed collaboration. Now, this year, the Hocus Pocus 2 movie is happening, so you'd assume that ColourPop would do a ColourPop x Hocus Pocus 2 collection? For now, we know the ColourPop Harry Potter Hogwarts Collection is their first Halloween collection of the year.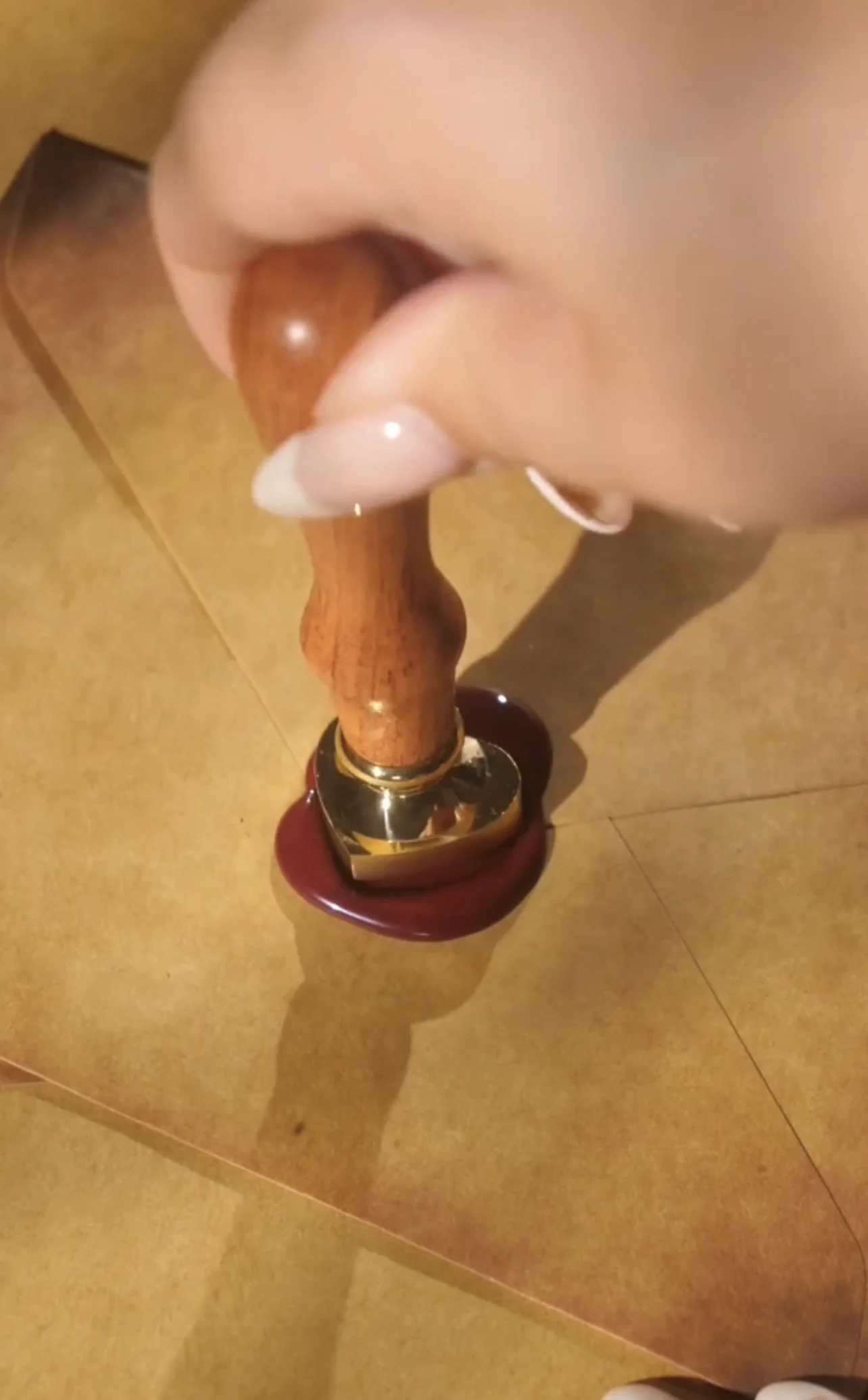 The ColourPop x Harry Potter Collaboration is particularly exciting, as it's 25 years since Harry Potter and the Philosopher's Stone was released, so it looks like this collection could be all about celebrating that milestone.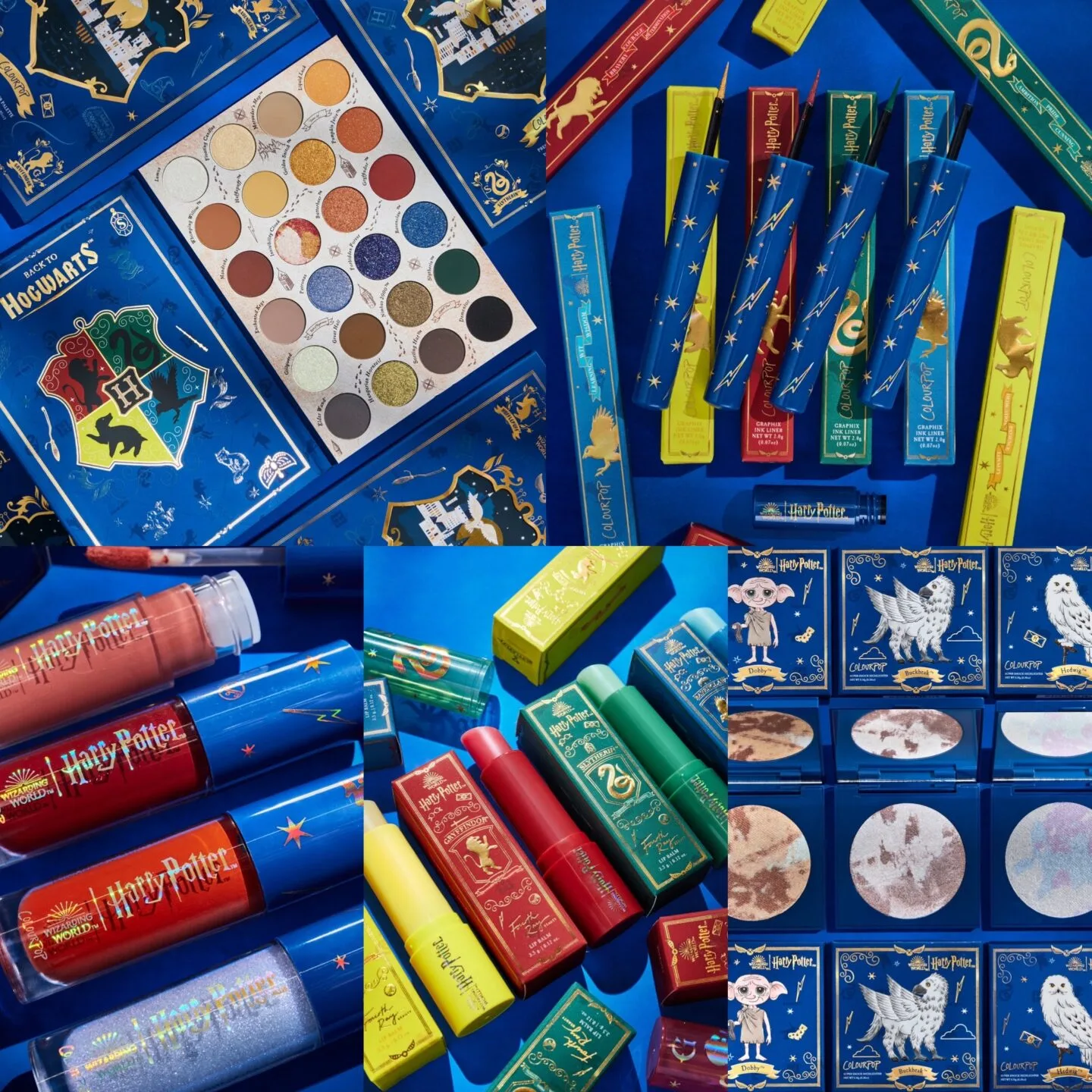 The 1st of September is known as Back To Hogwarts Day, which explains why the ColourPop Harry Potter Collection was announced on the 1st of September, and now we have a full exclusive reveal of the ColourPop Harry Potter Collaboration.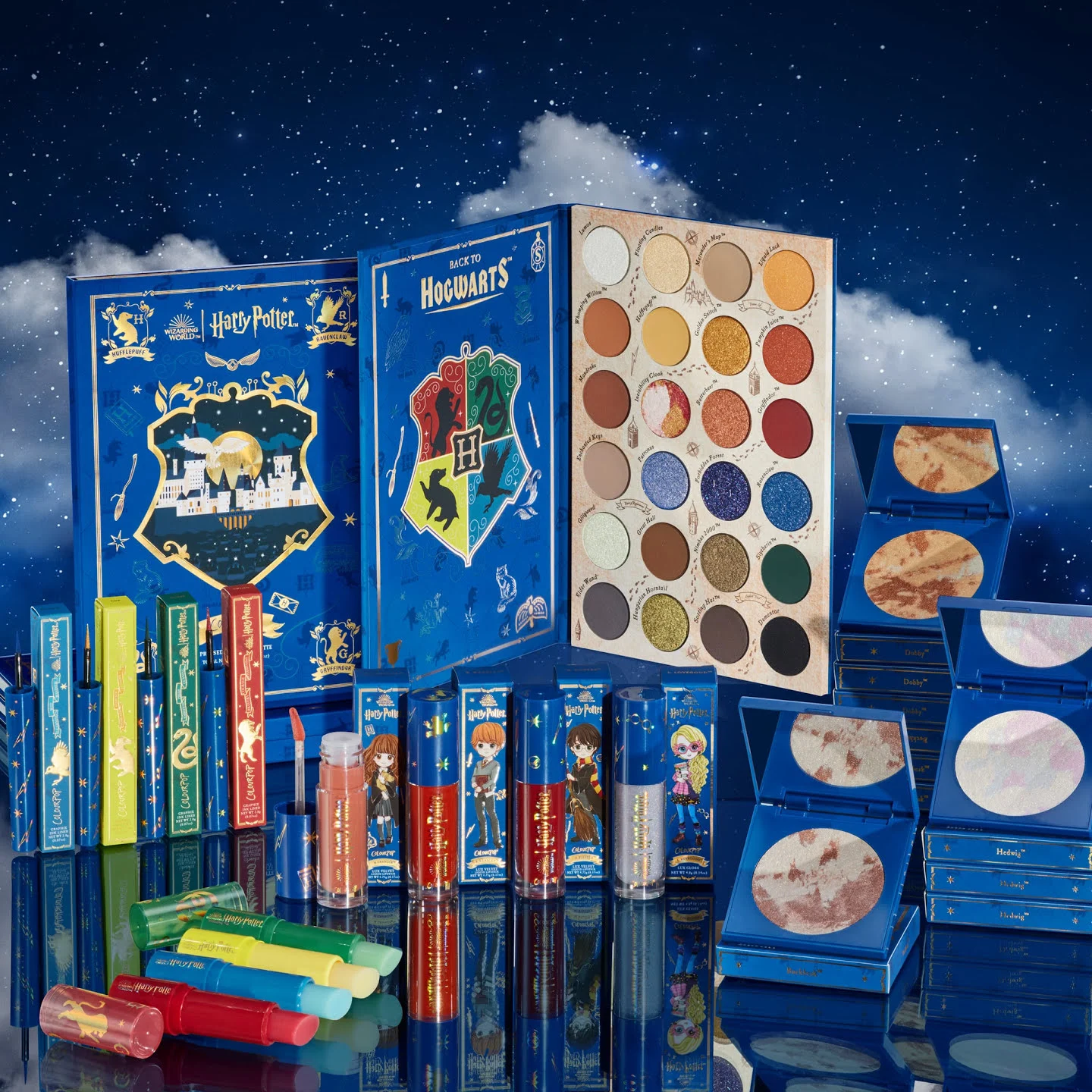 When Does The ColourPop x Harry Potter Collaboration Launch?
The ColourPop x Harry Potter Back To Hogwarts Collection launches on the 8th of September, when it will launch at 10am P.T on the ColourPop website, and will then launch on the ULTA Beauty website on the 11th of September.
Let's take a look at the individual products within the Harry Potter x ColourPop collection...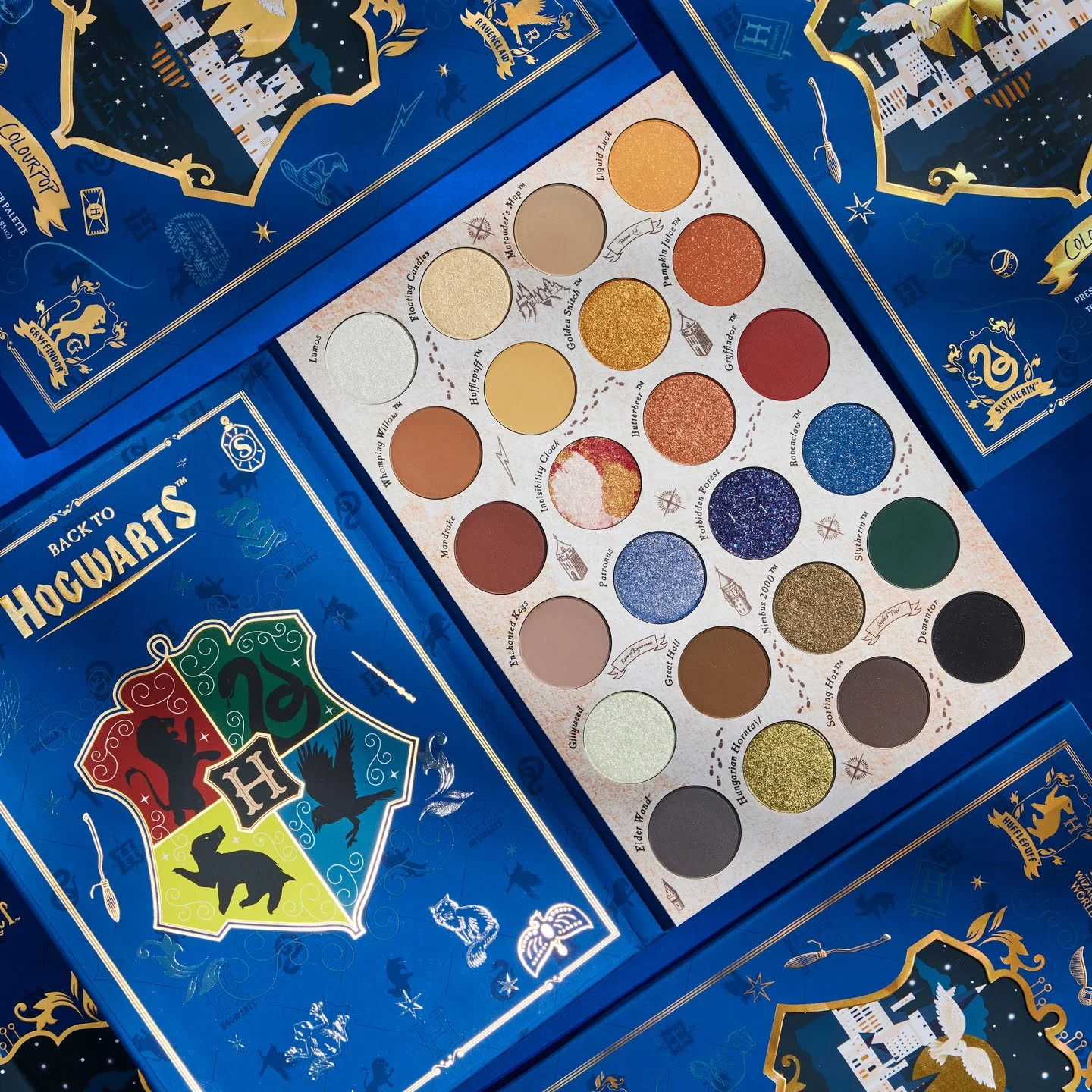 The first product within the ColourPop x Harry Potter Collaboration is the Harry Potter x ColourPop Back to Hogwarts Pressed Powder Palette, which is going to be $30, and contains twenty four shades, all inspired by the Harry Potter franchise.
The front of the palette features all four Harry Potter houses; Gryffindor, Hufflepuff, Ravenclaw, and Slytherin. As well as a 3D style picture of Hogwarts in the centre on the box of the palette.
On the palette itself, there's gold foil accents of items from the movies, which Harry Potter fans will be able to recognize. Inside the palette, there are the following shade names;
Lumos
Floating Candles
Marauder's Map
Liquid Luck
Whomping Willow
Hufflepuff
Golden Snitch
Pumpkin Juice
Mandrake
Invisibility Cloak (marbled finish)
Butterbeer
Gryffindor
Enchanted Keys
Patronus
Forbidden Forest
Ravenclaw
Gillyweed
Great Hall
Nimbus 2000
Slytherin
Elder Wand
Hungarian Horntail
Sorting Hat
Dementor
This palette is amazing, with a shade for each of the four Houses, and shades named after iconic items from the movies, like the Golden Snitch, Nimbus 2000, Sorting Hat and Whomping Willow.
I like that the shade that represents each of the four houses, is color matched to the color of the house, so red, yellow, green and blue.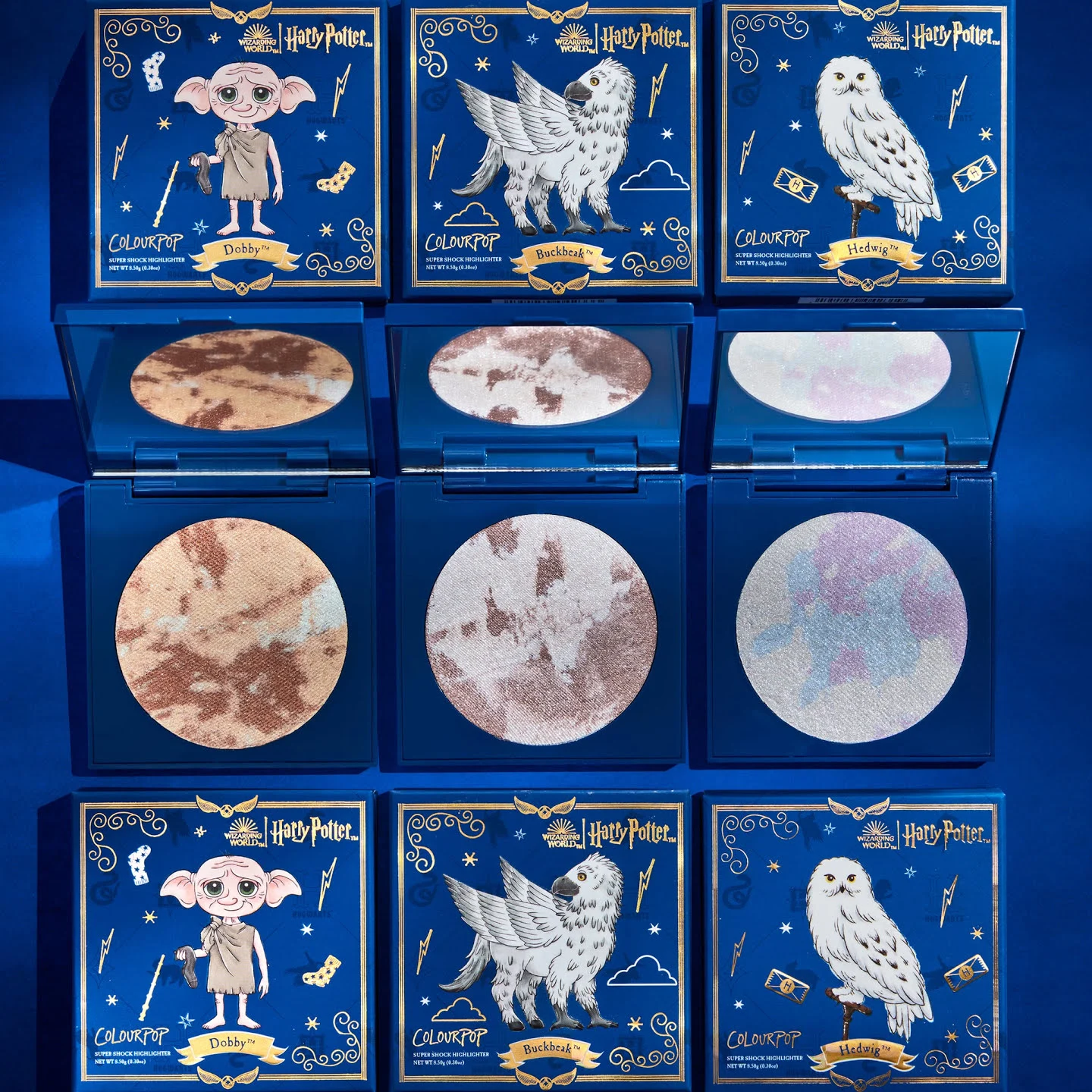 Next in the ColourPop x Harry Potter Collaboration, are the three Harry Potter x ColourPop Super Shock Highlighters. The highlighters are housed in navy plastic compacts, and are themed around three iconic characters from Harry Potter;
All three highlighters are marbled Super Shock Highlighters, and it's been a long time since we saw ColourPop do their marbled bronzers and highlighters originally.
The Dobby shade looks like a glistening bronze, Buckbeak looks like a champagne, and Hedwig is a cool toned icy silver. They would all work nicely on the eyes as eyeshadows too. All of the three highlighters are going to be $12 each.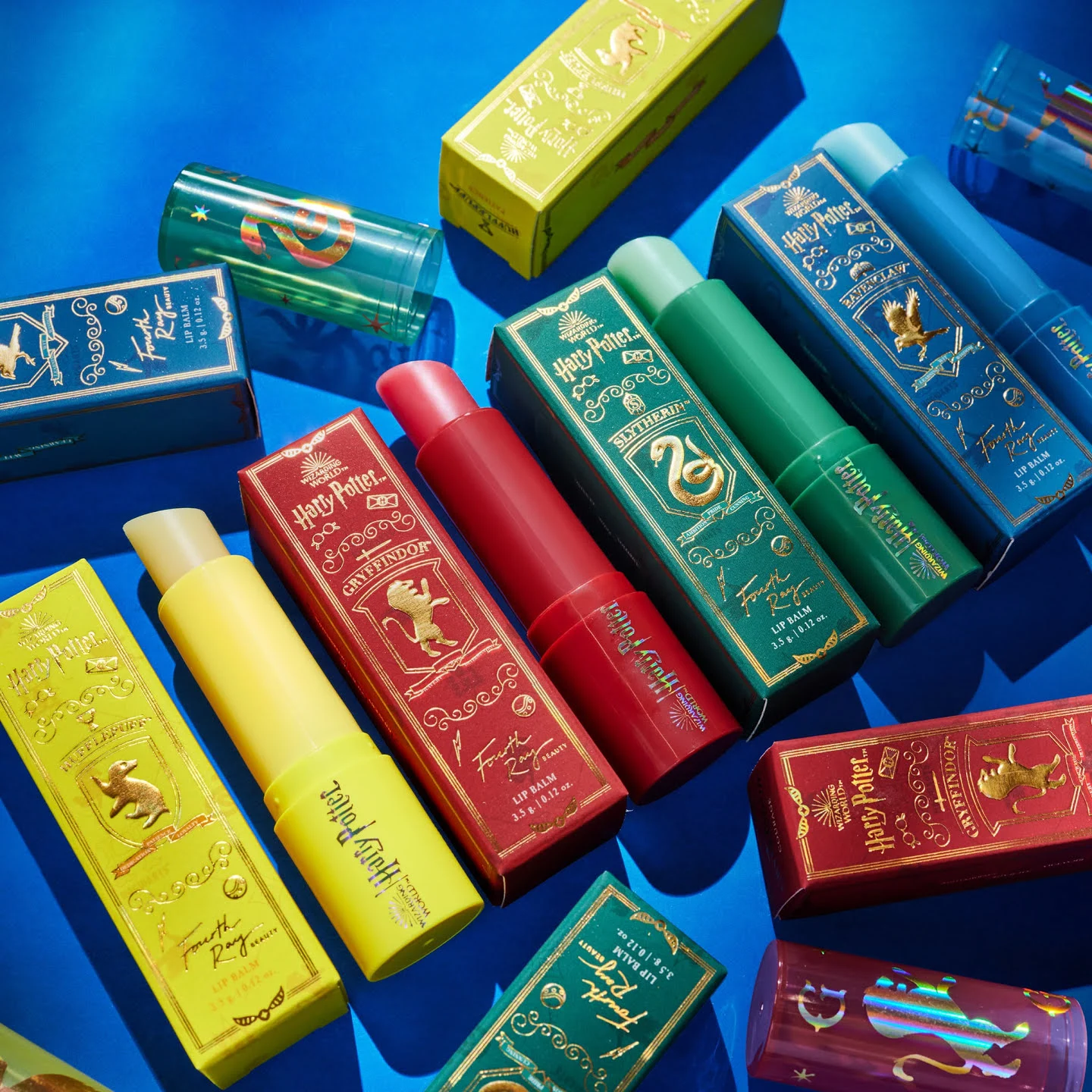 We then have the ColourPop x Harry Potter Fourth Ray Beauty Lip Balms. ColourPop always likes to include Fourth Ray Beauty within their collabs, as it's their skincare brand, and for the Harry Potter Wizarding World x ColourPop collab, they've created four Harry Potter House themed lip balms.
The Harry Potter x ColourPop Fourth Ray Lip Balms are $10 each, and there's a lip balm for all four of the Harry Potter Houses;
Each of the lip balms has colored packaging to match the color of the house, with gold holographic characters on the lids, so they represent each of the animals and the four elements; Fire (Gryffindor), Earth (Hufflepuff), Air (Ravenclaw), and Water (Slytherin).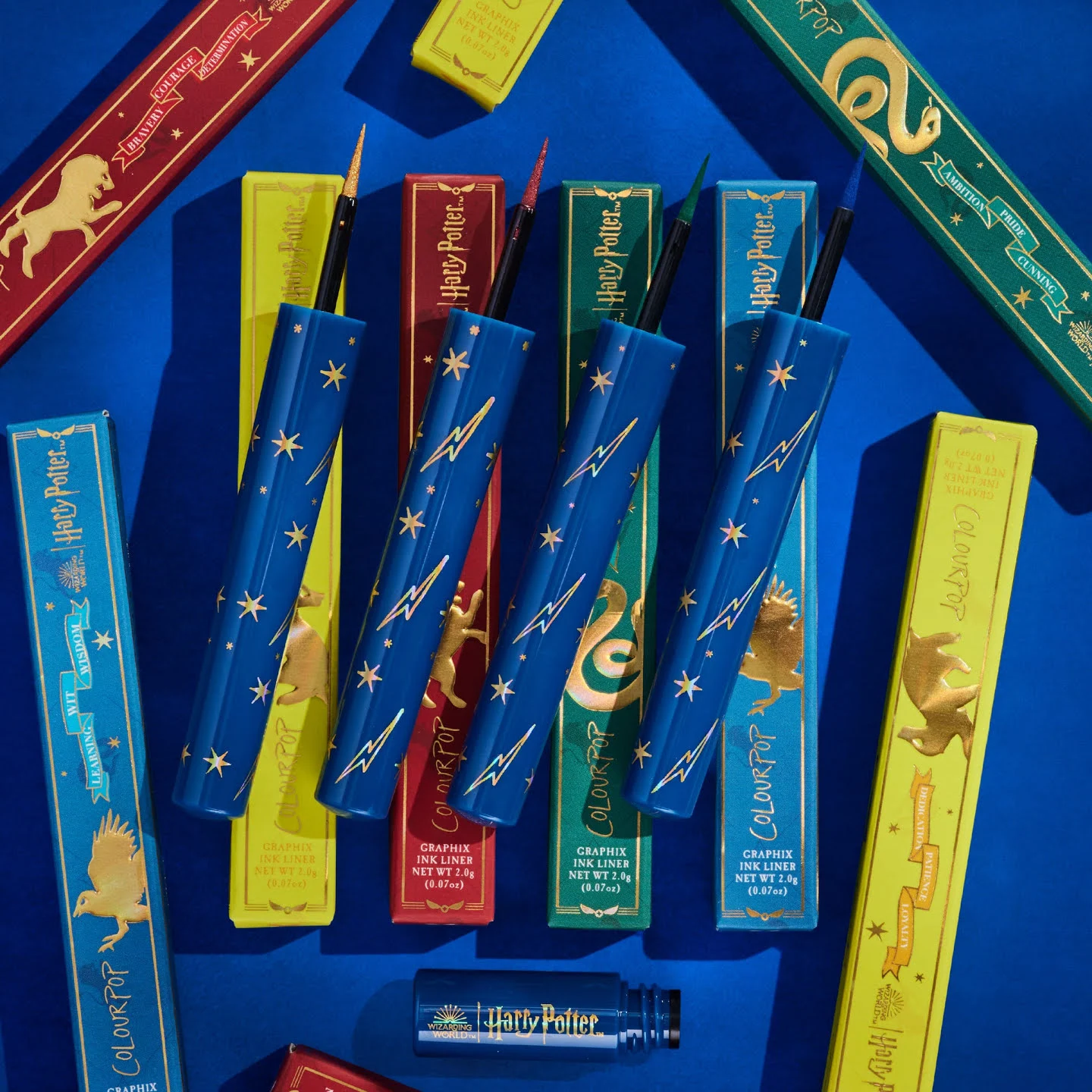 The ColourPop x Harry Potter Collaboration includes another product for the eyes, and it's the Wizarding World Harry Potter x Colourpop Graphix Ink Liners, and again, there's four liners, to represent the four Harry Potter Houses;
They are liquid eyeliners, with flexible, sponge felt tip nibs in gold, burgundy, green and blue. They look like beautiful eyeliners, and they're very different to what we usually see from ColourPop collaborations, and they are $10 each.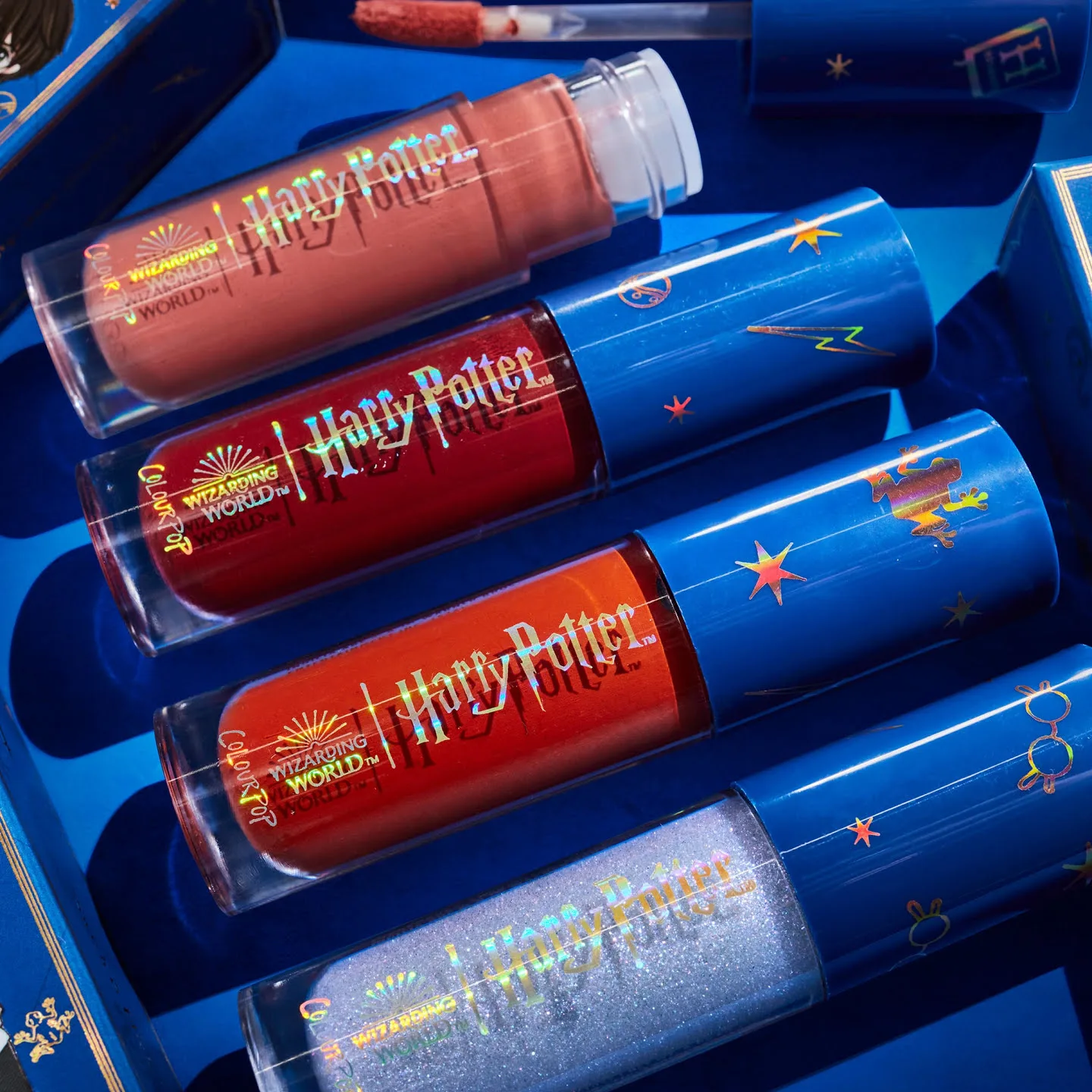 Lastly in the ColourPop x Harry Potter Collaboration, are the Harry Potter x ColourPop Lux Velvet Liquid Lip Lipsticks, with three different shades, and they're $10 each, in the following names;
There's also one special ColourPop Lux Pearlescent Lux Lip Gloss called Luna Lovegood. It looks so sparkly and pretty, and is a great addition to the range. With all four boxes, having their Wizarding World caricatures on the packaging, which look really cute.
I think ColourPop has done an amazing job with this collaboration, but wow did they miss an opportunity with merch. If they'd done makeup brushes, makeup bags or mirrors, they would have been insanely popular (just like the Binx 'cat' mirror in the Hocus Pocus 2 Collection). It's still a fantastic collection, and will be available right here.
Thank you @snoopycoupon for the Harry Potter news.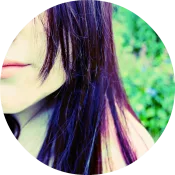 Hi, my name is Gemma, and I'm the owner of MakeupMuddle.com. I'm a true beauty obsessive, and love writing about anything to do with beauty – I have been a beauty writer since 2012.
As well as owning Makeup Muddle, I also own GemmaEtc.com, and love sharing my thoughts and feelings about the greatest (and not so great) beauty products!