2021 is proving to be an epic year for ColourPop and the ColourPop x Disney Lizzie McGuire Collaboration has been revealed as being their latest licensed collaboration, and it's causing quite the stir across social media already.
Whenever there's a new ColourPop launch in the horizon, you'll find the brand doing clues and hints on their Instagram Stories.
Ahead of their ColourPop x Disney Lizzie McGuire Collaboration announcement post, they did a 'choose what has to go' quiz of iconic 2000a trends such as jelly shoes, butterfly clips and the Motorola Razr phone.
This image above was shared on their Instagram Stories, and it was pretty much all over Instagram in seconds, with many Disney fans trying to guess the Disney property which ColourPop have collaborated with…… (hint: it's Lizzie McGuire)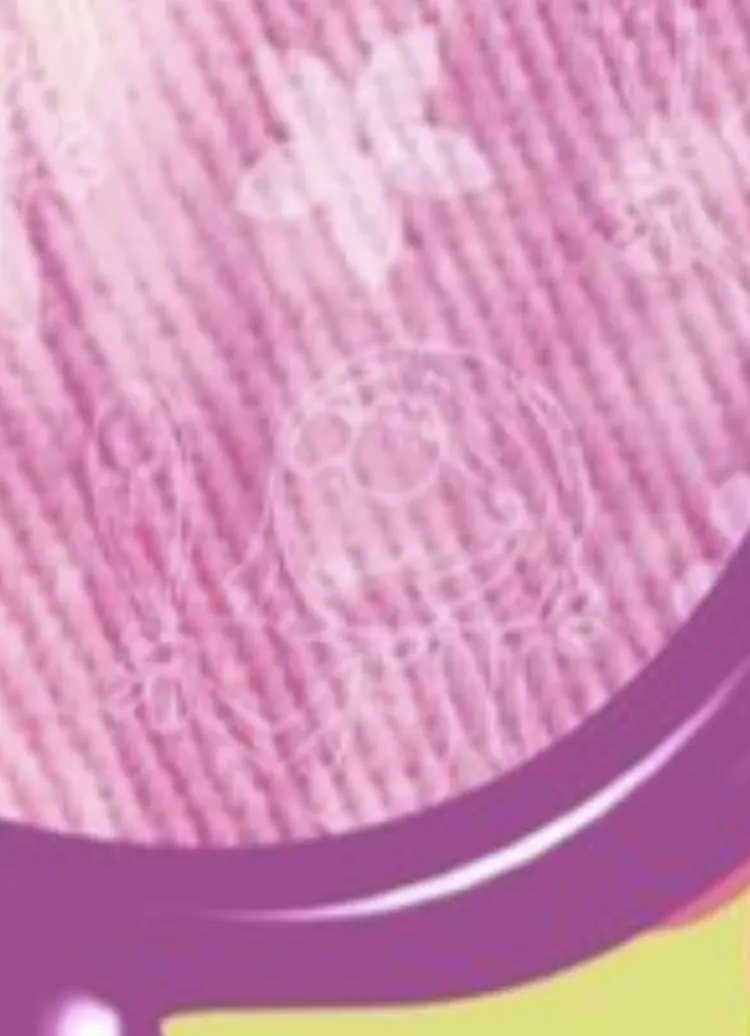 ColourPop initially gave us a very sneaky, fun little ColourPop collaboration hint which only a very few people have seen, and the clue is in the above image. ColourPop have sneakily hidden the 'cartoon' version of Lizzie McGuire inside the purple Mickey logo.
It's really hard to see, and you have to zoom in super close to see it, but it's 100% the cartoon version of Lizzie, and it's so fun to see ColourPop reveal the ColourPop x Disney Lizzie McGuire Collaboration like this.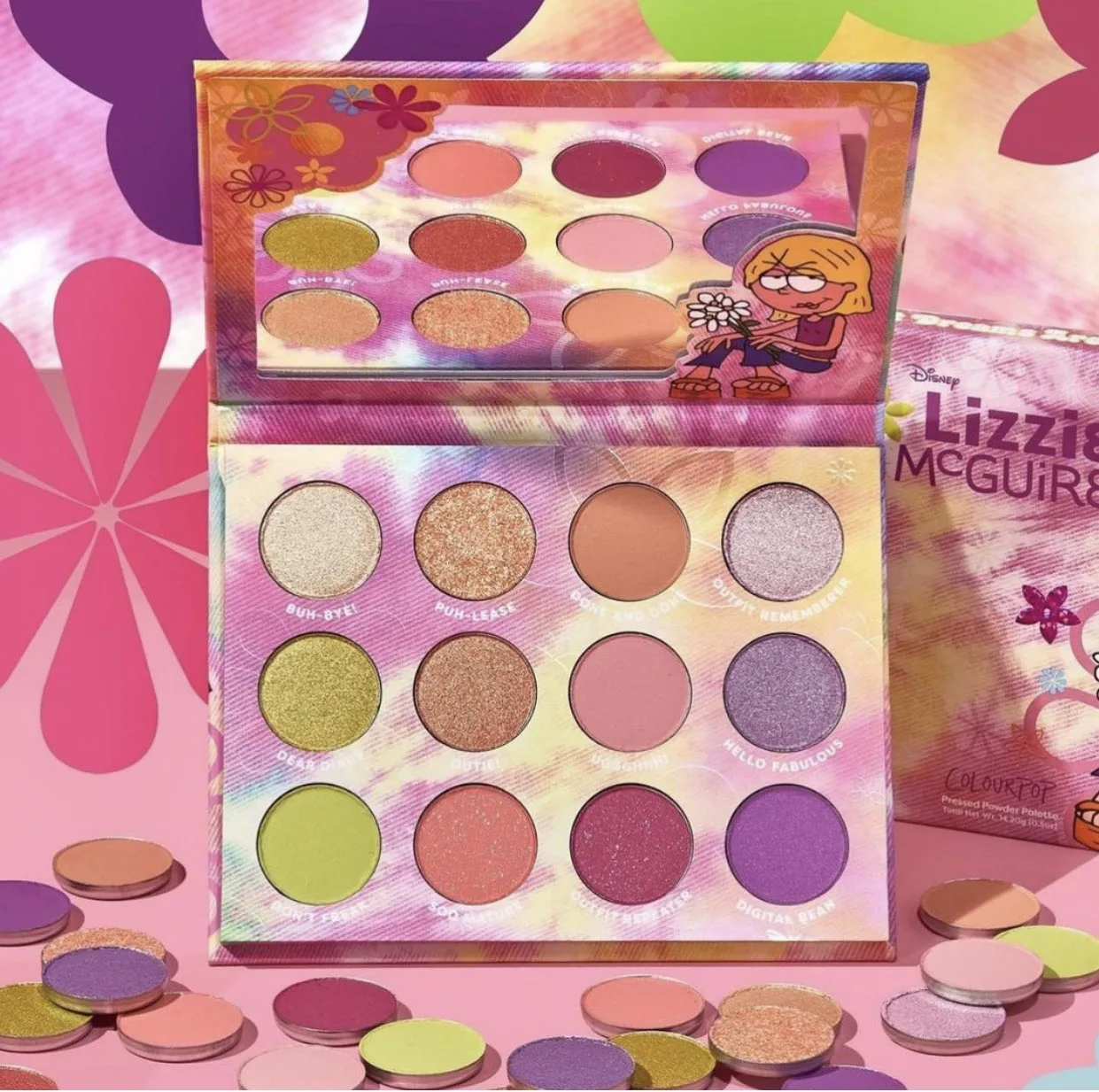 Although they have now done an official reveal too, and it's an amazing collection, and the whole collection is launching on the 26th of March at 10am PST, and I have ALL of the information you need so keep on reading.
ColourPop literally only just launched their licensed Disney Bambi collection, so it's amazing to see yet another licensed collection from ColourPop so soon, and hopefully there's a lot more to come this year too.
So what is Lizzie McGuire?
Lizzie McGuire is an American comedy television series created by Terri Minsky which premiered on Disney Channel on January 12, 2001. There were 65 episodes created, and there was even a movie made too, called The Lizzie McGuire Movie.
Lizzie McGuire was (of course) played by Hilary Duff, and she played a 13-year-old girl. During the series, you'd see Lizzie going to school, but you'd also get to see Lizzie's animated alter ego 'cartoon'.
The animated version of Lizzie would represent Lizzie's thoughts and feelings, and it is 'cartoon Lizzie' we can see in ColourPop's sneak peek announcement post.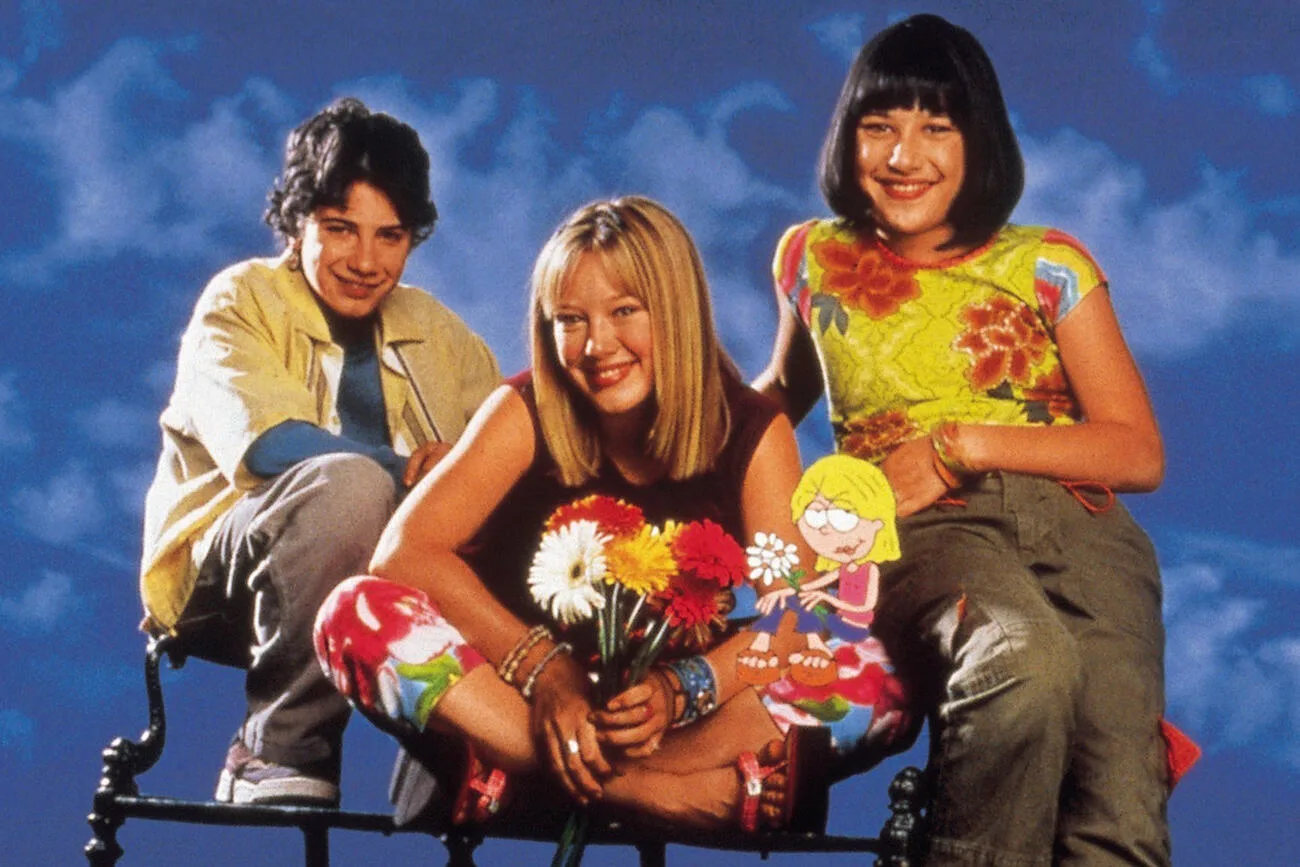 credit
It is going to be an extremely popular collection, and other Disney collections from other beauty brands like the ULTA x WandaVision collection and the I Heart Revolution Disney Princess collection have all been crazy popular.
So I have no doubt that the ColourPop x Disney Lizzie McGuire Collaboration will be too, especially as it's such a popular show.
The ColourPop x Disney Lizzie McGuire Collaboration has now been sneak peeked on their TikTok account and officially revealed over on their Instagram account. The collection looks amazing!
The initial TikTok video showed a colourful Caboodle being filled with colourful butterfly clips and tattoo necklaces, as well as the products from the collection.
So what do we know about the ColourPop x Disney Lizzie McGuire Collaboration? We can see that every product within the collection has brightly coloured boxes, with cute ditsy little flowers all over them too, with the names of the products being printed into the flowers.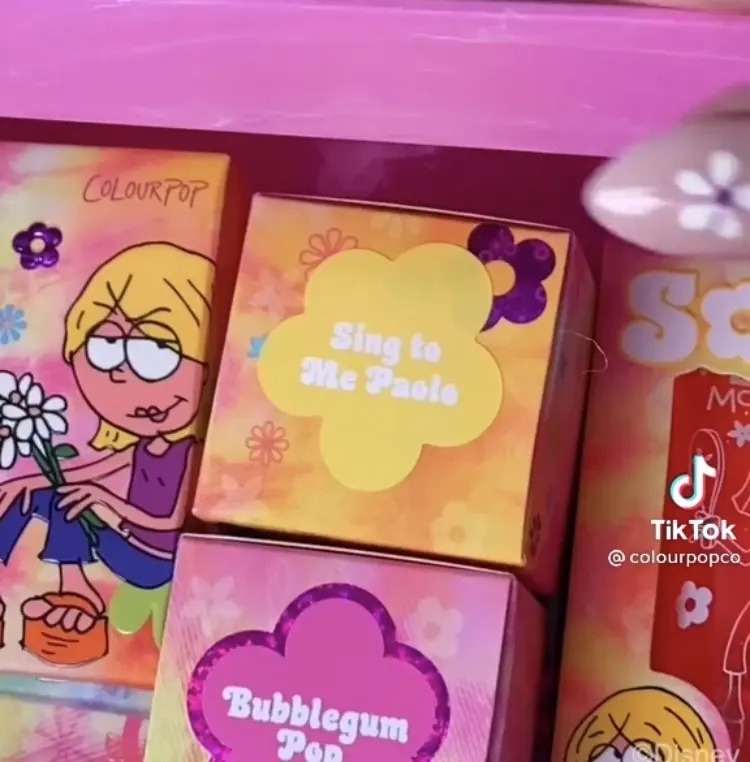 All of the products within the ColourPop x Disney Lizzie McGuire Collaboration feature the 'cartoon' version of Lizzie McGuire on the packaging, and it looks like there's going to be at TEN products within the collection.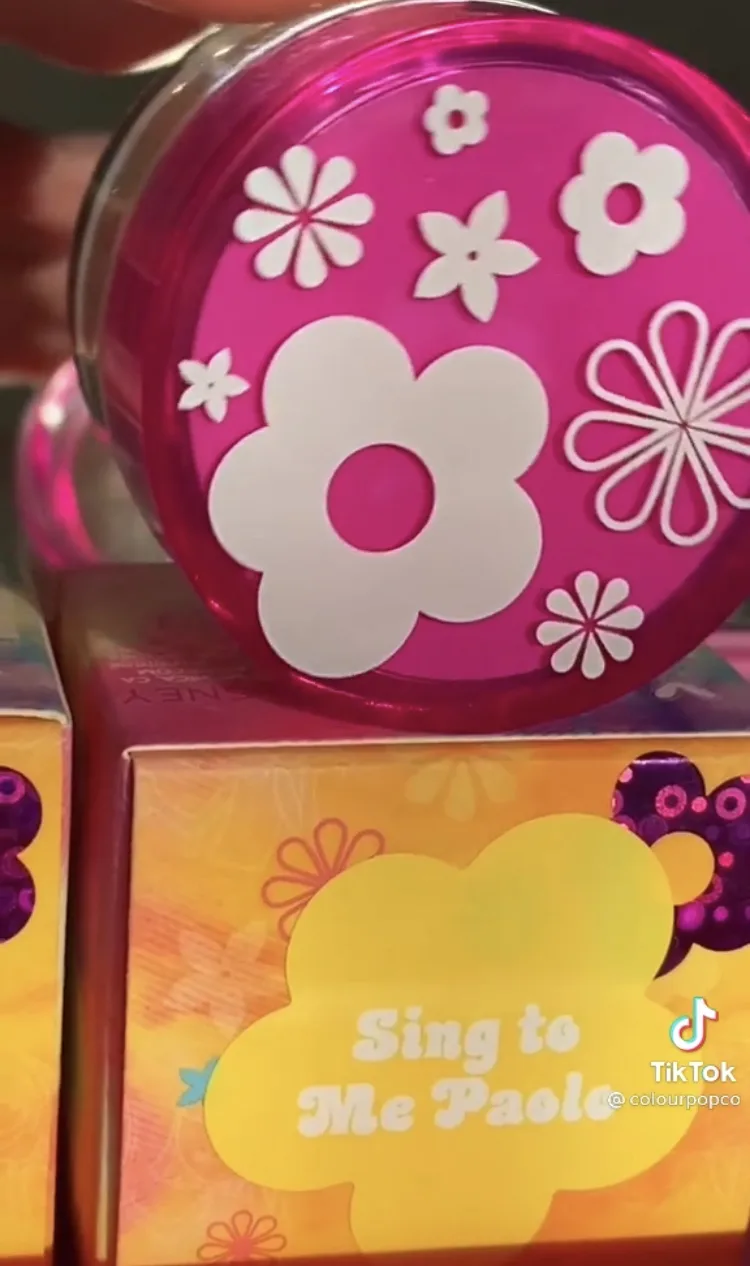 This collection looks to complement the fact Lizzie McGuire was an early 2000's show really well, with tie-dye effects on the boxes, and the packaging is just very retro, and I'm totally here for it.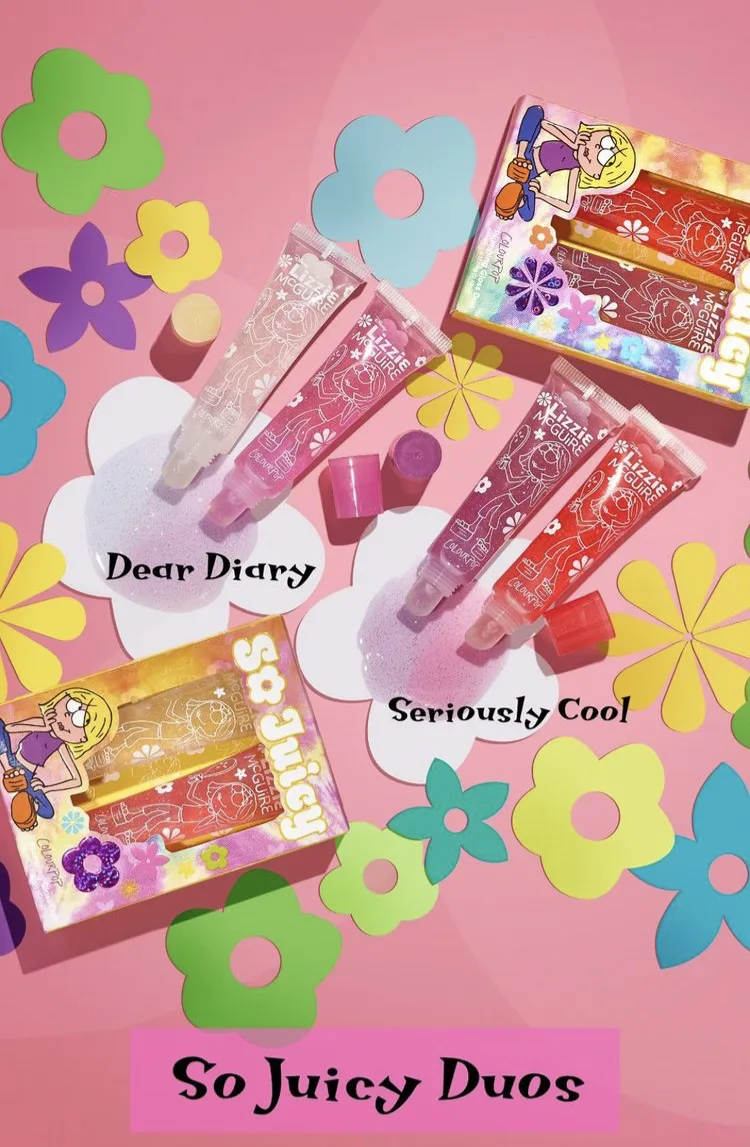 OK, so the first products within the collection are two super cute lip gloss duos. Each set contains two So Juicy Lip Glosses, with Lizzie McGuire characters on the tubes.
The Seriously Cool Lip Gloss Duo contains a sheer red gloss and sheer plum gloss, and the Dear Diary Lip Gloss Duo contains a sheer pink gloss and a sheer honey gloss.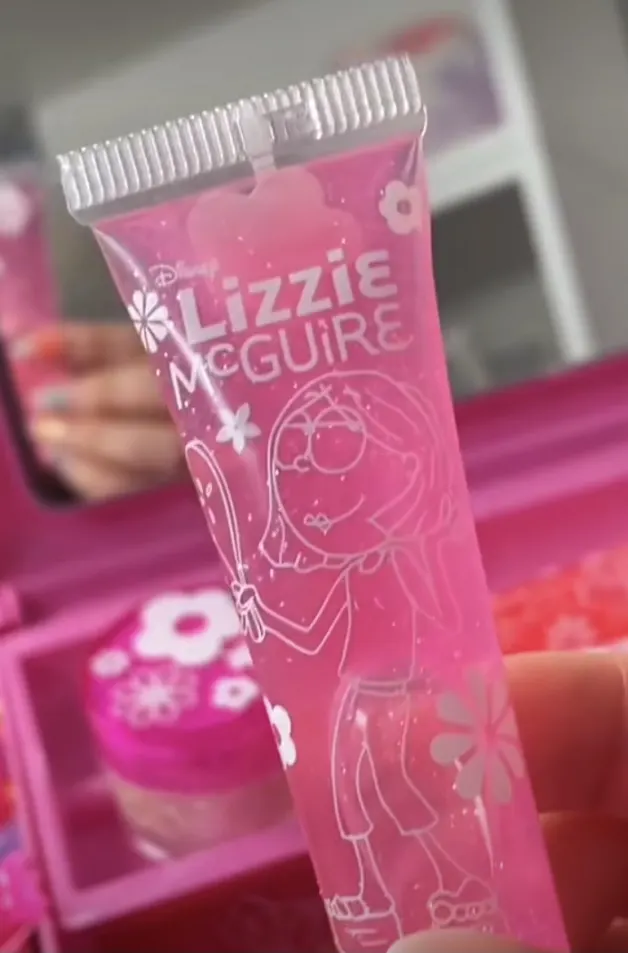 Each of the four glosses are housed in clear plastic tubes, and colour co-ordinated plastic lids to match the colour of the gloss inside the tube.
It looks like the glosses are all sparkly, which fits the time that Lizzie McGuire first aired, and they're giving me Lancome Juicy Tubes vibes. I guessed the collection would include sheer glosses, and they are exactly that, imparting a juicy high-shine effect to the lips.
Next up in the collection is something so retro, and so cute. It's a bubblegum scented (and possibly flavoured) lip scrub, with a bright pink jar, and a pink lid with flowers all over with Lizzie's cartoon character printed on the lid.
This sounds like such a delicious lip scrub, and it would totally be something Lizzie would have used in the series.
We know the ColourPop x Disney Lizzie McGuire Collaboration features two shades of the ColourPop Glitterally Obsessed Glitter Gels in the shades Sing To Me Paolo (which is Lizzie's love interest on the show), Get a Grip.
The ColourPop x Lizzie McGuire Glitter Gel in Sing To Me Paolo shade is the shade shown above, which is super sparkly!
In addition to the Sing To Me Paolo, there's also the Get a Grip shade which looks to have a clear base with iridescent white glitter particles of varying sizes. Whereas Sing To Me Paolo is a lot more colourful.
They're both so 2003 and the packaging is so cute with a neon pink translucent plastic lids with white flowers all over.
The collection includes two powder blushers, (shown above). The names of the blushers are Dee-lish and You Are Magnifico, and they're very Lizzie, in that they're both pretty pops of pink, with a shimmer finish.
The Dee-lish shade is a bright, blue toned pink and You Are Magnifico is a warm toned bright pink. They're both quite vivid, and appear to look very pigmented.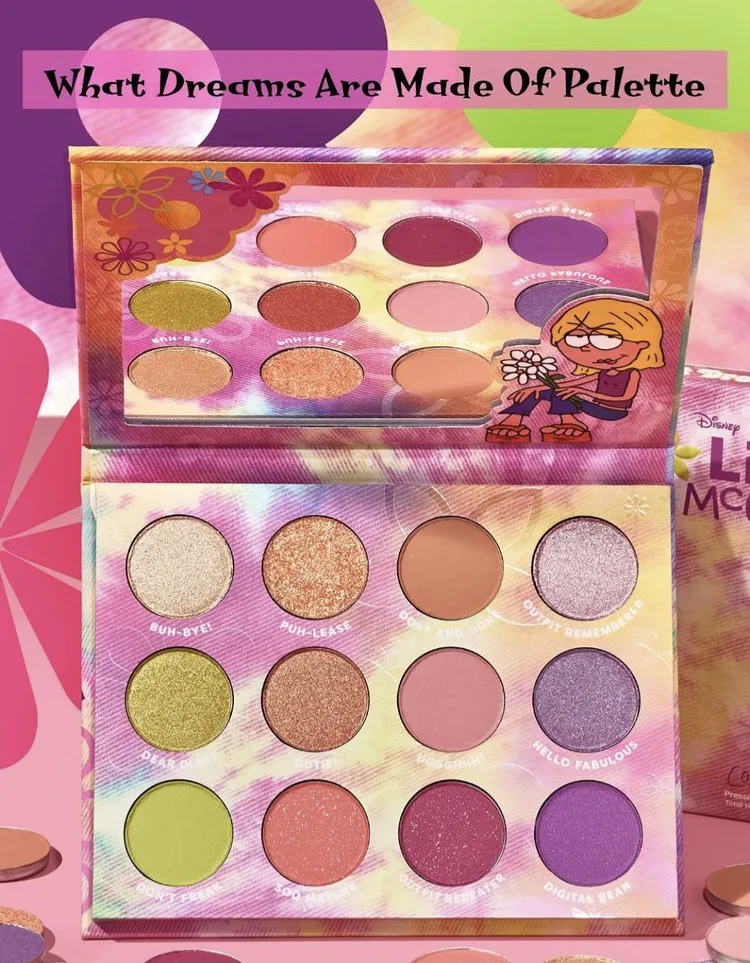 The very last piece in the collection is a twelve-pan palette, which is very colourful and has tie dye effect design to the cardboard packaging. Inside the palette there's a mix of matte, shimmer and glitter shades.
This is a super colourful palette, but I like that ColourPop have created colour co-ordinated vertical rows across the palette, helping you to create different makeup looks, and the colours are so 2000's.
I love that the ColourPop x Disney Lizzie McGuire Collaboration includes a great number of products, and the packaging on everything looks amazing. ColourPop never do half hearted collaborations, and I know this is going to be a crazy popular collection.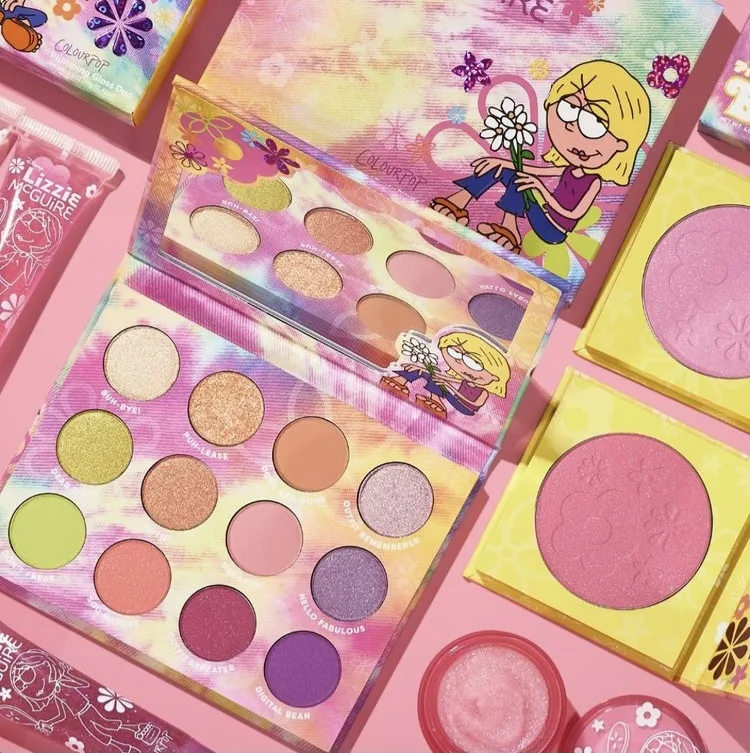 There have been quite a lot of Lizzie McGuire 'makeup transformation' videos on TikTok and YouTube lately, so that's probably why ColourPop chose to create the ColourPop x Disney Lizzie McGuire Collaboration.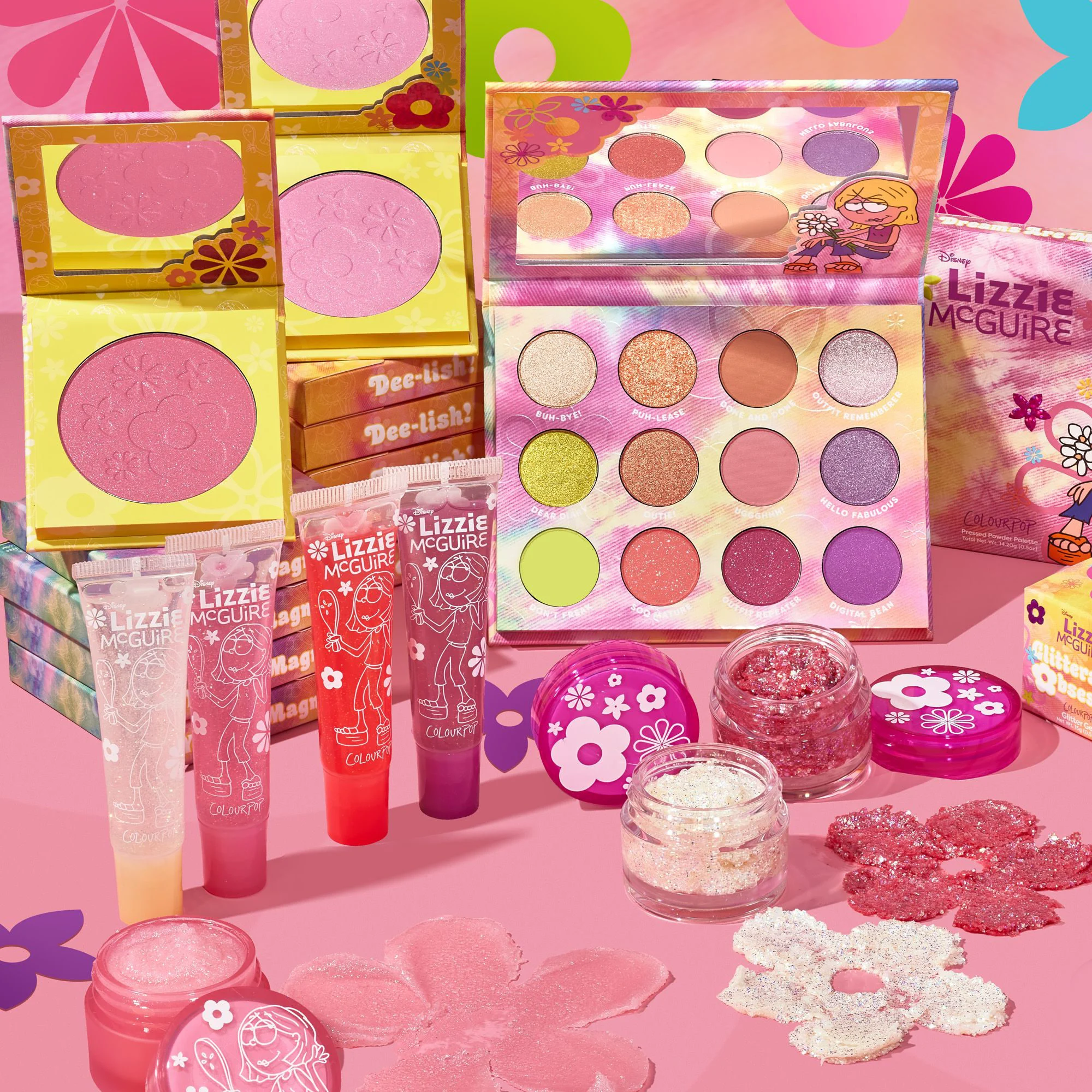 ColourPop will be doing more reveals over the coming days on the ColourPop x Disney Lizzie McGuire Collaboration, and I'll be sure to update this post once any information is shared!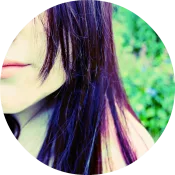 Hi, my name is Gemma, and I'm the owner of MakeupMuddle.com. I'm a true beauty obsessive, and love writing about anything to do with beauty – I have been a beauty writer since 2012.
As well as owning Makeup Muddle, I also own GemmaEtc.com, and love sharing my thoughts and feelings about the greatest (and not so great) beauty products!