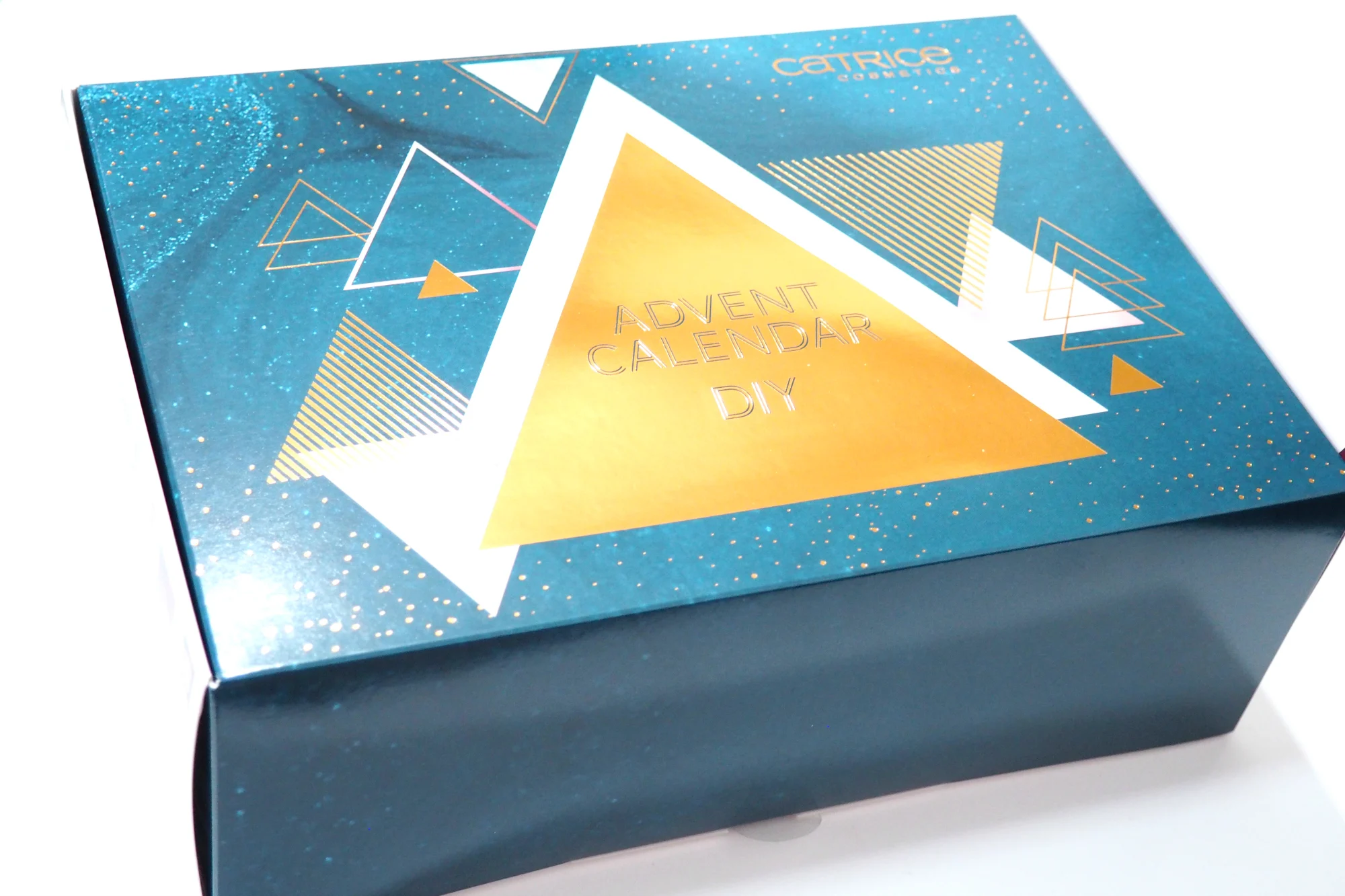 I did a reveal post on the Catrice Advent Calendar right here, and I bought the Catrice DIY Advent Calendar 2020, so I could show you what's inside.
I also bought the Essence DIY Advent Calendar which you can see right here, but they both have very similar formats. If you'd like to see inside the Catrice DIY Advent Calendar 2020, keep on reading..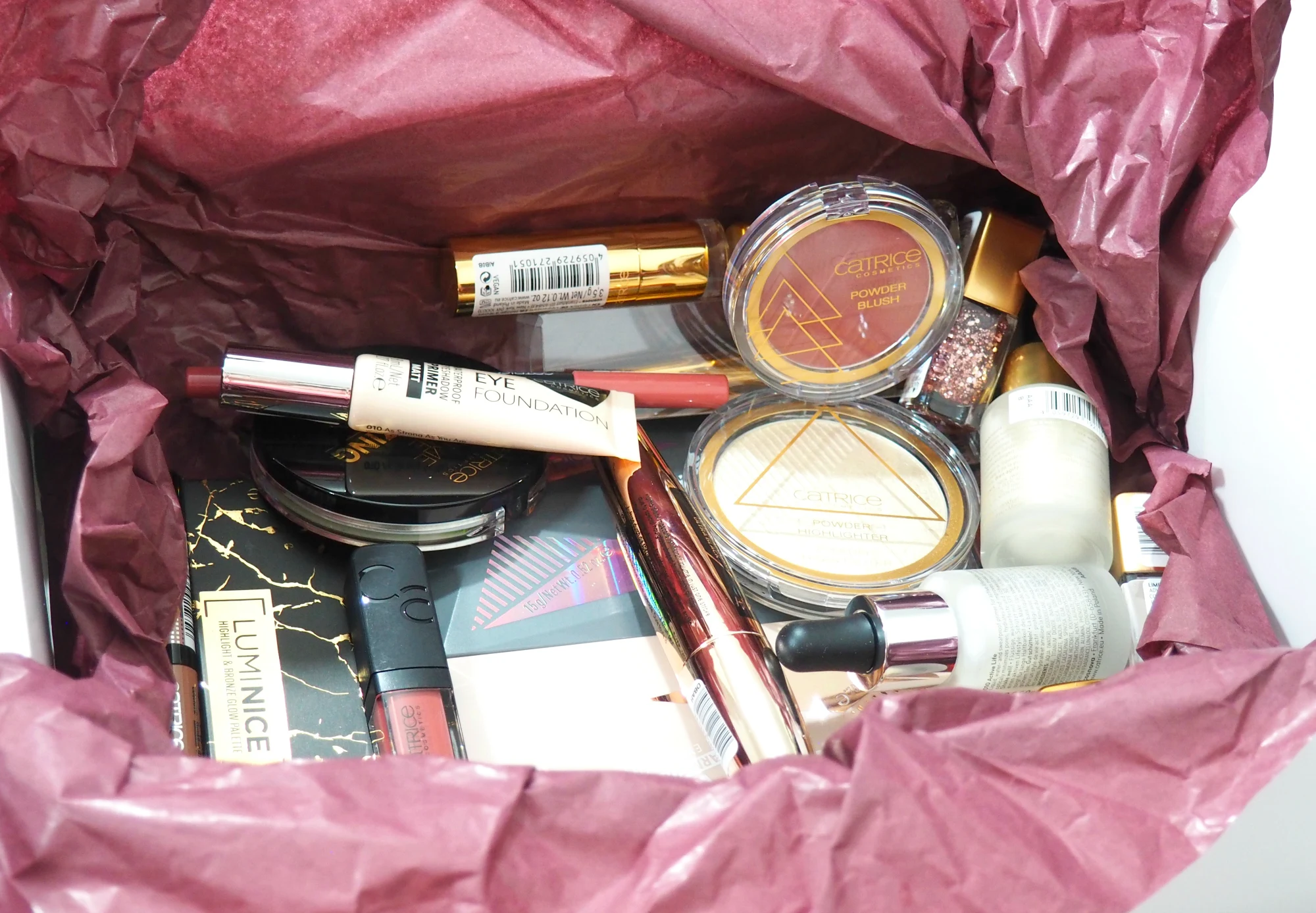 Catrice DIY Advent Calendar 2020
The Catrice DIY Advent Calendar 2020 comes in a big cardboard box, and inside the box there are 24 makeup products as well as 24 decorated paper bags, and 24 gold foil stickers.
The concept of this calendar, is that you make it yourself. You put a makeup product in a paper bag, and then add a numbered sticker on the bag, and you can decide which items you get on each day.
I love this idea, especially if you're making an advent calendar for a friend, as you can customise what they get each day. It'd be a fun idea to buy the Essence DIY Calendar, and Catrice DIY Calendar, and make one for each other, or mix the two calendars together so you get really varied contents each day. If you'd like to see which products are inside the calendar, keep on reading…
The Catrice DIY Advent Calendar 2020 includes a mixture of brand new, calendar exclusive products (there's 8 in total) which you won't be able to purchase anywhere else, as well as a lot of products from their main product range.
First we have the Catrice Prime and Fine Luminizing Waterproof Powder which is a light reflecting finishing powder in the shade Radiant Beige which in all honesty will be a bronzer on my skintone.
The first product which is a calendar exclusive is the Catrice Powder Highlighter in the shade C01 Soft Candlelight, which is a pretty light gold shade. Then there's another face powder that's exclusive to this calendar; the Catrice Powder Blush in C01 Blushing Excitement, which is a deep berry shade.
The Catrice DIY Advent Calendar 2020 includes two full sized eyeshadow palettes; Catrice Superbia Vol 1 Warm Copper Eyeshadow Edition 010 Bronze Upon a Dream and also the Catrice Superbia Vol 2 Frosted Taupe Eyeshadow Edition 010 Icy Fire.
These are ten pan eyeshadow palettes, in plastic compact with hexagonal eyeshadow pans. One of the palettes is full of pretty cool tones, and the other is a pretty neutral palette.
These two eyeshadow palettes are £8.99 each, so just these two palettes alone are £18 and the whole calendar is £35 which is amazing.
Next in the Catrice DIY Advent Calendar 2020 are three palettes;
Catrice All Round Colour Correction Palette featuring five colour correcting concealers in a mint, lilac, lemon, pink and peach colour.
Catrice The Blazing Bronze Collection Palette in 010 Call It What You Want, which features nine beautiful eyeshadows in red and berry tones, which look so perfect for autumn.
Catrice LuminICE Highlight and Bronze Palette in 020 Feel Good, with three large powder highlighters in warm tones. The swatches for this palette look amazing, and there's two gold shades and one bronze shade which could used as a bronzer.
Then there are four miniature Catrice nail polishes, which are exclusive to the Catrice DIY Advent Calendar 2020 in the shades;
C01 Unwrapped Nude
C02 Soft Candlelight
C03 Sparkling Flakes
C04 Blushing Excitement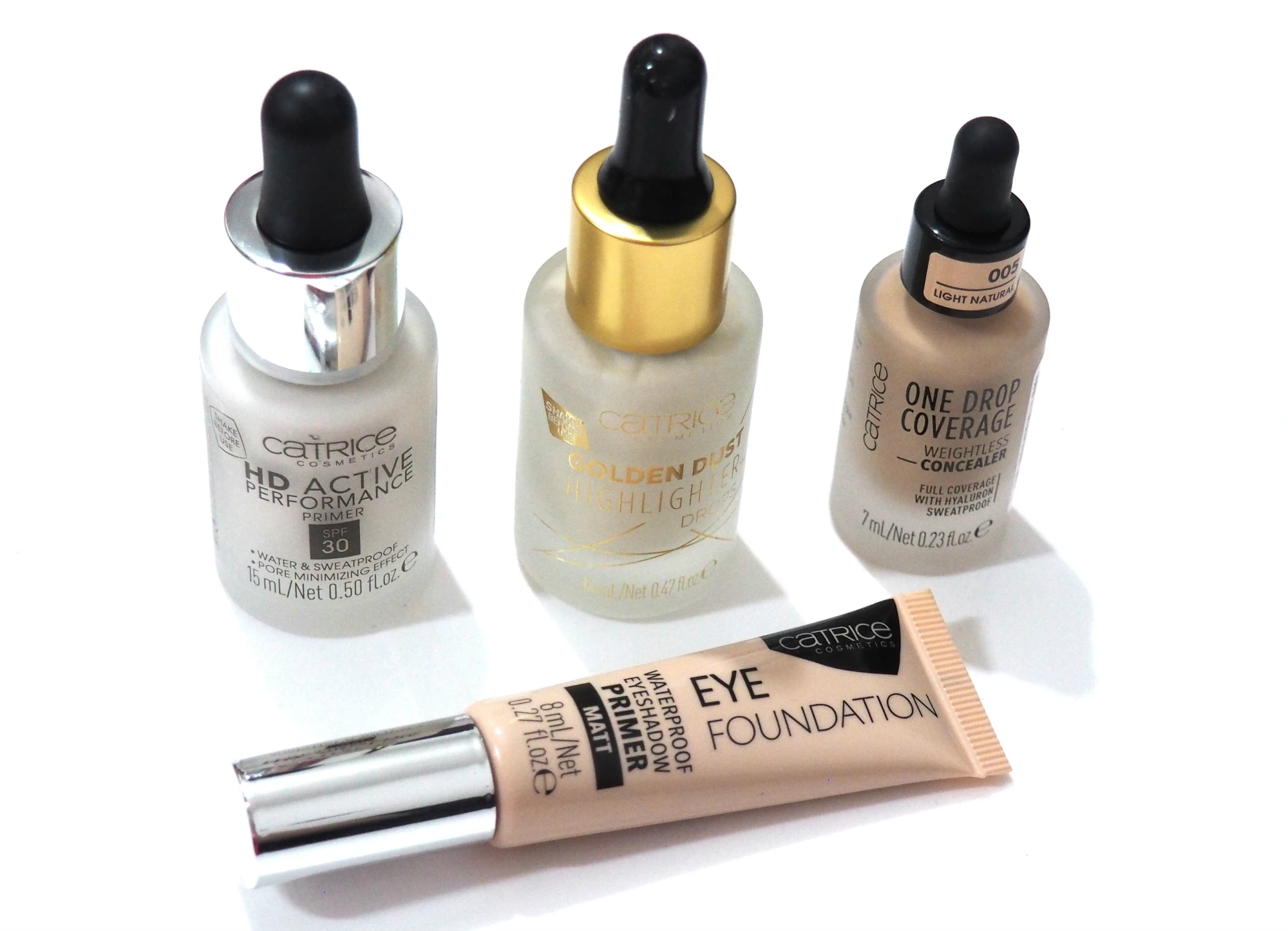 The next products in the Catrice DIY Advent Calendar 2020 includes;
Catrice HD Active Performance Primer SPF30 15ml which is a transparent liquid primer with a soft focus and pore minimizing effect. The sweat and waterproof texture blurs with an instant soft focus effect, minimizes the pores and creates a perfect make-up base.
Catrice Eye Foundation Waterproof Eyeshadow Primer Matt 8ml which is a beige coloured eyeshadow primer to prep your eyelids, and enhance the colour of your eyeshadows.
Catrice Golden Dust Highlighter Drops in the shade 010 Spacegold, which is a white gold coloured liquid highlighter that can be blended with your foundation, applied onto bare skin or applied over the top of your foundation.
Catrice One Drop Weightless Concealer in the shade 005 Light Natural. Including concealer in an advent calendar is crazy in my opinion, as it's only going to match a very tiny percentage of people. Skintone specific products shouldn't ever be included in advent calendars, and there's no way this would ever match my skintone unfortunately.
Next up in the Catrice DIY Advent Calendar 2020 is the beautiful Catrice Multi-Purpose Makeup Brush which has a pretty weighty, gold metallic handle and super soft white bristles. This brush is exclusive to the calendar, but it's really great quality.
Catrice Generation Matt Liquid Lipstick in the shade 090 Girls Bite Back, which is a matte liquid lipstick infused with jojoba oil for comfortable, long lasting wear. This shade is a deep and vampy red.
There's a brow product in the calendar too with the Catrice Brow Colorist Semi-Permanent Brow Mascara in the shade 015 Soft Brunette. This is a tinted brow gel with a mini brush, similar to Benefit Gimme Brow and this shade is a light brown.
Catrice Glitter Lip in C01 Blushing Excitement is a lipstick which is in the same shade as the blusher within the calendar so you can match your lips to your cheeks should you wish to.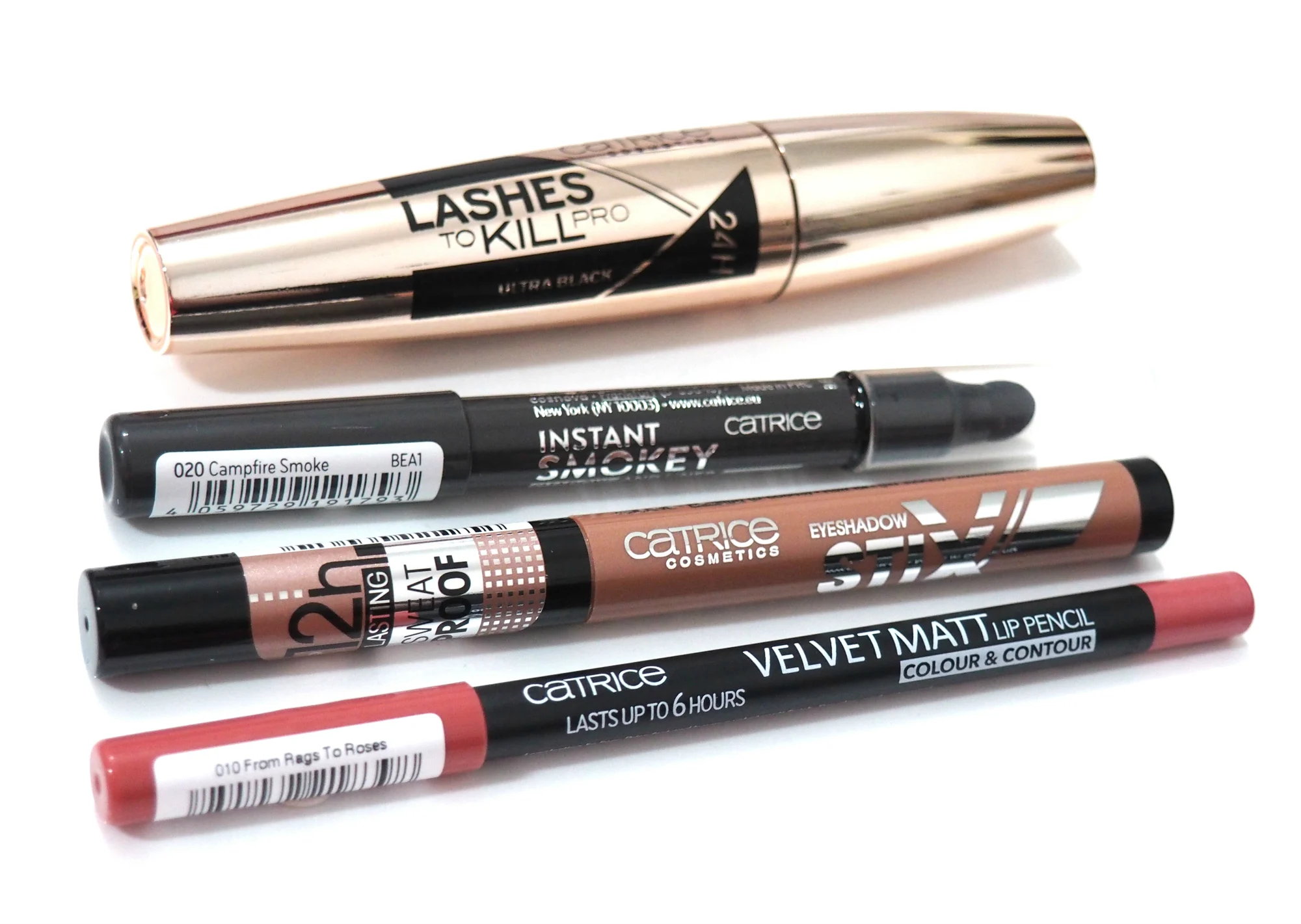 The last four products within the Catrice DIY Advent Calendar 2020 are for the eyes and lips. Firstly it's the Catrice Lashes To Kill Pro 24h Volume Mascara in the shade 010 Ultra Black. This mascara look amazing, and I've never tried a Catrice mascara before, so I'm looking forward to testing this one out.
For the eyes, there's two eyeshadow crayon type products; the Catrice Instant Smokey Shadow and Liner in 020 Campfire Smoke which has a blender to smudge and smoke the shadow/liner.
If you prefer more natural eyeshadow looks, the Catrice DIY Advent Calendar 2020 also contains the Catrice Eyeshadow Stix in the shade 030 Powerful Peach, which is a pretty peachy gold shimmer.
The very last product in the calendar is the Catrice Velvet Matt Lip Pencil in the shade 010 From Rags to Roses, which is a pretty rosy pink which complements the liquid lipstick shade in the calendar really well.
So that's the full contents reveal of the Catrice DIY Advent Calendar 2020. I think this calendar is particularly impressive compared to the Essence DIY Calendar as there's no mini products or accessories like nail stickers. It is a little pricier than the Essence calendar, but the contents are amazing, and I'm so glad I bought it.
BUY HERE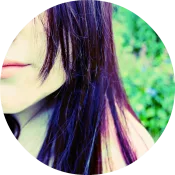 Hi, my name is Gemma, and I'm the owner of MakeupMuddle.com. I'm a true beauty obsessive, and love writing about anything to do with beauty – I have been a beauty writer since 2012.
As well as owning Makeup Muddle, I also own GemmaEtc.com, and love sharing my thoughts and feelings about the greatest (and not so great) beauty products!